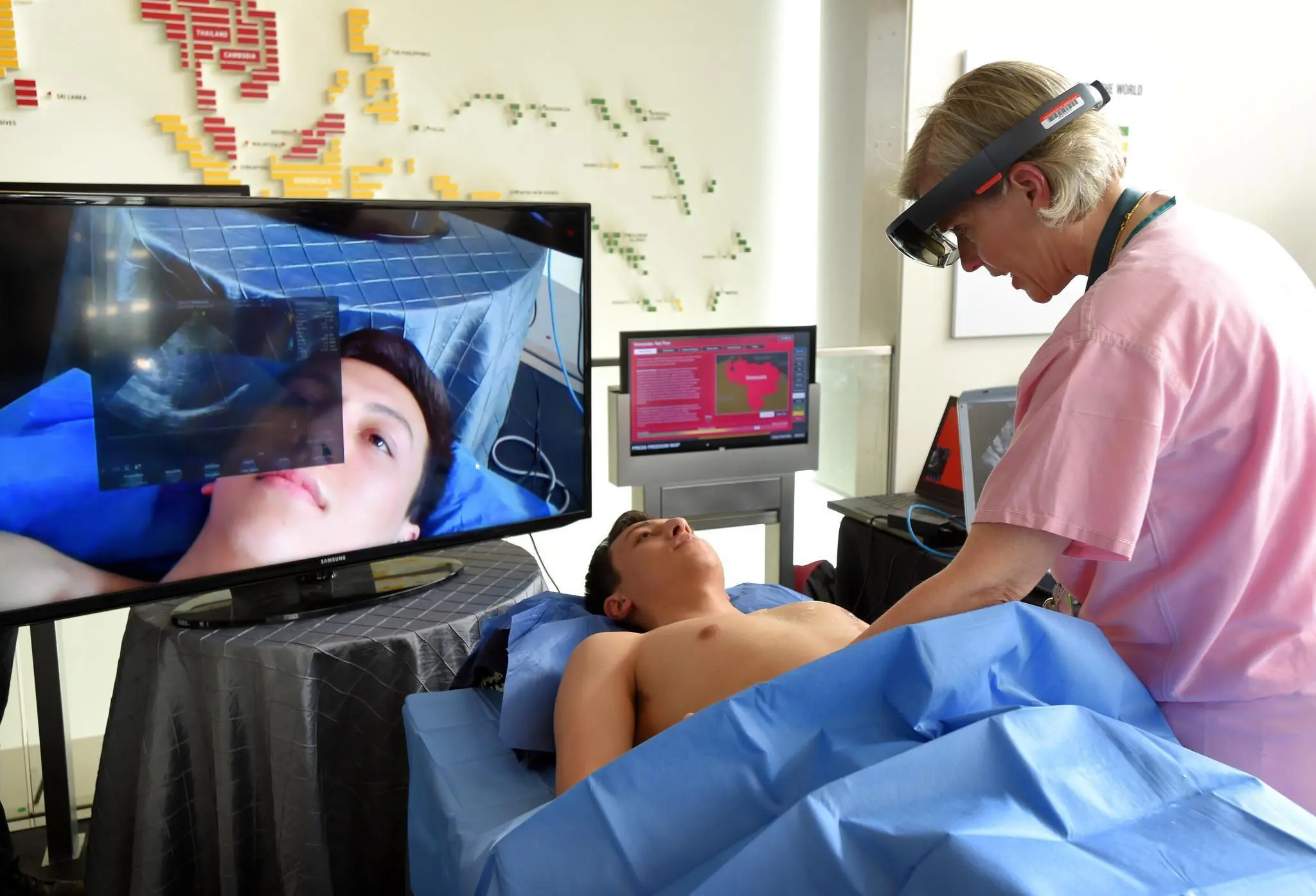 Augmented reality (AR) has evolved tremendously since its inception. The term "augmented reality" was first coined by Boeing researcher, Thomas Caudell in 1990. The technology changed how an NFL football game is perceived through television. Emmy award-winning Sportvision introduced the yellow first down line painted on the field in 1998, and the game has never been the same. Yet, AR does not only have a transformative impact on sports broadcasting but also on navigation, architecture, tourism, military or healthcare education and all the sub-fields of education in general. The purpose of any invention and technology is to simplify our life and augmented reality is no exception to this rule.
Transforming the Healthcare Industry
Augmented reality has the potential to play a big role in improving the healthcare industry. Only a few years since the first implementations of augmented reality in medicine, it has already filled an important place in doctors' and nurses' routine, as well as patients' lives. According to the latest forecasts, the AR device market has already reached $659.98 million in 2018. As data access and information processing technologies are already on an advanced level, the next step is to bring significant, even life-saving information into the doctors' field of vision. For example, if there is a complicated operation, there might be very little time for checking whether the patient has a certain type of allergy. So, instead of searching among papers or in the EMR, the surgeon could see the relevant data on his AR screen in seconds. Yet, not only data but also other types of medical information, such as the location of the veins or organs might be projected onto the environment helping physicians doing their job. The application of AR in healthcare is helping both, physicians and patients, in making informed health-related decisions.
We have seen an upward surge in the implementation of AR in various industries, which was once known only for its entertainment value. The healthcare industry is one among those multiple industries that are seeing fantastic AR applications for quite some time now. Did you know that AR can help us save lives now? Impressive, right? Imagine you are driving and a person collapses on a road due to an expected health problem. Your first reaction would be to call an ambulance to seek help, right? Unfortunately, you can't predict the time of its arrival. In this regard, AR has a different level of applications, altogether. With the help of the AED4EU app and Layar app installed on your smartphone, you can identify the nearest defibrillators available. You can immediately contact them to help a person and save their life. This is the power of AR. Right from aiding doctors in treating their patients to training medical students, AR in healthcare is improving the overall quality of treatment provided to patients.
The Various Application of AR in Healthcare
There is no doubt that AR is transforming the way we see and communicate with the world. But when it comes to the healthcare industry, AR offers countless benefits and applications. Understanding the human anatomy is not a simple job. AR can help medical students have a detailed look at the human anatomy. An AR device can provide information in the form of videos or texts by merely getting placed onto the human body. It is impressive to know how AR is helping doctors, nurses, and medical students to visualise the various stages of pregnancy with the help of HoloLens. Medical students can take an internal look at the manikins that are created with the help of an AR app ,and train themselves accordingly. Locating veins for injections, especially in the elderly, is a difficult job. Now, AR is here to help doctors find the right veins and improve the venipuncture by placing an AR device on the patient's skin.
Besides, AR can be of great help to doctors in carrying out surgeries. AR can locate cancerous cells, tumours, and internal bleeding, thereby saving lives. Case Western Reserve University and the Cleveland Clinic have partnered with Microsoft to release a HoloLens app called HoloAnatomy to visualise the human body in an easy and spectacular way. The app offers such an amazing insight into the biology of the human organism, that it landed first place for the immersive virtual reality and augmented reality category during the 2016 Jackson Hole Wildlife Film Festival Science Media Awards competition. With Microsoft's HoloLens VR Headset, app users are able to see everything from muscles to the tiniest veins before their eyes on a dynamic holographic model. AR will revolutionise medical education, as students will be able to see the human body in 3D instead of the usual working method: black-and-white pictures and written descriptions in books.
Helping Doctors and Patients
Atheer is considered a pioneer of the Augmented interactive Reality (AiR) smart glasses platform, which is designed to enhance productivity not only in healthcare but in a wide range of other industries as well. AiR Glasses enable users to view critical work information right in their field-of-view and interact with it using familiar gestures, voice commands, and motion tracking. With the AiR Enterprise Suite, users can collaborate with remote experts via video calls and receive guidance through real-time image annotations to increase efficiency – all while keeping the focus on the task at hand.

Aira is another start-up established in 2015 that combines Artificial Intelligence (AI), and the ancient Egyptian mythological being known as the Eye of Ra (RA). Aira offers solutions to the visually impaired to create the possibility to live a more independent life. The team uses deep learning algorithms for describing the environment to the user, read out text, recognise faces or notify about obstacles. Using a pair of smart glasses or a phone camera, the system allows an Aira "agent" to see what the blind person sees in real-time, and then talk them through whatever situation they're in.

Patients with varying degrees of health literacy can begin connecting their own realities with their medical content, and physicians can train themselves to better perform procedures by bringing virtual elements into their real world. Medical technology is constantly developing, and, thanks to augmented reality, healthcare professionals may soon be able to perform once-difficult tasks with greater ease, diagnose conditions with improved accuracy, and develop treatment plans with higher levels of confidence than ever before.