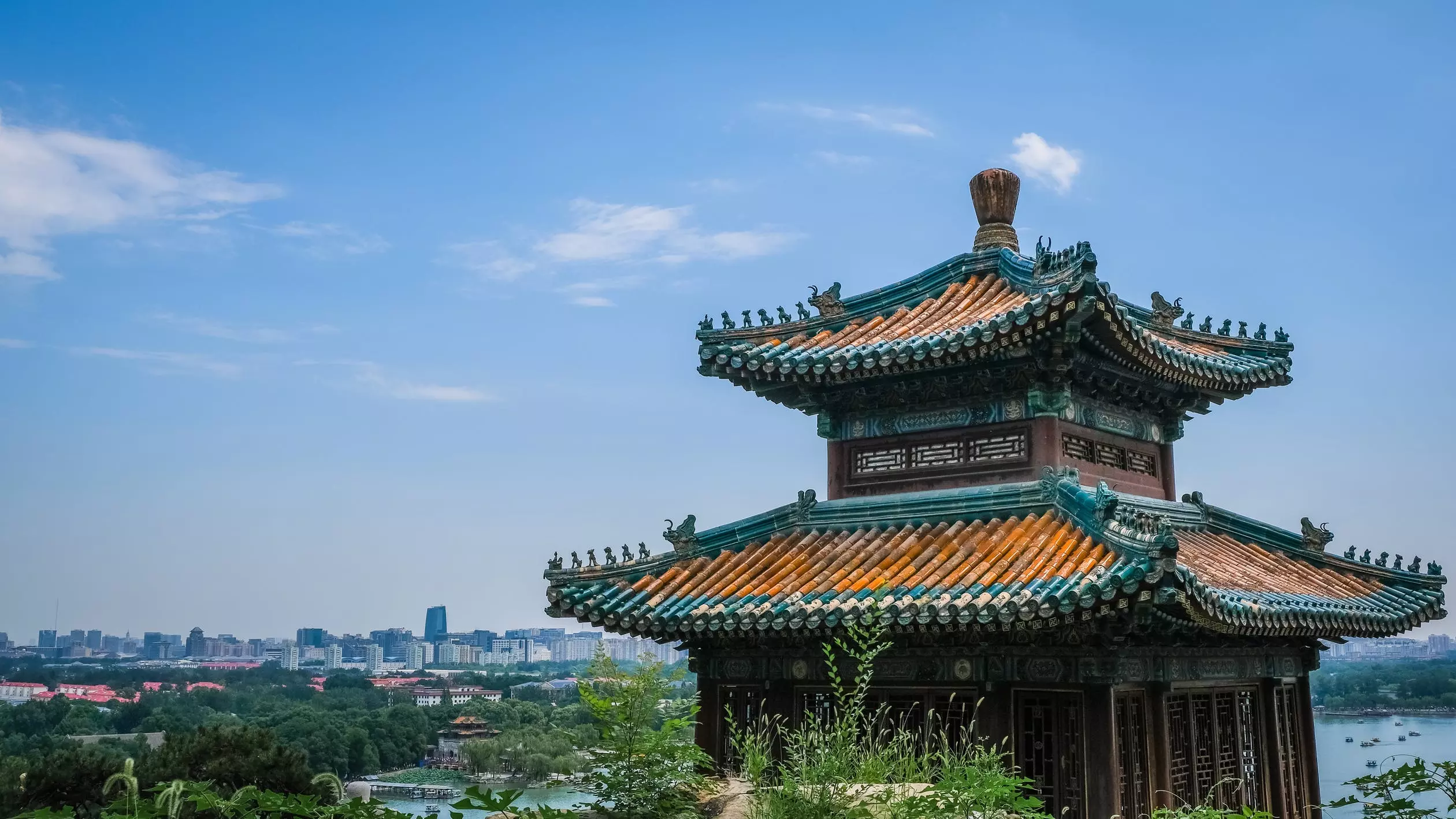 Don't bet against blockchain as China seeks to do with the technology what it did with 5G.
Every morning when Dong Xu, an eight-generation flute carver stepped out of his home into the courtyard of his seventeenth-century home in downtown Beijing, it was like stepping into a time machine.
Centuries' old ginko trees whispered millennia's worth of secrets to each other as children played below their branches, running across cobblestones that have been in place since the Qing dynasty (1644–1911).
Bramblings chirped happily in the persimmon trees that stood proudly astride the vermilion pillars and glazed green roof tiles of Xu's historic home, as he whistled a familiar folk tune and whittled away at a small branch that would eventually become an ornate, Chinese flute.
And while Xu's portrait of idyllic bliss was a stark juxtaposition to the blaring of car horns and the mass of cars and humanity just beyond his compound's gates that is the bustling metropolis of Beijing, that portrait was about to be dramatically repainted.
Because Xu's home, quaint and historic as it was, happened to also be sitting directly in the median path of an elevated eight-lane ring road that was intended to direct traffic away from the already overcrowded streets of China's capital — it had to go.
The load-bearing structural support for one of the key interchanges of what would eventually be known as the "North Second Ring Road" was planned to pile right through Xu's living room.
With a defeated sigh, Xu, using a deft motion, carved out another piece of bamboo from the branch that he was working on, as he resigned himself to the fact that he would be moving out in a few weeks from a home that he and his ancestors had inhabited for over eight generations.
Because in China, nothing stops progress, not even nostalgia.
Yet when Facebook's founder and CEO Mark Zuckerberg warned the House Financial Services Committee last month that failure to support its Libra project would hand China a significant lead, that warning landed on deaf ears.
China's Great Leap Forward
Claiming that China would reap a huge advantage if American lawmakers blocked Libra, Zuckerberg warned,
"China is moving quickly to launch a similar idea in the coming months."
"Libra is going to be backed mostly by dollars and I believe that it will extend America's financial leadership around the world as well as our democratic values and oversight."
"If America doesn't innovate, our financial leadership is not guaranteed."
Members of Congress should heed Zuckerberg's warning, there has been a strong precedent that when China puts its money where its mouth is, it creates a mouth big enough to swallow the rest of the world.
Take 5G technology for instance.
While much associate 5G technology with faster mobile internet speeds, it is so much more than that.
In a world where the internet of things or IoT will play an integral part in modern life, 5G is the cornerstone of that technological revolution because of its scalability.
For instance, a self-driving car that relies on the internet to update itself on driving conditions and a smartphone surfing social media all tap on the same mobile internet available in a specific space.
As IoT expands, the number of connected devices drawing down on the network increases, which means that the network must be able to scale its ability to support all of these devices.
Currently, 4G can support up to 100,000 devices per square kilometer, whereas 5G can support up to a million devices per square kilometer or ten times more.
And while the United States is a leader in many areas of technology, 5G is not one of them.
But it wasn't always this way.
Yes, It's About The Money
Over three decades ago, American companies jostled for primacy in wireless technology, with companies such as Motorola and Lucent as beacons of innovation, exploring new ways of delivering voice and data wirelessly.
But these once dominant companies languished around the turn of the century as they failed to keep pace with a changing market and no other U.S. companies stepped in to fill the gap, partly because of the growing number of foreign alternatives and partly because of the immense scale and investment required to survive in that business.
Investment in the research and development of wireless technology is expensive and the margins are thin, something which few private companies can or are willing to take upon themselves.
And this is where China took the lead.
Founded in the late 1980s by Zhengfei Ren, a former engineer for China's People's Liberation Army, Huawei started out humbly as a technology supplier for Chinese customers.
But by the turn of the century, Huawei had expanded internationally, not just selling network equipment, but smartphones and enterprise services as well and it got there with some help.
Besides soft loans from the Chinese government and generous financing deals, the Chinese government also supported Huawei by supporting Huawei's customers.
Because mobile data infrastructure is costly, Chinese state-owned development banks supported Huawei's business by offering easy financing deals on the purchase of Huawei's equipment by overseas clients, allowing the firm to undercut competitors.
In February of this year alone, Huawei announced partnerships with wireless carriers in no less than eight countries, including Iceland, Switzerland, Saudi Arabia, and Turkey.
And it doesn't hurt that Huawei serves a huge domestic market in China, providing it with massive advantages of scale.
To understand how significant Huawei is to 5G, according to figures compiled by the research firm Dell'Oro Group, Huawei accounts for 29% of the global market for telecommunications equipment, almost the same amount as its two nearest competitors, Nokia, 17% and Ericsson, 13%, combined.
And with the other two suppliers of 5G equipment European, the United States lags far behind in what many consider to be key technological infrastructure for IoT.
Speaking to the Washington Post, Sandra Rivera, a senior vice president at chipmaking giant Intel who guides the firm's 5G strategy,
"There is no U.S.-based wireless access equipment provider today that builds those solutions."
Paul de Sa, a telecom industry analyst and co-founder of the advisory firm Quadra Partners added,
"I do think the Western companies did underestimate how credible Huawei was."
"There were executives who basically laughed (at the idea) that Huawei or ZTE could compete."
The dominance of Huawei in the 5G space has made it virtually impossible for countries to heed U.S. President Donald Trump's calls to boycott Huawei — with even one of the United States' closest allies, the United Kingdom finding it virtually impossible to say "no" to the Chinese telecoms equipment giant.
First 5G, Now Blockchain
So it should come as no surprise that when Chinese President Xi Jinping announced that blockchain, the technology which underpins cryptocurrencies, will be a key component in China's technological future, shares in blockchain-related companies on China's stock exchanges surged some 10%.
At a group study session for members of China's powerful politburo last month, President Xi, who is also General Secretary of the Communist Party of China Central Committee, said that blockchain would play "an important role in the next round of technological innovation and industrial transformation."
"Major countries are stepping up their efforts to plan the development of blockchain technology."
"Greater effort should be made to strengthen basic research and boost innovation capacity to help China gain an edge in the theoretical, innovative and industrial aspects of this emerging field."
That announcement alone was enough to send shares in blockchain-related companies soaring upwards the next day, with companies that had only a vague relationship with blockchain technology also enjoying spillover effects.
On the Shenzhen stock exchange, an index of blockchain-related entities compiled by data provider Wind rose 8.9% to its highest level since April this year, with every one of its component stocks advancing.
Shenzhen's tech-heavy ChiNext also rose some 2.2%.
Speaking to the Financial Times, Shaochang Pan, an equity analyst at Dongwu Securities suggests,
"It's all because of Xi. The growth potential is huge."
And just as in the case of 5G, when Chinese central planners decide to get behind technology, the fruits of such government backing can be seen in technological leaps decades ahead of other countries.
Government support for preferred industries can confer billions of dollars' worth of cheap financing and other subsidies and investors are always on alert for signs of a new favored sector in China.
China's state-owned Xinhua news agency quoted President Xi as saying that blockchain is a "core technology" requiring Chinese-led innovation and investment, allowing China to overcome endemic trust issues by providing an immutable ledger, resistant to falsification for use in the supply chains of everything from vaccines to rice.
And Xi's remarks didn't just spark a rally in blockchain-related stocks in Shenzhen.
Next door, in protest-riddled Hong Kong, Xi's remarks sent shares of Meitu, best known for its selfie-beautifying app, soaring as much as 29% at one point, while Pantronics Holdings, owned by Singapore-based cryptocurrency exchange Huobi Technology, soared by as much as 62% at one stage.
Not to be outdone was Bitcoin itself — which is much hated by the Beijing government —which rose 30% in a single day, holding on to most of those gains.
But Beijing has not demonstrated any relaxation of its strict ban on cryptocurrencies beyond its control, particularly Bitcoin, which included shutting down exchanges and trading platforms and moving to halt cryptocurrency mining in China.
China's intention to roll out its own central bank-issued cryptocurrency will necessarily have ramifications on one of Bitcoin's primary uses in China — to facilitate capital flight.
Many wealthy Chinese saw President Xi's comments as a signal to pour into Bitcoin first, to facilitate capital flight later, before every digital yuan becomes traceable.
One Belt, One Road, One Cryptocurrency
According to a report by the Financial Times, a number of developers in China are already working at creating basic blockchain solutions for various industries and Chinese companies have filed more patents on blockchain technology than any other country in the world.
The Chinese patents are ironic especially when you consider that Bitcoin's blockchain was always open-source software that anyone could use to develop other applications with and anyone could alter for their own use.
The Chinese will now use these patents the same way Microsoft leveraged the open-source Linux to create its own proprietary applications that will need to be licensed and paid for.
President Xi also said that China should step up the standardization of blockchain to increase its influence and "rule-making power" in the global arena — which is a big deal.
Consider that even now, CoinMarketCap.com reflects a plethora of alternative blockchains, each with varying degrees of success, adoption, and application and each governed by differing ideologies and governance systems.
China's foray into blockchain can be expected to be no less than the top-down centrally-planned "rule-making power" that the world has come to expect of Beijing — which means that those who play by the rules are likely to be rewarded and those who don't, will be locked out, where there will be misery and gnashing of teeth.
Against this backdrop, those cryptocurrency protocols that have found favor with Beijing may benefit from Xi's push into blockchain technology, including Ethereum, Neo and Bitcoin SV.
Whereas more independent and grassroots-led or privacy-focused cryptocurrencies are likely to benefit less from Beijing's push, including Monero, Cardano and of course, Bitcoin.
Speaking with the South China Morning Post, Jenny Yang, founder of BlockGlobe — a portal for news on blockchain and related sectors said,
"Just like the Belt and Road Initiative's railways and power grids, and Huawei's 5G telecommunications networks, standardized blockchain solutions are a kind of basic infrastructure for future global economic activities."
And Beijing may be pushing to solve one of the most intractable problems facing blockchain technology today — the multitude of blockchain protocols available, each of which does not easily communicate, integrate or update each other.
According to Yang,
"When Europe, Asia, even the U.S., have to turn to the Chinese for such solutions, there might be more Huaweis emerging."
Considering that China intends to use its "One Belt, One Road" (OBOR) initiative to revive the land and maritime Silk Roads dating back to the days of Marco Polo and it becomes easy to see where the People's Bank of China's (PBoC) central bank-issued cryptocurrency fits within this strategy.
Spanning 3 continents and 65 countries, OBOR can be viewed as China's Marshall Plan to aid development in land-locked Central Asian countries as well as to build strong relations with its neighbors — or "influence."
As China's economy grows, the Middle Kingdom will need the vast mineral and natural resources of the Central Asian region which is rich in oil and gas.
And what better currency to pay its neighbors with than PBoC's own cryptocurrency.
Because of the spaghetti mess of contracts and currencies involved in OBOR, the ability to have transactions settled in a currency other than the dollar becomes a huge benefit to contractors involved in the massive infrastructure and development project and national governments as well.
Instead of the clunky financing documents that are typical of large-scale infrastructural projects with multiple layers of main contractors and sub-contractors, where payments sometimes hinge on the solvency of the counterparty above them — a PBoC cryptocurrency tied into a smart contract could greatly alleviate the uncertainty surrounding the payments for such massive projects.
In fact, some of these governments, particularly Russia and Iran which are part of OBOR, may actually prefer not to settle in dollars, especially when they are being sanctioned by the United States — the PBoC cryptocurrency effectively negates the effect of such sanctions.
Viewed against these circumstances, it's not difficult to see why China has made the development of blockchain technology a priority.
With 5G, China will control global telecommunications, with OBOR, China will control much of the world's trade on the "World Island" and with its own cryptocurrency, China will control the lifeblood that courses through the veins of the World Island — currency itself.
Zuckerberg may be Capitol Hill's favorite punching bag, but while lawmakers are busy taking swipes at Silicon Valley, they may be blindsided by the left hook of China's digital currency.