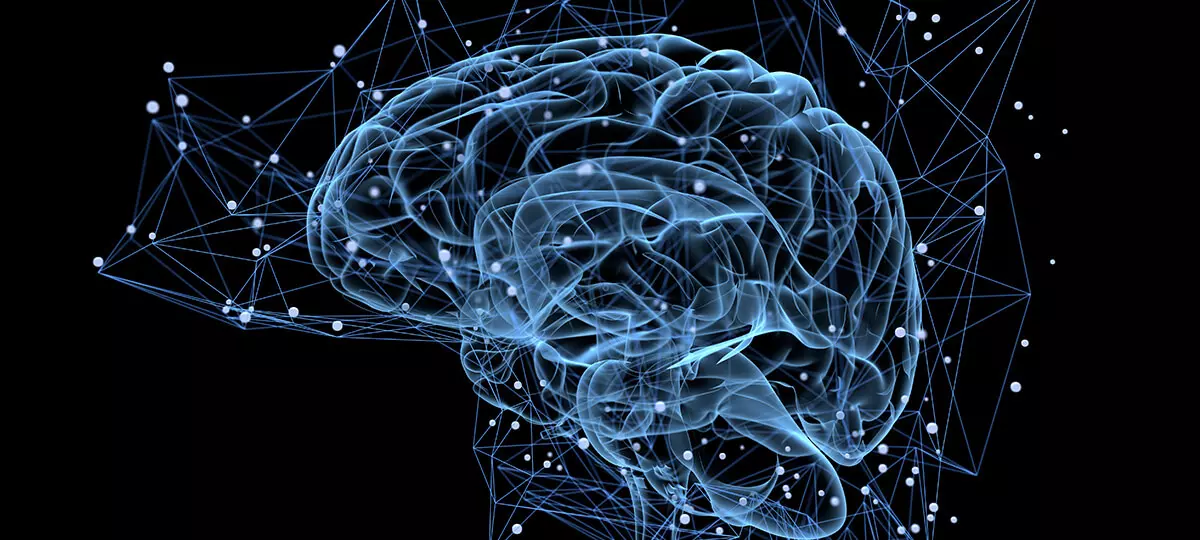 Deep learning is rapidly transforming the global financial services industry.
A step ahead of machine learning, deep learning focuses on finding minute details to function.
What is Deep Learning?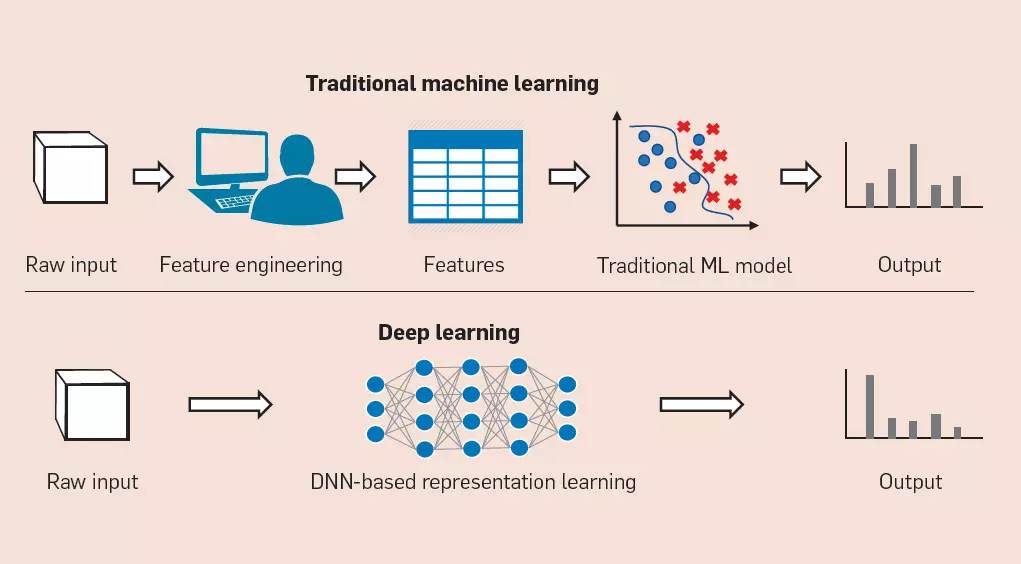 Deep learning is a type of machine learning in AI that gathers huge datasets to make machines act like humans. Due to the use of neural networks, deep learning produces optimized results. You must have observed how Facebook automatically finds your friend in an image and suggests you tag her. Here, Facebook uses deep learning to recognize your friend. We were amazed to read what Gartner had to predict for about deep learning. It said, "Deep learning will soon provide best-in-class performance for demand, fraud and failure predictions." Such a prediction encourages business leaders to implement deep learning for business and drive their business to greater success. While most business leaders are aware of the term, deep learning, they have very little to no understanding of the technology. Before leveraging deep learning for business, leaders should take a look at what deep learning offers and what the future of deep learning will look like.
Deep Learning in Finance
The financial world is chaning amid the covid-19 pandemic and the on-going war in Ukraine. Deep learning is increasingly deployed by financial services providers across industries within the financial sector. It has the potential to transform business models and markets for trading, credit and blockchain-based finance, generate efficiencies, reduce friction and enhance the product offerings. Deep learning in finance is about the sector overcoming its current challenges.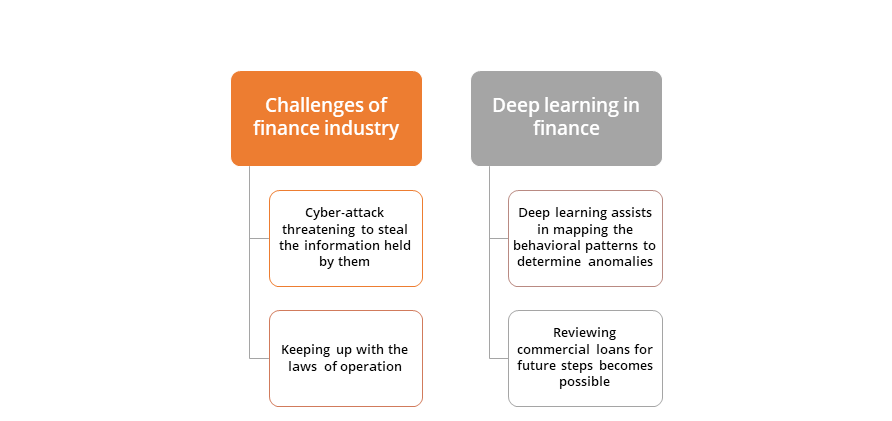 The financial system is vital to any country as it directly focuses on the efficient functioning of the economy. Finance industry also provides a significant amount of employment to people across the globe. Apart from employing the masses, the finance industry also focuses on other parts of human life such as loan provision for businesses to invest in ambitious ventures. Apart from providing enterprises with financial help, the finance industry also focuses on risk management services that arrive with pooling of funds. Deep learning technology focuses on capturing abstract concepts to assist machines in concluding better decisions. According to Dr. Yoshua Bengio said in an interview to the Tech Emergence, deep learning is a technology that can contribute to helping people directly not just by building improved gadgets, but by directly influencing the human situation. Deep learning in finance is an application that the pioneers in the finance industry are vying for to solve the problems faced by them currently.
The State of The Finance Industry
As we enter this next phase of the recovery, the future is unfolding. Financial services organizations are operating in a changing world—one they can help define. From banking and capital markets to insurance to investment management to commercial real estate, financial services firms face in 2022 a pivotal, no-turning-back opportunity to shape their—and the industry's—future.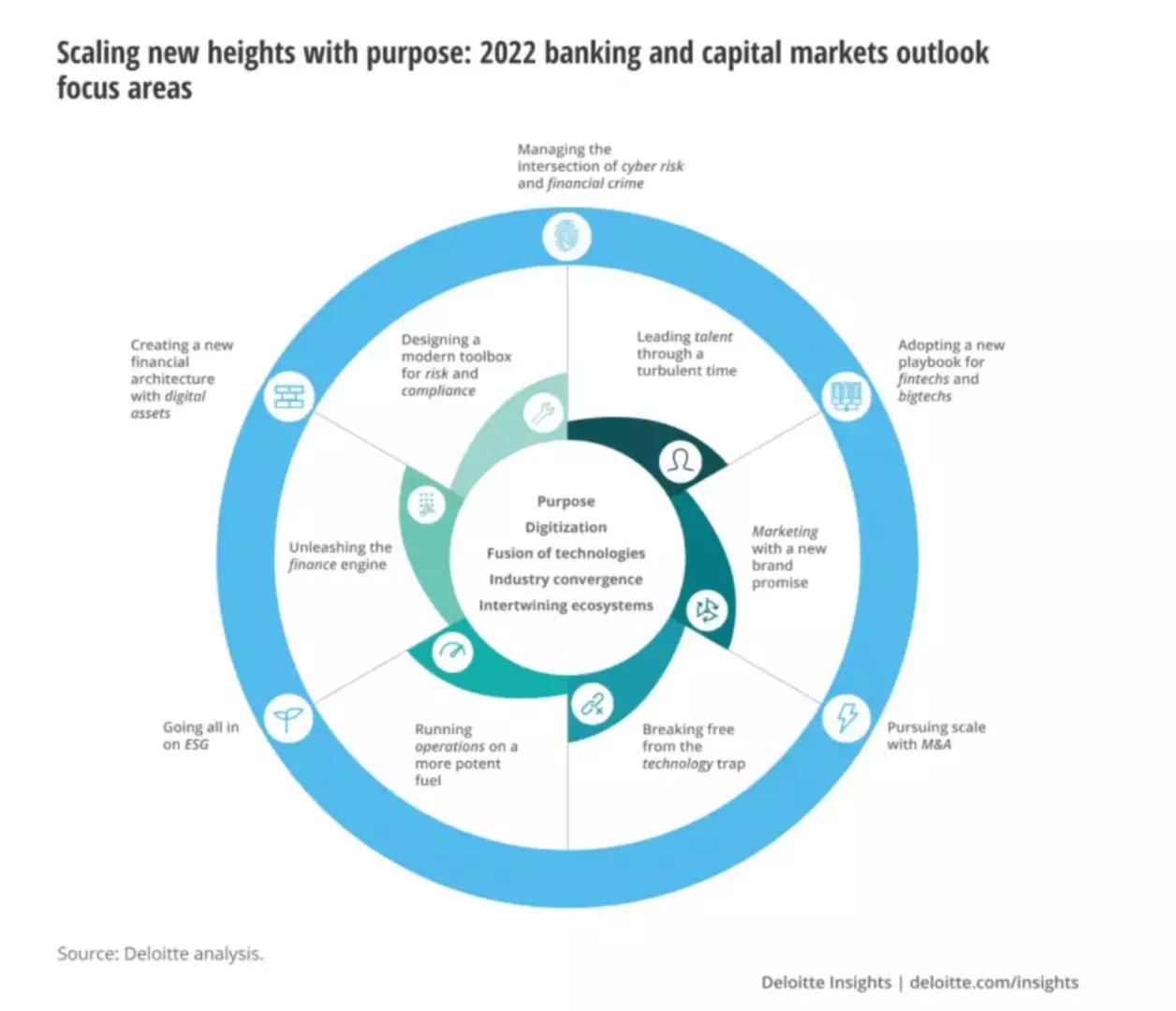 Even after focusing on transforming lives and corporations, challenges faced by the financial institutions are numerous. One of the multiple challenges faced by finance industry is to keep up with the consumer laws. Keeping up with such laws and maintaining efficient functioning is always a challenge for finance companies across the world.
Another challenge commonly faced by financial organizations is the threat of a cyber-attack. Financial institutions are a prime target for attackers as it has the potential to make money for the hackers. Apart from making monetary benefits, attackers are also focusing on targeting the information held by such organizations. When an attacker gets access to a financial organization's information, the threat of data theft always exists. One of the reasons CTOs and CIOs of financial organizations are on their toes to counter such attacks is because of the increase in the frequency of cyber-attacks on financial institutions in the last few years.
The Future of Deep Learning in Finance
Deep learning is a technology that learns from algorithms and focuses on making decisions based on an intensive investigation of data. As of today, the amount of information available to businesses and people is in abundance. With so much data being available, deep learning that uses neural networks can assist financial organizations in countering the challenges faced by them in numerous ways.
With deep learning algorithms, organizations can feed the machines with patterns that are similar to cyber-attacks that are common. By learning from algorithms and having the availability of tremendous amounts of training data, deep learning can assist machines in determining a scenario of a cyber-attack in its initial phase itself.
Apart from merely using deep learning for countering cyber-attacks, the finance industry can leverage such technology even when they want to review commercial loans and form contracts accordingly. JPMorgan Chase is leveraging deep learning for the same purpose.
Deep learning has numerous applications across several industries. CTOs and CIOs of financial organizations should now find better ways of hiring deep learning experts to work on pre-existing data to achieve accurate information. Apart from hiring deep learning experts, businesses can also try to educate their employees on how to work with such a dynamic technology. Organizations could also focus on how they can revamp their infrastructure to welcome the wave of deep learning in their industry.