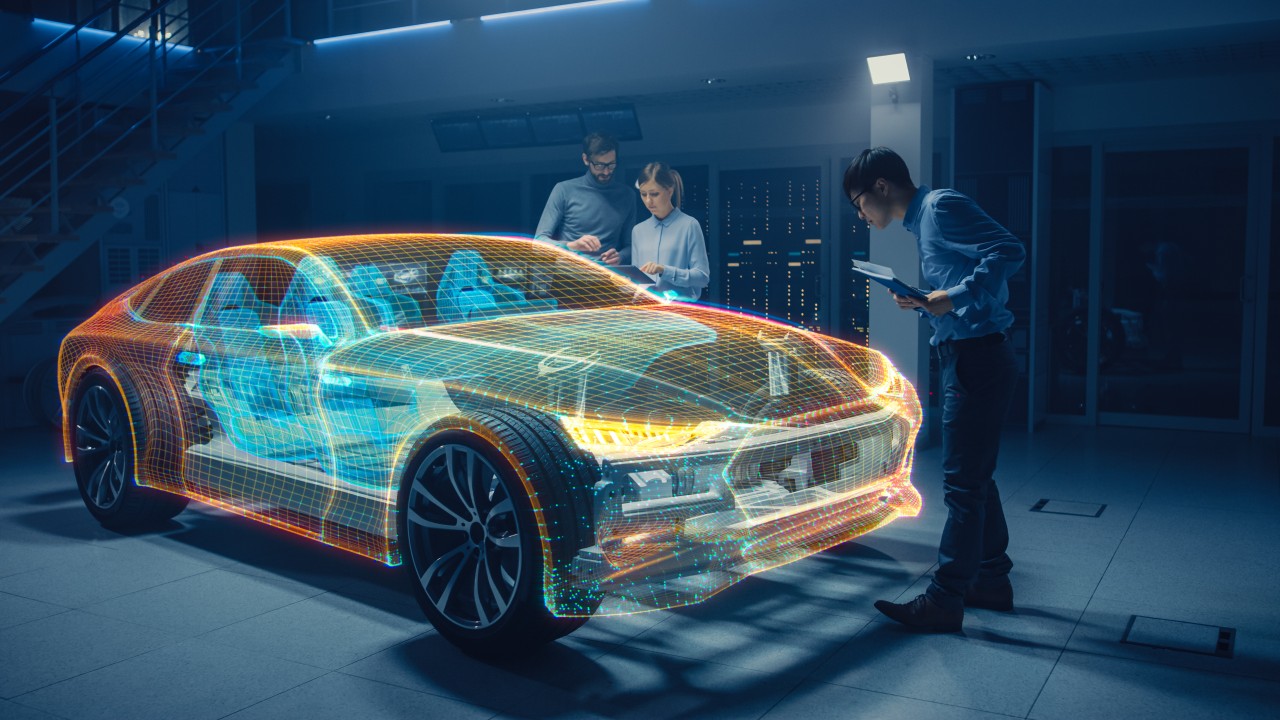 From Automotive to Aerospace, and from Consumer Goods to Industrial Machinery, design and production in manufacturing is being transformed!
This involves a move beyond traditional approaches such as injection and casting, to new tools and AI and Cloud powered techniques including 3D printing and especially Generative Design (GD), the core focus of this piece. And yet with the imperative for faster design cycles and a global GD market projected to reach US$ 526 Million by 2027 (IMARC Group), it is also true, especially in more risk-averse verticals, that many older design tools have not yet been optimized to take advantage of the advance in printing materials, manufacturing processes and industry developments. So what is Generative Design, how can it be applied, and from efficiency, collaboration and productivity, to sustainability, creativity and innovation, what holistic benefits does it bring?
What is Generative Design
'If you tell me what you want something to do, I will give you the design that does it best'
Generative design is an iterative design process which combines geometry creation, topology optimization, multi physics simulation and artificial intelligence to produce optimal designs for physically informed problems. Or in other words, GD enables the rapid creation of multiple high performing design alternatives from a single idea - often outcomes you might not have previously envisaged – and in a fraction of the time and cost. Putting this into context, an example output, namely a SRAM crank shaft generatively designed using Autodesk software is shown below!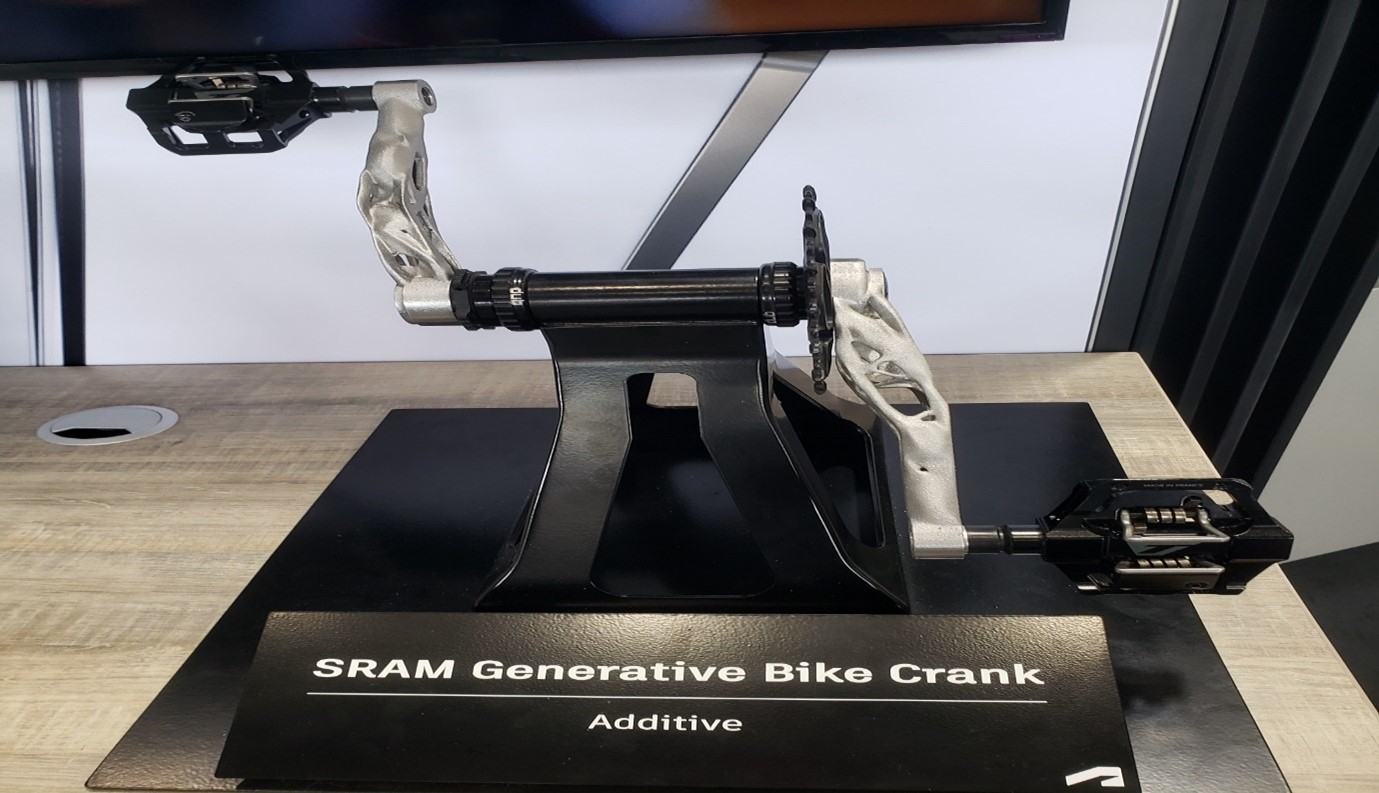 And despite the autonomous nature of this design generation, the workflow remains very much a people-technology partnership with the human designer or engineer in control. This starts with setting-up the design perimeter across criteria, goals and objective considerations, alongside any design constraints, for example, regulatory compliance and the weight, material and cost of parts. The role of the designer or engineer here is to intelligently inform the system about what they're trying to achieve and the parameters around that. And it continues with the selection of the best solution from all the alternatives in the generated design space.
This is more than a technology change, it is a mindset change that challenges our often preconceived notions on how to solve a problem. It also implies a stronger collaboration between the designer and the technology, helping people to think differently about the design process, especially reflecting from the end result to back upstream. So when you are designing generatively, the first question to ask is, what do I want out of this? Closely followed by, what do other people want out of this too?
It is the downstream ramifications that become the upstream inputs for optimized generative design. Complementary technologies are important to mention too, from simulation tools and additive manufacturing to product lifecycle management (PCM), which helps everyone involved to have access to a single source of project truth and supports creative alignment.
The (Many) Benefits of Application
'Unleash the capacity to (co)create – let's liberate the designer, the engineer, the creator'
Where to start? Generative design can help resolve entrenched design practices that may no longer be fit for purpose, for example implementing incremental changes when a more radical design change is actually a better fit, or being constrained in thinking in terms of specific shapes, such as cylindrical or rectangular, and onto flowing ones when designing parts. In other words, Generative Design unleashes the capacity to create! The approach can be applied to deeply explore materials, their characteristics and how best to deploy them, including sourcing examples from nature. As an example, when we think geometrically, we may consider a rectangle as a strong design shape, but if inspiration is drawn from nature, then the spider's web may actually prove to be far more appropriate!
This approach affords the capability and holistic understanding to expediently explore and produce different design concepts as well as determining the feasibility of new designs more quickly – the earlier any issues are identified, the more robust and profitable the resultant outcome will become. All things cost more to address downstream than they do upstream! Additionally, the Generative Design process can also be applied to existing parts to find features that are unnecessary or are ripe for modernization. In both scenarios, the impact can be profound for both business and society to create shared value. Take the Automotive industry for example, this could lead to a component evolution across strength and weight that results in reduced fuel consumption and lower CO2 emissions too!
Indeed, achieving sustainability outcomes is a growing focus of the Generative Design process, catalyzed by the rise of increasingly conscious consumers and ecosystem partners, supply chain challenges and the energy crisis. And when sustainability and affordability combine, the impact is magnified further still! – a great example being the ongoing partnership between the Autodesk Foundation, Microdesk and Build Health International in Sierra Leone to design and construct a dignified, sustainable and cost-efficient Maternal Healthcare Center in Koidu. The results are impressive already, from a 90% reduction in the design analysis time, to a projected $4000 per annum fall in cooling costs, and an 11% increase in occupant comfort too.
And beyond this, additional benefits center on improved ways of working and the project success this enables. A Generative Design process allows the design team to benefit from closer interaction with engineering and other stakeholders – streamlining communication, reducing complexity, breaking down silos, promoting transparency, encouraging creativity and cooperation to test form and function, and ultimately improving efficiency and speed of implementation. And with ever faster design cycles, alongside rapidly evolving requirements in areas like Environmental Social Governance (ESG), Generative Design affords the vital capacity to develop, validate, and deliver, accelerating innovation curves.
Finally, these benefits are not limited to the Automotive, Aerospace, Consumer Goods and Industrial Machinery sectors alone. As an example, a research partnership between the University of Birmingham and Autodesk has applied Generative Design to produce a knee implant that can be used to treat osteoarthritis. Superb! And as we look ahead I envisage a trajectory that accelerates the democratization of expertise and enables making custom designs to be as easy as choosing your regular shirt size from any leading digital store!
Final Thoughts
'It has been said that abstraction is one of the greatest visionary tools ever invented by human beings to imagine, decipher and depict the world (Jerry Saltz) – with Generative Design that capacity to abstract has been expanded due to the power of human-machine partnership'
In today's Age of Convergence, the coming together of digital design, visualization and manufacturing unlocks innovation and revolutionizes product development. A Generative Design workflow enables agile fabrication with the power to explore every avenue of a design, resulting in efficiencies in mass, stiffness, strength and waste and ultimately, time and cost, whilst also continually improving levels of innovation, creativity and productivity. Fostering the freedom to create shared value with better and more sustainable products in less time to support people, planet and profit, it is clear that Generative Design in manufacturing has an imperative role to play to enhance the future of business and society alike. For additional information, recommended resources are freely available here and all feedback and your follow-on questions are most welcomed – thank you! Sally
About the Author
Prof. Sally Eaves is a highly experienced chief technology officer, professor in advanced technologies, and a Global Strategic Advisor on digital transformation specializing in the application of emergent technologies, notably AI, 5G, cloud, security, and IoT disciplines, for business and IT transformation, alongside social impact at scale, especially from sustainability and DEI perspectives.
An international keynote speaker and author, Sally was an inaugural recipient of the Frontier Technology and Social Impact award, presented at the United Nations, and has been described as the "torchbearer for ethical tech", founding Aspirational Futures to enhance inclusion, diversity, and belonging in the technology space and beyond. Sally is also the chair for the Global Cyber Trust at GFCYBER.