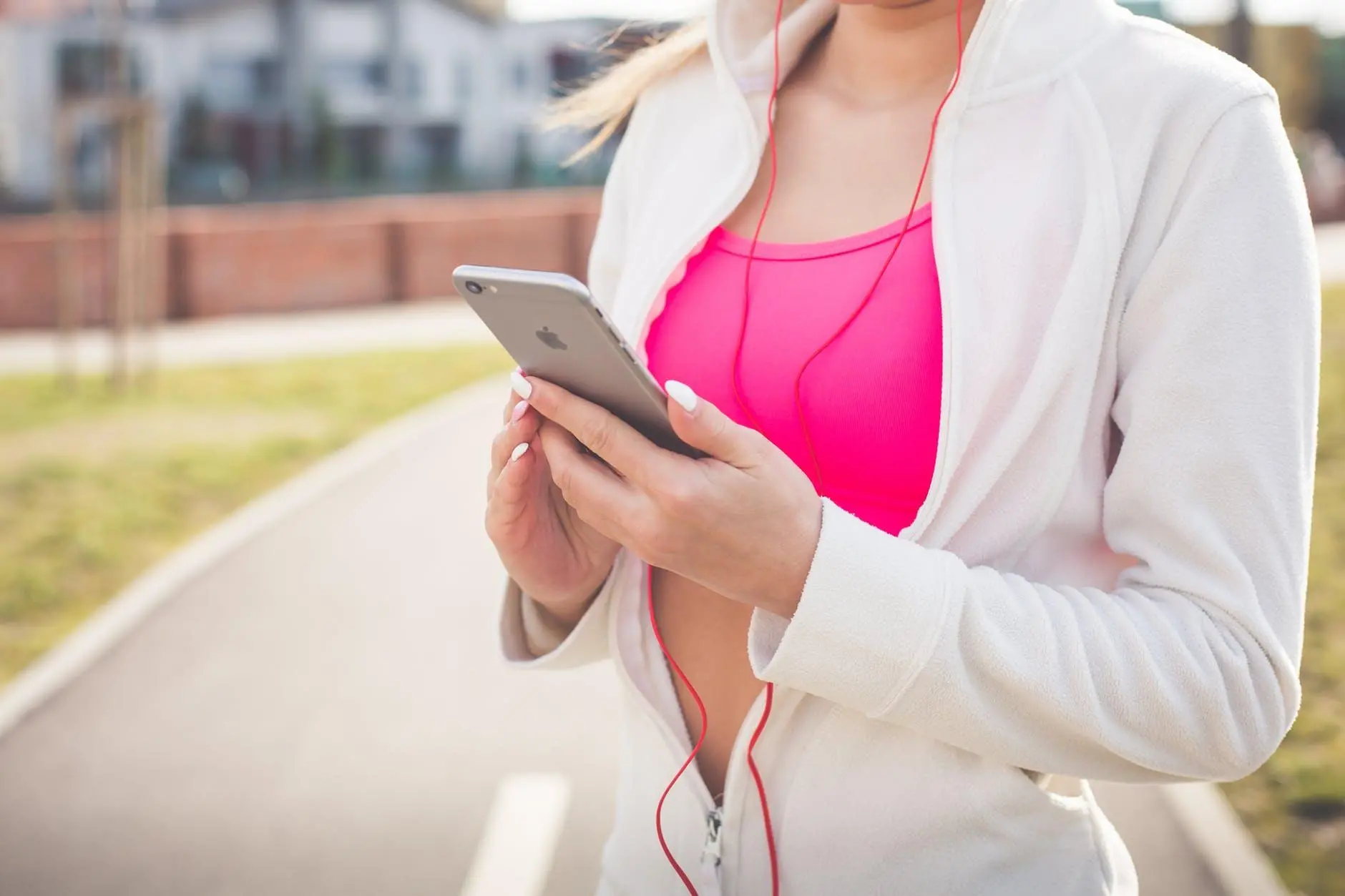 Over the next two years, Peloton will likely be acquired or go public. As a Peloton rider myself (2+ years as @Jon_Nordie), I'd like Peloton to remain independent and entrepreneurial. I love the bike. Its community. Its instructors. Its IoT connectivity. Yet, as you'll read, I believe #Peloton is ripe for being part of a larger #ecosystem. And I am sure Peloton will get many offers.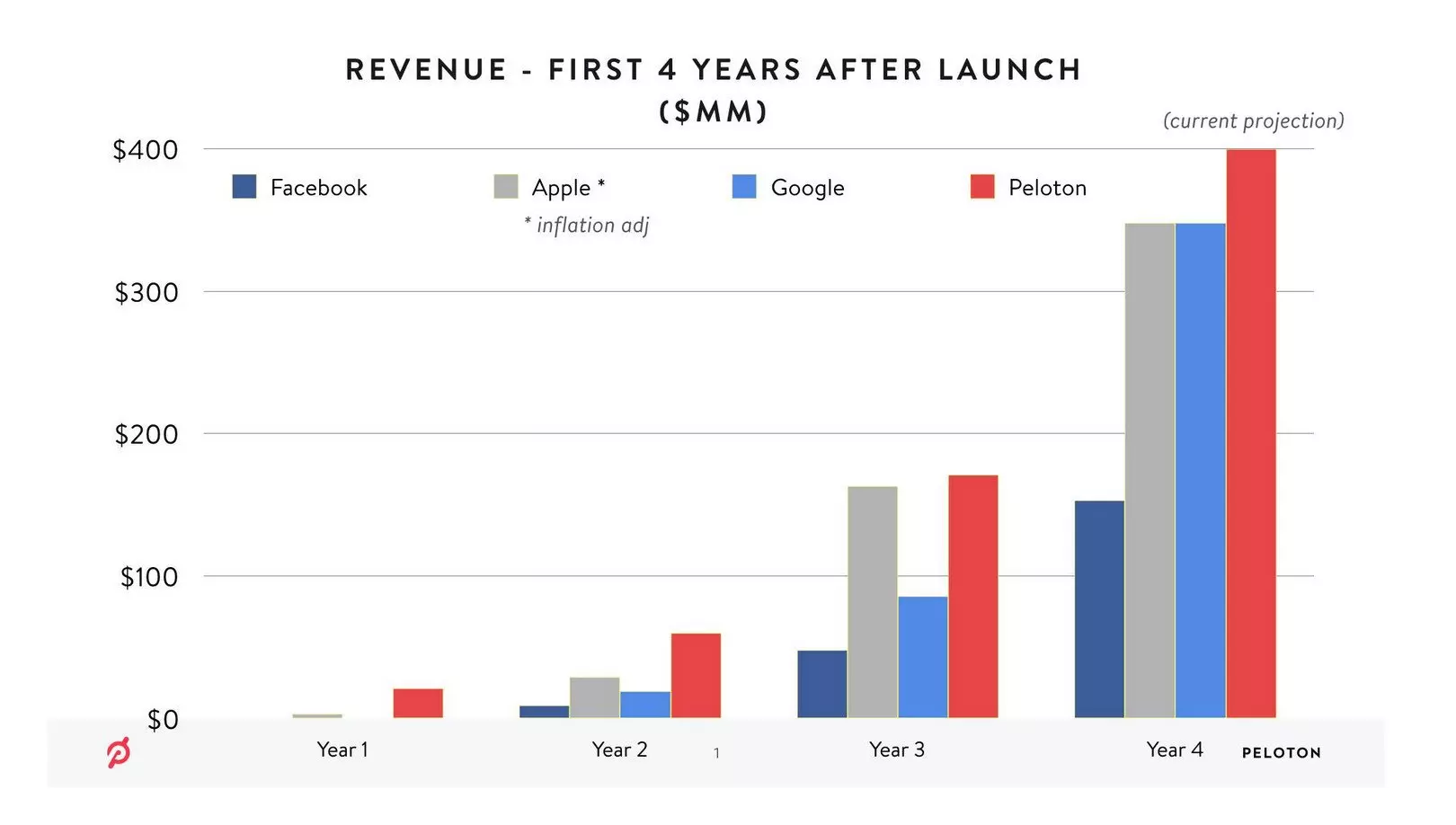 (Source: graph posted on Facebook by Peloton's CEO)
Which multinationals might share my "larger ecosystem" thought? Which ones are watching Peloton? For sure, Amazon is. I'm 100% certain. Partly because Peloton is hosted on Amazon's #AWS cloud. In April 2017, Amazon and #Loggly published this hour-long video case study (17 billion real-time API calls per day):
Peloton uses AWS Microservices for speed and flexibility.
Because Peloton partners with AWS, Amazon gets first-hand due diligence on Peloton, by default. The partnership has probably made Amazon aware that a relationship with Peloton that could extend beyond AWS. As it could for Kroger, CVS and others ...
Why Amazon + Whole Foods could benefit from Peloton
If Amazon-owned Peloton (an IoT leader), Amazon + #WholeFoods customers could tether the Peloton Spin Bike tightly into the Amazon IoT ecosystem which includes Echo Show. Then Amazon's AI could ingest Peloton's Spin Class data which is already flowing through AWS. This Big Data, packed with PII (Personally identifiable information), could be rocket fuel Amazon's nutrition and #grocery recommendation engines.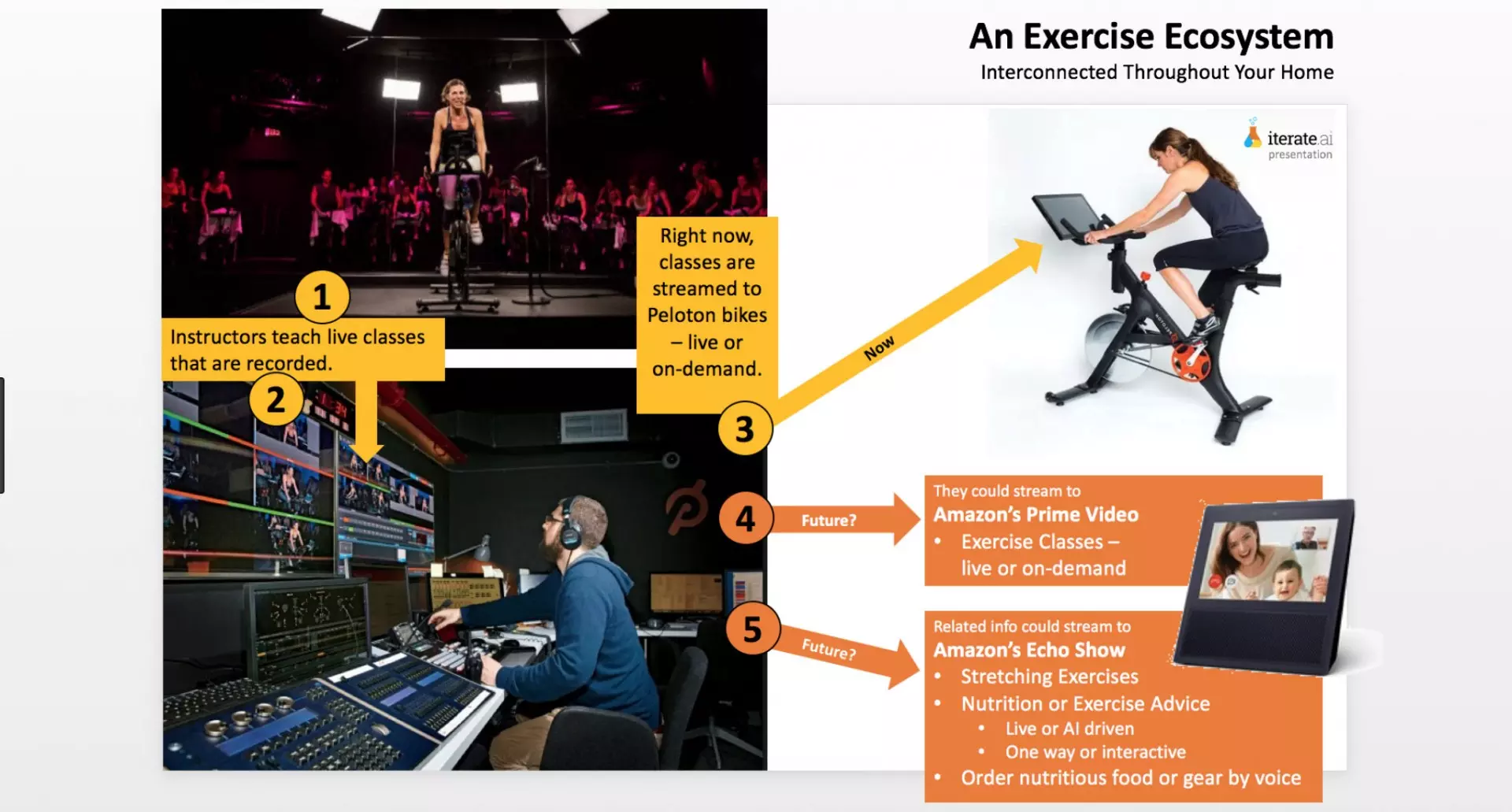 The Peloton bike could even serve up highly personalized Dash Buttons as a rider is winding down, stretching ... sort of like Amazon explains below.


AI (Machine Learning + Deep Learning) is used all over Amazon -- in hidden places -- like in Customer Reviews.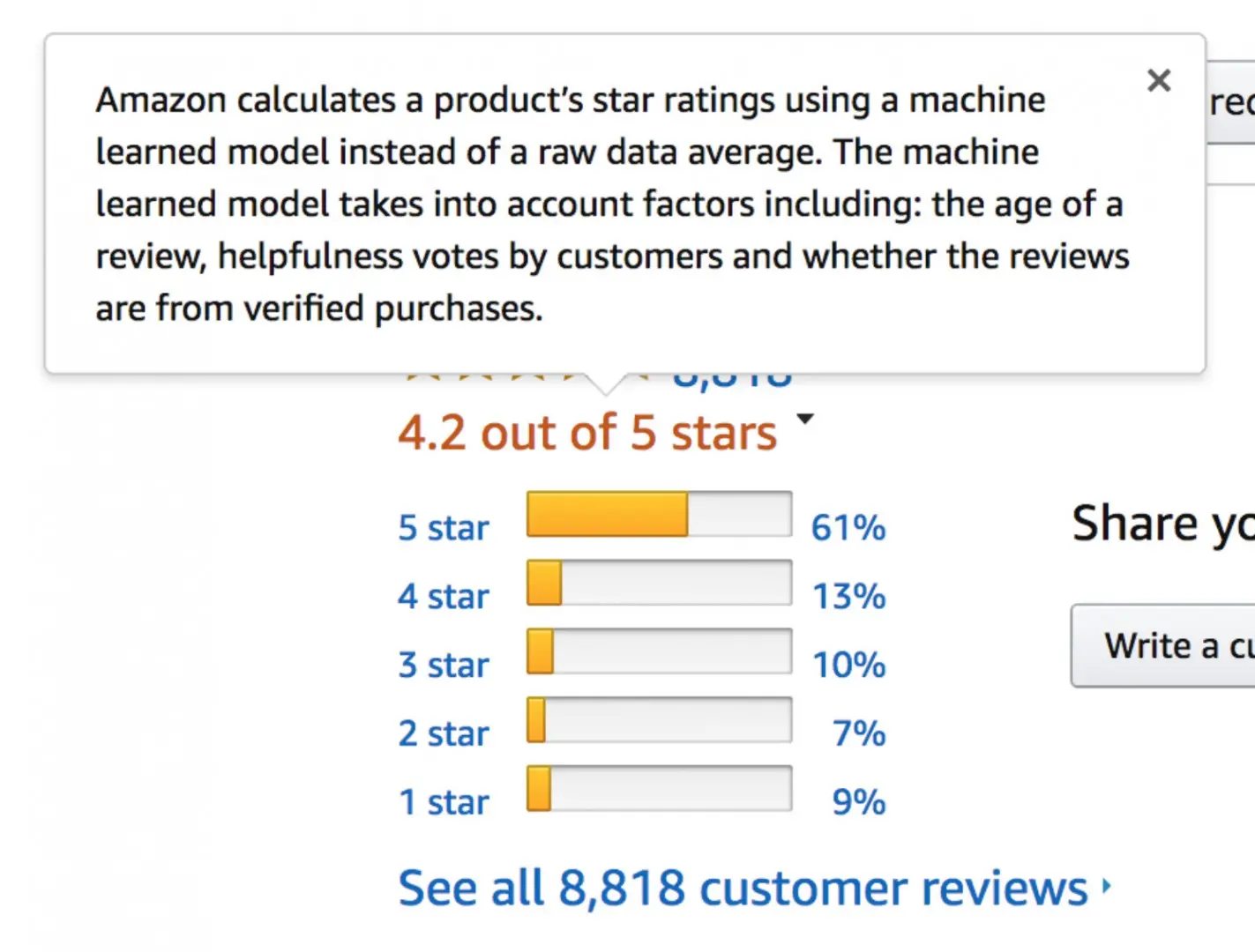 Even Customer Reviews can be a form of PII used to improve a personalized AI-driven recommendation engine Amazon's DSSTNE (which is an open-sourced deep learning recommendation algorithm).
Orthogonal moves like Amazon buying Peloton could further distance Amazon from grocers like Kroger, #Target, and Safeway. And from healthcare-oriented companies.
An orthogonal move is non-linear. Not obvious. And that's how Amazon behaves. This dot-com bookseller (1994) has made many "radical" -- orthogonal -- moves.
Orthogonal ... that's what product reviews were in 1996. Outside of eBags and BlueNile, few retailers followed that move until BazaarVoice made it a SaaS service in 2006.
Orthogonal ... that's what the 3rd-Party Marketplace launch was in 2000. What running Borders.com was in 2001. What "Free Super-Saver Shipping" in lieu of marketing was in 2002. Amazon Web Services in 2002. A9, a Silicon Valley-based lab, in 2003. Prime in 2005. Prime Music and its online Music Locker in 2006. Kindle in 2007. Prime Air and drones in 2013. Echo and voice commerce in 2014. Prime Now and one-hour delivery in 2014. Dash and the in-home One-Click shopping in 2015. That's what Amazon's many open-sourced initiatives (DSSTNE, APIs, StoryWriter, Conversational Commerce Contest) have been.
The reason acquiring a company like Peloton could make sense to Amazon is that it an fosters an ecosystem, a network fueled by IoT and PII (Personally Identifiable Information). It's orthogonal. An acquisition of Peloton could make sense for any grocer or healthcare company trying to build a version-2020 ecosystem.
Amazon is building an ecosystem (not a company)
At a glance, Amazon appears to be is attacking companies, individually. Attacking haphazardly across a variety of industries: retail, business software, consumer electronics, consumer packaged goods or #CPG, #healthcare ... .
But really, Amazon knows that everything is connected. Our lives flow from one industry to another. Consumers behavior is not defined by one industry or one company. So, Amazon is using AI + IoT to create non-obvious connections. It's a non-linear attack -- like Drone Swarms -- which makes Amazon (very) dangerous to unsuspecting competitors.

It's about real-time connectivity and leveraging AI to create relationships between seemingly disparate products ... and industries. To be relevant in the 2020-decade, this might be how all large companies should (or need to) think and behave.
Amazon is becoming an intertwined group of "things" that will ultimately leverage IoT, AI, PII, and Blockchain. Over time, this will include IoT devices like Blink Cameras (acquired Q4 2017) and Peloton. These IoT devices will operate on better batteries (thanks to Blink) and process more data in real-time (thanks to Annapurna Labs).
Amazon is advancing IoT + AI tech inside its Private Label devices
According to a Reuters report, Amazon didn't just buy Blink for its security cameras—the online retailer reportedly bought the company for about $90 million to glean access to its energy-efficient chip technology that gives Blink cameras years of battery life. (Source: ARS Technica: With Blink's Camera Chip ... Amazon goes low energy) This technology will embed in the majority of Amazon's private label IoT devices. Now this battery technology will likely be embedded in Ring. As Amazon embeds the DeepLens' AI (which is open-sourced) in Ring + Blink.
Amazon connects dots. It seeks ways to merge one startup's point solution technology into another's -- especially today, with IoT and AI.
Annapurna Labs is an example. "Amazon has quietly developed chip-making capabilities over the past two years, through both acquisitions and hiring. It started in 2015 through the $350 million acquisition of Annapurna Labs, a secretive Israeli chipmaker. Amazon said nothing about its plans for Annapurna at the time, although Annapurna said in 2016 it was making a line of chips, called Alpine, for data storage gear, WiFi routers, smart home devices and media streaming devices. ... But Annapurna is now working on the AI chip for Alexa-powered devices... ." (Source: a report in The Information, Feb 12, 2018)
Alexa-powered IoT devices? Echo, Blink, Ring? Peloton? These are Amazon Private Label devices (as explained in the Tech-Enabled Private Label article below). These IoT devices will be powered by AI and Amazon's Private Label chips -- maybe as (or more) powerful than Intel's chips ... and probably cheaper than Intel's (which sport a 62% gross margin, 27% operating margin, 25% net profit margin).
Amazon is now competing with #Intel and #Nvidia. Not surprising as it also takes on #Aetna and #FedEx and #UPS.
Fundamentally, though, Amazon likes disruption that involves new business models.
Often, it accelerates disruption by acquiring "unknown" and "bootstrapped" startups like Evi, Ivona, Touchco. 75% of Amazon acquisitions are those unknown startups -- but they are game changers. Each helping make things faster, cheaper, more accessible.
Now Amazon is expected to take a unique approach to healthcare, big pharma, insurance. And an orthogonal unique move into health care could involve the acquisition of fitness/health products like Peloton. Peloton could be one piece of a large IoT and AI puzzle Amazon will try to solve. A puzzle that also involves Private Label pharma, Private Label insurance (both health and dental), Private Label ... .
To build an ecosystem, to move upstream and be competitive in Decade-2020, healthcare companies and grocers need to think about adding edge-products like Peloton to their portfolios. CVS is trying to do this by acquiring Aetna -- crossing boundaries into adjacent industries.
All companies associated with health care -- from Walgreens to Phizer to Aetna + CVS to Amazon -- should care about services like Peloton which touch people's lives on a personal level. And in a preventative medicine level -- a happier place for medicine-consumers to operate.
14 Reasons Why Amazon and others like Nike or Walgreens could benefit by acquiring Peloton
Here is #1 ...
1. Peloton IoT could provide unparalled PII access (for comapnies like Amazon, Kroger, Nike, CVS, Walmart, Safeway, Walgreens...)
IoT and access to valuable Personally identifiable information (PII) go hand-in-hand. PII is any data that can potentially identify a specific individual -- and it is easily generated by IoT-products (connected-products).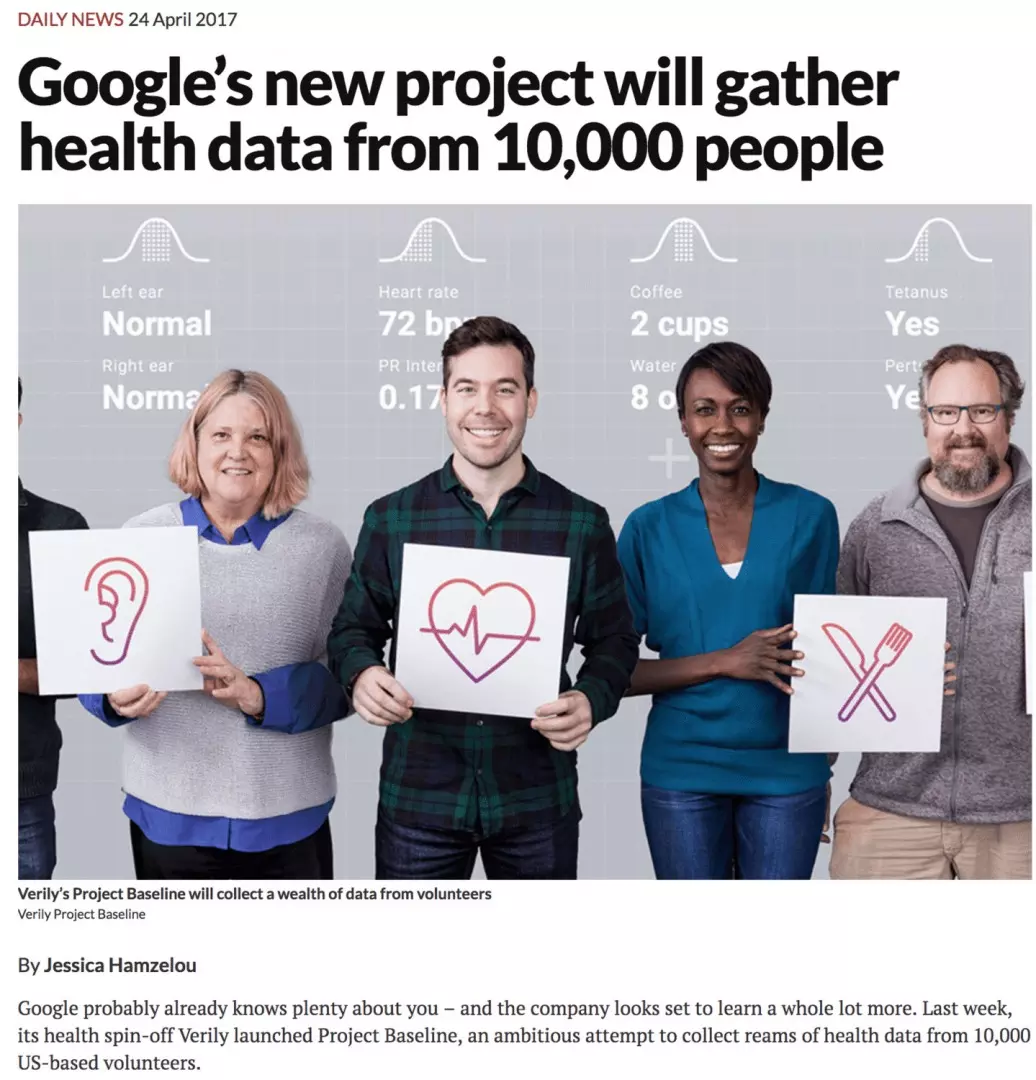 Photo source: Cision
"Traditionally, PII has been restricted to data such as name, date of birth, home address, telephone number, email address, passport number, credit card number, etc.," Dave Waterson wrote on his blog. "Privacy laws mandate the protection of traditional PII."
Waterson continued: "(IoT) is about to change all of this. A tsunami of data flowing through IoT systems will significantly raise the threat of data aggregation of anonymous data enabling personal identification. ... It is quite simple technology which allows us to distinguish between individuals based on the way they type a single word or based on characteristics of their heartbeat. ... Aggregated data comes from disparate sources...."
Peloton could give Amazon more of a 360-view of PII. PII access could extend from eating habits and travel behaviors to healthcare data. In the case of the IoT Spin Bike, Peloton can get heartbeat data, names of people in a household, email addresses of each household member, home zip code, strength levels, exercise habits. From this, so much can be derived by strong #DeepLearning algorithms. And this can inform nutrition recommendation, food purchases -- via Whole Foods or Amazon.com. It could also inform pharma.
Health-oriented PII is being requested by Google, as reported by The Verge in 2017. Data -- blood samples, DNA, data from smart watches and medical images -- from 10,000 healthy people are being mashed up with environmental data and more. To help Google (Alphabet) become more prescriptive.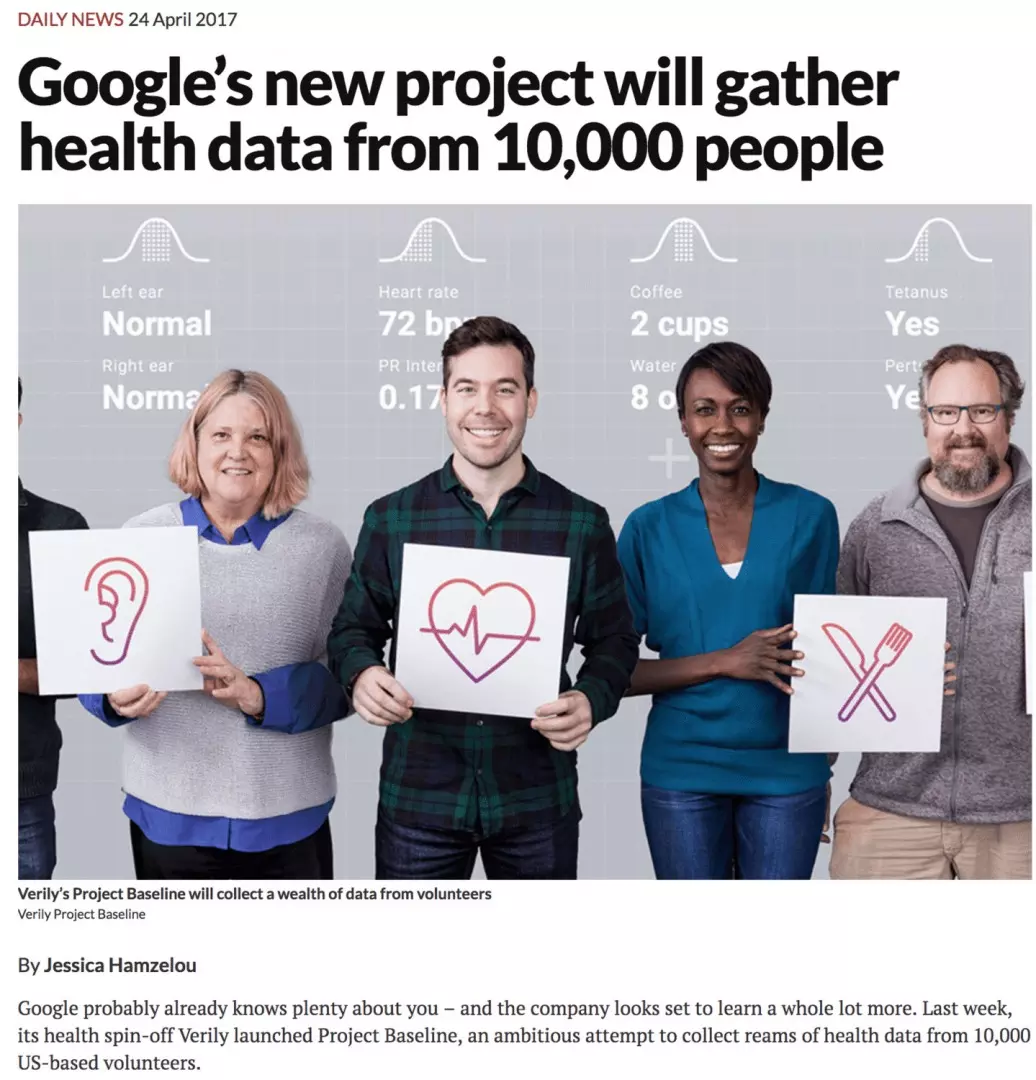 Amazon, Google -- any data-oriented company -- could find Peloton useful in this healthcare initiative.
By definition, IoT is N=1. Or 1:1. And in many cases, IoT will require that consumers opt-in (passing on PII) for it to work. The companies that deliver value back to the consumer will get permission to use PII.
2. Peloton data opens doors to a chain of emerging technologies
Companies that control these IoT Ecosystems will be the winners because they will control data-flows (intelligence) from voice activity, physical activities, button pushing ... . They will also funnel the PII through a whole chain of emerging technologies, each adding value: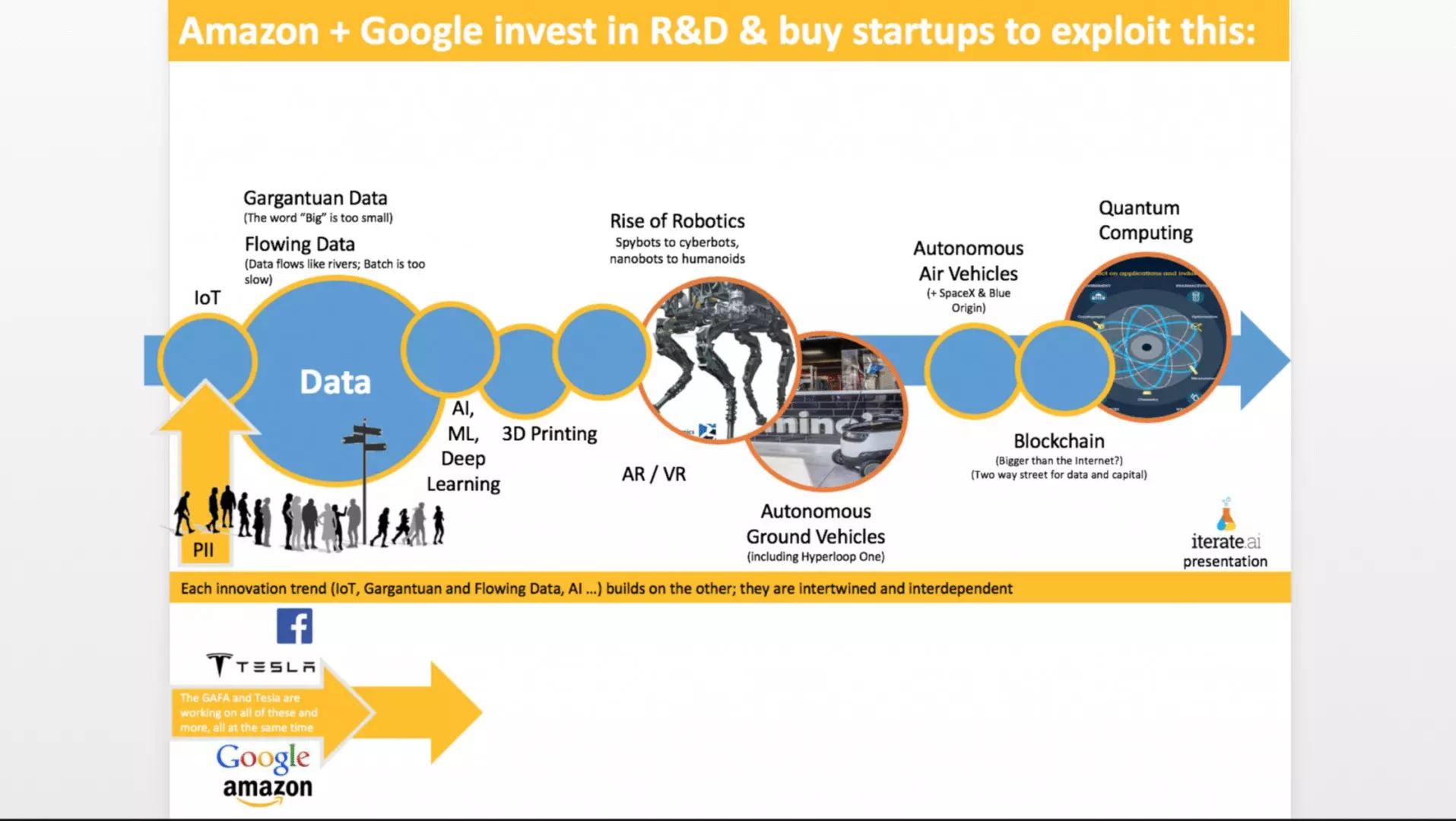 Ultimately, for giant companies like CVS, Amazon, and #Microsoft, future success likely lies in its ability to retain and use Compounding Knowledge gained to connected-devices like Peloton. The power of Compound Interest was important in 1999; now it's the power of Compounding Knowledge, as my friend Jeff Auxier says. IoT devices networked together + AI delivers on that front.
3. Peloton could become a blockchain launch pad (for Amazon or other brands)
One theory is that blockchain will give consumers more control over their PII:
One example of this is #Repay.me (a Berlin-based startup) which wants to help consumers charge companies to use their personal data.
Many startups are planning to help consumers monetize their personal data -- unlocking certain elements of their personal PII to sell to companies.
Companies that are "closest" to the consumer -- the ones delivering the most valuable experiences via IoT in many cases -- are likely to get blockchain permissions from consumers.
Peloton will be one of those "trusted" companies. It could give blockchain pioneers an opportunity to experiment with those types of consumer-controlled deployments.
Amazon is seeking them out creative blockchain ideas right now ... through another open-door initiative ...
Blockchain might be poo-pooed in some circles. But, everyone needs to watch it carefully. Some leading research organizations predict that Blockchain is coming fast. "By 2019, 20% of all IoT deployments will have basic levels of blockchain services enabled (source: IDC and i-scoop)
4. Peloton IoT offers more "N=1" marketing opportunities (for nutrition and health-brands)
Combining PII, AI, and IoT changes marketing, forever. And marketing is evolving. Amazon replaced advertising with free shipping -- a "crazy move" made in 2003. Yesterday, Mike Edwards reminded me that Jeff Bezos says, "Advertising is a tax you pay for a lack of innovation." Amazon will apply this logic to logistics (FedEx) and health care now, too.
Imagine how an IoT device like Peloton could provide authoritative nutrition advice to health care and weight loss enthusiasts. Peloton, with the Echo-like screen, could complement Amazon's Whole Foods acquisition, by delivering food (even private label health foods and nutrition supplements) at low prices, faster. Free, in 2 hours, via Prime Now. With PII opt-ins, both Peloton could give real-time nutrition advice tailored to each individual rider. As soon as a ride is done ...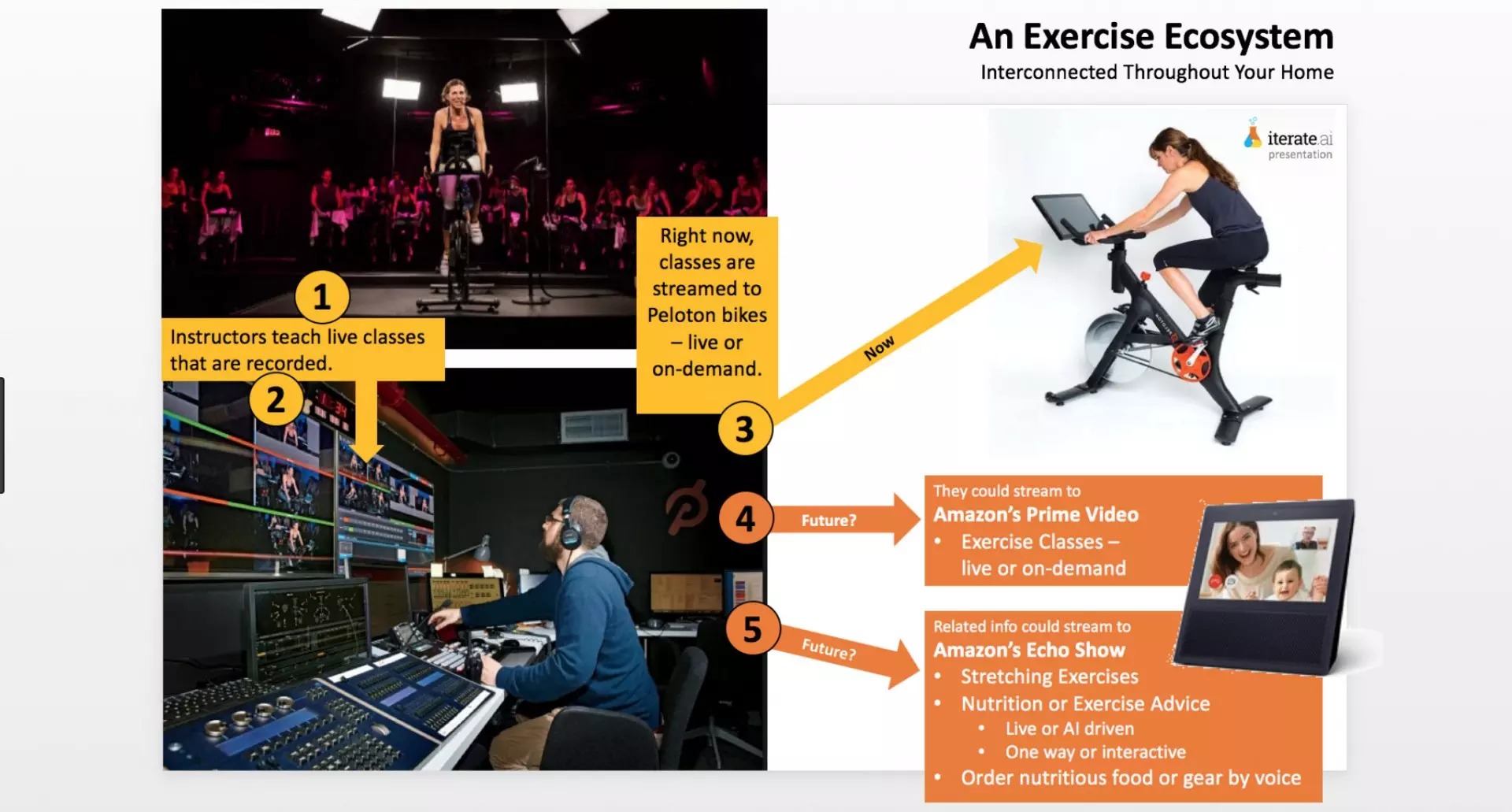 ... or as soon as a run is done on the Peloton Tread (coming soon):
... or ... the nutrition advice could be streamed into the fitness enthusiast's kitchen via Echo Show or Echo Spot: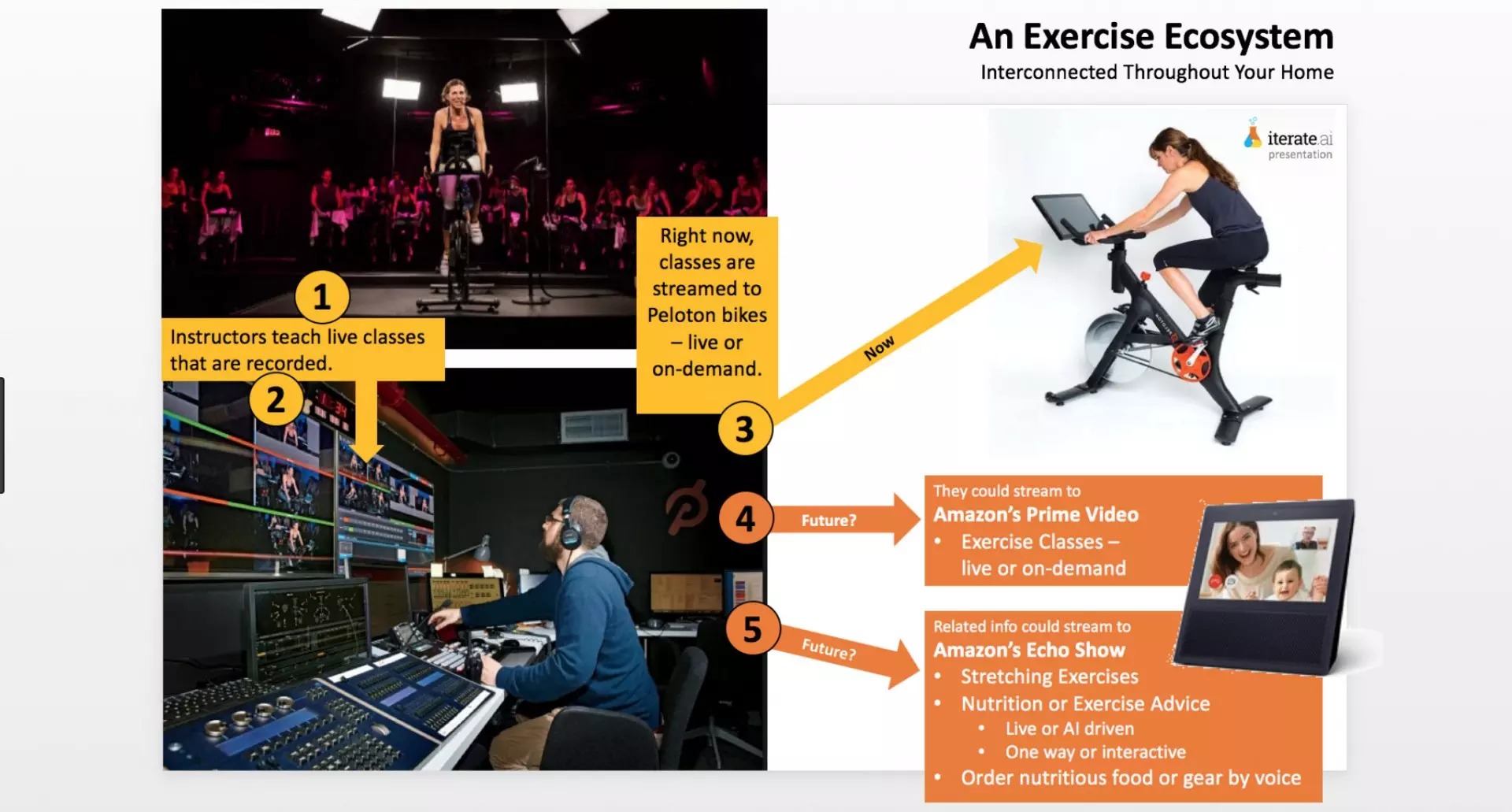 Lori Mitchell-Keller of SAP wrote in Retail's New Normal: What to Expect in 2018: "Consumers will be best reached "in-the-moment" ... with shoppers becoming more digitally savvy than ever before, retailers must innovate new ways to reach consumers in their exact moment of need or impulse. Many retailers are reawakening to the ideals of personalized, yet highly scalable, retailing by leveraging digital technology and unparalleled consumer insights." Companies beyond retail need to be in tune with this trend, too.
Lori's second point was that "Creating New, Unique Experiences with Technology will be Non-Negotiable".
These unique experiences can be tucked into loyalty programs, creating extra savings for Members -- not to mention healthcare (preventative) benefits ...
5. Peloton could enhance loyalty programs (like Prime or Walgreens' Balance Rewards)
The main Peloton drawback is its limited customer reach compared to Amazon or Walgreens which appeal to everyone. At $2,000 per pike, it's expensive. It's the #Tesla of exercise equipment. It's probably penetrating the most into Whole Foods-serviced neighborhoods like mine. I can count 5 Peloton Bikes within two blocks of my house -- and a number of those homes own a Tesla. We live about 3 miles from Whole Foods.
Today, Peloton appeals to relatively affluent fitness (or weight loss) enthusiasts ... the Whole Foods shopper. But -- it could appeal to far more Americans (Europeans, and ...).
What if Amazon flipped Peloton's cost structure on its head? What if Amazon made the bike more affordable -- like Tesla has done with Model 3? That Model 3 move caused demand for Tesla to skyrocket.


It's likely that Amazon could make that type of move if it acquired Peloton. It's in Amazon's DNA to lower prices. These two quotes add detail to Amazon's pricing policies, as Patrick Jamieson, from #GSK put on Linkedin:


If Amazon decreased the price of Peloton, it could penetrate more neighborhoods and offer more preventative-maintenance health benefits to shoppers. Which, in Amazon's eyes, is a good thing. New businesses don't scare companies like Amazon. Especially if they benefit the customer.


Shoppers beyond neighborhoods like mine -- but, including mine -- might value Amazon more if Peloton and it's health benefits became a new Prime perk. A $1,000 Spin Bike (versus $2,000) and a $19 monthly subscription (versus the $39 price today).
6. Peloton is a subscription-based business model (which Amazon and insurance companies love)
Today, Peloton is sustained with 1-time fees ($2,000 bikes) and then subscriptions (about $39 per month for a family). Both insurance companies and Amazon love subscription-based models.
In Amazon's case, the Peloton experience could be complemented by nutrition-oriented subscription services and Dash. Imagine "IoT-enabled Dash Buttons" -- virtual ones -- popping up on Peloton's interactive screen after you complete a ride. They could be driven by AI, exercise patterns, and purchase histories ...

As shown above, Dash is already integrated into Echo Show. And Echo Show could recommend nutritious products 30 minutes after a ride is complete.
Some of the products could be delivered immediately -- to Peloton's existing customer-base.
7. Peloton provides a pre-installed User-Base (which could be useful to Amazon, Kroger, CVS ...)
Amazon is famous for exuding patience ... and Bezos famously talks about 7 year incubation periods.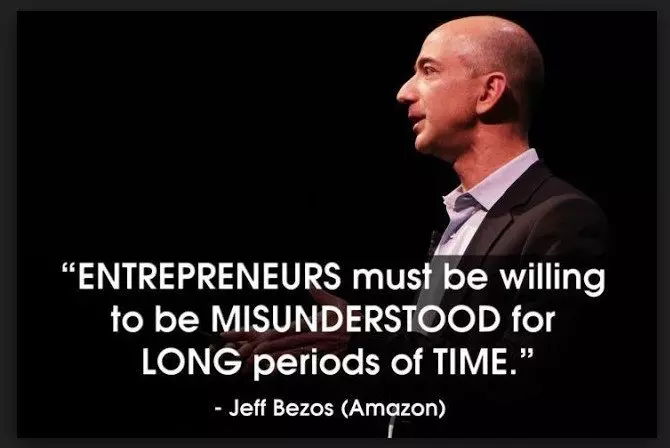 He's also famous for his enjoyment of being misunderstood -- for long periods of time.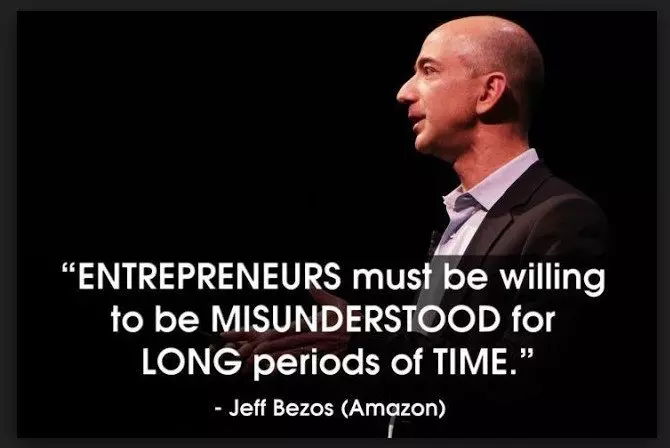 But, in the case of a Peloton acquisition, everything accelerates. An acquirer wouldn't need to wait 7 to 10 years to get an installed base of affluent fitness and weight loss enthusiasts.
Peloton is working today!
A Peloton acquisition would be a bit like the Whole Foods acquisition, albeit a bit smaller. For Peloton, the first four years of development are in the rear-view-mirror ... and it's proven. It's growing fast. At its current growth rate, Peloton could have about 1 million people in five years. Those 1 million would be worth about $2 billion in revenues per year. It could provide intangible benefits -- like incenting riders to remain a Prime Member. If a company like Amazon dropped the price in half for loyalty members, that 1 million members could be 3 million, so the growth rate could be higher than it is today (even though it's already high).
More importantly, though, integrating Peloton is all about the ecosystem. It's about lock-in. In this new IoT + AI fueled world, Peloton engagement leads to the purchase of products far beyond the Peloton bike and the Peloton subscription fee.
8. Peloton adds another screen in the home (which Amazon, #Netflix, #Comcast, and #Samsung love)
If Amazon got involved with Peloton, it would add another Echo Show type product into the shopper's home. In addition to adding another screen to a home, it adds another camera (like Blink, Ring, and DeepLens).


This could even be valuable to media companies that distribute content through TVs, as YouTube and Netflix (not to mention Prime Video) try to disrupt the traditional channels -- from Comcast and Dish to Disney and Fox.
For companies without IoT screens living inside homes, Peloton could be a starting point.
9. Peloton provides almost daily shopper engagement ... and very positive interactions, at that (which every large company values)
Peloton riders love that bike. NO -- actually, they love the community. They love the coaches. They call each other Pelopeeps, Pelotonians, Pelofriends and other terms of endearment. They encourage each other, advise each other, act as if they actually know each other ...
One after another ... after another ... FB comment is like this:
And another:
My feelings about Peloton are informed by personal usage and watching the Pelo-Community. I am a user. My wife and I have a Peloton in our basement sitting next to my LeMond spin bike which I "hoped" to use ... for 20 years.
As my bike dashboard shows here, I've completed 248 rides in roughly 2.2 years. It's the first exercise equipment that I've actually used on a regular basis in more than 15 years. I am grateful to Peloton, and I love it.
This is similar to what I see others doing:
Many rides are taken by thousands people. My favorite (due to the instructor, Jennifer Jacobs, and the music tempo) was ridden 8,142 times -- 4 of which were me.
This Olympic celebratory ride, here, has been ridden more than 47,000 times:
Peloton's engagement, in my experience, is superior to many Amazon IoT products. My family owns 13 Amazon IoT devices if you include my defunct Fire phone: 5 Echo Shows, 1 Spot, 1 Tap, 4 Dots, and 1 Dash. We rarely use Tap or Dash, but we use the Shows often -- for phone calls, timers, clocks, music players, recipes. To place voice-activated" orders. Multiple times now, I've used Show to order batteries and coffee. Even my 9-year-old used Show to voice-order a school product (without asking his Mom or me). This is him (below) using Show at my desk:
This is the beauty of Echo Show and also of Peloton. Both are easy. Linkedin's editors, Chip Cutter and Laura Soper, wrote in 2018's 50 Big Ideas that IoT is mainstreaming. They predicted that 2018 will be the year that Grandma starts using Alexa.
It will also be the year that a few 100,000 (new) non-techies start riding the $2,000 Peloton -- which also contains a microphone and interactive video. "One of the trends (we are) watching in 2018," wrote Theodora Lau, director of market innovation at AARP and a LinkedIn Top Voice, "is the continued proliferation of voice-based services, which will most certainly have an impact on a consumer's day-to-day life. We are already seeing growing adoption of virtual assistants such as Amazon Alexa and Google Home. The integration of these connected devices and artificial intelligence has the potential to transform the lives of millions of older Americans, enabling richer experiences and a safer independent living environment."
Peloton, on average, for a company like Amazon, would bring 2X to 3X more interactions per week. Interactions with "average" people. Peloton interactions are deeply felt, emotional interactions. Ones that last 40 minutes to an hour at a time -- more similar to Prime Video, but more consistent, more interactive, and the outcomes are positively positive.
In a nutshell, Peloton's success is based on IoT-based advantages ...
IoT-enabled community -- When I started in 2016, there were 50 riders on each live ride. Now there are 500 to 1,000 riders on each ride. On the live leaderboard, I watch the progress of Peloteers riding near my speed -- they (silently) push me to improve. The instructors interact with us -- shout-outs encouraging progress.
IoT-enabled real-time metrics -- measure your progress in real time -- with others.
IoT-enabled long-term metrics -- it's fun watching how you've improved over time, too. My legs have gotten 40% stronger over two years. 40%!
IoT-driven badging -- as you ride, you earn recognition.
Peloton has many fun badges ...
IoT-enabled scheduling -- rides happen all day long. My wife loves the flexibility -- as do I. Because I usually work from home, between phone calls, I can run downstairs to get a quick 30-minute ride. I also add rides to my calendar from my Samsung phone. Something that I'd like to do with my dentist and doctor.
IoT-empowered instructors -- they are excellent and they come in a variety of styles. George Hincape, who rode with Lance Armstrong as a domestique in the Tour de France, is an excellent (and seemingly humble) celebrity instructor.
IoT-powered bikes -- they are high quality, as you'd expect after investing $2,000 on one. Unlike the 1990-style LeMond spin bikes, though, they're equipped with IoT sensors and wifi + Bluetooth connectivity, not to mention a camera and microphone embedded in the touchscreen.
IoT-bookable classes -- it's like #Starbucks. You can order any flavor you want. Live rides or on-demand rides. You can ride with a Tour de France instructor. Ride with Matt Wilpers or Jenn Sherman. Ride for two hours or 10 minutes. Rock or country. Scenic or as part of a Turkey Day event. With clean language -- or where any language goes.
10. Peloton can increase IoT connectivity (which all companies should be seeking as they join ecosystems)
Both Peloton and Amazon need to connect to more data-rich IoT environments. Amazon has done this by adding skills to Alexa devices. It uses a variety of techniques ... by leveraging the Paul Bernard led Alexa Fund -- a $100 million investment tool -- to open-sourcing the Alexa App Development.
Right now, though, too many IoT technologies live on an island. My $600 Garmin watch seems to live in isolation. "Garmin doesn't connect to Peloton or Echo. Yet, Garmin should connect to both. It's old school and operating inside a closed system. "If Garmen connected to a larger ecosystem, all products are strengthened -- including Garmin. The consumer experience improves, making Garmin a more important part of your life," says my Iterate.ai work-mate, John Selvadurai (Ph.D. in IoT/AI).
In this world where IoT is becoming more prominent, more connectivity leads to better features ... better features lead to more usage ... more usage leads to higher switching costs. Data from one device informs the algorithms of another device ... and the consumer likes this.
Which is why connectivity (and ecosystem) is a high priority for companies like Amazon. Leveraging IoT data + AI is an obvious way to make experiences for consumers a little bit (or a lot) better ...
11. AI outputs can be improved by ingesting Peloton's PII data ... data which flows like a river in real-time
In the case of Amazon or other companies that have embraced AI, a rider's activity on a Peloton spin bike could help inform AI algorithms. Peloton data could help shape Amazon's AI-based nutrition and food recommendations ... as described below by Daniel Faggella in MartechToday (November 2017):
"If Amazon's latest earnings are any indication, product recommendations powered by AI ... have been successful. ... The (AI-based) recommendation system is integrated into every aspect of the purchasing process. But a team of University of Toronto professors notes in a Harvard Business Review article that Amazon's system still doesn't deliver 100% accuracy in its predictions.
The U of Toronto team wrote: "Amazon's AI does a reasonable job, considering the millions of items on offer. However, they are far from perfect. In our case, the AI accurately predicts what we want to buy about 5 percent of the time. In other words, we actually purchase about one out of every 20 items it recommends.
That said, "the team went on to predict that given additional data (such as that provided by Amazon's purchase of Whole Foods), the company could eventually become so accurate that it could someday turn a profit by shipping people items it predicts they will need."
This, in Iterate.ai's view, is one key place Peloton could fit into an Amazon ecosystem. Or any other AI+IoT-driven ecosystem.
True, companies like Cisco and IBM are big believers in AI and IoT and enterprises can turn to Cisco and IBM for help. Despite those Enterprise efforts, much of the IoT and AI innovation has emerged from the startup ecosystem which is why Amazon, despite its $21 billion R&D budget (past 12 months), acquiring 11 companies last year, most (ex-Whole Foods) being startups.
It's why Amazon bought Annapurna Labs despite its partnership with Intel. It's why Amazon started Flex despite its partnership with UPS and the USPS.
Amazon doesn't rest on its laurels, and, as an orthogonal thinker, Amazon is not buying retailers. Amazon is buying emerging technologies, IoT products -- and entrepreneurial talent.
12. Peloton = Entrepreneurial Culture (which all companies today should strive to aquire and retain)
In a sense, Peloton started inside Barnes & Noble. Its founder was the president of B&N e-commerce.
It was a rough start as most startups are. As memorialized in Inc. Magazine, "The Start" is worth reading. Problems are "normal" for the vast majority of startups -- even great ones like Peloton -- which scramble for survival capital:
While still employed at B&N, John Foley, the founder and CEO of Peloton, raised "$350,000 from a dozen angel investors within a couple of months in 2012, and added $50,000 of his own money," according to Inc. Magazine. This is similar to my first company, eBags.com -- us co-founders contributed large chunks of our own money. Below was one of the $30,000 personal checks I paid to eBags while not collecting a paycheck for nearly a year:
In startups, entrepreneurs often pay to work ... versus working for pay. To conserve that angel money, Peloton's founding team worked without salaries. This nurtures the formation of a very passionate culture. My co-founders and I know this, because at eBags in 1998-9, my partners and I did the same thing. All work, no pay as we embarked on our "Garage-startup" journey which eventually led to selling $1.5 billion worth of bags.
It happened again in my current company -- Iterate.ai. All work, no pay (in those early days).
Eventually, startups either raise money, build revenues, or die. Peloton was able to raise a bit more money. Later in 2012, after that initial angel fundraising event, Peloton raised another $3.5 million. It was probably used for 3D modeling, an Android App to reside on the Bike's tablet, IoT bike R&D, multi-media broadcasting equipment, a Kickstarter video, bike production, and studio rent.
Eventually, in 2013, to create awareness and raise more money, the Peloton Team landed on Kickstarter. On Kickstarter, in 2013 (four years ago), 297 people pledged $307,332 to further the Peloton mission.
Yup, imagine that. Peloton turned to Kickstarter. It's sort of like the Ring story which dissed by Shark Tank. In it's first few years, Peloton, which eventually booked revenues faster than Google, Facebook, or Apple, had trouble finding a professional investor who "believed" in the concept as described in the Inc article:
In another historical lookback, Peloton's startup-story is similar to Blink's, which Amazon acquired in Q4 2017. CRN reported: "Blink, (an IoT security camera and doorbell company), was founded in 2009, but came out of stealth in 2014 with a Kickstarter campaign that raised $1 million... ."
Now, both Peloton and Blink have proven value. While Blink only raised $5 million prior to being acquired by Amazon, Peloton has now raised more than $444 million, making it an expensive unicorn startup.
Some may say that entrepreneurial, startup culture would be sapped out of Peloton if it were acquired. But, Amazon and other GAFA companies have track records of keeping entrepreneurs. Especially Google.


The GAFA companies know that they need open-minded, orthogonal thinkers ... AND ... operators who make the clock tick perfectly. A balanced makeup of an organization needs to employ both types of people.
If a large organization's employee contribution is weighted too far to the Late Majority and Laggard side of the Innovation Bell Curve, even executives won't be able to influence change or launch new concepts. Amazon attracts innovators by encouraging internal invention, open sourcing code and acquiring startups (while retaining the entrepreneurs).
A $2 million salary doesn't always indicate a leader is a visionary. Sometimes the CEO him/herself is the roadblock. Neither Borders' CEO (in 2000) nor Blockbuster's read the tea leaves properly, eventually causing massive job loss and bankruptcy:
Peloton could be overlooked like Netflix was overlooked by Blockbuster's CEO -- three times.
Is Peloton the Netflix of fitness? Is it a $5 billion or 10 billion healthcare PII-data company? If yes, who is overlooking Peloton's potential?
If Peloton were acquired by a GAFA-type company, the entrepreneurs at Peloton will likely stay. They'll be encouraged to open their minds further. Encouraged to extend and open-source their efforts ... again, embedding themselves into an ecosystem beyond the parent company's walls.
13. Peloton could be an Open Source or Open Development project (which Amazon and iTunes love)
If Amazon were to acquire Peloton, it could encourage Peloton to allow its PII data to interact with many health-oriented resources, as Amazon has done with its API's. Amazon's API infrastructure is large as shown in this API ecosystem chart drawn 3 years ago in 2015:
Decoding the API Economy states: "Amazon has had an explicit policy of creating open APIs. The results show. ... When you run standard network algorithms you find that Amazon sits near the core of the API economy." It's likely, with or without Peloton, Amazon will apply this type of Open-Thinking and Open-Tech-Framework to health care -- and to any startup acquired by Amazon.
As Amazon enters healthcare, do the leaders in the health industry understand what type of tools Amazon uses to grow and win market share? This openness might be a whole new framework to deal with.
There are countless examples of Amazon's open framework: "Amazon recently released 500,000 images of products in their fulfillment centers," wrote Brian Sathianathan, of Iterate.ai. "Amazon Fulfillment Centers are bustling hubs of innovation," according to Amazon, "that allow Amazon to deliver millions of products to over 100 countries worldwide with the help of robotic and computer vision technologies. The Amazon Bin Image Dataset contains images and metadata from bins of a pod in an operating Amazon Fulfillment Center. The bin images in this dataset are captured as robot units carry pods as part of normal Amazon Fulfillment Center operations. Amazon Fulfillment Technologies has made the bin images available free of charge on Amazon S3 to encourage recognition research in a variety of areas, including counting generic items and learning from weakly-tagged data."
This openness is consistent with Amazon's AWS DeepLens initiative, too. AWS said that this wireless video camera, revealed December 2017, is integrated with deep learning hardware and tools -- and that developers will be able to build computer-vision models for DeepLens.
It's possible that cameras like DeepLens and its AI algorithms could be embedded inside Peloton for further fitness analysis, says Andrew Wichern, one of my Iterate partners. "Maybe the Peloton camera can get important health insights from peering inside a rider's eyes? Amazon's AI algorithms might find that useful."
To compete effectively in the future, it's likely that large organizations need to open up. Cultures often need to change. Openness and startups need to be embraced --meaning old-fashioned internal systems (like procurement and legal) need to adapt, too.
If Amazon, Kroger, or healthcare providers try to pursue an API-strategy or "Open App Development" with Peloton, the outcome might be unknown for now. But, the increased data flow is certain to improve AI engines and health capabilities worldwide.
14. Peloton = preventative medicine due to PII-access (giving any acquirer a unique penetration point into healthcare)
Amazon is already deep into healthcare on multiple fronts. Amazon has launched Private Label over-the-counter (OTC) medicines. At the same time, Amazon is building a business that sells a wide array of B2B medical supplies to doctors, dentists and hospitals. It's also announced an initiative to tackle health insurance problems.
Peloton could become just one more "point solution" -- an IoT-driven PII-data-gathering engine -- that Amazon uses in its healthcare pursuit. As it makes decisions, Amazon will follow its published leadership principals which include thinking big, acting fast:
Adding Peloton to the Amazon IoT portfolio would be another orthogonal move. Its PII-data could help inform the purchase of Amazon's Private Label drugs, for starters. Orders could be placed by voice over Echo -- or by pushing an e-Dash button on a Peloton bike -- or by pushing a Dash Button in the bathroom pantry.
Or, in Amazon-style, it could lead to Anticipatory Commerce -- helping Amazon bring its predictive commerce patent, issued in 2014, to life:
Amazon could fill those anticipatory orders with Private Label OTC and pharma products. Amazon's Private Labels are branded Perrigo Basic Care and Perrigo GoodSense.
As Business Insider reported: "Selling the OTC medication doesn't give Amazon a pathway to selling prescription drugs ... . But it could help strengthen consumers' association between Amazon and healthcare as the company continues to move into the healthcare market." Amazon is passing on Private Label savings to its Prime members as BI points out:
"(Amazon) acknowledges that it is becoming a bigger player in over-the-counter medicines," CNN reported on Feb 27, 2017., as it tries to offer better nutrition -- and more food-oriented Private Label -- to shoppers via Whole Foods. "Amazon has long sold Tylenol, Band-Aids and thermometers on its website. But last summer, it quietly launched a line of private-label medicines manufactured exclusively for Amazon by Dublin-based Perrigo (PRGO).
GoodSense has it's own website. The site tells consumers to shop at Amazon:
GoodSense is working with DisneyRun. It's not a stretch to envision a partnership with Peloton and its IoT:
There's GoodSense. There's also Basic Care.
CNN described Basic Care this way: "(Amazon's) Basic Care line, which has its own page within the Amazon site, offers a range of products, including ibuprofen, allergy medicine, laxatives, hair regrowth treatments and nicotine gum. BasicCare, like GoodSense, sports it's own website too:
Like Business Insider reported, CNN found price advantages on Amazon: "Prices for many (Amazon Private Label) items are significantly cheaper than traditional pharmacies, such as CVS (CVS), Walgreens(WBA), Rite Aid (RAD) -- even Walmart, analysts at Raymond James said in a December report. For instance, Basic Care ibuprofen cost $7.50 for 500 tablets, while Walmart (WMT) charged $8.23 and Walgreens $15.49. A bottle of Basic Care laxatives cost $7.39, compared to $8.04 at Walmart and $11.99 at CVS.
This is the type of comparison Amazon shoppers will make:
While price cutting serves Amazon and Amazon's shoppers effectively, this price cutting behavior is at odds with the expectations expressed by many analysts: "Private label items typically provide much higher profits than brand name products -- to the tune of two to three times the margin, said Elliot Wilbur, a research analyst at Raymond James," in the CNN article. He continued, "... one hurdle Amazon faces with some of its Basic Care line is that consumers aren't willing to wait 24 to 48 hours to get their cold or pain medicine when they are in need. Instead, many will prefer to run to the store."
That analysis could be proven wrong on two fronts. Amazon won't improve its gross margins -- it will pass Private Label savings onto its 70 million Prime Members. Also, Prime Now, which promises 2-hour delivery windows, is aimed at fixing delivery speeds. Whole Foods, acting as a localized fulfillment center, could deliver for free in 2-hour to many Amazon Prime Members. Those orders could be placed by voice over Echo Show. ... meaning a sick person doesn't even reach for a computer or a phone. Shopping's getting easier. It's becoming an ecosystem. All of this needs to be considered as a chain of events.
BUT, HERE'S THE KICKER -- tying this back to Peloton: If Amazon can make smarter predictions by using AI and IoT-PII-data -- and if Amazon can promote grocery products and Pharma products in the real-time of need (let's say, after a ride on a Peloton bike) -- then won't need to "advertise" as much. Then, Amazon can cut prices more.
As Bezos says, Advertising is the tax paid by companies that don't innovate. In the future, advertising may be a tax paid by companies that don't act orthogonally.
What To Expect From Amazon + Peloton in Healthcare:
What we know for sure ... is that Amazon's culture is Amazon's culture -- a leopard doesn't change its spots. As it did with retail and with AWS, expect Amazon to "fix" things in the healthcare industry which is often viewed as slow, paperwork-intensive, and bureaucratic. Expect Amazon to use tools like Peloton to create fixes.
Expect Amazon to try to:
1. "fix" speed issues related to health care. Insurance processing times. Access to doctors (which Apple is trying to fix with it's #ACWellness initiative).
2. "fix" selection issues in health care. Selection is partly related to the health insurance issue Berkshire Hathaway, JP Morgan and Amazon will attack together -- before inviting other companies to join their efforts.
3. "fix" pricing issues in health care -- with Private Label drugs, new insurance plans, predictive healthcare, and preventative tools like Peloton. So, expect more of this price reduction activity across the board -- it's in Amazon's blood. Amazon's taken 61 price decreases on EC2 as of May 2017:
If Amazon believes an industry's margins are high, it will attack:
4. "fix" transparency. In retail, Amazon was the first company to bring un-edited, customer-written product reviews to life. Sounds petty today, but that concept was breakthrough in the late 1990's.
Expect Amazon to:
5. build products in countries that don't "get in the way" -- as Amazon's doing with Prime Air.
6. use Prime Air as a point solution in Amazon's health care crusade.
7. leverage Whole Foods and 360 (Whole Foods private label) in the healthcare equation. Whole Foods and ground drones or air drones will likely be delivery agents and distributors of Private Label Pharma.
8. leverage AI. AI can help with prevention and early detection. Like Google/Alphabet is doing. As reported by The Verge in 2017, "researchers from Google and Alphabet's life sciences subsidiary, Verily, developed a method for assessing risk for heart disease using a patient's eye scans and machine learning; the software can determine a person's age, blood pressure, and whether the subject smokes by analyzing retina scans -
Scanning eyeballs and adding Peloton type PII data to that (and who knows what else) could be revealing. But, the future probably involves a lot of PII trading ... in real time.
Expect Amazon to:
9. encourage the usage of private PII data which will help the AI deliver better results. And expect Amazon to lobby the government when it's blocked.
10. focus on preventative health care issues, not just post-disease issues. One reason: prevention involves the front end of the customer journey. Another reason: prevention is the happier side of the healthcare journey (which helps the Amazon brand). A third (business) reason: if Amazon owns the front end (as it could with products like with Peloton), consumers will give Amazon permission to work on the back end.
11. Expect Amazon's preventative measures to be tied to predictive commerce -- and fitness oriented products like Peloton. We do know that Amazon and Bezos are orthogonal thinkers and orthogonal operators. AI + IoT, including Echo-advice, could play a key role here in healthcare. Insurance breaks for Peloton riders could be on the table. Private Label prevention products -- which lower costs for consumers -- could be shipped an anticipation of needs (anticipatory commerce).
12. Expect a more holistic view of health -- the way Amazon views commerce. It's possible that Bezos + Buffet + Dimon are thinking that the term "health insurance" is really "medical-procedure insurance" and that the framework of insurance needs to change: Maybe dental care, cranial sacral care, participation in Peloton rides, acupuncture, and chiropractic care should be wrapped into the larger healthcare ecosystem -- holistically? And instead of focusing solely on medicines that fix problems, Amazon and Google might aim PII and AI at (a) earlier disease detection or (b) the prevention side of healthcare. DeepLens might help with (a) and Peloton with (b). Just expect an increasingly holistic view of healthcare.
13. Expect Amazon to be as creative and orthogonal as possible, expect Amazon to leverage creative entrepreneurs and open source applications. If Amazon approaches healthcare with an orthogonal looking eye -- open sourcing resources, lowering costs, easing access ... the market is likely to respond in a positive way.
Summary:
This is just the beginning. For Amazon. For Peloton. It's Day 1.
Opportunities -- outside-of-the-box ones -- need to be considered (seriously) by all organizations today. Whether a grocer, a car dealership, a media giant, a big pharma company, an offshore manufacturer, a retailer, or NASA -- it's important to be vigilant. Amazon, SpaceX, Tesla, Google, and Facebook are attacking across a multitude of industries -- all at once -- by embracing a multitude of emerging technologies.
Seemingly unrelated technologies -- like Peloton is to Amazon, CVS + Aetna, or Kroger -- could play a critical role in the new competitive ecosystem. New strategies are required to stay relevant in the next decade.
Thoughts on How To Respond:
A. Become orthogonal.
Kroger, Walgreens, big pharma companies -- all should be engaging with orthogonal thinkers. Engage with entrepreneurs and outliers. People who approach problems from outside perspectives. Amazon wasn't built by a retailer; AirBnB wasn't built by hoteliers; Uber wasn't built by a transportation executive. Facebook wasn't built by a media exec. Each of those businesses might have been rejected if those ideas were born inside traditional, old-school companies that base decisions on historical references. Keep entrepreneurs employed in your firm ... as you keep your day-to-day operators engaged.
B. Be an ecosystem.
To build an ecosystem, healthcare companies need to think about adding edge-products like Peloton to their portfolios. Here is an article about Edge Strategies:
It's not just healthcare though -- companies in all industries need to identify edge-opportunities. IoT is connecting the world and companies need to find ways to leverage it -- to become integrated into ecosystems. Ecosystem can be enhanced by partnerships or acquisitions. Ecosystem thinking and edge-strategies have never been more important.
C. Investigate PII opportunities.
Where is the world headed with PII? Which type of companies will get permission to use PII? As PII and blockchain mature, how will this alter your industry?
D. Be blockchain curious.
It's possible that blockchain will be the gateway to PII. Amazon is becoming an intertwined group of "things" that will ultimately leverage IoT, AI, PII, and Blockchain ... as you can read in more detail by clicking the tile below:
E. Be startup curious.
Interacting with startups isn't beneath anyone.
The world's richest guy continues to interact with startups -- startups outside of his own company. As Amazon's CEO, he's founded Blue Origin and acquired Washington Post while investing in many fledgling businesses. According to these charts from Marketwatch, Bezos' investments span a variety of industries ... he invests through Bezos Expeditions and personally:
Recently, he's been investing personal money into education and bio-tech:
In addition to investing, he advises startups, as reported here in the Boston Globe (March 27, 2015):
Being involved with startups shouldn't be "below" anyone. Often, startups are the gamechangers.
F. Be a Tech Trendwatcher.
Whether you're a CEO, a CMO, marketing manager, CIO or board member, watch digital trends.
Iterate.ai built a product to help executives monitor emerging technologies across three innovation horizons (shown below). Boards, executives can use it as one way to know when to take action.
G. Be fast ...
Like the Amazon AWS team, my company (Iterate.ai) believes the most competitive companies in Decade-2020 -- those like Peloton -- will embrace speed + flexibility. By using Iterate.ai, large companies can build digital prototypes 10X faster and a lot cheaper by using a proprietary Microservices framework which includes 100+ pre-wrapped APIs. AWS and Iterate believe that partnerships = speed.
H. Experiment.
There is nothing better for testing the waters than an experiment. Experiment a lot more than ever before. More prototypes can help with that.
I. Instil a bias for action.
This means from more, faster. Today, more + faster can be cheaper, too.