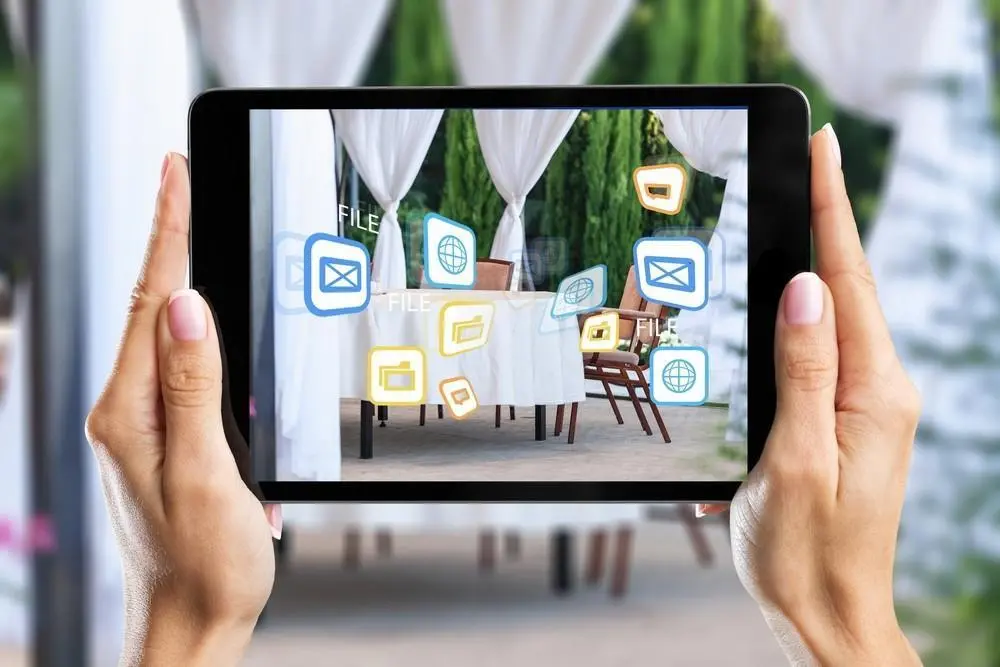 Although eclipsed by virtual reality (VR) among the mainstream audience, the value of augmented reality (AR) in marketing is undeniably significant. Leading businesses are already incorporating AR as part of their digital strategy to attract customers and provide them with positive experiences.
The mainstream hype surrounding virtual reality (VR) has, to a certain extent, subdued popularity of augmented reality (AR). AR in marketing allows businesses to enhance customer experience by overlaying visual information over regular objects. This provides customers an augmented version of reality, which is more engaging and informative.
Uses of AR in Marketing
The main objective of AR in marketing will be to achieve increased brand awareness, greater customer engagement, and higher perceived value by enhancing brand awareness.

Having an interesting AR application that gives users a memorable experience helps in creating a buzz for your brand. AR in marketing ensures better online engagement and more shares and likes with your customers, leading to more exposure and increased brand recognition. Creating entertaining advertising campaigns powered by AR, provide value to customers, increase top-of-mind awareness and attract media coverage. Pepsi's augmented reality ad in a London bus stop is an early example of how the technology can be used by established brands to stay competitive. The effectiveness of AR as a marketing tool had been proven much before when fashion retailer Moosejaw launched an AR app, powered X-ray, to view its print catalogs. The app got over 250,000 downloads and sales increased by 37% due to the initiative.
Increasing Customer Engagement
Although online shopping has seen a rapid growth in the recent years, offline, in-store shopping is still considered as a more reliable way of buying things. This is especially true when people want to make a long-term investment such as buying home furniture or getting renovations done. Leading brands like IKEA have used AR to enable customers to gauge how well the company's product fits in their homes. IKEA Place, which is IKEA's AR app,uses the customer's smartphone camera to display how a selected item of furniture would fit in the customer's residence. The app not only makes it easier for customers to determine what furniture is right for their home but also provides a fun way of experimenting. Other global brands like Coca-Cola and Nippon Paints have also used AR-enabled marketing strategies, resulting in increased social interaction and engagement.
Boosting Perceived Value
Using AR to provide customers with interesting experiences and services allows brands to present themselves as innovative leaders in their industry. It also leads customers into valuing a brand's products more than its peers. In a recent study, 40% of respondents were willing to pay more for a product that could be experienced through augmented reality. This shows a direct causal relationship between the use of AR and perceived value. The same study also reported that 61% of shoppers would prefer shopping at stores offering AR over stores that do not. Brands are increasingly realizing the value of AR in boosting perception and are developing ways to integrate AR into their marketing and customer service channels.
It could be argued that 2018 is the year of AR, and that the application of the technology will only increase henceforth. This should serve as a wake-up call for businesses who have not yet contemplated over the use of this technology in their marketing campaigns.