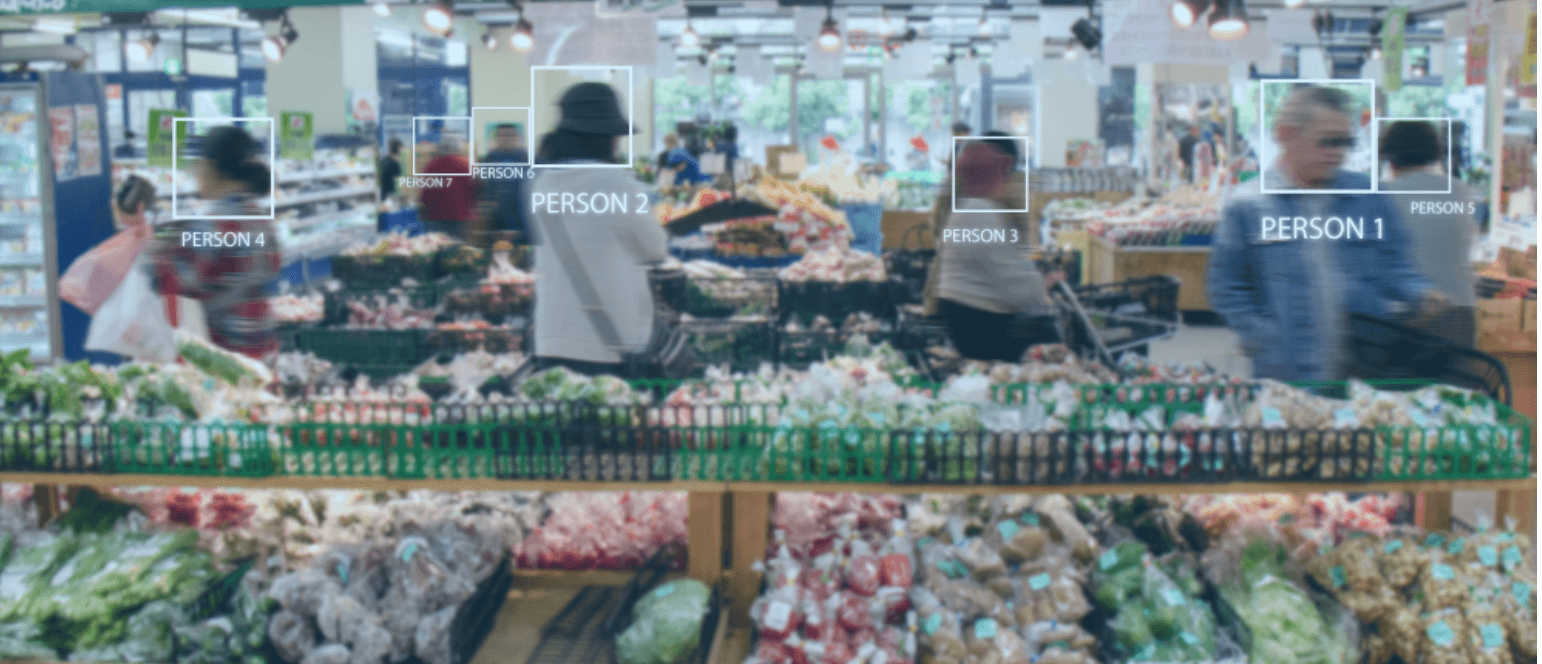 Computer vision in retail enables the computer to see and analyze key data and derive understanding from it.
When applied to the retail process, it can create a paradigm shift in the way traditional retailing works.
If artificial intelligence enables computers to think, then computer vision allows them to see, analyze and understand. Being a subset of AI, computer vision allows computers and systems to extract meaningful information from digitized images, videos and any other visual aids. It provides suggestions and takes certain actions based on the data derived. Due to its revolutionary solutions, the global market for computer vision is supposed to reach $73.7 billion by the year 2027. In recent years, more and more retail companies are planning to incorporate computer vision into their operations. The market size of AI globally in retail is expected to reach $31.18 billion by the year 2028. From analyzing consumer behavior to monitoring in-store health, computer vision in retail can help enhance retailers' revenue volume and the overall shopping experience for customers.
Benefits of Computer Vision in Retail
Computer vision in retail has the potential to transform the industry by improving the overall shopping experience for customers and return on investment for retailers.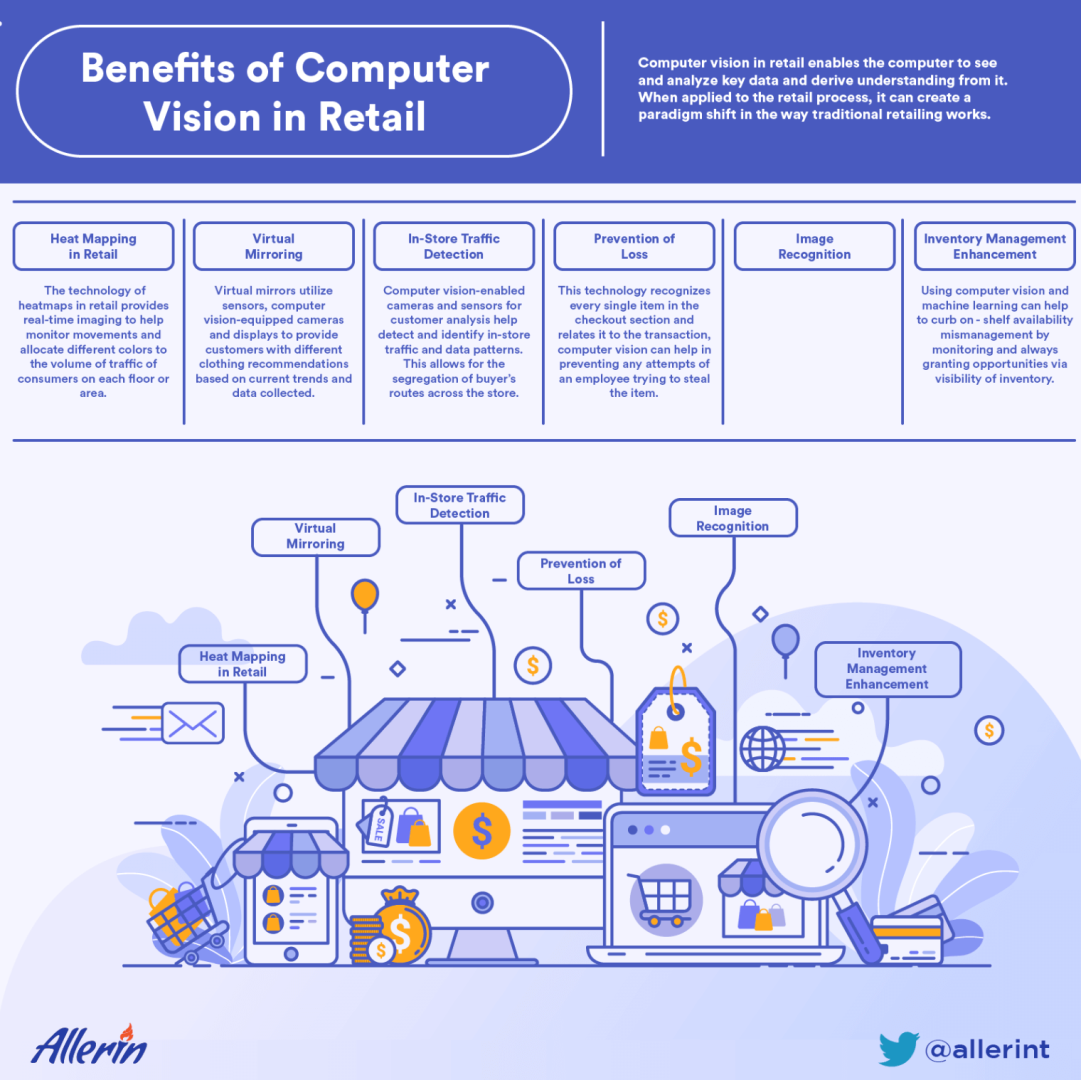 1. Heat Mapping in Retail
A heat map is a graphical representation of data, representing different values through different colors. It can aid in visualizing density. In retail, heat mapping will help the user determine and understand consumer behavior and the store's functionality. The technology of heatmaps in retail provides real-time imaging to help monitor movements and allocate different colors to the volume of traffic of consumers on each floor or area. Industry giants, such as Sephora, Samsonite, ATU Duty Free, etc., have deployed heatmaps in their stores to test new strategies for merchandising, experiment with layouts and understand the in-store activities of their customers.
2. Virtual Mirroring
A virtual mirror is a two-way mirror that showcases an electronic display behind the glass. These mirrors are mostly fitted with computer vision, which allows them to monitor and analyze visual patterns. Virtual mirrors utilize sensors, computer vision-equipped cameras and displays to provide customers with different clothing recommendations based on current trends and data collected. Offering shoppers the option to view and virtually try on several clothes helps to save their time by not waiting in queues and enhancing the overall shopping experience. Computer vision deployed cameras will help to capture the user's shape and size and, based on that, provide them with various options according to the fashion trend. Implementing virtual mirrors in a retail store helps to reduce the workload of sales associates and also enhances brand experiences.
3. In-Store Traffic Detection
Computer vision-enabled cameras and sensors for customer analysis help detect and identify in-store traffic and data patterns. This allows for the segregation of buyer's routes all across the store and captures the pass-by traffic rate. This helps the retailers to identify which promotions are gaining engagement and which promotions are not doing well. AI retail analysis also includes associate and customer interaction and is not limited to observing the buying behavior of shoppers. It provides real-time visibility to understand the in-store service engagement and helps push personalized messaging and marketing campaigns. Samsung utilized computer vision to help quantify their in-store behavior. It used several in-store cameras and advanced computer vision algorithms to collect traffic, demographic and dwell time data to give them a clear understanding of store performance and initial measure of performance.
4. Prevention of Loss
Computer vision is known as the eyes of the computer and can thus be essential in preventing loss through theft in retail stores. Machine learning algorithms in computer vision aid in observing the customer's behaviors, detecting and identifying patterns and making required decisions based on these inputs. This helps to identify any suspicious activities of a shopper. Problems such as sweethearting, where an employee gives a free or discounted product to someone they know, have already been lessened after implementing computer vision. As this technology recognizes every single item in the checkout section and relates it to the transaction, computer vision can help in preventing any attempts of an employee trying to steal the items.
5. Image Recognition
Computer vision-powered image recognition technology is becoming widely deployed by retail and e-commerce companies. It helps to benefit both customers and retailers. By using deep learning in image recognition, it can help retailers by providing capacities such as personalized searches, customer or shopper analytics, counterfeit detection, fashion trend analysis and more. With the data gathered through image recognition, retailers can implement it, design effective marketing campaigns and improve their return on investment. It can also enhance the in-store experience as this technology can aid retailers in retaining their sales from customers who like to compare prices online via their smartphones or other devices.
6. Inventory Management Enhancement
The system of inventory management in retail is about meeting customer demands by supplying the items without stocking too many products that could eventually expire or go to waste in warehouses or, on the contrary, run out of stock. On-shelf availability of a product refers to its visibility on the shelf for the customers at the right place, time and price. Mismanagement of on-shelf availability leads to losses to every party involved as the customer can leave that particular retail store and go to a different one, which results in loss of customer loyalty and sales in the long run.
Using computer vision and machine learning can help to curb on-shelf availability mismanagement by monitoring and granting opportunities via visibility of inventory at all times. Computer vision provides real-time data collection through videos and images gathered from phones, robots, and/or fixed cameras placed in warehouses and shelves. Software empowered with computer vision helps in detecting defects in mislabelled items, keeps a tab on stocks and predicts off-peak and peak demand for specific products, and also offers to order from the suppliers.
Auchan, which is one of the biggest grocery retail names in Europe, has implemented the use of computer vision and IoT-powered robots for monitoring shelves in 34 of its stores located in Portugal. The deployed robots capture images three times a day of all the shelves placed in every aisle. With this data, computers create a report and generate insights and actionable metrics. The data is provided to the user via mobile phones who, on a priority basis, resolve problems of pricing compliance and out-of-stock products more effectively and efficiently than if the data was collected manually.
Computer vision is an ever-evolving technology that provides applicational benefits across most industries. Implementing the use of computer vision in retail can help retailers track their customers' movements all around the store and detect and identify their behavior toward particular items, purchase patterns, and hot areas (areas visited the most). With the information gathered, retailers can make informed and calculated decisions about their store layout, staff, and product placements. It can also aid in curbing any on-shelf availability mishaps and mislabelling of products. In short, using computer vision in retail can help to monitor and analyze images and videos to extract useful information and improve the retail stores' everyday activities.