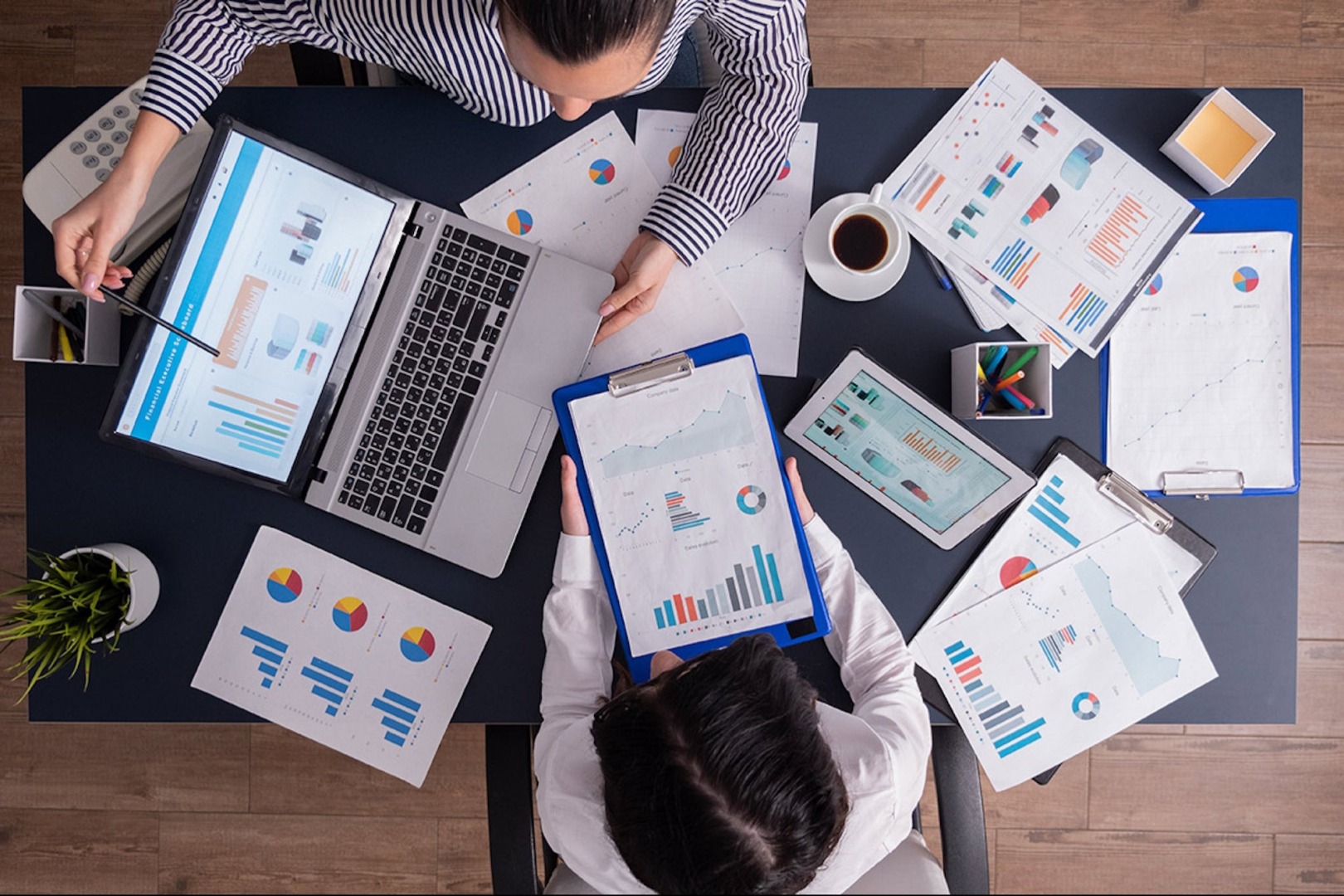 In a project management cycle, a work breakdown structure (WBS) is a visual deliverables-related deconstruction of any project.
When a team undertakes any new project, they work on a WBS diagram as it helps the project managers to break down the entire project scope and visualize all of the different tasks that are required in order to deliver the project to their client or stakeholders.
In a detailed WBS diagram, a project manager outlines all the steps required to finish the task correctly, effortlessly, and, more importantly, deliver the project on time as we will learn here today that when a project manager creates a WBS diagram, they put all the important tasks and work packages associated with it on the top of the WBS diagram, followed by different levels that indicate the project scope's tasks, deliverables, and work packages that are mandatory to complete the said project from start to end.
In this guide to understanding the WBS diagrams and the significance of project management tools, we will help you understand how easily a project manager can make a WBS diagram using EdrawMax -- a highly recommended free WBS diagram software currently used by over 25 million professionals.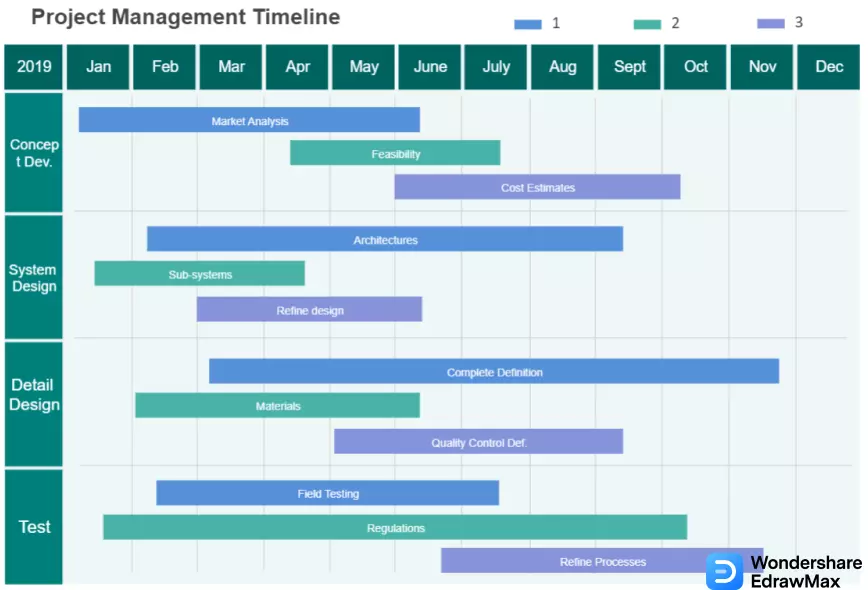 Why is Project Management Significant?
Before we learn the steps to create a WBS diagram for project management, let us understand why project management is significant in the first place.
When different team members come together to perform a given task for their project, they require leadership or direction. Without a proper guide or someone who can provide them with the correct course of action, chances are that they won't be able to deliver what is required from them.
As you see, project management is extremely crucial because it helps onboard leadership and direction to complex projects. Several studies have shown that team members tend to perform better with the right leadership and also realize their true caliber. Some of the other benefits of having project management are the following:
With project management, the entire team gets clarity on responsibility.

Every project comes with risks and challenges, and by creating project management, a team can implement effective solutions to resolve such risks.

By working on project management, a team can correctly optimize the allocated resources.

Project management, like the WBS diagram, improves collaboration and communication between team members.

With project management, it becomes extremely easier and more effective for the team members to share important documents as and when needed.
How to Create a WBS Diagram for Project Management?
EdrawMax is a highly recommended tool for creating and sharing a WBS diagram for project management. If you are also looking for ways to create a WBS diagram for project management, check out the following steps:
Launch & Register: The first that you need to do is download EdrawMax on your computer. Unlike other WBS diagram software, EdrawMax is readily available for Windows, macOS, Linux, and Web versions. According to your current need, launch the tool in your system and register using your email address.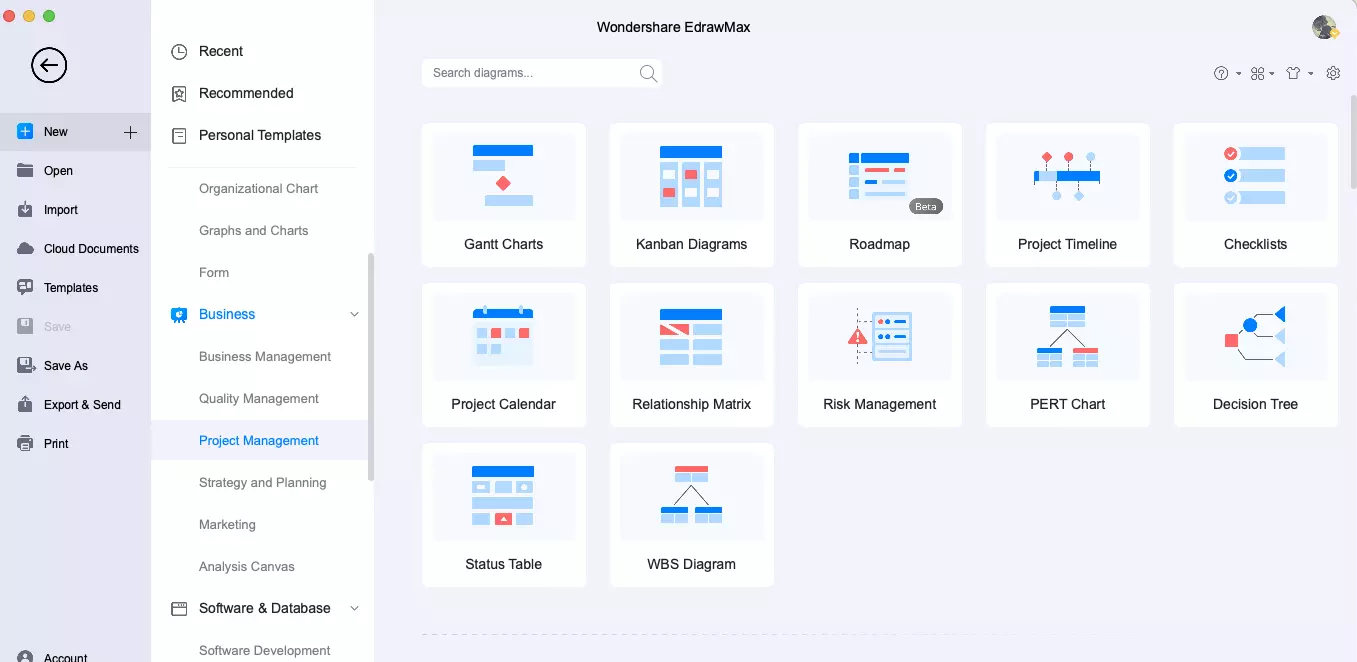 Access Templates: Once inside the EdrawMax dashboard, head to the 'Business' diagram type and click on 'Project Management.' It will open up different project management diagram types, like Gantt Charts, Kanban Diagrams, Project Timelines, and more. Upon clicking 'WBS Diagram,' you will see several built-in templates. In addition, you can access the template community and check the user-generated free WBS templates.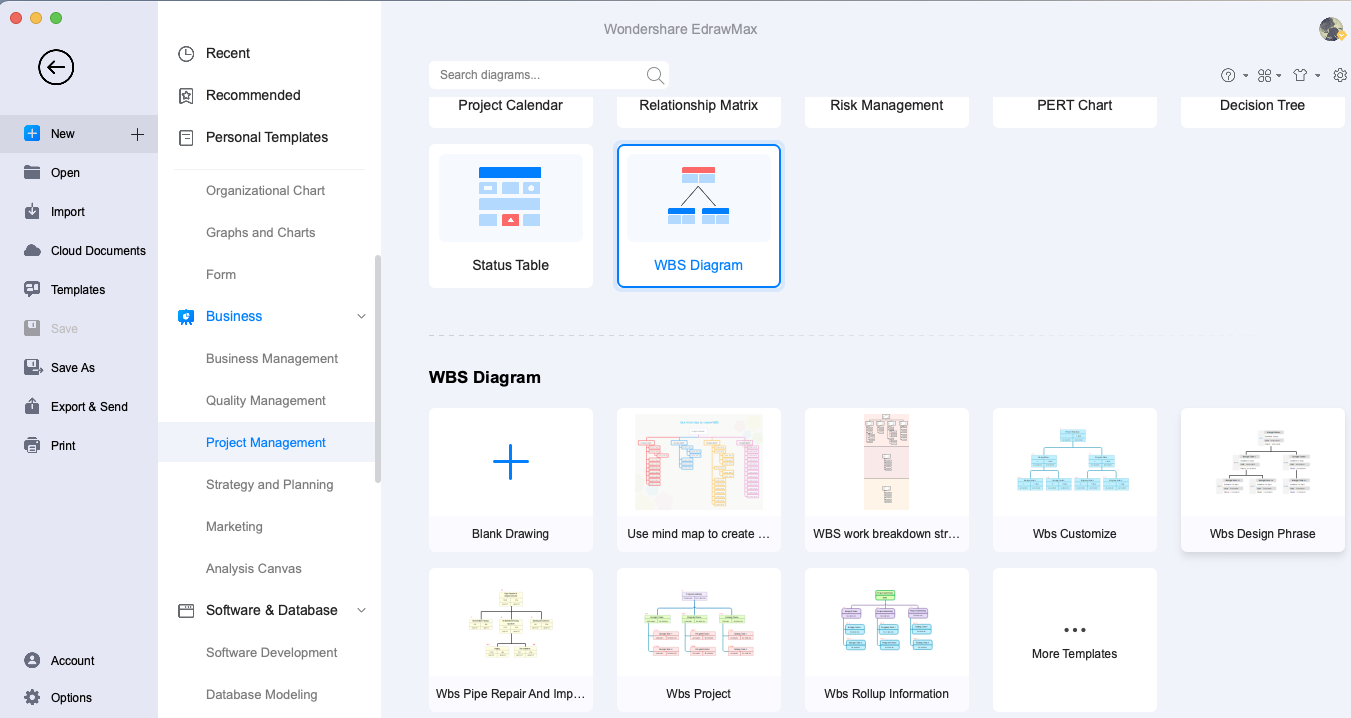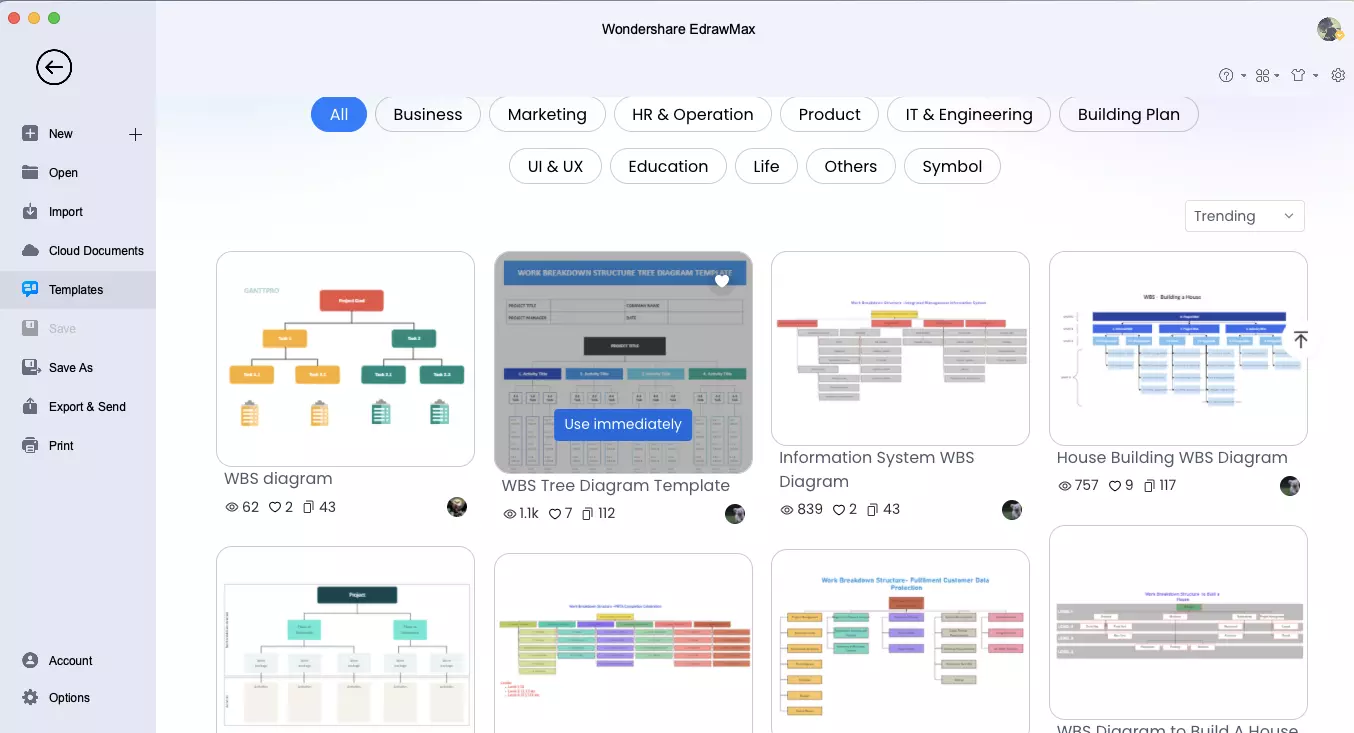 Create from scratch: If you want to create a WBS diagram for project management from scratch, click on '+.' It will take you to the WBS diagram software's dashboard, where you will see elements, you can add to your diagram.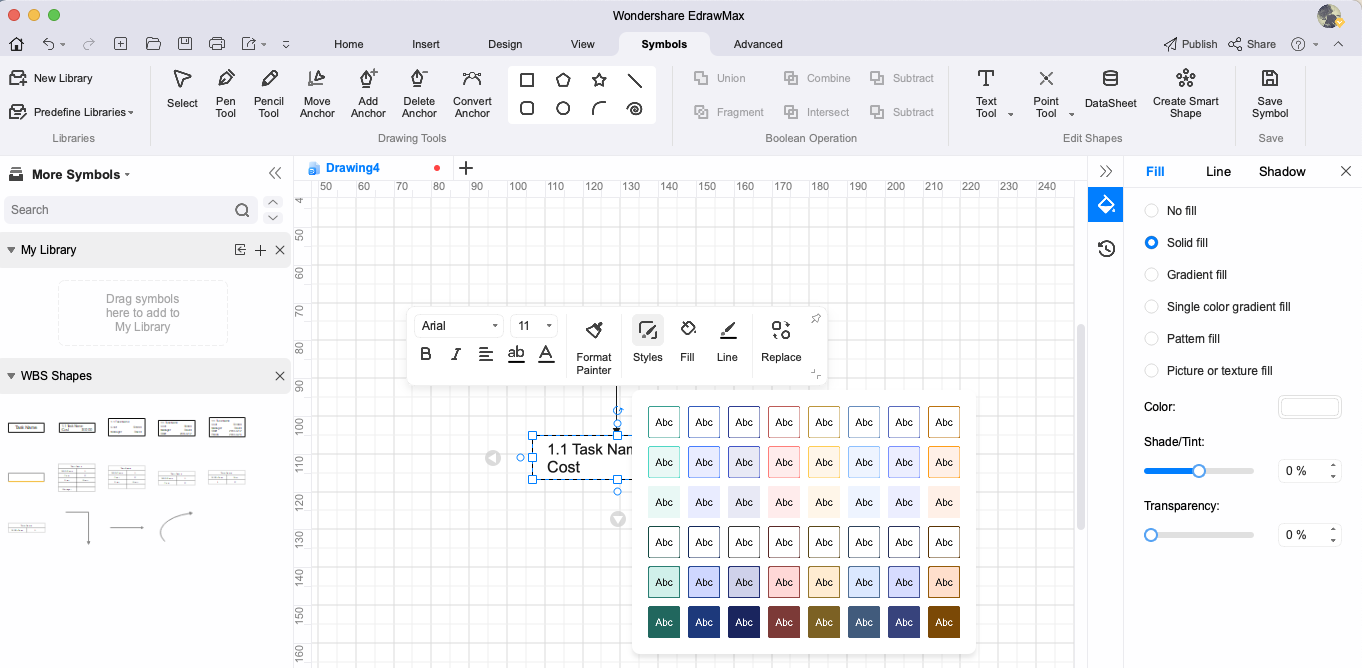 Add Elements: EdrawMax has a predefined symbol library that helps project managers easily create WBS diagrams. In EdrawMax, you will find different WBS shapes, like Task Card, Main Card, Right Angle Connector, etc. Use them as and where it is required to create the WBS diagram.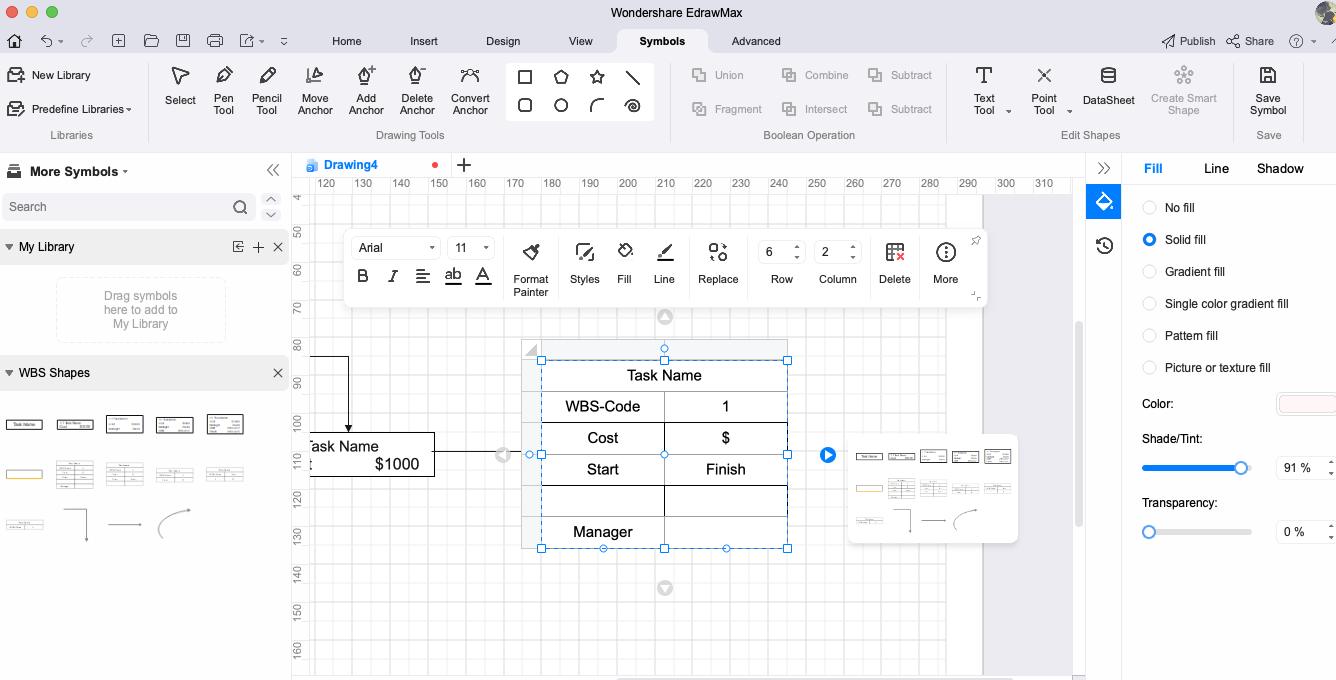 Export & Share: After creating a WBS diagram for project management, you can export it in multiple formats or even share it on social media platforms like Facebook, Pinterest, Line, etc.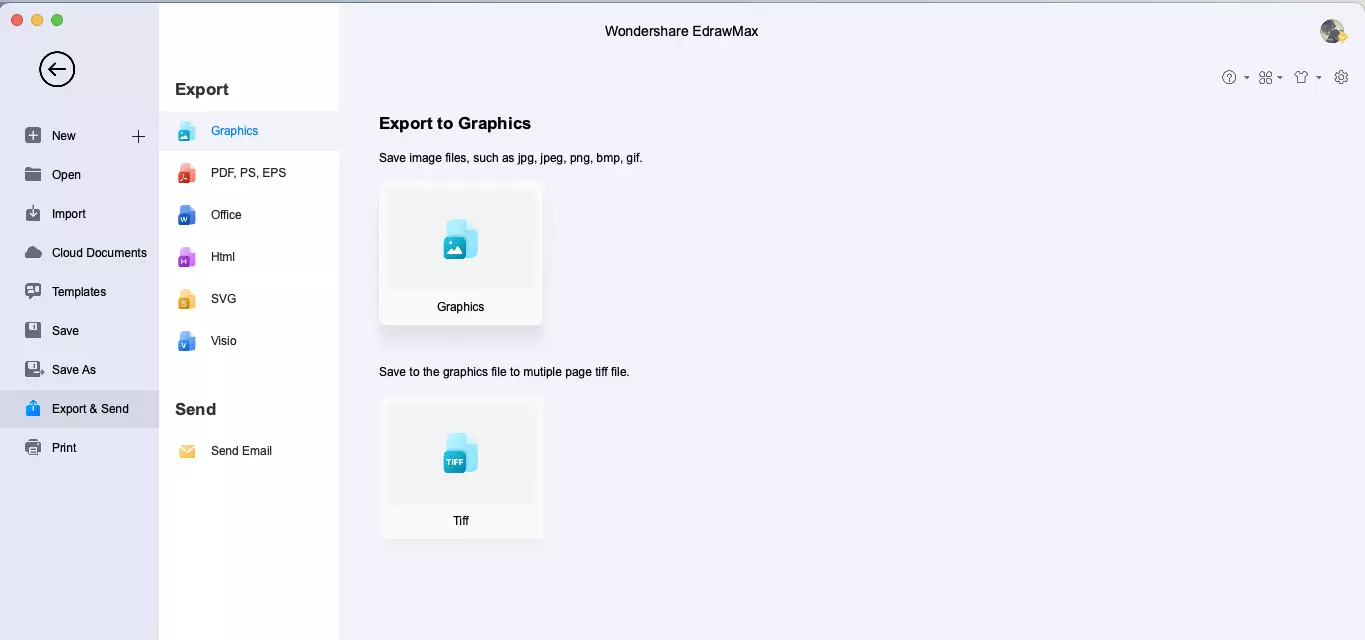 Free Project Management Software
EdrawMax is a project management software that offers several features to its free and paid subscribers. Some of the highly accessed features of this free project management software are:
Built-in templates: EdrawMax offers free built-in WBS templates that help beginners easily work on WBS diagrams for project management. Some free WBS diagram templates you can easily use are the House Building WBS diagram, Information System WBS diagram, Customer Data Protection WBS Diagram, and more. You can duplicate these templates and customize them to 100 percent.

Industry-standard symbols: EdrawMax has an extensive symbol library that helps beginners and experts to work on different project management diagrams. The free project management software currently has 26,000+ vector-enabled symbols, which you can use in any of your diagrams.

Connectivity Tools: In order to create complex WBS diagrams for project management, a project manager requires access to different connectivity tools. With this free project management software, a project manager will find a dynamic connector, a line connector, and a right-angle connector that helps connect different task cards with the main cards.

Export as you wish: Project managers require different file formats when working with a big team. This free project management software allows a project manager to export the WBS diagram in multiple formats, like JPEG, PNG, SVG, PDF, HTML, Docs, Excel, PPTX, and more. In addition, the WBS diagrams can also be exported in Visio's file formats.
Final Thoughts
A WBS diagram is among the first steps a project management team develops to ensure that the project delivers on time. A good WBS diagram for project management includes project goals, objectives, timelines, and more. By creating a WBS diagram, a project manager can easily visualize the entire project so they can understand the scope, work on the bottlenecks, optimize the process, avail all the resources, and more. EdrawMax is a highly used and reviewed free WBS diagram software with several features. This free WBS diagram software allows a project management team to work on free templates and export the diagrams in multiple formats.