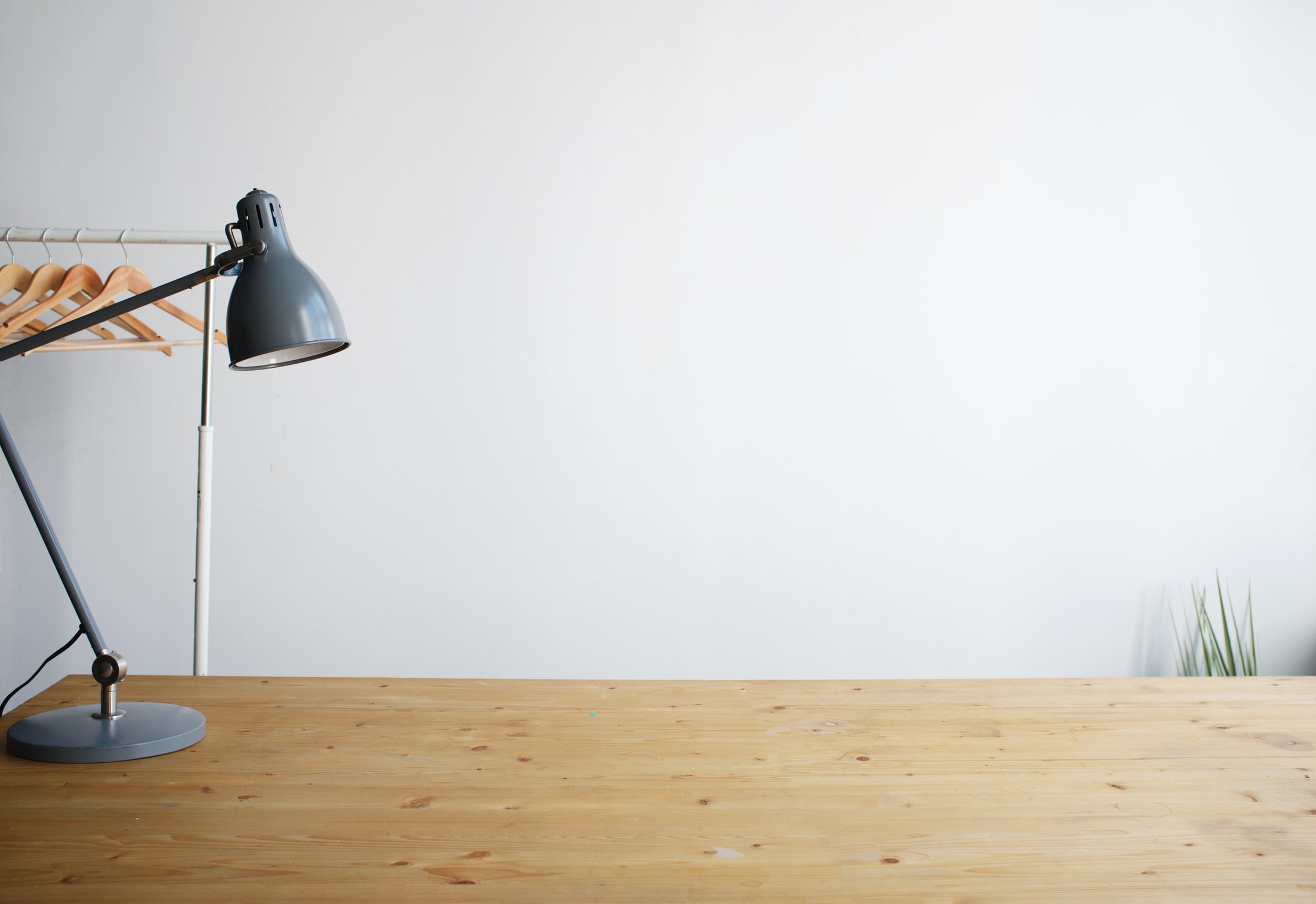 Over the course of a thirty-five-year career I have worked from home or from a coffee-shop for the vast bulk of it.
Overall, I think it has a lot of upsides, from controlling your own hours to allowing you more time to concentrate on projects, but, especially in the days of the coronavirus, it also has more than its share of downsides. Here's a few bits of my own experience on this front.
Don't Sweat The Big Stuff
It's easy, at a time like this, to get caught up in the drama. Everyone has an opinion, everyone has suddenly become an expert, and not surprisingly a great deal of information that reaches you is crap. Tune it out. I invested in a good set of headphones, a subscription to a music service, and a high quality microphone (I love my Yeti!). The world is going crazy right now, but it will right itself eventually, even though the world will will be very different by then.
If you're not used to working from home, this is an opportunity to focus. Shakespeare wrote King Lear during a pandemic, Isaac Newton worked out the details of the Theory of Gravitation. Get outside. Breathe air that's cleaner than its been in a hundred years. Sleep in a bit, and maybe burn some midnight oil without having to worry about being in a car Monday morning.
Set Some Ground Rules
If you're in a shared house, either with a family or roommates, chances are pretty good that people have partially adapted by occupying the house at different times of the day, developing habits and in general taking turns with chores. Now's a good time to revisit this - meet with the people that you share your domecile with and articulate what expectations are on everyone. Another way you can effectively minimize distractions while working from home is by using innovative products such as Luxafor Flag - a LED availability indicator that will tell everyone if you're busy or free. In my house, we determined where everyone's "quiet space" was, and agreed that during the day interruptions should only happen at "shift" times - at breakfast, lunch and dinner - unless it was an emergency.
In households with parents and kids, this will likely mean that each parent will concentrate on watching over the kids while the other works, then switch off at natural breakpoints: usually at mealtimes. Remember that the kids routines have been broken as well, and without structure, they WILL get bored. This means that you have to be a bit more forceful with your work about not arbitrarily setting up meetings, because even if you are not on the clock, you will have things that need to be done.
Also, do not put all of the chores on one spouse or the other. This is a lesson that men in particularly need to learn (or better, relearn). It's also a good opportunity to work with your kids to teach them how to do certain chores. This not only cuts down the amount of work necessary for one person, but also gives the kids something to do, and something to occupy their hands and minds rather than thinking about the scary things that are going on outside.
Dress As You Would For Work
I'm a writer. I write books and articles and the occasional novel or two. It's very easy and tempting to go downstairs to my office in my underwear, socks and tshirt when I'm actually working, but if I have to interact with an editor, talk with a client or interviewer (or interviewee), or otherwise deal with others, I will get dressed as I would expect to see others dressed.
This is partially psychological. When working from home, you need to separate your work persona from your at home persona, or you will eventually go crazy from exhaustion. An office is critical, even if it's just a separate room from your bedroom, a desk that you use specifically for work, and a door that can be closed. It should be noted that in this day and age of open offices where people surround you, the only chance for you to get a corner office with a lock on it is if it's in your own house.
By the way, others will judge you by your appearance, even if you're on a Webex or Zoom call. Showing up in a worn t-shirt and boxer shorts will not instill confidence. Dogs, cats, kids, and so forth are going to be inevitable, but they are also a distraction that you should plan for. If possible, find a place where you don't have sunlight or lamplight backlighting you.
Cluster Meetings
If possible, keep meetings structured around three days, plan on two days focused on specific long term tasks, and leave two days open for yourself. For me, Sundays and Mondays are my focus days, Tuesdays through Thursdays are my meeting days, and Friday and Saturday are my "weekend".
This serves several purposes. First, it ensures that I can in fact have whole days to concentrate on complex work without having to stop in the middle of a project for a meeeting then lose additional hours trying to context switch. It also means that I can budget my own time better, for instance, spending Friday and Saturday working on a novel, while working on more immediately paying work during my concentration time.
You're beginning to see calendar apps that allow others to reserve specific blocks of your time without showing what you are currently working on. Use them, especially if you do a lot of consulting. This may not be as feasible when working from home for a full time employer, but I find as I get older that I have become far more protective of my time.
Set up a schedule for doing social media, especially business social media such as Linked-In, and stick to it. It's very easy for me to want to respond to every provocative topic (Someone on the Internet is Wrong, I MUST Correct THEM!!) but I've learned to give into that urge only when I've completed my focus block time. In short, treat them as another meeting, and schedule them accordingly.
One thing that can help is working with software that makes it clear what expected deliverables are. This can be something as simple as an online Excel spreadsheet or Google Doc, but one good thing I will say for tools like Jira is that they are reasonably good at helping to track deliverables. Working from home usually means shifting away from a focus on in-seat performance to deliverables management;
As Webex, Zoom, Teams, GotoMeeting, etc., become more commonplace, make sure that you always have someone both record and, if possible, auto-transcribe these meetings. Designate someone in your meeting as "secretary", responsible for making sure these functions are utilized and that they are then made available later.
Taking Breaks
As the shutdown began to spread through Seattle, my wife and I agreed (she with a bit of reluctance) to get a Keurig machine. She also spent some time reorganizing the kitchen to set up a "snack bar", and during the day we treat the dining room as a makeshift cafeteria (she's also a writer and editor, so we've both been working "at home" for a while, even before the virus).
The key reason for this is simple - not only does it make sure that we keep our body fueled, but it also provides a venue to take a break periodically, to get up, to stretch, use the facilities, and interact with others. Even the someones you are interacting with are your family, it keeps social distancing from completely turning into isolation.
This also applies to off-time, and another reason to be demonstrative about meetings and schedules. When working from home, it's very easy to get into a schedule where you are either working all the time or not working much at all. A three day "meeting week" with an additional two day "concentration week" helps to delineate your personal time. Keep in mind that there will be managers who will try to meet every day or will attempt to meet during the weekend. If that works for you, fine, but letting it bleed into your personal time will eventually leave you ragged and overstressed, something that you want to avoid given the current situation.
Surviving vs. Thriving
It is likely that some form of lock-down will be present for at least the next month, if not longer, depending upon a number of factors that are difficult to assess at the present time. The lockdowns, in general, are not going to keep the virus from spreading; rather they are intended to slow down the spread of the virus both to ensure that hospital bed capacity is not exceeded (which will be a function of location) and to keep the virus from spreading too far before at least some kind of ameliorative drugs (a treatment for those infected or a vaccine to innoculate the population) can be developed and deployed.
This means that any estimates about how long this process will take are still extremely tentative at this stage. There are several intriguing developments in Japan, Italy, China, South Korea, and here in the US (in Seattle specifically, as this is where the first cases surfaced in North America). However, it is likely that an enforced work from home is likely to be the new normal for at least the next few weeks at a minimum, and people should ready themselves, that it may be months before things return to a semblance of times past.
In order to survive the impacts of the virus, it means that we have to work together. This is a good time to set up "check-in" networks, in order to ensure that people dealing with both the physical aspects of Covid-19 and the psychological impacts due to distancing have a safety net. In reality, despite the belief of many, not all that much is going to get done at a corporate level until summer at the earliest. Take the time to work on personal projects - writing that book you've been thinking about, paint some pictures, write some software, start a podcast or a blog, take online courses, tackle a video game, sew some clothes, catch up on your reading, actually finish Game of Thrones, and so on.
Put some time and planning into worst-case scenarios, but don't obsess about them. There are times when the universe is telling you to slow down, spend more time in bed or daydreaming. There is virtue in this just as there is virtue in hard work, and both are needed for a rounded life.