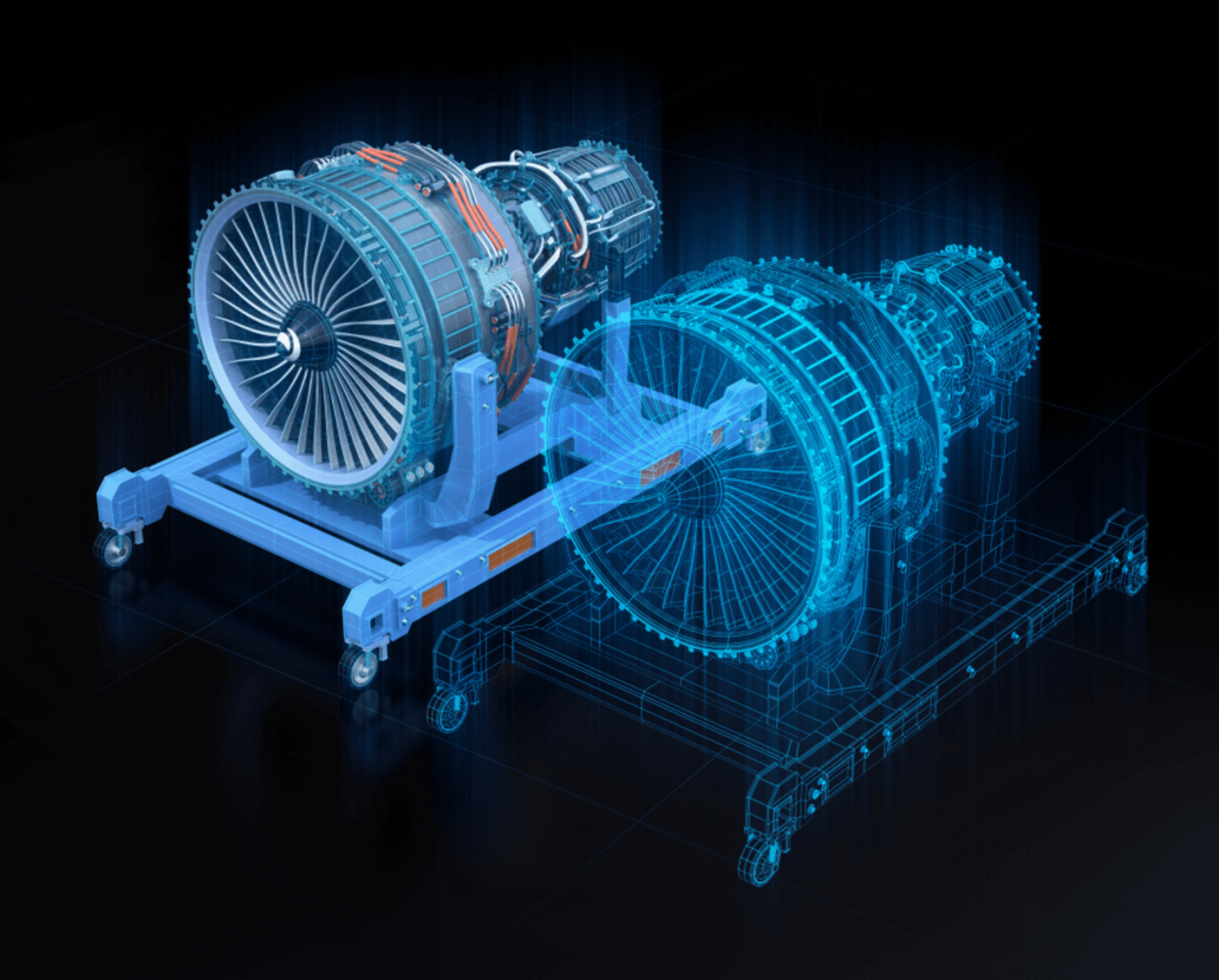 The digital twin technology is what's creating the whispers nowadays and one of the factors that makes digital twins conceivable is the expansion of IoT sensors.
As IoT devices advance, digital twin tools might incorporate simpler, less sophisticated technology, providing businesses with even more advantages. IoT for digital twin technology is no doubt an integral part of its foundation stone.
A digital twin is a virtual model designed to imitate an entity accurately. IoT must be a strategic precondition to fully utilize digital twins of physical objects, operational processes, or tasks. A crucial prerequisite of a real digital twin is capturing the experiences of the three "P's"—products, processes, and people—from the physical world via sensors and the Internet of Things.
Based on varying data, IoT for digital twins can be utilized to anticipate various outcomes. This is analogous to the run-the-simulation situation, typically featured in science fiction movies and in which a potential situation is validated in a virtual setting. Digital twins may frequently help designers determine where objects should go or how they should operate before they are physically deployed and optimize an IoT deployment for maximum efficiency.
Analysts estimate that the global market for digital twins will reach $16 billion in the next year, i.e., by 2023, with IoT serving as a major pillar of this expansion. 30% of Global 2000 organizations, according to IDC, are anticipated to use data from digital twins of IoT-connected goods and services.
In essence, the term "digital twin" suggests that what happens to one also affects the other. This system utilizes IoT as the bidirectional link to implement it and empowers the groundbreaking use cases that follow.
Why IoT for Digital Twin Technology is Necessary for a Strong Foundation
Digital twins are the anchor for sensors and beacons, and IoT is a valuable prerequisite for their smooth functioning. The benefits IoT offers to the digital twin technology are as follows: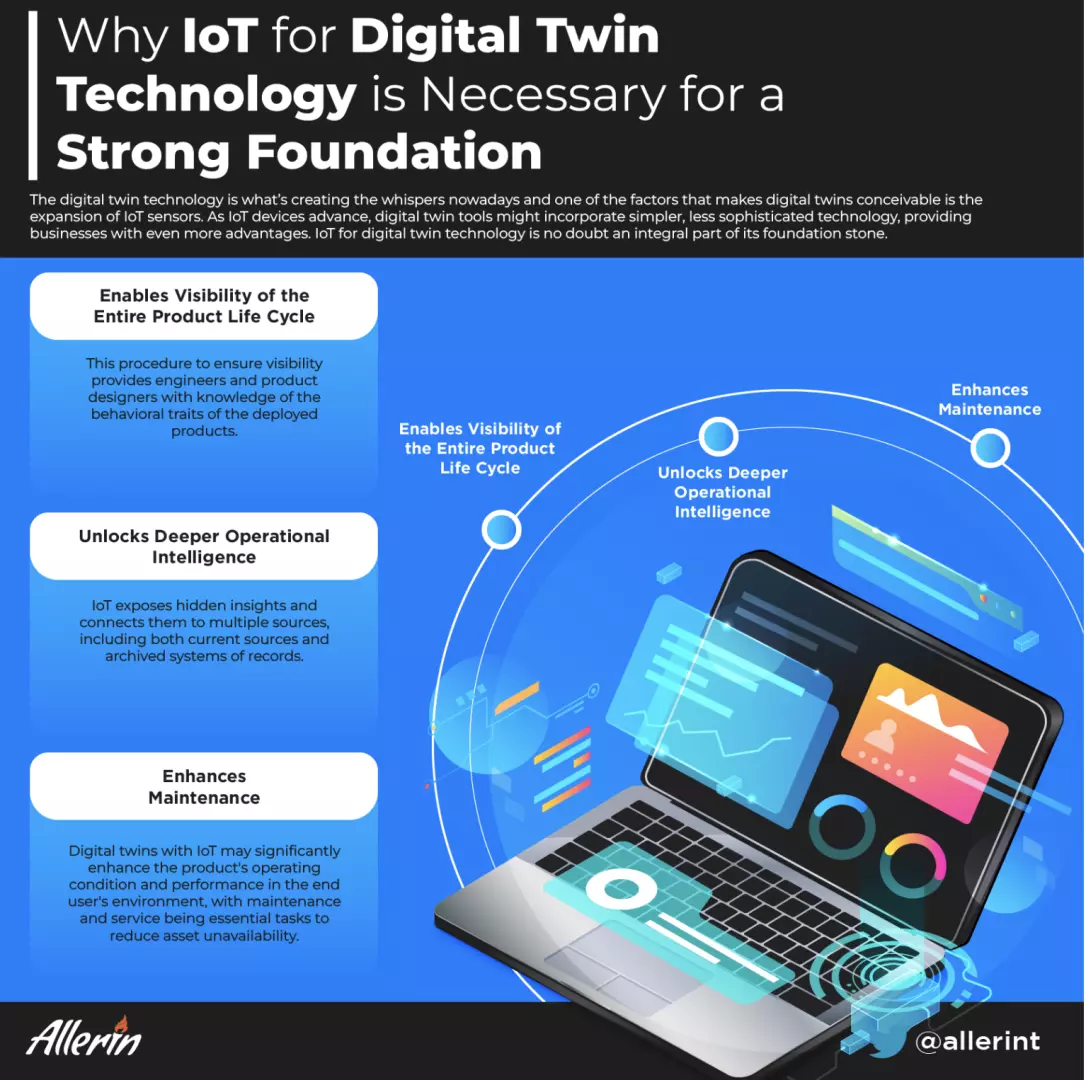 1. Enabling Visibility of the Entire Product Life Cycle
Real-world IoT data wraps up the feedback loop with information about how products are used, which ultimately influences future iterations and even prompts changes to business models. Additionally, this procedure to ensure visibility provides engineers and product designers with knowledge of the behavioral traits of the deployed products. The creation of upcoming product iterations is substantially impacted by this IoT-enabled functionality.
2. Unlocking Deeper Operational Intelligence
IoT exposes hidden insights and connects them to multiple sources, including both current sources and archived systems of records. To develop a process lens—basically, a system-wide picture of an industrial environment—it is crucial to understand the nature of these connected assets and employees and how they interact. The real-time 360-degree overview is created through integrated operational intelligence from various assets. Contemporary markets and shifting consumer needs necessitate that manufacturers be adaptable and agile.
3. Enhancing Maintenance
Digital twins with IoT may significantly enhance the product's operating condition and performance in the end user's environment, with maintenance and service being essential tasks to reduce asset unavailability. The use of digital twins can enhance remote services. IoT application instances where software upgrades, patches or reboots for deployed assets can eliminate the requirement to dispatch a technician on the spot. Depending on the use case for the digital twin, the flexibility of IoT can allow mission-critical systems to sample data every second to provide services.
Concluding Thoughts
Digital twins are gradually becoming more and more crucial as the IoT expands and becomes more complicated for organizations. They serve as the archive for de-siloed data. The foundation of workplace management systems is the . IoT for digital twin centralizes all of the organization's data, just like how your workspace binds the company together.