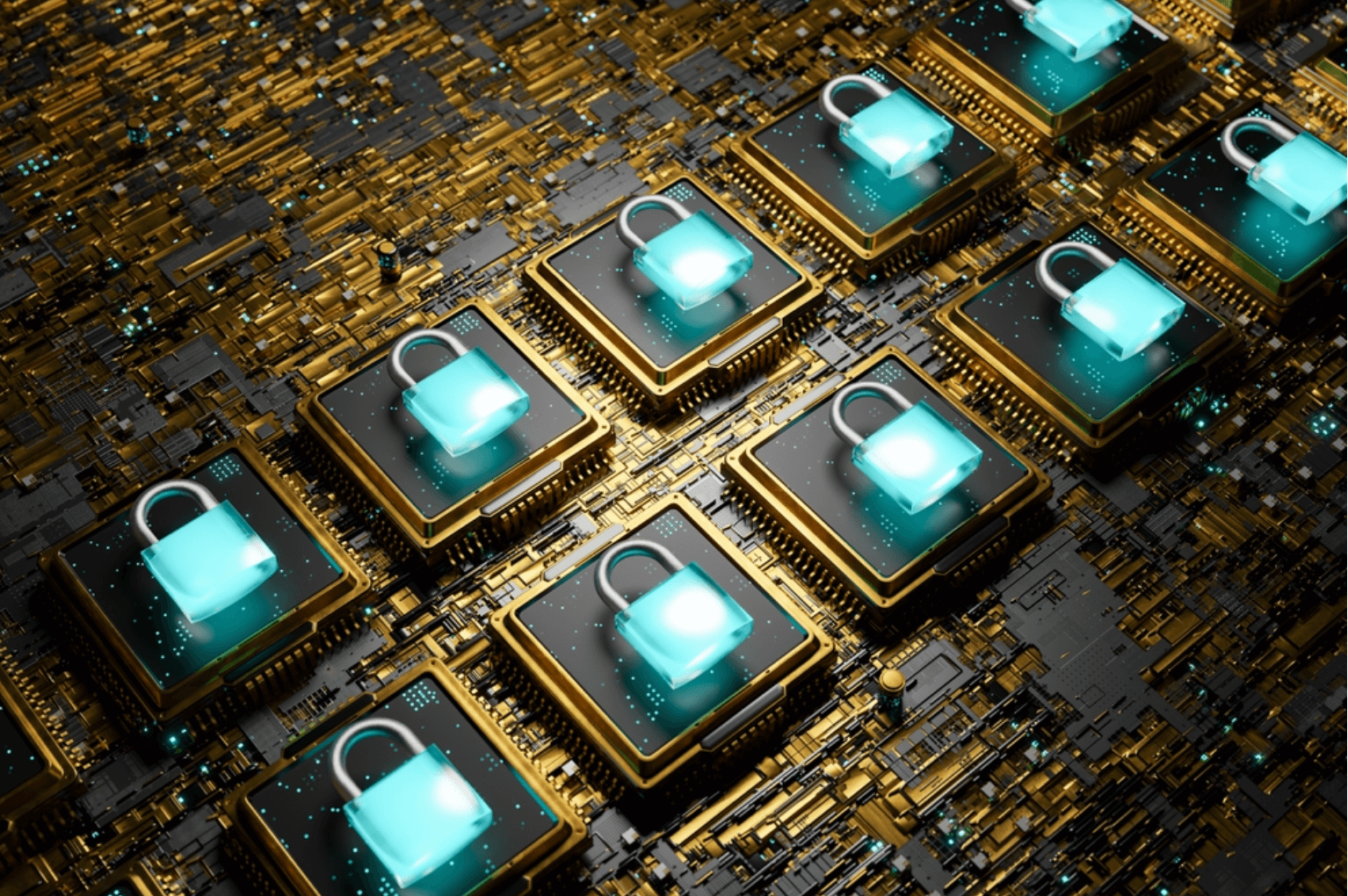 Blockchain and NFTs are two progressive ideas that are rapidly changing our current data environment and how we safeguard it.
In recent years, measures adopted by organizations to secure their operations have largely included blockchain and NFT in security.
Blockchain ensures that all the policies of the CIA triad model — Confidentiality, Integrity, Availability — are satisfied in order to secure the data of the organization. According to Investopedia, non-fungible tokens (NFTs) are cryptographic assets on a blockchain with unique identification codes and metadata that distinguish them from each other. Both blockchain and NFTs in security play their respective roles.
How Blockchain Technology Contributes Towards Cybersecurity
Blockchain technology has unveiled a new phase in identity management and cybersecurity through decentralized data protection. The goal is to protect private information about people and businesses against malicious hackers or outsider attacks. Identities of individuals and objects can also be traced using it. Decentralized technology, security through blocks, private and public blockchain, and smart contracts are the focal points of its security advancements.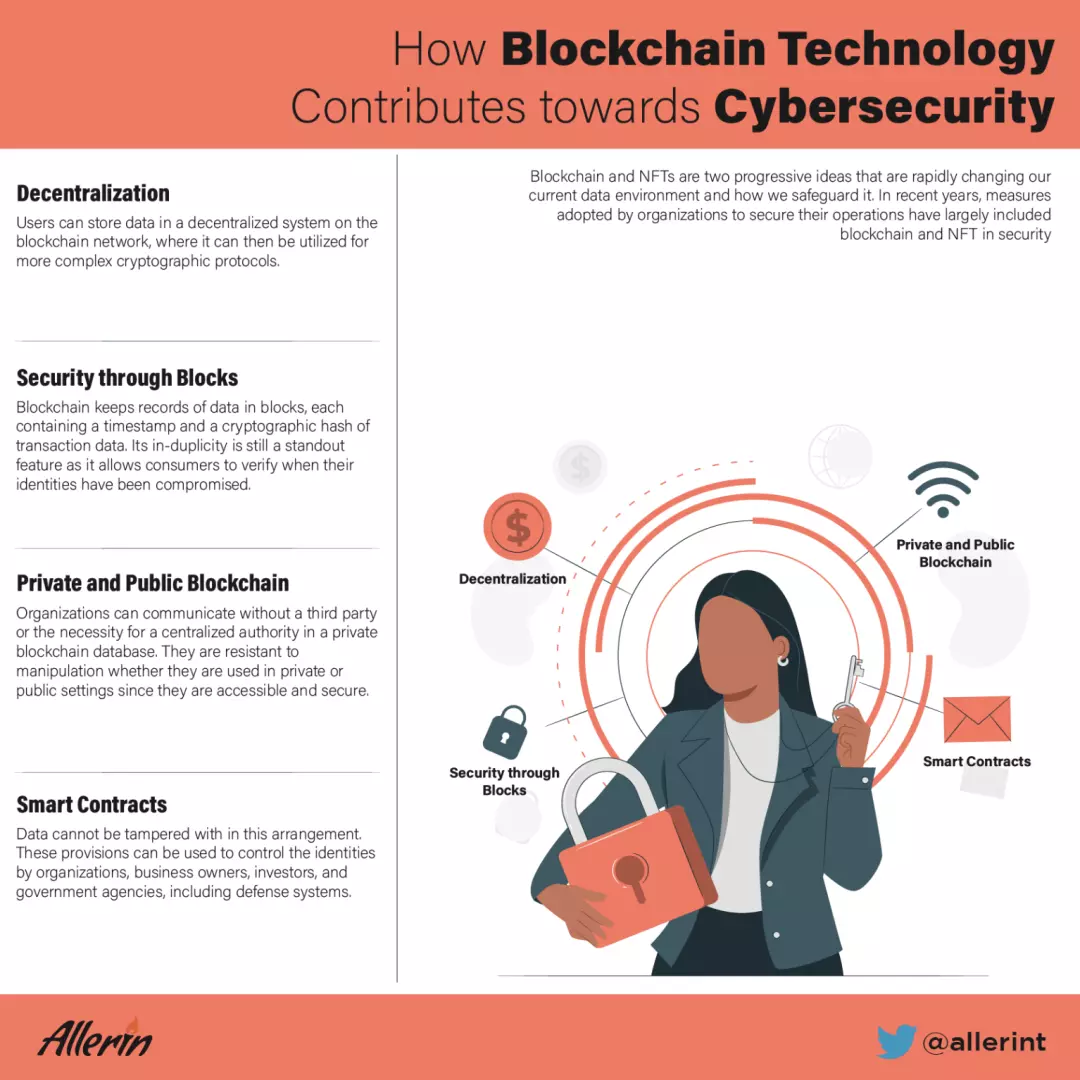 Decentralization
Users can store data in a decentralized system on the blockchain network, where it can then be utilized for more complex cryptographic protocols. A single entity does not have control over the identification or sensitive information of another user, thanks to the decentralized system's design. Under this arrangement, it would be nearly impossible for hackers to break into the network because doing so would demand simultaneous attacks on more than 51% of the system.
Security through Blocks
Blockchain keeps records of data in blocks, each containing a timestamp and a cryptographic hash of transaction data. Its in-duplicity is still a standout feature as it allows consumers to verify when their identities have been compromised.
Private and Public Blockchain
Organizations can communicate without a third party or the necessity for a centralized authority in a private blockchain database. However, on a public blockchain, anyone may access the data and use it or simply view it. They are resistant to manipulation whether they are used in private or public settings since they are accessible and secure.
Smart Contracts
The terms of deals are enforced by smart contracts without the need for human or automated intervention. Data cannot be tampered with in this arrangement. These provisions can be used to control the identities by organizations, business owners, investors, and government agencies, including defense systems.
Influence of NTFs on Cybersecurity
NFTs are one way through which organizations achieve data protection. With the advent of blockchain-based technology, they assist in producing impenetrable or irrevocable transaction records. NFTs use smart encryption and validation as one of the methods for safeguarding assets. The system is set up so that practically anyone with access to the internet can easily trade and purchase assets.
Using encryption, NFT blockchain technology creates unchangeable transaction records that last as long as necessary. NFTs are represented by special images known as cryptographic tokens. A cryptographic token adds an extra degree of protection by making it possible to trace and identify a specific object. Due to their distinctive attributes, these tokens can be utilized in sophisticated identification and data security. An NFT creates a network for businesses so virtual assets can be stored and matched between those utilizing the network and those on it. By doing so, it provides consumers with enhanced security by eliminating any third party, and as a result, it secures all crucial data.
NFTs can improve cybersecurity in several ways, such as by integrating security features, enabling digital signatures for every transaction, and utilizing encrypted messaging services. NFTs communicate with identity managers using authentication to reduce the risk of impersonation and further protect users. Due to their lack of duplicity, NFTs can enhance cybersecurity. Cryptography also improves data protection because it is flexible and may be used in various ways.
Implementing Blockchain and NFT in Security
Since both blockchain and NFT in security still need to be completely explored, both technologies will surely grow with time. Users just need to take enough time and precautions to secure their organization's data.