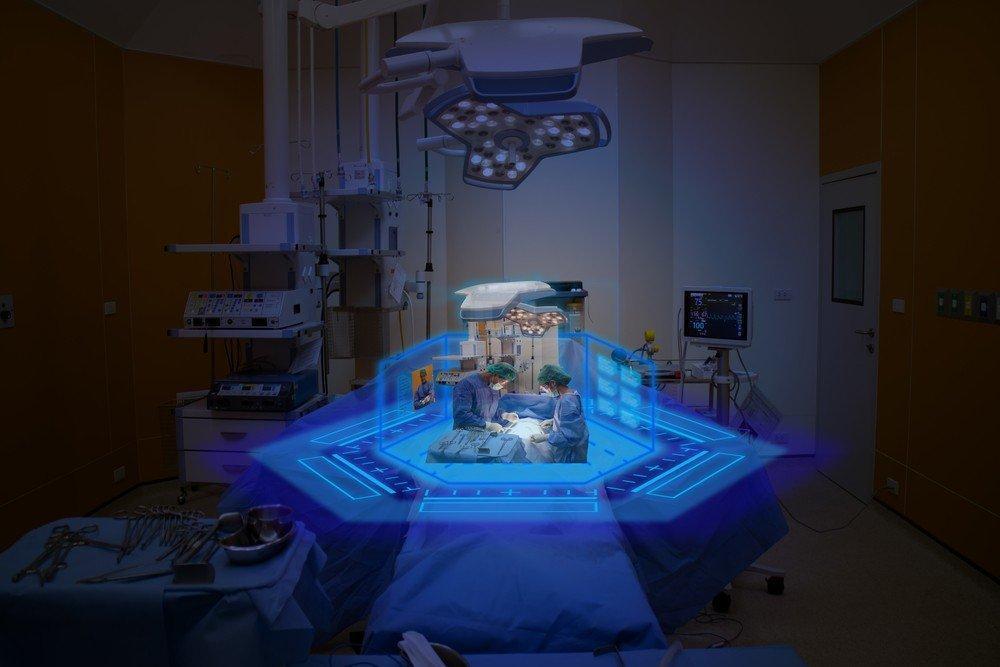 Building on the applications of virtual and augmented reality in healthcare, mixed reality is enabling healthcare service providers to coordinate, analyze, and control healthcare processes in a more convenient and effective manner.
Use cases of virtual and augmented reality in healthcare are being explored with increasing interest by researchers. The use of virtual reality is primarily being used for therapeutic purposes, such as restoring the eyesight of those with low vision or helping alleviate childbirth pain with virtual imagery. The immersive experience offered by virtual reality helps in painting a completely new reality surrounding the user, isolating them from actual reality. Augmented reality, on the other hand, keeps the user in the real world, overlaying additional digital information across the real-world surfaces. For instance, AR-based navigation applications can overlay directions and distance on the phone's screen. Such applications help people to know more about the real world and real-world systems in an easily accessible manner.
Thus, while virtual reality offers a completely virtualized experience, it cannot be always be used for directly interacting with real-world systems in real time. For instance, while a virtual reality simulator can be used to train a pilot or driver, it cannot be used (yet) to remotely fly an actual jet or drive a car. However, Augmented reality can be used by pilots or drivers in real time to overlay vital parameters like velocity and direction. It provides information regarding the surrounding in a hands-free manner so that the users can make the right situational decisions. To leverage the depth of visualization offered by virtual reality in real-time applications and make augmented reality more interactive, researchers have developed the concept of mixed reality. Mixed reality is an extended form of augmented reality that enables users to interact with virtual elements in real time to help them interact with and control real-world systems and equipment.
Exploring Mixed Reality Applications in Healthcare
Medical procedures demand a high degree of accuracy, focus, and the ability to analyze from the surgeons. While performing critical surgeries, surgeons are required to analyze multiple variables to make the right decisions in every situation. Most often, these split-second decisions may be responsible for patients' lives. The use of augmented reality is recently being explored as a way of providing operating surgeons with the necessary information through a hands-free interface. MIxed reality can make medical procedures much simpler to perform for healthcare professionals while also making them safer for patients. Following are a few ways in which the use of mixed reality in healthcare can make a difference:
Real-Time Diagnostics and Analysis
The healthcare field has already explored the use of virtual reality for immersive visualization. There have been examples of VR applications that physicians have used to gain a multi-dimensional view into medical scans for getting a detailed understanding of a patient's medical condition. The use of augmented reality in healthcare diagnostics and its development into mixed reality has given rise to real-time medical visualization tools. An example is the virtual autopsy table, which displays the scanned image of the patient's body in real-time. The doctor can manipulate the image to get a detailed view of the organ being analyzed and make observations. Similar results can be achieved using mixed reality glasses that can not only overlay digital images over the patient's body to perform real-time analysis. The devices can also, in some cases, be used to give the patients themselves a look at their scans in real-time. This will give them a clearer understanding of their physical state than two-dimensional scan images.
Interactive Medical Training
Medical students primarily learn to perform surgery by looking at live surgeries performed by experienced surgeons. However, not many students can fit inside an operating theater to get an over-the-shoulder look at a surgical procedure. Thus, they usually practice surgeries using cadavers. Mixed reality technology, combined with technologies like AI and computer vision, can potentially help medical students work on cadavers that can immersively replicate a live patient. This can enable the students to get the physical perception of a real-life surgical procedure where the simulation responds to the actions performed by them. The mixed reality simulation can also be used to visually project the correct actions to take in different situations and prepare the students for a variety of situations.
Interactive medical training using mixed reality can, thus, allow students to physically perform practice surgeries without risking lives. This method also ensures greater training efficacy than traditional methods where the students are merely passive spectators to surgeries.
Image-Guided Surgery
The use of mixed reality can help surgeons perform operations with greater precision. Mixed reality devices can be used to provide doctors with real-time information on the patient's health condition during the surgery. Additionally, they can also view the real-time images from non-intrusive scanning systems to help them stay cognizant of the changes occurring in the patient's body during the procedure. This can help the surgeons to monitor the patient's internal systems that may not be visible through the actual surgical incision, enabling them to prevent any hidden complications that may arise from surgical procedures.
The mixed reality system can offer a detailed view of the patient's physical system in three dimensions, provide vital stats such as heart rate and blood pressure, and also enable the surgeons to gain consultation from remotely located experts. This setup gives the surgeons unprecedented levels of detail, helping them to make more informed decisions during surgeries. The use of mixed reality in such applications can potentially increase the success rate of complicated procedures.
Currently, there are very few fully-functional use cases of virtual and augmented reality in healthcare. Most applications of these technologies exist only in the experimental stage. Thus, it isn't surprising that the applications of mixed reality, which is more advanced, are also in the exploratory phase. While the existing applications and proof-of-concept implementations of virtual and augmented reality in healthcare show great promise, the caution in bringing these technologies into full-fledged implementation is justified. That's because of the fact that these applications directly impact the physical health and wellbeing of people. And any imperfections in the technology can put human lives at risk. However, the potential benefits to the world of healthcare in the future of mixed reality will be truly worth the wait.