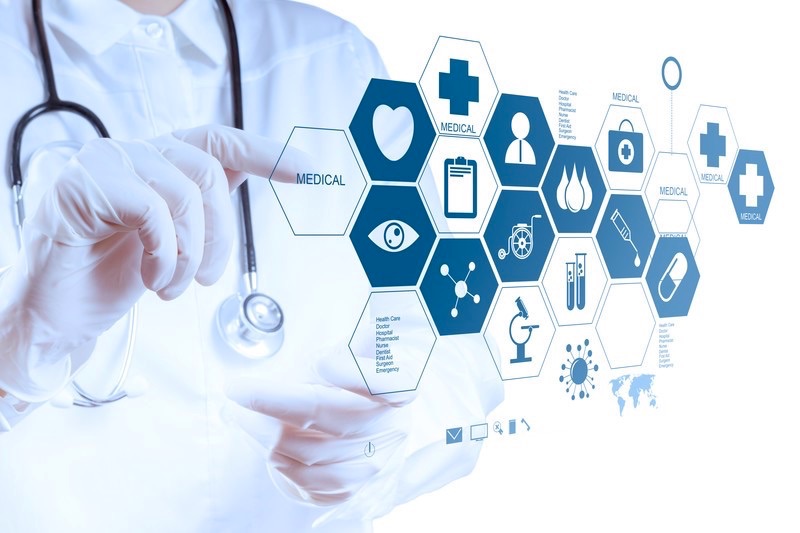 Technology has always played a critical role in healthcare.
However, tech innovation has perhaps never been more vital to the practice of medicine than it is today. New healthcare technologies are promising to revolutionize patient care while relieving the burden on a healthcare industry long burdened by chronic labor shortages and increasing demand.
The newest and most promising advances in healthcare technology today, are typically categorized under The Internet of Medical Things (IoMT) — a subfield of healthcare technology that seeks to unleash the immense power of the internet to deliver a quality of patient care that clinicians once could only dream of.
What is the IoMT?
Like the standard Internet of Things (IoT), the Internet of Medical Things (IoMT) refers to a broad constellation of devices that are connected to the internet and rapidly send and receive critical information. While the IoT may involve anything from unsecured devices such as smartphones to secure remote sensors used to track inventories and monitor growing conditions, the IoMT refers to a much more specialized inventory of devices.
These IoMT technologies are designed to optimize patient care by making the industry more efficient and effective. This includes, for instance, the use of remote health monitors to continuously track and record patients' vital signs, all without requiring the patient to be hospitalized or the clinician to maintain a constant bedside vigil. In addition, the sheer volume of patient data that can be obtained through these IoMT devices can dramatically increase the speed and accuracy of patient diagnosis while also enabling more effective evidence-based treatment planning.
The Potential of 3D Printing
Healthcare providers know all too well how fragile and ephemeral the human body is. Diseases and injury take their toll, and sometimes, even the medical interventions that are designed to save a patient's life can both literally and figuratively rob patients of a part of themselves.
However, thanks to emerging innovations in the arena of medical 3D printing, patients who have lost a limb to injury or disease or who may have experienced organ failure can find themselves outfitted with a brand-new synthetic replacement that exactly replicates their physiognomy. For example, 3D printing technologies are increasingly being used in dentistry for a range of purposes, including the rapid creation of dental implants and orthotics customized to the exact dimensions of the patient's mouth.
As medical 3D printing technologies continue to evolve, it is likely that the IoMT will play an instrumental role. By connecting medical 3D printers to secure internet networks, patients' medical records may be remotely transmitted to print custom prosthetics — all without requiring the transport of physical patient records, an expensive, time-consuming, and often risky practice.
The result of the integration of medical 3D printing and the IoMT is better, more efficient, and more timely patient care.
Enhancing Surgical Care
Not only can emerging healthcare tech support patient care through the creation of implants and prosthetics tailored to the exact dimensions of the patient's unique anatomy, but it can also significantly enhance the clinician's capacity to render care. These enhancements are especially evident in surgical practices.
For instance, the advent of laser surgery guided by 3D imaging is transforming cataract surgery, making these procedures more precise, more efficient, and more efficacious than traditional processes. Through the use of the IoMT, ophthalmic surgeons can use 3D images of the patient's eye to guide the surgical laser with greater accuracy based on the individual's eye anatomy.
Telehealth and the IoMT
As suggested above, the IoMT holds tremendous promise for relieving an already overburdened healthcare system while at the same time improving patient outcomes and experiences. The remote patient monitors previously described are only one aspect of a vast and growing system of telehealth technologies harnessing the power of the IoMT to ensure patients' access to safe, secure, and superior-quality medical care wherever they may be and whenever they may need it.
Not only can IoMT devices enable patients to connect with healthcare providers with the mere touch of a button on their smartphone or laptop, but they can also allow medically fragile persons to remain in their homes and retain their independence for far longer. The information collected through IoMT devices enhances patient diagnosis and treatment planning, but it also has incredible analytical capacities of the artificial intelligence (AI) technologies that are often integrated into IoMT telehealth devices.
For instance, AI-powered technologies can use the data collected on IoMT devices to evaluate patient risks and formulate recommendations for personalized care. They can even monitor patients' daily routines and detect signs of deviation from the norm that may indicate a health crisis. These intelligent systems can even send alerts to the patient's family, healthcare team, or first responders should signs of a medical emergency, such as a fall, are detected.
The Takeaway
Healthcare and technology have always worked hand-in-glove to optimize patient care. However, the role of technology in healthcare has perhaps never been more important than it is today. Not only is the advent of the IoMT promoting more convenience for patients, but it's adding a level of optimization that increases success rates with patients — something providers only hoped for in the past.