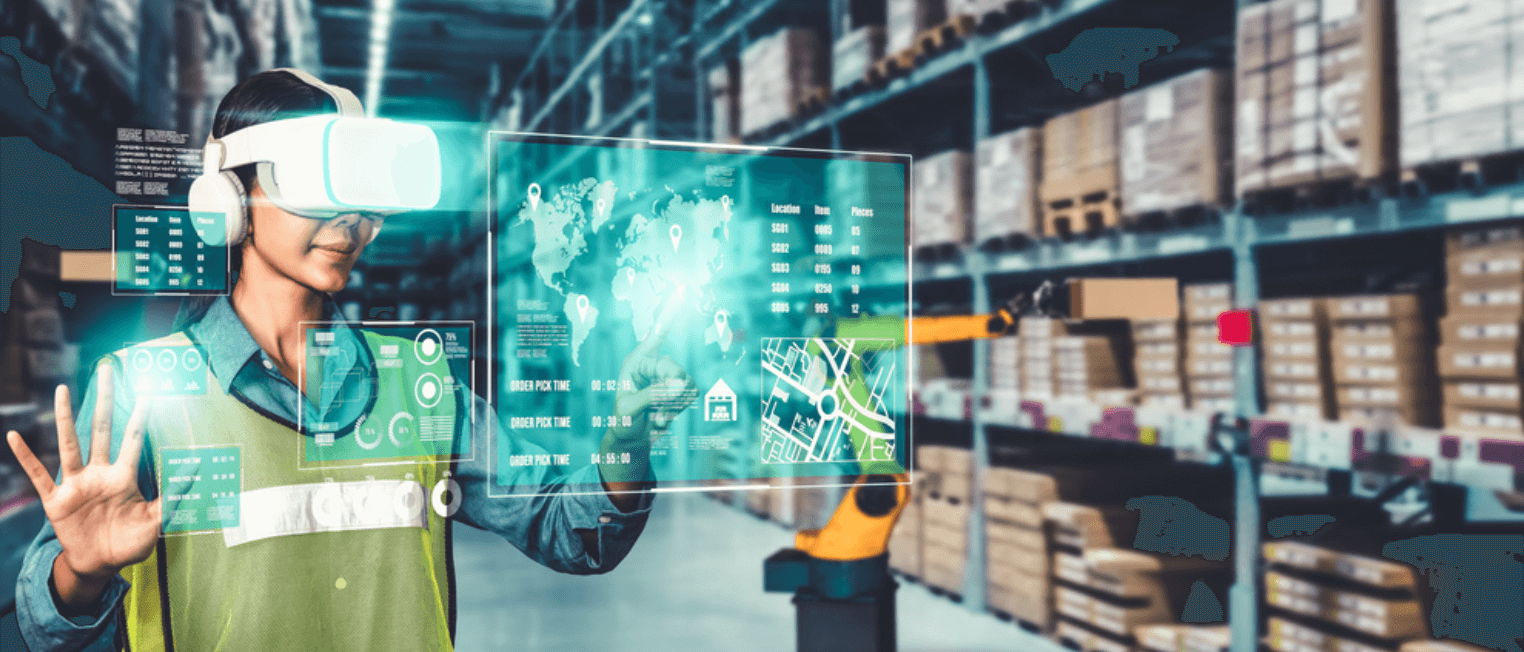 In view of the critical technological improvements in recent years, the use of VR in logistics solutions and the operations of the supply chain is driving innovation across industries.
Trends show that the adoption of virtual reality devices can help organizations with products and processes, virtual collaboration and learning based on experiences.
Virtual reality (VR) is an artificial environment generated by computers. This three-dimensional environment enables a user to experience sensory stimuli. The user can interact in a real or physical way through specialized electronic devices with the environment, including goggles, simple head-mounted screens and 3-D images. Virtual reality technology has come a long way since its origin. In recent years, both the capabilities and use of virtual reality technology have seen an incredible surge. They have evolved from niche devices primarily for hardcore gamers to devices with broader adoption and applications for consumers and businesses. The use of VR in logistics, supply chain management and shipping has opened infinite possibilities due to its various applications in different fields of operations.
Benefits of VR in Logistics and Supply Chain Operations
The successful adoption of VR applications in logistics and the supply chain depends on the orientation of technology value controllers with the applications of the company, operating needs, and organizational preparation, not just a comprehensive approach based on the popularity of the current technology.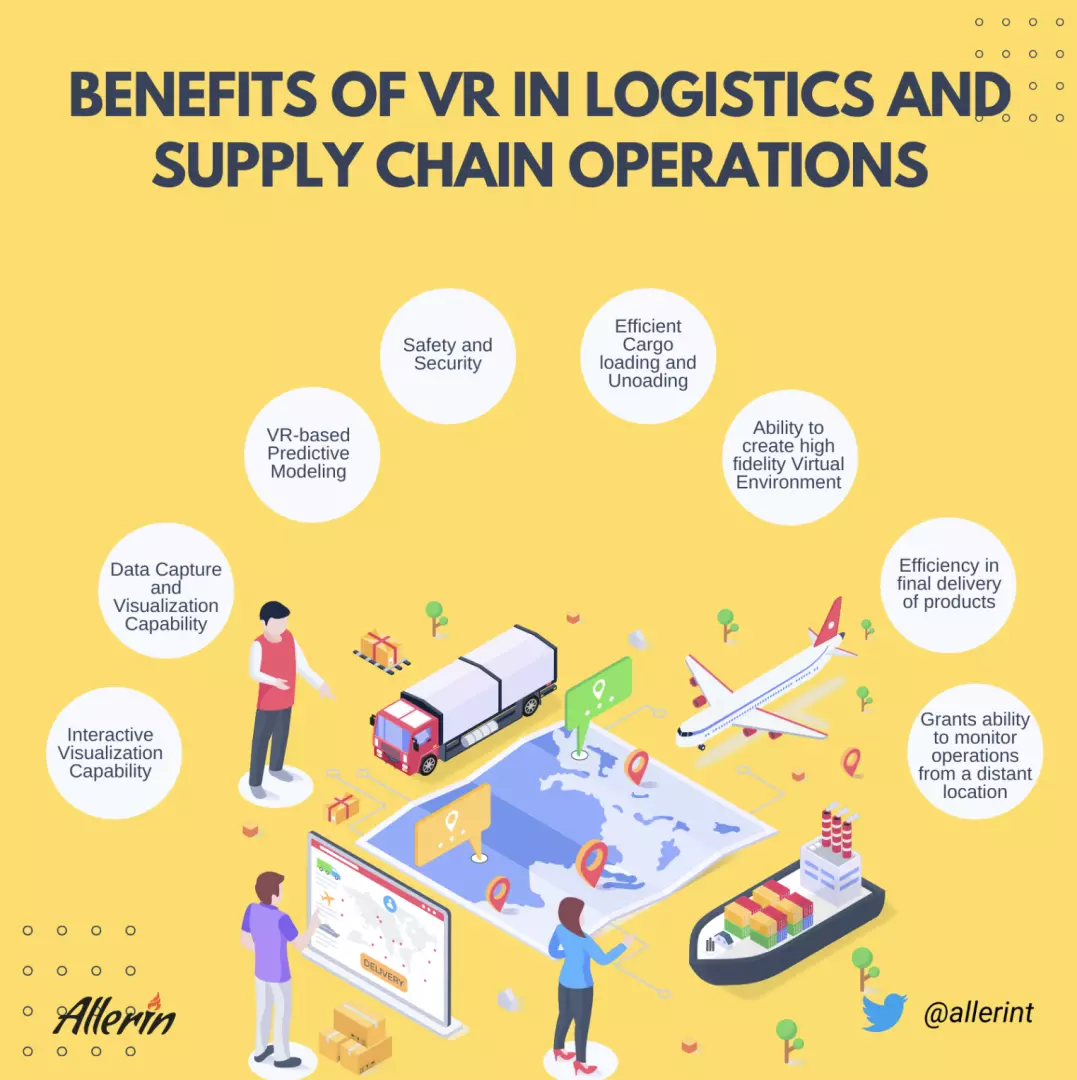 1. Interactive Visualization Capability
Companies are beginning to leverage technology to improve CAD functionality and design staff engagement within their design departments. VR-enhanced layouts enable viewing capabilities not previously available. This allows product engineers, architects and designers to quickly switch between multiple designs and evaluate them on site.
2. Safety and Security
VR technologies can be crucial to maintain a competitive advantage and ensure efficiency by defining its role in logistics safety and the safety of professionals. These technologies can reduce the likelihood of injury or other fatalities while on the job.
3. Ability to Monitor Operations From a Distant Location
With the audio and video functions of VR in logistics and supply chain operations, employees can cooperate with other colleagues using joint visualization or interact with virtual avatars. These interactions decrease costs and offer manufacturers and suppliers further information in the development of products and processes, especially in distributed digital supply networks.
4. Data Capture and Visualization Capability
These abilities transform the supply chain operations from product development to the end customer. The use of interactive 3D data visualizations, which are not possible on 2D displays, aids in complex decision-making and helps companies see dependencies and the impact of certain decisions on operations. The use of virtual reality applications and devices to facilitate analysis and rapid decision-making can address serious vulnerabilities within and between organizations.
5. Ability to Create High-Fidelity Virtual Environments
High-fidelity virtual environments will have a significant impact on human resources in supply chain organizations. Many industries, including industrial products and services, energy and manufacturing, struggle to prepare employees for high-risk environments. Virtual reality can help workers make the best possible decisions in safety-critical settings. For example, they can develop the ability to identify, prioritize and analyze situational variables that indicate an oil well is about to go live, is in a dangerous state, or that a machine is about to fail.
6. VR-Based Predictive Modeling
Large corporations with a worldwide presence regularly face the project of streamlining the procedure without mistakes, delays and different irregularities even when the human worker isn't physically there for the entire process. This is precisely where the position of VR primarily based on predictive modeling performs an essential part.
Predictive modeling with VR technology helped massive e-commerce manufacturers like Amazon to streamline the procedure so that mistakes may be saved at a minimum without requiring human intervention in any respect stages. By using VR in logistics and supply chain, delivery and logistics managers can supervise matters at websites in real-time.
7. Efficient Cargo Loading and Unloading
False and unreasonable estimates of the time required for traffic transit and incorrect information about the location of the cargo can lead to several delays. In any logistics and shipping process, drivers and carriers spend much of their time loading and unloading goods while staying away from distribution facilities. Due to the inaccurate estimation of the weight of the goods, they often have to spend a lot of unnecessary time. If logistics drivers can be equipped with AR and VR devices to track driver and cargo management information in real-time, much of this excessive time wastage can be avoided and process efficiencies can be significantly optimized.
8. Efficiency in Final Delivery of Products
Until now, we have seen the tremendous benefits of virtual reality in streamlining the warehouse process and finding products quickly. However, the use of VR-based systems for last-mile product delivery still needs to be discussed and focused on. Last-mile delivery efficiency is essential for specific industries like e-commerce, manufacturing, retail, etc. Efficient last-mile delivery will ultimately result in better cost benefits for organizations and businesses.
When loading a goods delivery truck, the driver can use a VR headset to assess the best way to load the vehicle so that all products can be accommodated in the space efficiently and in the best possible time. This results in optimal workload and delivery time. This technology can also be used to evenly and adequately distribute cargo, resulting in excellent fuel savings for the shipping company.
9. Impact of VR in Logistics and Supply Chain Operations
In broadcast, logistics and management of the supply chain, these technologies can also be essential in increasing efficiency. The most crucial e-commerce companies, manufacturing facilities, and companies of all sizes and niches have already begun to use AR and VR to move and send products.
In the last few years, virtual reality has made notable progress with regards to computation, processing of data, sensors and related technology. Virtual reality in logistics and supply-chain increases product efficiency, lowers security incidents and increases employee commitment. Employees receive a realistic feeling of their work tasks and a work environment that leads to more efficient operating and confidence. When virtual reality technology develops, the cost is expected to decrease when the hardware and software performance increases. Therefore, the application of VR in logistics solutions and the supply chain has significant growth potential. With continued demand in the global supply chain, companies are looking to become more resilient, efficient and collaborative than ever. Investing in employee training and development is an excellent way to go, especially with programs that use future learning technologies, including virtual reality.