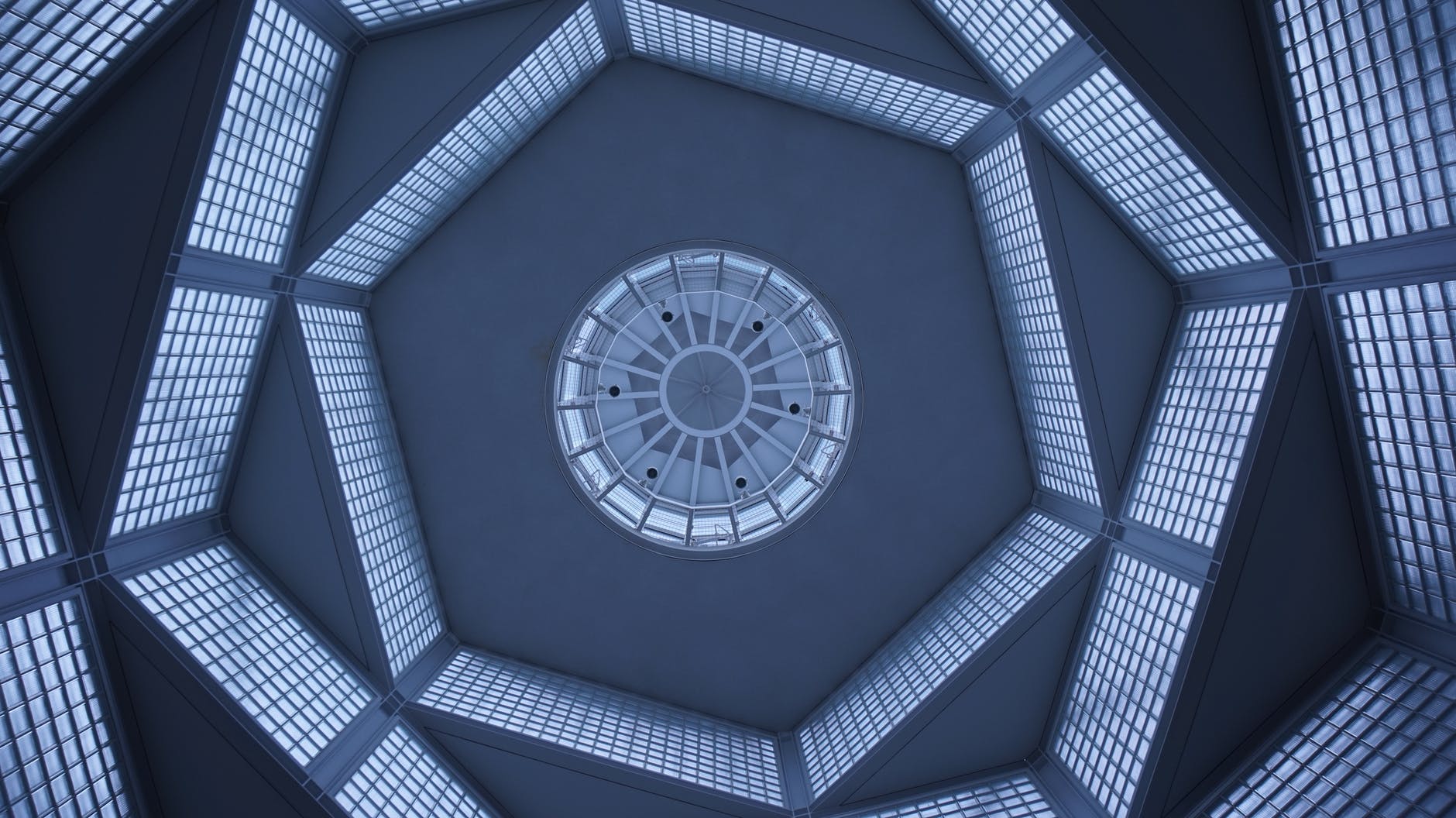 During the day, I spend a lot of time researching online. I may be looking for coding tips on articles I'm writing for my programming columns. I may see something on Facebook or LinkedIn that I'd like to reference for articles on futurist issues, or politics, or industry trends. I may come across a reference image or detailed information about a place for the novels that I write. Anyone who writes regularly likely also spends a significant amount of time finding and compiling such resources.
Recently, I started using Google Keep as a way to help me more effectively organize the information that I have. There are similar tools out there - essentially bin-boards of various flavors - but Google Keep has several characteristics that put the app a cut above most.
Keep is an extension for your browser (with most browsers supported) that launches a small pop-up window that includes the link or reference, along with a mechanism for adding additional commentary text and (perhaps more importantly) also lets you assign the link to one or more categories. Dismissing the link involves just clicking off of it, while you can open up the Google Keep app from the summary to see all of the entries as "cards", either as a list or as a grid.
By itself, this is perhaps only slightly more useful than bookmarks in the browser. Where Keep shines, however, is in the ability to add multiple, user definable categories. For instance, for a picture of the space needle in Seattle, I can annotate it with the hash tags #building #spaceneedle #seattle #location #stormcrow #novel. Once saved, I can also search on multiple tags. Thus, if I wanted to get a link to all the buildings in my novel (in-progress) Storm Crow, I'd go to the search page and type in "stormcrow seattle", to get all of the reference pics that I've taken for Stormcrow that are set in Seattle.
I've actually gone one step further with this and created faceted tags. For instance, I can sort on the "cards" by creating tags like "character:Briannen_Storme" (my protagonist in one of my novels), "location:Seattle", and "work:Storm_Crow". This way, I can get all pictures of characters in the Search dialog by typing in:
character: work:storm_crow
which then displays the following results: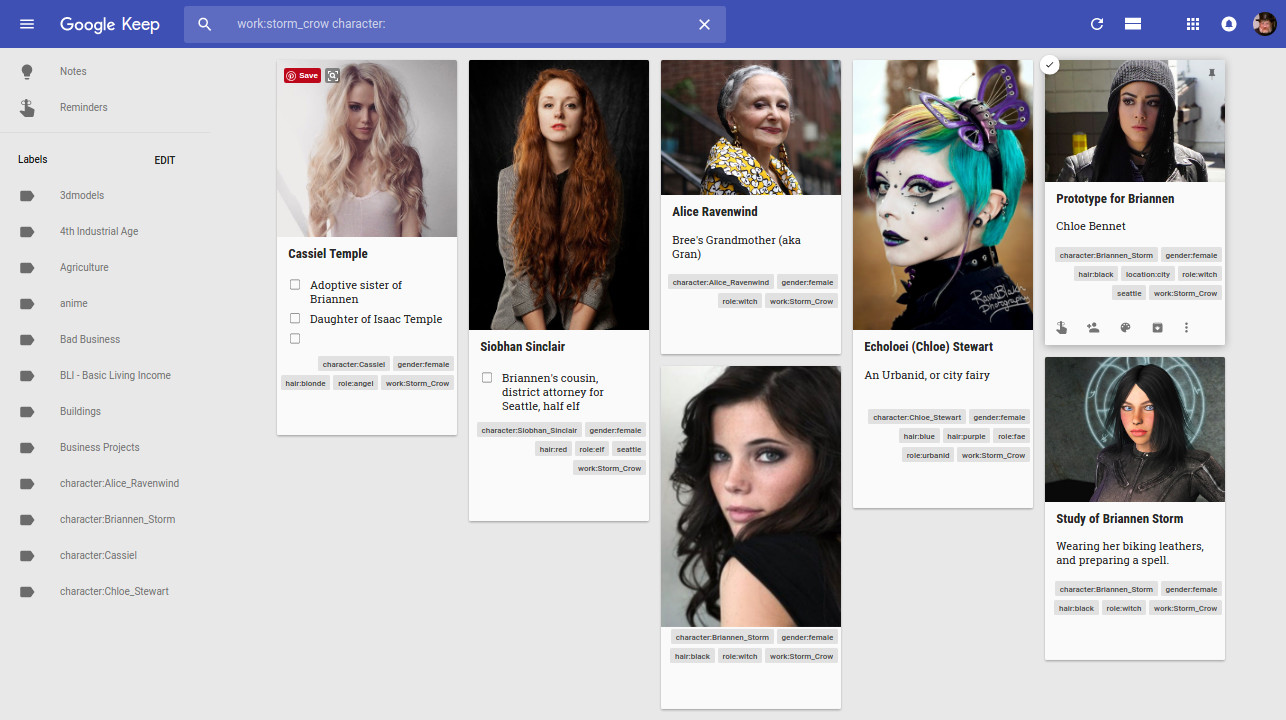 The search can do full text queries as well, so specific text can be stored in each note, but the ability to organize taxonomically as to me one of the most powerful aspects of Google Keep. Additionally, ordering is managed based on time, but it can be overridden by a drag and drop arrangement. It's also possible to select multiple images and apply tags to all of them at once (very useful when dealing with large uploads) and to change the names of specific taxonomy terms, which will echo through all of the notecards in the system.
Each card also can be expressed as lists. One technique that I've found to create a networked graph is to add, as entries in these lists, vector pairs containing a relationship of the card's entity (who the card is about) to some other card's entity. As an example, the three characters Briannen Storm, Cassiel Temple and Siobhan Sinclair are cousins. To show this relationship, I defined a notation (here for Briannen) that indicates the cousin relationships
family:cousinOf=>character:Siobhan_Sinclair
family:cousinOf=>character:Cassiel_Temple

Assuming that each entry has similar terms, a search can be done using the class name (character:) to insure that only characters are considered here. So, to find all of the cousins of Siobhan Sinclair, you'd then put the following into the Search bar
character: family:cousinof=>character:cassiel_temple

This is a poor man's SPARQL, but with some work you can use it to not only do straight text search but also to do very faceted semantics. One key point to remember with this is that unlike Google's normal search, Keep search is a full AND search - it retrieves cards based upon the intersection of found terms. Given that there are no algorithms determining page rankings, this approach actually makes more sense for attempting to find a comparatively limited number of resources that contain all of the key terms.
You can also use (and set) different color cards to help visualize groups more effectively. For instance, for my novels, I'll sort out entries by work:storm_crow, then select character:, topic:, and location: in turn, click on the Groups card window, press ctrl-A (select All) then from the color button in the menu, set each to a different color - characters in blue, locations in orange, topics in green and so forth. I can then search by color, using that as kind of a quick working memory to help me keep small sets managed.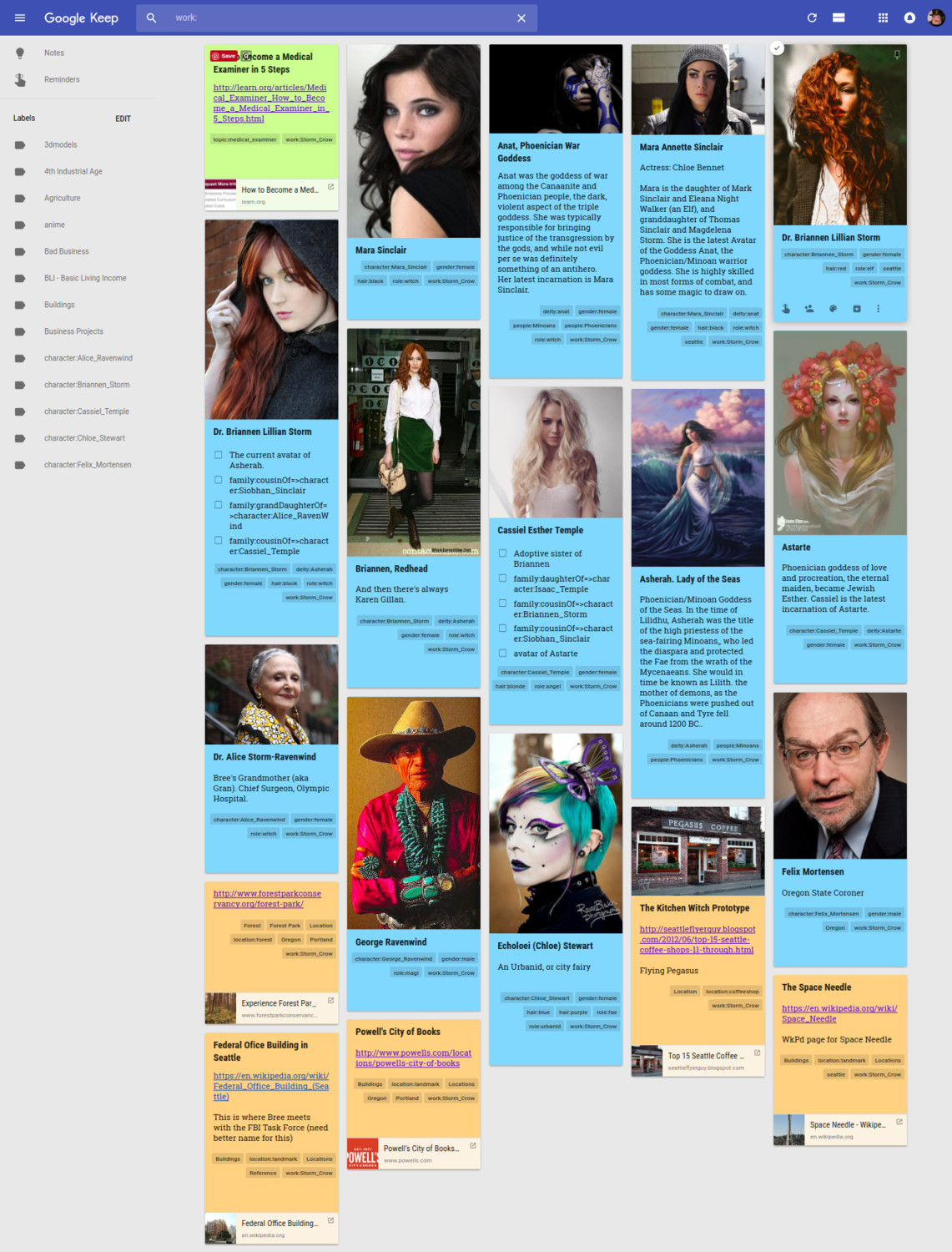 I haven't yet had a chance to play with the Google Keep API (yes, there is one), but the ramifications that it has for both semantics and digital asset management should not be underestimated. Every asset has a URL (and in most cases has several), though at this stage it only allows for direct uploads of images (video links can be added, they just can't be uploaded).
While I'm pretty impressed with Google Keep, I'd love the ability to drag link lines between different notecards, like stringing them together with threads. Once drawn, the user could then specify (or define) a property that establishes the relationship the line represents. This could then be displayed as a true graph, not just an implicit one.
Overall, Google Keep is a good concept management toolset, and is rapidly replacing bookmarks in my workflow, bringing order out of chaos.