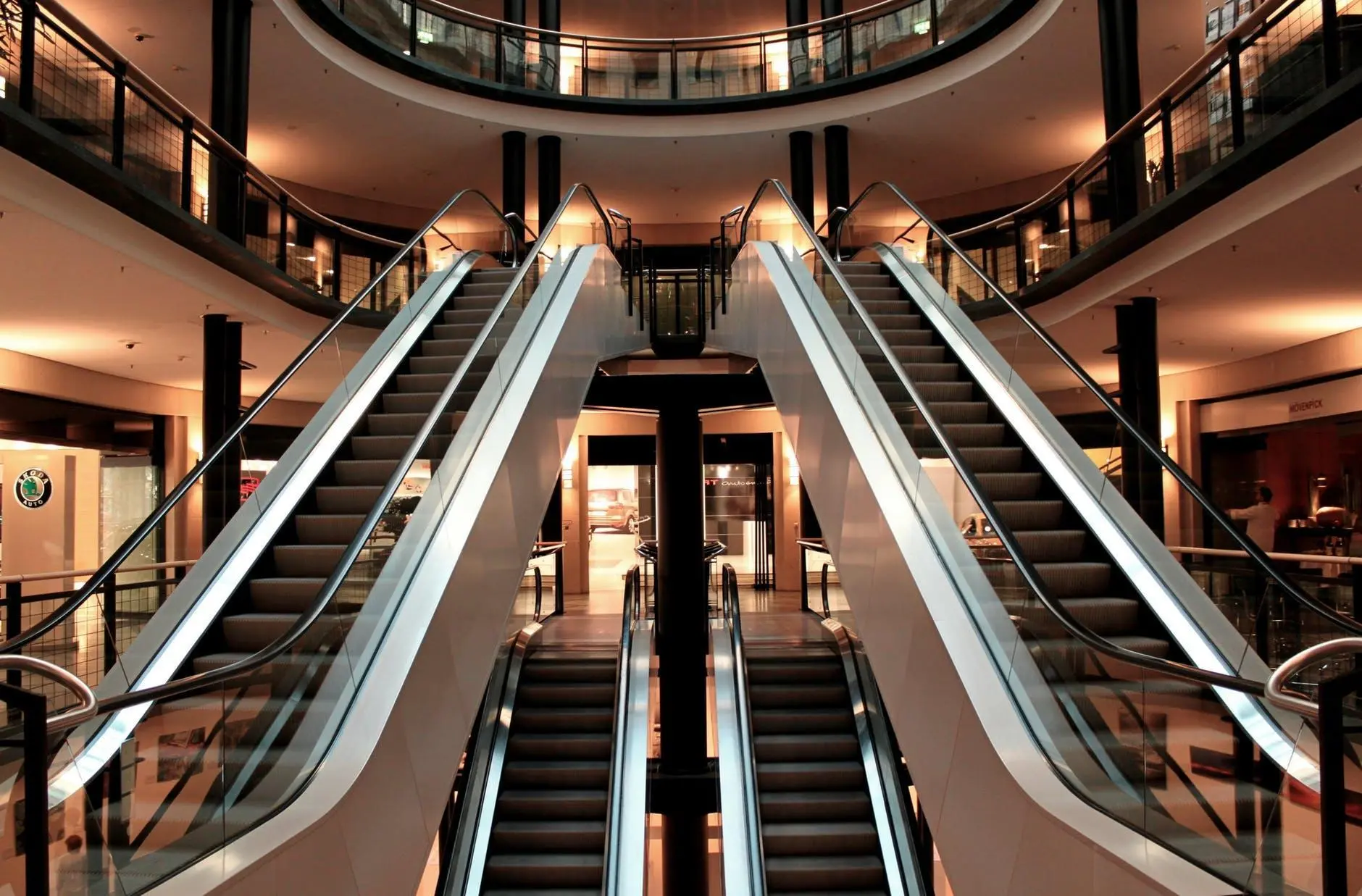 The American retail industry is slowly dying. This is, in many respects, the death of the Third Industrial Age writ upon the landscape of its most visible symbol: The Mall.
Perhaps due to their ubiquity, few realize that the Mall as it exists today is only as old as the Baby Boomers. There have long been bazaars and vast emporiums, markets in the oldest sense where people haggled on goods and services. The name "mall" itself derives from a street in London, Pall Mall, named after a game similar to the croquet that was popular in the city in the mid 1700s. By the nineteenth century, this had become the home of a number of upscale retail establishments, gentleman's clubs and restaurants, and ran adjacent to Haymarket Square, a place where farmers originally sold grain and hay but that eventually became the theater district for the city as it expanded.
Southdale Center became the first "mall" opened in the United States in 1956, and was, ironically, intended to be a response to the increasing car culture of the time. Because it was in Minneapolis (which can be subject to extremes of both winter and summer), Southdale Center was fully enclosed, and built upon a pattern that would eventually become common place - a central airy atrium around which a food court was established, then two stories of retail stores in wings around this center, usually leading to retail super-stores on the outer edge of the wings . It's architect, Victor Gruen, had hoped to evoke the image of an Italian plaza, but Frank Lloyd Wright, on a tour of the various buildings of Minneapolis, was scathing:[1]
"... [the] garden court has all the evils of the village street and none of its charm. [Gruen] should have left downtown, downtown."
Despite this, malls became seen, for a while, as the epitome of suburban culture. They required large amounts of space, so most tended to be built well away from a city center. Ironically, this meant that the ones who benefited the most from these super shopping complexes were newly wealthy suburbanites who neither wanted to go all the way downtown to navigate around dozens of stores nor to fight the increasing traffic and congestion to get there.
Malls in turn nucleated suburban "centers", and were typically placed at off-ramps of the newly expanding highway system. These also facilitated the emergence of smaller strip malls, usually smaller and seldom enclosed, but that served the same purpose of concentrating retail to enable car-culture to get the urban experience without dealing with urban problems.
The mall was the "happening place" through the 1980s, during which they usually tended to stay busy especially around Christmas. Indeed, the commercialization of Christmas, with gaudy silver and tinseled trees, decorations and the impulse to "buy presents for your loved ones" serves as a way to describe the arc of that holiday's rise and subsequent fall. Indeed, what Christmas isn't complete today without at least one trudge through crowds frantically buying overpriced goods at Malls high-end and otherwise, while mirrored windows festooned with colored lights showed the latest in must-have presents, to muzak renditions of favored Christmas tunes.

Yet by the 1990s, as the Millennial grandchildren of the Boomers became "mall rats", unsupervised and purposeless, the bloom was off the rose. What had once been scintillating and evocative of wealth and luxury was increasingly looking threadbare and tacky. The new wealthy preferred to fly to Paris or London or Milan as urban centers, and these centers of commerce found themselves spending more and more money to renovate, to rebuild. A number of recessions in the 90s and early 2000s left many malls without anchors, the large box stores so critical to establishing traffic within them. Business recovered, but it was not uncommon for high end retail box stores to be replaced with downmarket stores - Nordstroms to Macy's to Sears to KMart. This in turn led to erosion internally of the buying power of their customers, even as the malls began to sit effectively empty of customers for significant periods of time.
If the changing nature of suburbia led to a slow decline, the Internet became the weapon that ultimately killed the mall as a viable concept. In the 1990s, while Internet usage grew explosively, the infrastructure was not sufficiently robust to serve as a retail platform. Companies such as Google and Amazon got their starts in the waning days of the tech recession in the early 2000s, initially by specializing in the selling of books.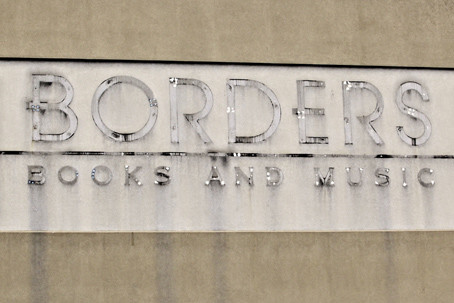 Books represented a good opportunity for Amazon, because the distribution and sale of books had been consolidated primarily in two players - Barnes and Nobles, and Borders. What's more, there was no one publisher that dominated the total book market, which meant that B&N and Borders became the gateways for controlling market prices. Amazon changed the game by aggregating publisher catalogs then undercutting the retail channels through virtualization. You couldn't quite hold a virtual book in your hand at point of purchase, but you could read a sample chapter, look at the cover, and (importantly) see the feedback that others provided about the product.
Compare this with sales people on commission who would either be indifferent to or attempt to convince people to buy based upon the commission they'd receive on the sale - that feedback mechanism became a major value-add to the customer that more than compensated for the slightly delayed time in shipping the product.
Within a few years, Borders was gone, its absence as a secondary anchor in stores knocking out a popular access point to many malls, and Barnes and Nobles is on the ropes. Amazon was able to take advantage of not needing extensive retail stock, nor having stock on hand - they could either be made available via warehouses, or could be shipped directly from the publisher (or in the case of books and increasingly other goods, produced on demand).
Clothing and textiles are going this way, as are appliances, furniture, and increasingly groceries. Larger items are, ironically, much more amenable to this approach. You can examine an oven or refrigerator online, can see its capabilities, and can even choose customizations at the point of purchase, have it ordered and installed faster than doing the same thing over brick and mortar retail, and frequently can do so less expensively.
I remember seeing the signs on the wall about how this would decimate this sector when I went to get a refrigerator at a major brand retailer. Their sales people had been issued tablets which contained access to their catalog, but for the most part, they had to refer to the same information I could bring up on my phone, and the sales process was still awkward and clumsy. In the end, I had to cart it out to my car and install it myself.
Later, I had to replace an oven, and while I'd been getting the refrigerator I'd done a little research on the state of the ovens. Ultimately, we bought this online, after looking at a number of different models and specifying color and ornamentation. The oven was cheaper by nearly 20% from the "marked down" price of the retailer, and it was delivered and installed by general technicians who provided their services through the same catalog.
Multiply this experience by millons, and you affect behavior. If you're a Boomer, chances are that this is a novelty, but not one that you do all that often. If you are a Millennial, you've likely not stepped into a mall in the last year, except maybe for the food courts. If you have a cell phone, you've likely snapped a few selfies that let an AI determine your actual measurements, bought slacks and a shirt online, tried it on for size, and likely kept the clothes when they arrived. Why? You didn't have to spend hours looking for whatever was in stock at the store in your size, didn't have to accept something in the wrong color or stle because what you wanted was already out of stock, and perhaps most importantly, the transaction was done privately.
Even pilferage and returns become simpler - the transaction occurs so that the goods are purchased first, so pilferage and shoplifting ceases to be much of a problem. If you send something out and it's not the right size and gets sent back, it may be rehabilitated or not - and likely may be - but compare this to stock damaged or soiled by the simple act of trying clothes on. This means that you don't have to produce anywhere near as much product, nor do you need to deal with the returns.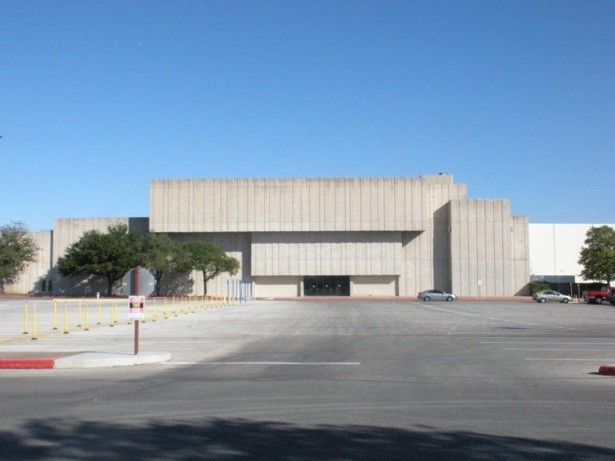 Cross off books, clothing, toys, furniture, gardening and maintenance equipment, appliances, electronics, artwork, travel agencies, novelty stores, weapons, and pretty soon, you don't have enough retail stores to even keep the doors open, except for a central food court selling pared down menus at high prices. This is the future facing malls, even before you factor in the effects of autonomous vehicles.
Ironically enough, the biggest physical beneficiaries may be the urban centers. Many urban retailers, facing stiff competition from the malls, changed their presentation style from being a point of purchase location to being a showroom. This has always been the advantage that brick and mortar stores do have. By concentrating their efforts this way, such stores can often provide a jumping off point for considering what the customer may want and a chance to deal with the tangibles - how fabric feels or smells, how it drapes, and so forth. In that regard, these become boutiques, intended as a whole experience rather than simply being a glorified storeroom. It also lets the producer, not the distributor, become the primary point of focus, difficult to do in the concentrated environment of malls.
In the long run, the future for malls is pretty grim. A few have already been repurposed into administrative centers - municipal spaces, police, courts, libraries, community facilities. This will likely continue, but similar factors to those involved in the death of retail are also affecting municipal operations. Some are likely to be turned into technical parks or incubators, others into schools.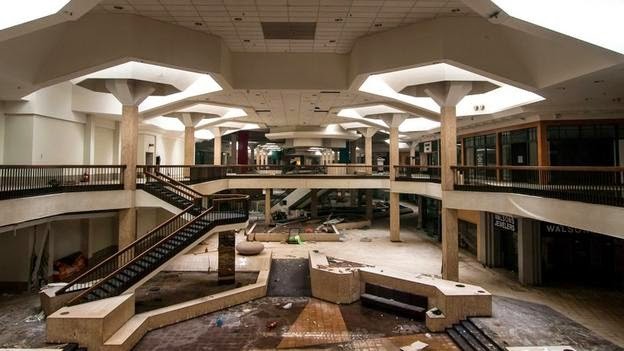 However, this will likely end up affecting only a small percentage (maybe 30% tops) of all retail. More than likely, as malls go dark, they will just sit abandoned. Weather and wildlife destroy the roof and grounds, vandals and thieves start to deface and strip them of plumbing and electrical work, and they become magnets for vagrant populations. That process occurs slowly, but not that slowly - after ten years, a lot of damage will take place, after twenty such places will be unrecoverable.
Moreover, as they deteriorate, these dead malls create a blight upon the neighborhoods around them. Just as they anchored artificial communities in life, such zombie malls leads to abandoned houses, closed schools and diminishing business. It's likely that such zombification will likely end up being a common problem in the next ten to twenty years, to the extent that policy makers at the state and local levels should be thinking about end of life policy for such properties.