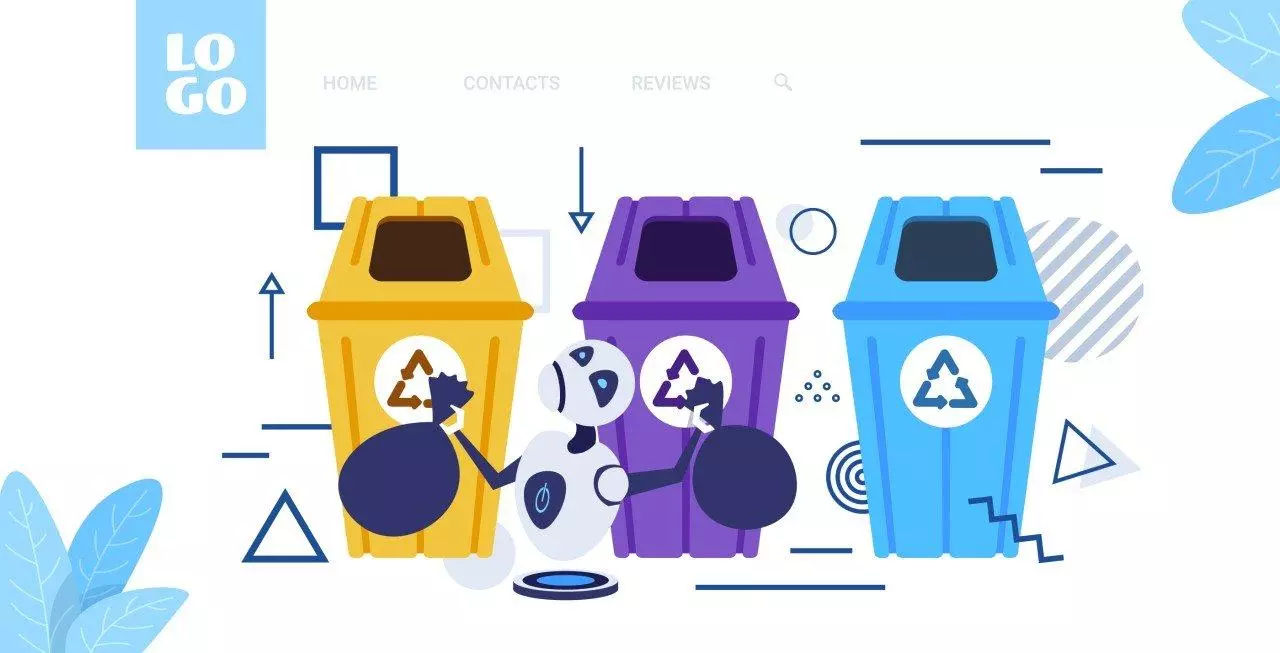 Plastic waste is a serious issue that needs to be addressed quickly, and the use of advanced technologies like AI to reduce plastic waste can help in our efforts significantly.
The world population and urbanization has rapidly increased in the past few years. This has led to the creation of a lot of waste, most of which is plastic. To get the magnitude of the problem, let's have a look at a few numbers. According to statistics, about 9.1 billion US tons of plastics have been produced since the 1950s. Virtually every piece of plastic that was ever created exists even today in some form or the other. Of the total plastic waste generated, only 9% ends up being recycled. The harmful effects of plastic pollution have been well documented in recent years, and we must act quickly to reduce plastic waste. Technologies like artificial intelligence can assist us in reducing plastic waste if we want to achieve our goal of a sustainable planet for the future. But before that, we need to understand the inefficiencies in our current waste management processes before diving deep into how we can leverage AI to reduce plastic waste.
Inefficiencies in the Current Plastic Waste Management System
The existing plastic waste management system is highly inefficient and is plagued with many shortcomings. Some of these include:
● Hiring Employees
The waste management sector currently faces an issue in hiring employees. Although the job is a high paying one, people tend to stay away from waste segregation jobs. Since the job requires people to work in hazardous conditions, people tend to quit after a few months. Also, the job is highly repetitive, and this too draws employees away.
● Input Costs
The input costs for setting up a waste management system are too high. Businesses have to operate on a tight financial budget if they want to profit from the system. In certain cases, it usually proves cheaper for businesses to incinerate waste and or dump them in landfills rather than recycling them. The profit margins for incinerating and dumping plastic waste can run as high as 70% when compared to recycling the waste, and hence, waste management companies usually turn to these methods.
● The Segregation Process
The third and most important challenge faced by waste management companies is the inefficiency in the current waste segregation practices. The current waste segregation practice firstly involves hiring a large number of employees for the process. As discussed above, this can result in huge financial costs for the companies. Secondly, the workers employed need to be trained to sort out plastic waste efficiently. Even if the workers are trained effectively, they tend to miss out on sorting and collecting plastic waste that can be recycled and usually gets dumped along with other waste. In other scenarios, the plastic waste segregated by employees might be contaminated with other harmful chemicals and might cause issues in recycling. Companies need to find the right number of skilled employees to make the waste segregation process efficient and profitable. Here's where the use of AI to reduce plastic waste can work wonders by simplifying the waste management processes.
Leveraging AI to Reduce Plastic Waste and For Better Waste Management
AI can significantly streamline the waste management process by replacing the human workforce or work in conjunction with them. AI-driven robots, armed with computer vision technology, can be trained to sort plastic waste by building on their algorithm. These robots can work faster and longer when compared to humans and can sort plastic waste with higher efficiency. Some recycling companies have already deployed an AI robot at their waste management facilities. The robot can potentially save the company USD 120,000 to USD 130,000 annually. The robot can pick up 70 items per minute when compared to 35 items picked up by humans, thus proving to be highly efficient and productive. Apart from the financial benefits, the robot can help in preserving our earth, and this is mirrored by the CEO of the company who exclaimed that the robot would help the firm to "contribute more to preserving the Earth and providing innovative as well as environmentally responsible waste and recycling solutions."
Developing Intelligent Trash Bins
AI can be used to sort the plastic waste at the point closest to the source, i.e., the trash bin. AI-robots can be trained to identify the household waste right at the source and segregate it. The segregated waste can then be collected and can help facilitate the waste management process at large factories. Such a concept is already in place where the 'AI-robot trash can' can identify the type of object thrown in it. It can then sort the waste according to its type, and even weigh it or drain any liquids present in it with 90% accuracy. Such a plastic waste segregation model is ideal for public locations that generate huge amounts of plastic waste daily. Shopping malls, sports auditoriums, and public parks can benefit hugely from such smart trash cans. With the help of machine learning and AI, the trash bin can improve its algorithm to identify a wide variety of waste, significantly increasing the amount of plastic going into recycling.
Cleaning our Oceans
A large portion of our current plastic waste gets dumped into the oceans, severely affecting the aquatic flora and fauna. AI-powered robots can be deployed to scrape for plastic waste accumulating on the water surface or the trash lying at the bottom of the ocean floor. The artificial intelligence algorithm can be programmed to identify and distinguish plastic waste to be collected for recycling purposes without affecting marine biodiversity. The plastic ocean waste is at a staggering level and needs to be addressed soon. AI robots can prove to be highly valuable in our attempts to clean the ocean. These robots can be deployed in swarms and make the process highly productive and cost-effective.
Challenges in Using AI to Reduce Plastic Waste
The only major challenge faced in using AI to reduce plastic waste is that the AI systems need to be trained to identify plastics. This is done by feeding data of various plastic wastes in the form of images that the system may encounter. However, AI and computer vision may not be able to identify wastes every time accurately. The algorithm can be improved only by increasing the data in the algorithm and through trial and error. This can take a long time to perfect and even then may not prove to be 100% dependable. Even though AI waste management solutions prove to be better than human employees, they too can't be relied upon completely. It will take time before AI systems are fully capable of sorting our plastic waste management problems.
Many industries have already leveraged AI robots, and the waste management industry is no exception. The use of AI to reduce plastic waste is not only financially beneficial but also plays a huge role in sustaining our planet. The technology may not be fully dependable yet, but it has the potential to completely dominate the sector and prove to be the leading solution to our waste management problem. The industry is yet to see the full potential of the technology, but it won't be long before we do, as the technology is going through rapid development. Hence, businesses in the waste management sector need to focus their attention on the technology and deploy it in their processes.