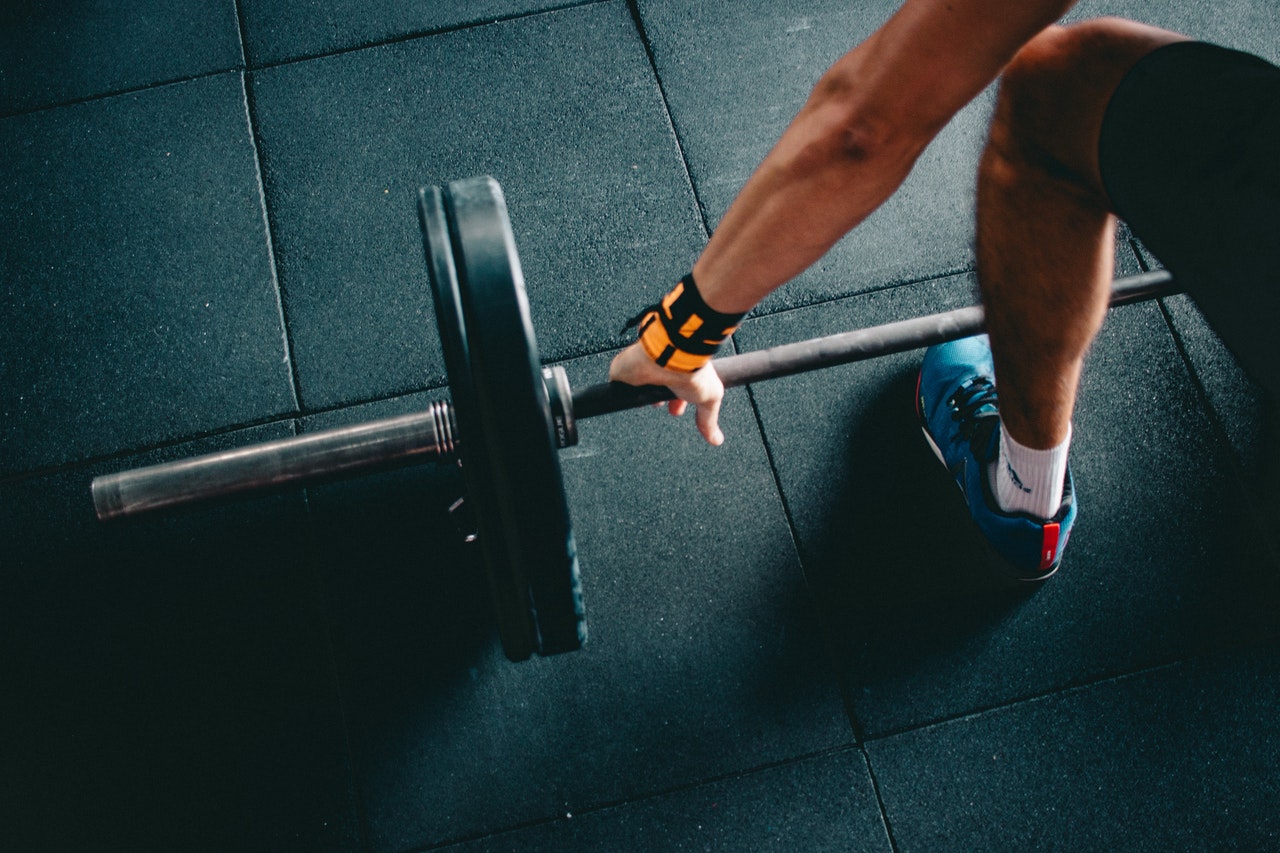 Recently, Will Liu (aka Liu Genghong) has become an online hit with his workout live stream in China during the COVID-19 outbreak in Shanghai.
Many Chinese netizens chose to join in this fitness craze. In fact, fitness has always been a hot topic for young generations to share and communicate. According to the latest List of the Most Popular Fitness Methods for Gen Z released by Soul App, Liu's fitness dance to up-beat songs is the most popular exercise at present, followed by running, mountain climbing, Pamela, yoga and frisbee games.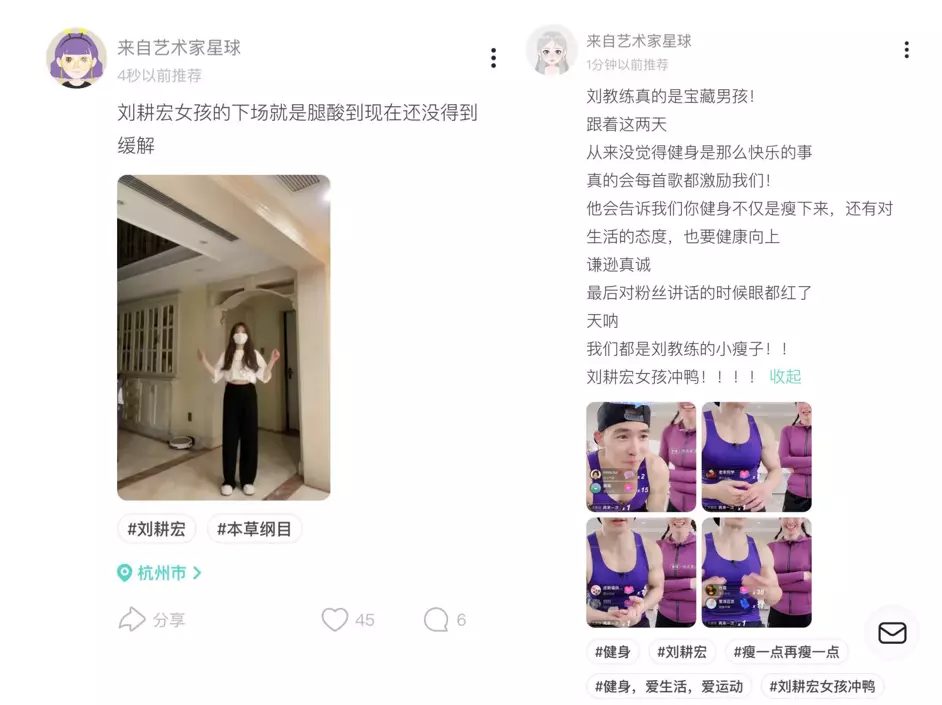 Soulers shared their pictures of exercise following Liu's videos.


Gen Z loves Liu's dance the most. Frisbee games and other fitness methods have also gained popularity.
On Soul App where Gen Z gathers, fitness has been attracting a lot of attention. Except for dancing with Liu's workout live stream, Soulers (Soul App users) also love Pamela, yoga and other fitness activities.
After analyzing the relevant posts on Soul App, the Just So Soul Institute summarized the most popular fitness methods among Gen Z. Liu's dance ranked at the top.
It is worth noting that Pamela, yoga, weight lifting and other at-home fitness methods have recently become popular due to the lockdown policy. At the same time, many young people are still enthusiastic about outdoor fitness activities such as running, hiking and cycling. The Frisbee game is creating a new sports craze among young people.
A Souler even uses wine bottles as fitness tools.

There are various methods to keep fit. Some may even be beyond your imagination.
Lots of Soulers have shared their own pictures or videos following Liu's live stream with the tag "fitness at home" on Soul App. The sports lover @Ness has also joined the fitness craze and tried Liu's dance. She had attracted a group of fans with yoga earlier.
Another sports lover @Stephan has shared the small gym he built in his home. Levers, dumbbells, and even wine bottles have become his fitness tools. His posts have inspired other Soulers that they can make use of everything they have to keep fit. Souler @Jader suggested that we should maintain a healthy diet and lifestyle while exercising.
During the epidemic, "cloud fitness" is becoming popular.
Behind these fitness posts, we can see the growing number of people who use fitness to socialize.
In recent years, especially after the outbreak of COVID-19, "cloud fitness" has attracted an increasing group of young people. Being forced to stay at home, young people are eager to find a new way that they can exercise at any time and anywhere. A number of gyms have started classes online so their customers can keep fit from home. Many sports experts and celebrities, such as Will Liu, also organize some online fitness activities. This kind of "cloud fitness" quickly becomes popular. In this way, Gen Z can easily keep fit at home.
In addition, with the increase of health awareness, people pay more attention to their physical and mental health, which makes more people participate in sports. On Soul App, many young people make it a habit to record and share their fitness pictures every day. They believe keeping regular exercise is a form of self-discipline, which could benefit them a lot.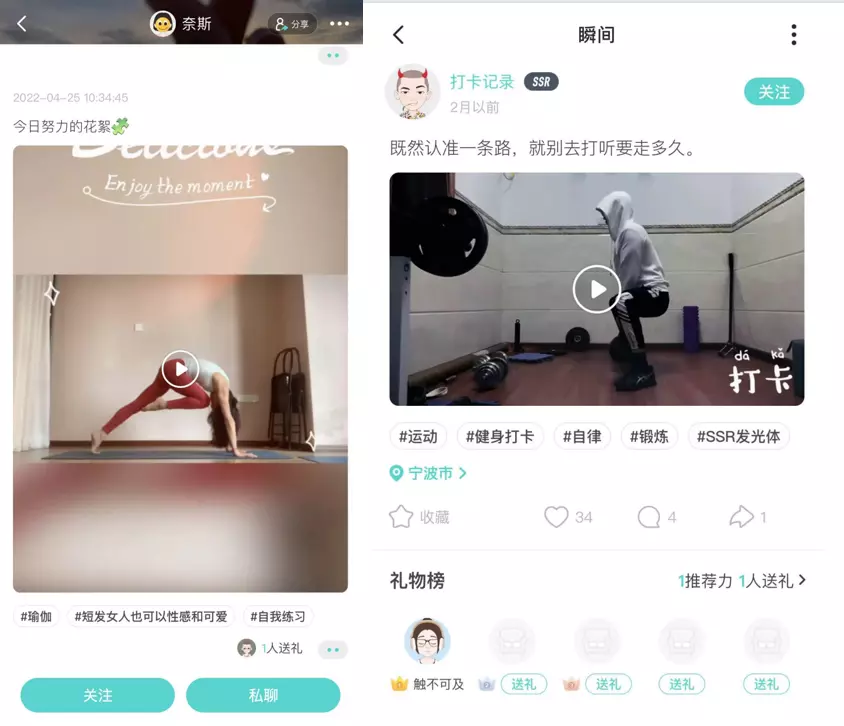 The sports posts shared by Soulers.


No matter what kinds of fitness methods they prefer, Soulers can always find other users who have the same interest on Soul App. With a shared interest, they are willing to communicate and set up new social relationships. In the future, Soul App will continue to explore more diverse ways for young generations to have a better social experience.