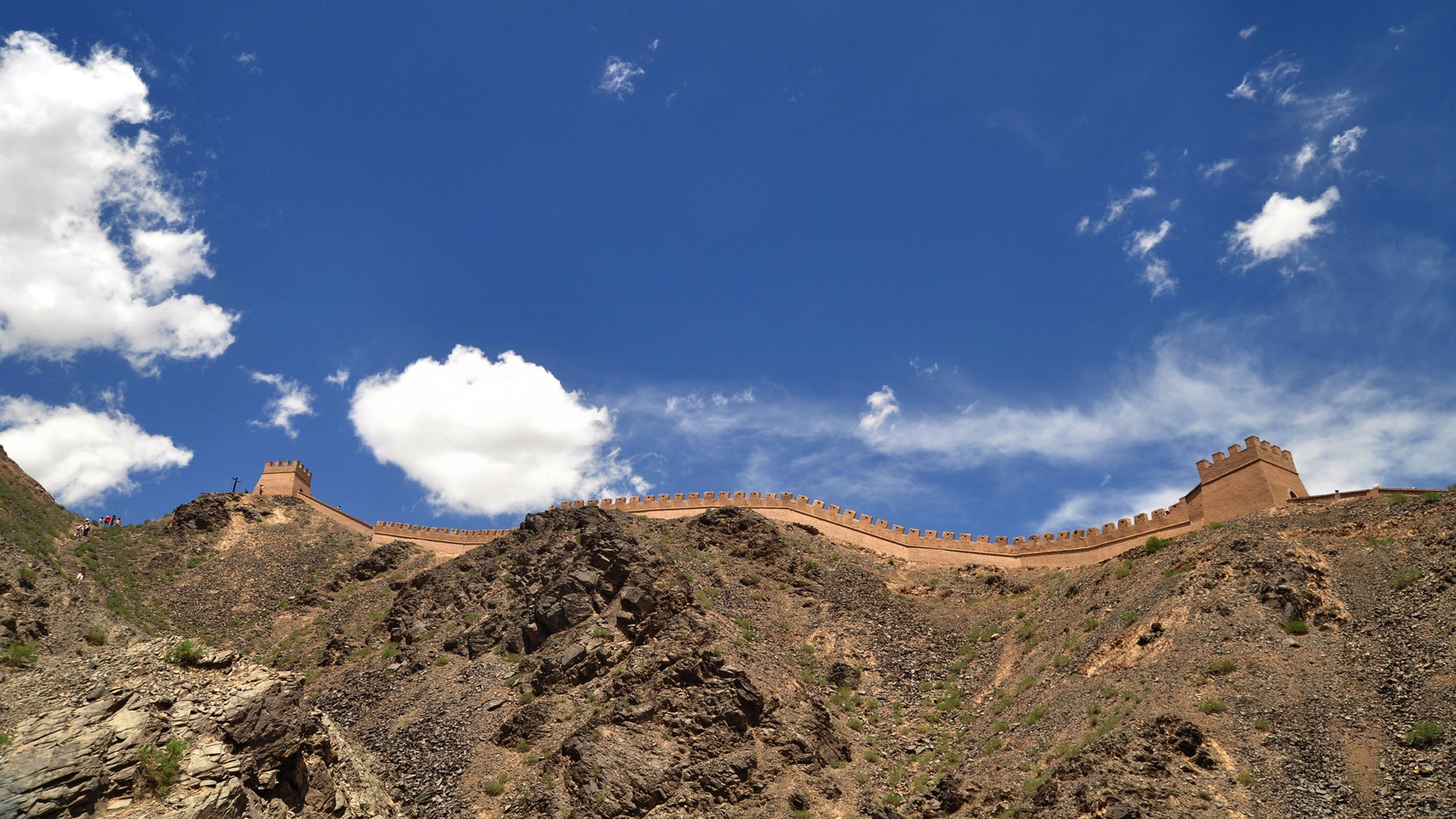 While Beijing doesn't judge the way you do business, it does take umbrage if you take issue with the way it conducts its affairs.
Could the coronavirus pandemic be powering the strength of a digital yuan more than it would seem?
"It's great. The working conditions are good and there's a canteen with free meals, healthcare," says Akola Abdullah.
In the arid sand-swept landscape that looks like it could have been from the set for Mad Max: Fury Road, Akola and a few hundred other Somali workers, alongside several dozen Chinese supervisors, are working on a pipeline that would bring millions of gallons of crude oil to a deep water port on the Gulf of Aden.
Despite facing one of the most pirate-infested waters in the world, the soon-to-be bustling port of Eyl is being slowly but surely carved into another Chinese deep water port that will secure the Middle Kingdom's vast energy needs for centuries to come.
And just in case, there's a Chinese destroyer just over the horizon of the port of Eyl, bristling with advanced sensors and missiles.
Although China produces oil, it relies on foreign imports for over half of its domestic consumption.
And development projects like the port in Eyl, Somalia, are just a glimpse of China's global strategy to secure its energy needs.
The only problem is that globally, the trade in oil is denominated in dollars, which forces Beijing to buy U.S. Treasuries to offset the dollars that it spends to buy commodities elsewhere.
And China's buying of U.S. bonds helps keeps the borrowing costs of the United States low, while allowing the U.S. to print money that undermines the value of Beijing's dollar holdings.
But that may be set to change.
Need A Loan?
Even before the coronavirus pandemic, China was already a big issuer of loans, particularly to emerging economies and resource-rich Africa specifically.
But Chinese loans are notoriously discreet, making it hard to figure out what the true indebtedness of its debtor countries are.
Many loans come with non-disclosure agreements and often Beijing doesn't act at the state level, but rather through its powerful state-owned companies, providing funding to governments and businesses on the ground.
Many of these loans are denominated in dollars, and should the local currencies of these emerging economies slip substantially against the dollar — repayment of those loans could be challenging.
Already, the currencies of several large emerging economies have depreciated sharply against the dollar during the coronavirus pandemic, including the Russian rouble, the South African rand, the Turkish lira and the Brazilian real, this despite that the dollar has fallen against other major trading partners.
At some point, loans made by China that are denominated in dollars will be called on, and if borrowers can't pay — there is one other option — paying back in yuan.
And that's where China's digital yuan comes in.
A Yuan For All Things Global
Beijing has long sought global recognition for the yuan, especially in the aftermath of the 2008 global financial crisis.
Despite being one of the first countries to recover and providing loans to thousands of American businesses, the yuan only makes up a paltry 2% of global transactions, despite China being the world's second largest economy, according to the Bank of International Settlements.
To be sure, Beijing has made some inroads in gaining international recognition of its currency.
After much lobbying, the Chinese yuan is now included as one of the five currencies in the basket forming the International Monetary Fund's "Special Drawing Rights," with the U.S. dollar, British pound, euro and Japanese yen making up the rest.
Special Drawing Rights (SDRs) are a big deal — they are supplementary foreign exchange reserve assets maintained by the International Monetary Fund ("IMF") and represent a claim to a currency held by IMF member countries for which they may be exchanged.
Of the five SDRs, only China has a digital currency, but the European Union is considering one as well.
Beijing's ambitions to make the yuan a global currency have long been made plain.
In 2015, Chinese Premier Li Keqiang declared in a meeting with then United Kingdom Chancellor of the Exchequer George Osborne,
"No matter what happens, regardless of whatever obstacles we may face, China will resolutely pursue financial reforms and bring about the orderly internationalization of the Renminbi."
And the digital yuan is one of those tools that Beijing intends to use to bring that global ambition forth.
Former People's Bank of China ("PBoC") head, Zhou Xiaochuan suggests that one of the goals of the digital yuan is to facilitate cross-border payments for international financial institutions, using technology to realize the vision of the yuan as a truly international currency (where perhaps ideology and politics cannot).
Hastening Beijing's push to internationalize the yuan is the lack of restraint by U.S. politicians, in weaponizing the dollar.
Dollar weaponization hurts the value of Chinese investments overseas and sanctions from Washington to score political points domestically, stymies the ability of Chinese firms to send and receive payments.
And the U.S. dominance of the Society for Worldwide Interbank Financial Telecommunication or SWIFT, which facilitates the conduct of international payments through the banking system, means that Washington can decide who gets paid and who doesn't, and when.
Since cutting off a country from the SWIFT network would essentially bring it to its knees, and kill off international trade for that nation, Beijing has long found the U.S. dominance of this supposedly global institution a thorn in its side.
To make matters worse, Washington's influence over SWIFT gives it substantial oversight over the financial flows to and from foreign countries — something that a digital yuan would provide Beijing with, without the bureaucratic baggage of maintaining an international institution.
Because U.S.-Sino tensions have reached a nadir, Beijing would no doubt benefit from a channel of economic transaction, free from Washington's supervision and meddling.
And even if the U.S. should seek to curtail China's fund flows, a digital yuan could easily circumvent sanctions or logjams.
But the digital yuan is so much more than that.
But Wait, There's More
Outside of the United States, digital and mobile payments have been picking up steam.
In China for instance, the widespread use of Alipay and WeChat Pay has seen retailers from high end boutiques in Paris to the corner store in Lagos, accept digital payments.
A digital yuan would make cross-border payments more convenient, reduce friction and potentially enhance the yuan's global status as a store of value.
China is already working with Hong Kong authorities to link their trade finance blockchains and given the archaic nature of trade finance today, where paper is the go-to, a digital yuan could contribute greatly to a more streamlined system in the future.
Beijing is also conducting research with the Thai government to investigate the possibility of using the digital yuan for cross border payments.
Prior to the pandemic, Chinese tourists were one of the top visitors to Thailand and WeChat Pay and Alipay is still accepted in the Thai capital of Bangkok.
Understandably, the growth in the yuan has stoked fears, particularly from Chinese hawks in Washington, that the yuan may curb the global pre-eminence of the greenback.
Not only would this curtail the ability of Washington to print "magic money," or act with the same degree of impunity on the global financial stage, it could also limit Washington's ability to monitor money flows and blunt the impact of U.S. sanctions, if more countries switch to the digital yuan.
The Dollar's Not Down Yet
But even in digital form, the yuan is unlikely (for now) to mount a serious challenge to the greenback.
The powerful U.S. Senate Banking Committee has already kicked off hearings on the potential for a U.S. digital dollar and it's possible that U.S. sanctions could be expanded to also include the digital yuan.
Even before Washington can decide on issuing its own digital dollar, the U.S. Office of the Comptroller of the Currency ("OCC") has allowed the private sector to intervene.
In an interpretive letter last month, OCC Senior Deputy Comptroller and Chief Counsel Jonathan Gould clarified that banks could take deposits that are being used to back dollar-denominated stablecoins.
Dollar-backed stablecoins are also a popular means by which Chinese siphon money out of China as well, in excess of the US$50,000 limit which most Chinese regularly ignore.
Beijing's maintenance of capital controls and the constant risk that assets of Chinese citizens may be seized should they fall on the wrong side of the powers that be, means that there will always be a pressure to take money out of China just in case.
Arbitrary rule changes that affect the yuan, as evidenced by the recent move by Beijing to make it cheaper to short the yuan, means that it doesn't trade as freely or as openly as the dollar either, making a digital version simply inherit the limitations of its physical cousin.
Ultimately, a digital yuan may be more a product of Beijing's interest in internationalizing the yuan, rather than liberalizing the currency — and that would ultimately stymie any efforts for the yuan to dethrone the dollar.
China's track record of monitoring its citizens, both at home and abroad does not bode well for other countries who may not want to adopt such Orwellian currencies, digital or otherwise.
But regional powers with a less than stellar democratic pedigree may not have such hang ups.
And the lure of doing business with the world's second largest economy may be irresistible for some countries, even if China insists that the digital yuan must be used to settle transactions.
As has been evidenced by countries such as South Korea, Thailand and Singapore, which all have cozy relationships with the U.S., but which have also embraced China's Belt and Road Initiative — practicality can often trump ideology.
Even the U.S.'s long-time ally the United Kingdom has signed up for the China-led Asian Infrastructure Investment Bank.
And given Beijing's penchant for favoritism, especially when it comes to doling out economic goodies, a choice to disassociate from the digital yuan will likely be remembered, and not interpreted favorably.
In that sense then, the digital yuan, far from dethroning the dollar, would simply be replacing one hegemonic currency for another.
But what is less clear is whether any trading partners with China has any say in the matter.