Improved cognition and interaction with humans due to enhanced Natural Language Processing (NLP) capabilities will define the future of AI, leading to smarter applications, from improved spam filters to robots that can converse like humans.
The primary purpose shared by all AI researchers has always been to make machines or software emulate the independence, spontaneity, and to some extent, the creativity of the human mind. The underlying aim for achieving these human-like cognitive and intellectual capabilities has been to automate most of the repetitive, non-creative, and non-strategic work shouldered by humans today. This will allow humans to take a more exploratory role and participate in long-term strategy building and management. To that end, organizations are already employing robots armed with artificial intelligence to perform routine and mundane jobs, such as those in the manufacturing industry.
AI applications are also poised to displace the knowledge workers from the global workforce, as they are becoming increasingly adept at performing tasks in industries such as banking, medicine, and the legal sector. Among the final frontiers in artificial intelligence research lies the ability to understand and converse with humans in a natural manner. This is because although the number of words in existence might be finite, (e.g., just over 170,000 in English) it is possible to have countless, often nuanced combinations of these words to express near infinite ideas, which can further be varied through context. This is further complicated through accents, slangs, and other communication errors, which makes the perfect understanding of human language somewhat difficult. However, there are already many areas where AI powered by natural language processing capabilities are replicating human-like cognition of natural language. Considering how good it is getting at understanding, robots, and computers capable of grasping meaning, context, and even imperfections in communication can be expected, not too far off in the future of AI.
Exploring the Future of AI in Natural Language Processing
As AI becomes adept at understanding human communication, it will find widespread application in areas requiring natural communication. Following are areas where AI's natural language processing capability can potentially make a difference. In fact, AI is being used in some of these areas already: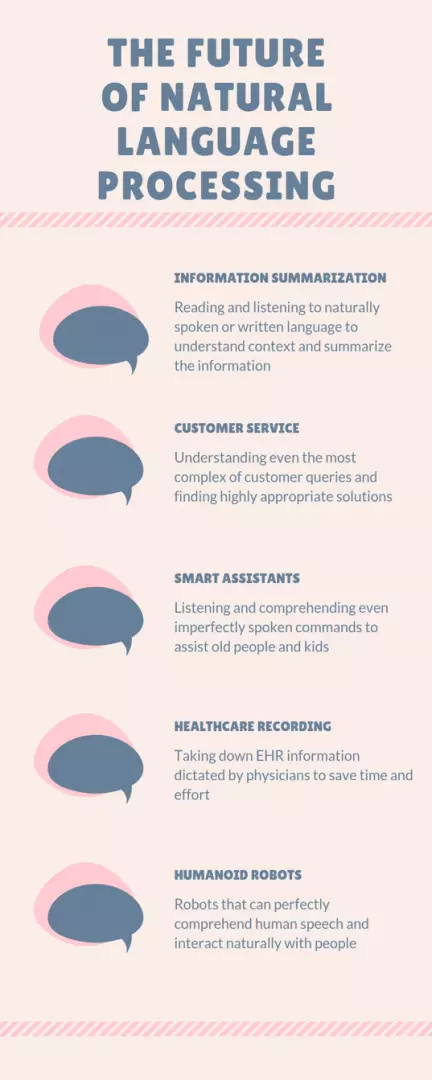 Information Summarization
AI is already being used by most popular email service providers to scan inboxes and derive the context and purpose of messages. For instance, spam filtering algorithms used by email servers use natural language processing to identify unwanted marketing messages. This is due to AI's ability to grasp the context and summary of the information presented to it. More advanced email service providers are already experimenting with AI that can read messages to infer the context and suggest a number of alternative responses. However, neither of these systems (spam filters and response prompts) are perfect yet and need a continued loop of feedback, improvement, and testing to get better and reach a reliable level of proficiency. The ability of AI to summarize information can also be used by businesses to analyze online chatter from digital media and other public platforms to gain insights into public sentiment regarding their products and services. Government agencies can also use natural language processing to process social media chatter and understand the public sentiment on policies and social issues.
Customer Service
Customer service is an area where we are already seeing a growth in the use of emotionally intelligent chatbots. These bots are not only capable of inferring the meaning of text written in natural language but are also becoming increasingly capable of responding in an appropriate manner. Some bots have grown so adept at natural language processing that the humans on the other end can hardly distinguish them as non-human. Eventually, natural language processing will enable AI enabled virtual customer service representatives to vocally converse and solve complex queries of human customers. The bots might even be used for technical support, where they will be able to provide situationally flexible responses and services.
Smart Home Assistants
We are already getting used to interacting with the virtual assistants on our phone, who are becoming increasingly proficient at carrying out basic operations on our phone by listening to and understanding our vocal commands. We will soon have in-vehicle voice assistants who can understand complex commands to perform tasks to assist us with various operations. Smart homes furnished with automated amenities will have smart in-home assistants to act as an interface, who can use natural language processing to understand the commands of even young kids who have yet to develop perfect speech. These systems will be much smarter than the now existing generation of personal voice assistants, such as Alexa, who has been known to misunderstand commands. Smart home assistants will not only be able to listen to commands, but also respond in a natural manner to give kids or old people company and assistance.
Intelligence Gathering
It is no secret that certain government agencies are capable of listening or even watching the private interactions of the general public, although the agencies justify the act by citing public safety and the need to identify harmful elements. This will no longer be an issue when AI can use natural language processing to listen to suspicious conversations, without the need to invade people's privacy. This can be considered equivalent to the email inbox scanning performed by many email providers to gather information about customers.
Healthcare Recording
It is a known fact that physicians spend more time filling health record documents than they do providing consultation to patients. This is an inefficient way of functioning that wastes time, which can be used in a much more effective manner to prevent mental burnout for physicians and allow patients to receive better healthcare. Using AI powered by natural language processing can help physicians to dictate observations and details, which will automatically be filled in the EHR. Similar robots can also replace court stenographers and record court proceedings accurately.
Humanoid Robotics
Robots that can not only move but also think and speak like humans will become common in the not so distant future. Humanoid robots who can function like humans in every respect to assist them even in the most complex of activities will need the ability to perfectly comprehend human speech. At this point, due to the general-purpose and versatile nature of robots, natural language processing will become more important than ever. This is because a misinterpreted command may lead to the robot performing totally undesirable actions, even causing harm to human safety.
If in the future of AI we see robots or programs that can perfectly understand naturally spoken or written language, we will know we have achieved the pinnacle of human invention and AI research. Knowing that we can possibly have machines that can listen and understand us like other humans make the future of AI an exciting prospect, in contrast to the unsettling stigma associated with intelligent machines.