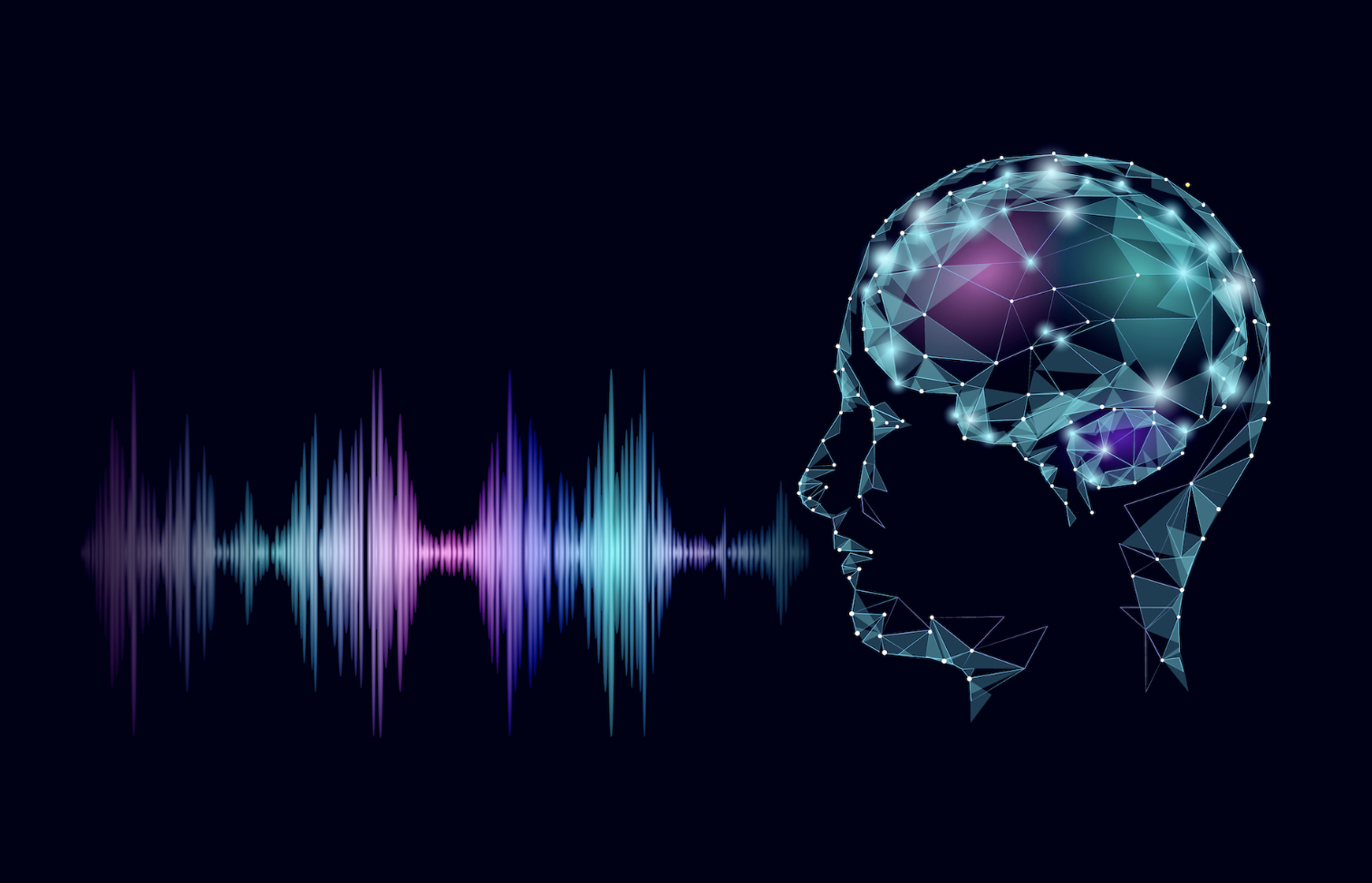 With the continuous and fast-changing nature of technological advancements, it is easy to get overwhelmed.
Web 3.0 and Metaverse are the future of the internet. Let us have a closer look at them.
The internet is continuously changing. The version we use today is far different from the slow, text-heavy one we all thought was all the rage back in the 1990s, and the internet of the future will be on another level. Web 3.0 and Metaverse are frequently talked about today. However, they are not the same. Discussions on Web 3.0 are also essential when the internet and tech world tries to become familiar with Metaverse. Furthermore, these ideas would have a significant and lasting effect on connectivity in the future. The ramifications and differences for the end of the tech universe must therefore be taken into account. It turns out that although Web 3.0 and Metaverse share some characteristics, they both represent different approaches.
WHAT WEB 3.0 OFFERS
Web 2.0 refers to the version of the internet that we are currently experiencing. Businesses focus on creating and providing their products and services. Web 3.0 advances the internet into the future. It improves users' capacity to control and assert ownership over their creations, online presence and digital assets. Let us take Instagram, for instance. If one believes what they post on Instagram is their content, they might as well be living under a rock. The corporation wholly owns the platform, and all user-generated content is entirely under its control. They will block or prohibit you if they so choose. A different illustration is the well-known online game Fortnite. Users cannot control the identities or "owned" assets they use in-game. Users cannot manage and make money from the material they provide in Web 2.0. That's where Web 3.0 is different.
METAVERSE EXPLAINED
The Metaverse is envisioned as a 3D immersive world where users will spend a lot of time socializing, working, learning, amusing themselves, etc. It is not yet a tangible reality. It combines various technologies, including social media, gaming, and virtual, augmented and mixed reality. By converting it from 2D to a 3D version, the Metaverse offers users a new way to interact with the internet. Web content is turned into three-dimensional objects so users can interact with it in three dimensions rather than simply clicking and going through multiple pages on 2D screens, either on desktops or mobile devices. The website is changed to 3D so users can explore it, communicate with others, and participate in games using their avatars. Similarly, users can engage virtually with web material and fully immerse themselves there. Users can also enjoy a visual and physical immersive experience with the inclusion of virtual reality headsets. The Metaverse is anticipated to be a new dimension that mirrors our everyday activities and unifies social networking, entertainment, gaming, employment and education on one platform.
DIFFERENCE BETWEEN WEB 3.0 AND METAVERSE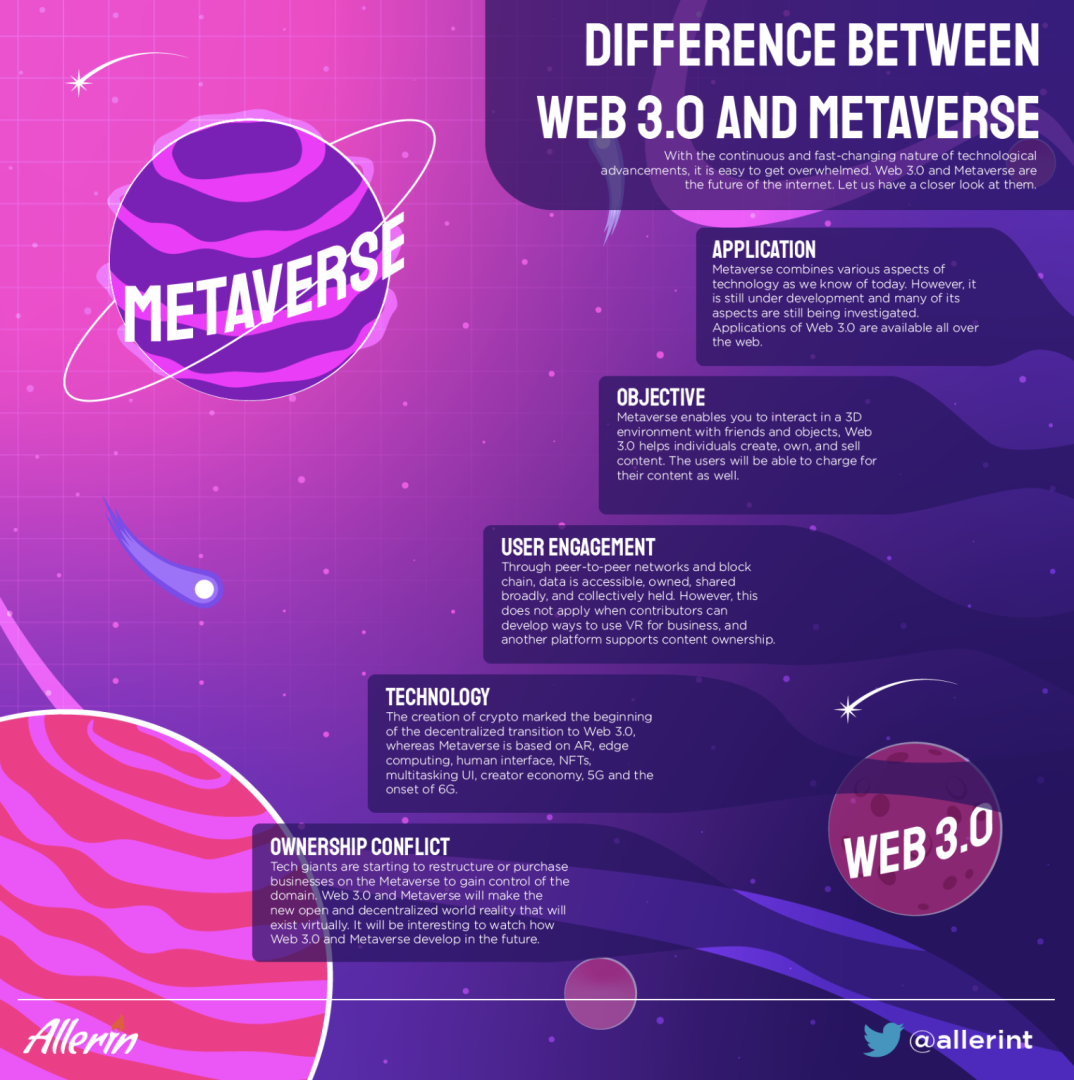 Application
Metaverse combines various aspects of technology as we know of today. However, it is still under. development and many of its aspects are still being investigated. Applications of Web 3.0 are available all over the web.
Objective
Web 3.0 is the next-gen technology with significant improvement over Web 2.0 and seeks to create a decentralized and democratic online environment. A tech giant cannot be a shareholder or an owner, but a single user may. The user of Web 3.0 does not require authorization or to abide by set restrictions. The Metaverse seeks to create a virtual reality or three-dimensional world for users.
As mentioned before, the Metaverse is the next step in the innovation of technologies that integrates various currently known technologies, such as AI, AR, and virtual reality, to name a few. Its primary purpose is to make a decentralized interface with a creative economy where people can interact using avatars if needed.
Web 3.0's primary purpose is to build a decentralized and democratic web using blockchain technology. With blockchain's help, the network will be connected peer to peer, compared to how it is currently.
Here, the portrayal of these two entities is also an important aspect. Where the Metaverse enables you to interact in a 3D environment with friends and objects, Web 3.0 helps individuals create, own and sell content. The users will be able to charge for their content as well.
User Engagement
Web 3.0 is more focused on how people interact with it, whereas the Metaverse is more interested in who will run the internet in the coming years. A sizeable section of the public now accesses apps and websites using PCs, cell phones and tablets. The Metaverse predicts that in the future, individuals will browse the internet through virtual reality and move between various virtual worlds with the help of avatars created digitally.
Through peer-to-peer networks and blockchain, data is accessible, owned, shared broadly, and collectively held. However, this does not apply when contributors can develop ways to use VR for business, and another platform supports content ownership.
Technology
The fundamental Web 3.0 process technologies include Bitcoin, decentralized autonomous organizations and blockchain. The creation of crypto marked the beginning of the decentralized transition to Web 3.0, whereas Metaverse is based on AR, edge computing, human interface, NFTs, multitasking UI, creator economy, 5G and the onset of 6G.
Ownership Conflict
Web 3.0 aims to bring the internet under public ownership so it cannot be monopolized by tech giants. One successful instance of this would be the market of cryptocurrency. Despite the recent exponential rise of NFTs, P2E games and DAOs, Web 3.0 is still far from being thoroughly developed. There is still more space for technological advancement to enable a genuinely immersive Metaverse experience.
Tech giants are starting to restructure or purchase businesses on the Metaverse to gain control of the domain. However, current government internet regulation prohibits companies from taking control of the Metaverse, a phenomenon that could change in the future.
Web 3.0 and Metaverse will make the new open and decentralized world reality that will exist virtually. It will be interesting to watch how Web 3.0 and Metaverse develop in the future.