Chances are high you've engaged with a chatbot in the past week. Businesses are increasingly tapping into chatbots and AI applications. AI chatbots enable easy communication with target audiences. Consumers are also more open to conversations with bots when engaging brands.
Chatbots are currently helping businesses deliver exceptional customer services and automate business processes. Some of their current use cases, include getting fast responses and resolving complaints.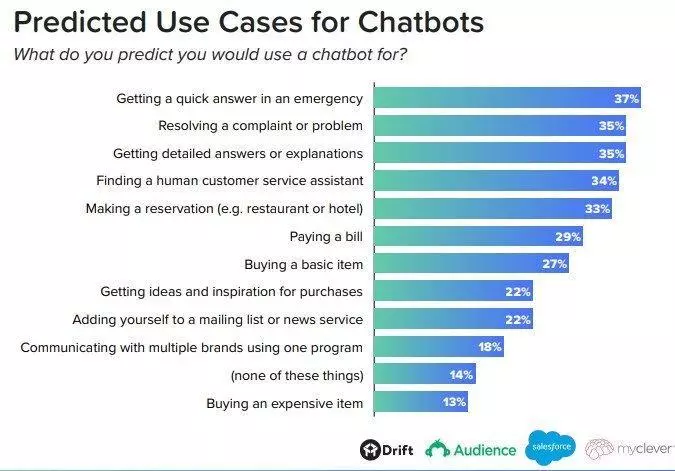 Image Source: Drift
Gartner predicts that 25% of all customer interactions will use chatbots by 2020. AI chatbots will move from simple use cases to advanced ones based on real time conversations.
AI is revolutionizing how businesses operate and communicate with customers. By 2020, 80% of sales and marketing leaders will be using AI chatbots to improve customer experiences.
AI Chatbots 2020 News
Chatbots With Emotional Intelligence
By 2025, the AI global chatbot will be at $1.25 billion according to Statista. Chatbots will become a driving force for those in business. 50% of business enterprises will be spending more money building chatbots rather than developing mobile apps by 2021.
AI chatbots have caused significant structural changes in organizations. However, as Shane Barker notes, there are challenges businesses are facing. These include:
Issues with chatbot security and privacy
Failure to understand human emotions and sentiments
Lack of vernacular chatbots
Lack of engagement
The chatbots misunderstand requests if the customer uses slang, sarcasm, humor, or a different language. They may also not understand if the consumer uses multiple languages.
Businesses will strive to meet customer expectations by building chatbots with emotional intelligence. A combination of machine learning, natural language processing, and AI will see to this. Technological advancements will see bots understand the intent of queries and conversations.
Organizational Chatbots
ManpowerGroup reports that 45% of employers are finding it hard to fill open positions. Reasons for this include a lack of required skills from candidates and a lack of applicants.
More businesses are adopting AI powered HR recruitment chatbots to fill this gap. The chatbots help the HR departments advertise open positions and offer FAQs to prospective employees. They offer a communication platform during the application, interview, and on-boarding process.
By 2020, sophisticated bots will have natural conversations with candidates. They will allow HR to gain deeper insights into a candidate's qualifications and experience. Candidates can express themselves, provide more information and determine if they are a good fit.
Most organizations will adopt AI chatbots with natural language processing. The bots will have industry-specific knowledge and deep recruiting information.
Customer Service
Customer service bots are currently transforming call centers across the globe. Unlike human agents, AI assistants do not need holidays, coffee breaks, or sick leave. They save costs and ensure the continuity of customer service centers. They can upsell, cross-sell, and recommend based on customer preferences or previous orders.
Freeing up customer service agents allows them to address complex inquiries at contact centers. Servion predicts that by 2025, 95% of customer interactions will be AI-powered.
Juniper Research also forecasts that chatbots will save $8 billion in cost per annum by 2022. The banking and healthcare industries will average time savings of 4 minutes per enquiry through bots.
Most healthcare bots today can handle enquiries and suggest a course of action. However, advancements in the industry will see bots handle sophisticated diagnostics. They will have the ability to monitor and analyze even mental issues.
Juniper forecasts that the success rate for healthcare interactions will rise from 12% to over 75% by 2022. The banking sector will notice success rates of over 90%.
You can check our shanebarker.com which explained AI Chatbot Platform in detail.
Messaging Platforms
Facebook research found that messaging is making connections easier. People are messaging more today, on messenger, WhatsApp, Instagram, and other platforms.
Image Source: Facebook
These communication expectations with each other are changing how consumers communicate with businesses. Mobile messaging apps are on the rise and messaging is creating business opportunities. Businesses can now communicate better with consumers.
Messaging is going to become the most important marketing channel. Messenger has around 10 billion messages exchanged between businesses and consumers every month. 68% of consumers consider messaging the most convenient way to contact businesses.
More brands will adopt messaging platforms to build awareness and create a buzz around their brand. The messaging apps will have bot capabilities that integrate with different business functions. Facebook Messenger already has 300,000 active bots. Businesses are using them to improve conversations with consumers.
Conclusion
Chatbots will continue improving business processes. They will make it easier for businesses to stay in touch with consumers. By 2020, chatbots will have better functionalities to overcome most challenges businesses face.
Understand what your business needs and changes you need to make to the current bots your business is using. You can then implement bots that change your customer journey and experiences for the better.
Is your business ready to transform with chatbots? What improvements are you making to overcome challenges with bot usage?