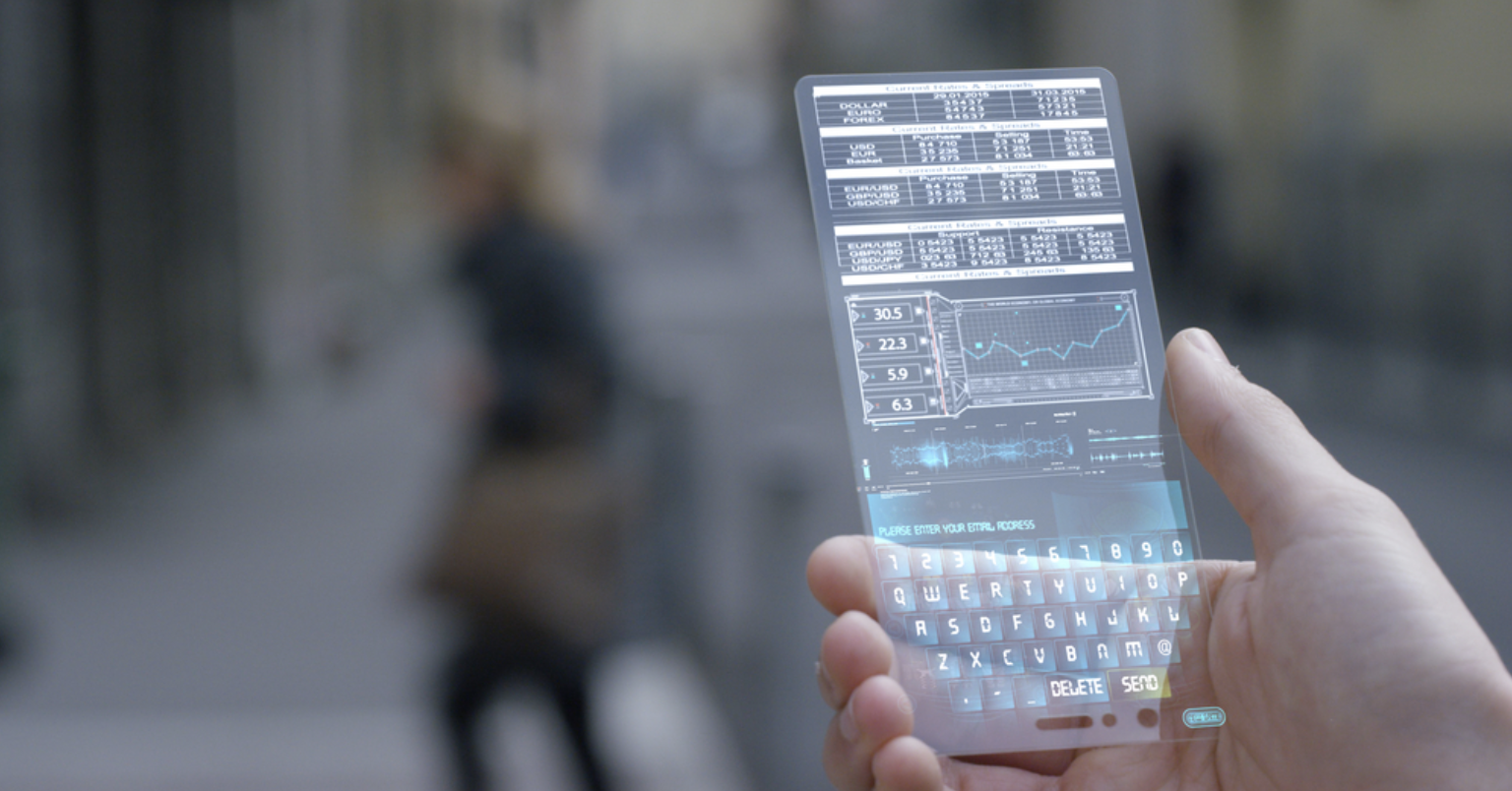 Call analytics is one of the many data-driven tools businesses are utilizing nowadays to do better than their competitors.
The tool helps them better customer experience and understand their campaigns at a much deeper level.
We're living in competitive times, where customer experience is everything — 83% of companies believe this to be true. Despite this being a fact, there are many organizations around the world that struggle with it. And that is mainly because they've been paying barely any attention to customer interaction data. But that is beginning to change now. The increased adoption of call analytics is helping businesses understand customer interactions better.
Call analytics, along with conversation intelligence, has the potential to revolutionize the customer experience. The software, paired with conversation intelligence, can provide businesses with detailed insights on tone, content and sentiment that reveal customer needs.
For businesses trying to beat their competitors, call analytics is the perfect weapon of choice. The software helps businesses to come up with insightful solutions to customer queries, makes cross-selling and upselling feel like a cakewalk and creates lasting relationships with customers.
Difference Between Call Tracking and Call Analytics
When it comes to call analytics, more often than not, many confuse it with call tracking. However, the two are very different. Call tracking allows businesses to trace the source of a phone call and show them from which mediums they are getting more calls — PPC campaigns, websites, social media platforms, email, or others. It also informs businesses about which organic search terms are bringing in the most traffic.
On the other hand, call analytics focuses more on what happens during the phone call — intent, content, phrases and keywords used. Instead of providing source information, call analytics, with the help of conversation intelligence, provides an in-depth analysis of the call itself. The information the software provides covers various aspects such as behavioral data, demographic information and more.
Features and Functions of Call Analytics
More often than not, businesses do not completely understand the value their call data holds until they set up the call analytics software in place. What the software basically does is it picks up data — in the form of phrases and keywords — from telephonic conversations and analyzes them. While analyzing the calls, call analytics also takes into account the timing, delivery and context of the call. Apart from this, there are other features and functions of call analytics. Some of them are listed below:
The software easily identifies and monitors calls and so is capable of blocking suspicious calls to prevent incoming fraud or spam calls.

It also allows businesses to assign unique contact numbers and web codes to their online as well as offline marketing campaigns.

Call analytics provides businesses with real-time data on the number of calls, duration of calls, how frequently calls were made, the call type and more.

Call analytics records and transcribes each and every call so as to understand the quality of the call and monitor the performance of the agent.

Call analytics, along with tracking and analysis technology, can easily integrate online and offline messages at a fundamental level.
Need for Call Analytics
Thanks to the digital era that we currently live in, the evolution of business is quicker and more prominent compared to before. With the help of the right marketing campaigns, your business can reach eager customers who are waiting to know more about your products and services. This eventually will result in the growth of your business. However, along with the increase in sales, there will also be many customers who are seeking support around products and services. This is why it is becoming more and more important for businesses to have customer service that is nothing less than perfect.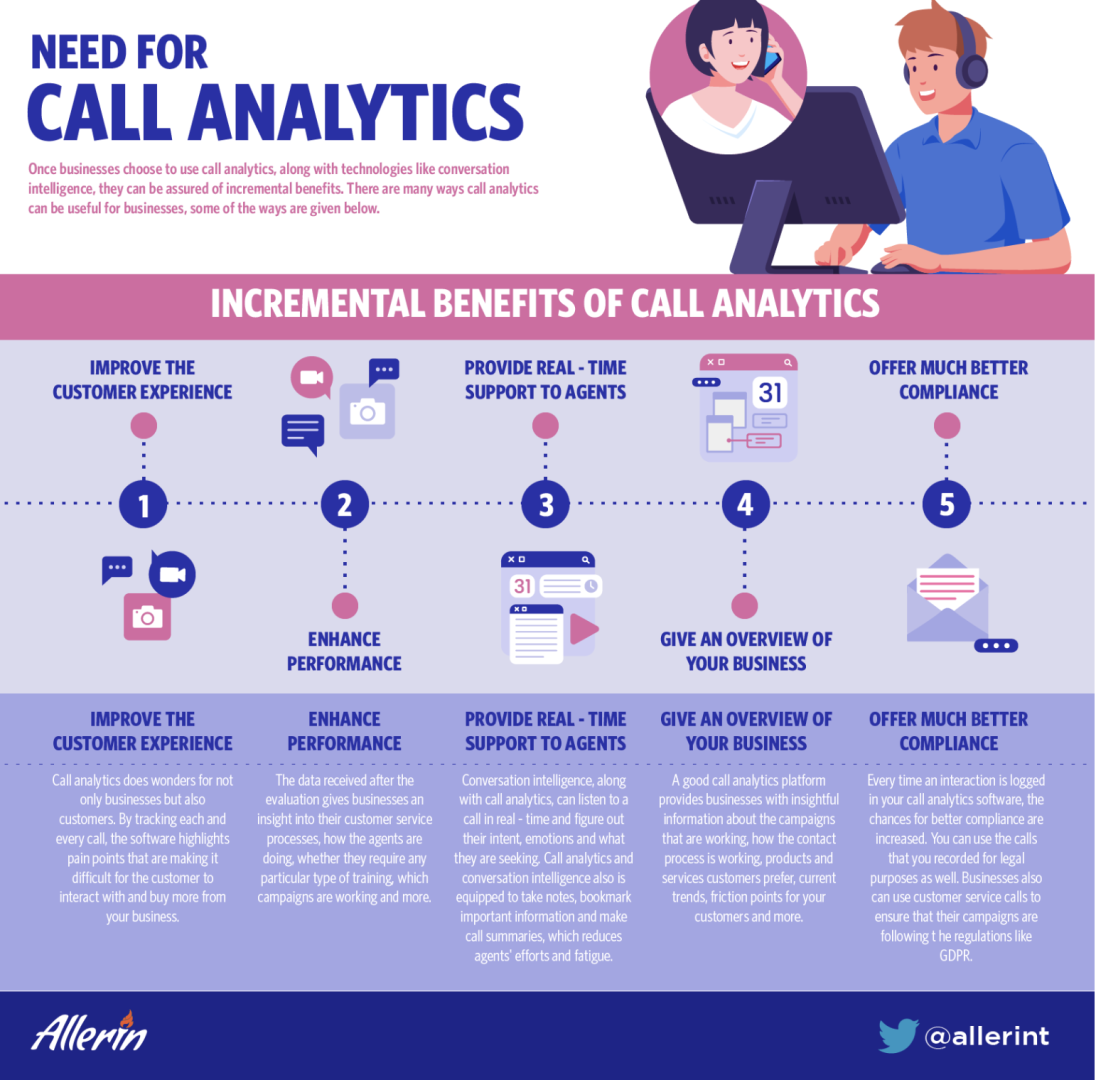 Let's all agree that physical customer service is time-consuming, more error-prone and most often less satisfactory. This is why most businesses over the years have opted for customer services through calls, emails and other mediums. The data collected by these mediums can easily be analyzed with the help of call analytics that will provide insight into pain points as well as give solutions to help make the customer experience better.
Once businesses choose to use call analytics, along with technologies like conversation intelligence, they can be assured of incremental benefits. There are many ways call analytics can be useful for businesses, some of the ways are given below:
1. Improve the Customer Experience
Call analytics does wonders for not only businesses but also customers. By tracking each and every call, the software highlights pain points that are making it difficult for the customer to interact with and buy more from your business. Once you're aware of these friction points, appropriate changes can be made so that a rewarding relationship can be created between you and your customers.
2. Enhance Performance
Call analytics, along with conversation intelligence, can go through all the calls that are made every day and evaluate every single one of them. The data received after the evaluation gives businesses an insight into their customer service processes, how the agents are doing, whether they require any particular type of training, which campaigns are working and more. This information provides for continuous enhancement of efficiency and effectiveness. For instance, after going through every call in the last three months, the data submitted by the software shows in what areas the agents need training, which product is working with the customers, what issues customers are having with a particular product or service, and what changes they need to make to their products and services and campaigns more effective. Based on this, the organization can make impactful changes that cater to their customers in a better way.
3. Provide Real-Time Support to Agents
Conversation intelligence, along with call analytics, can listen to a call in real-time and figure out their intent, emotions and what they are seeking. This software, when paired with an organization's CRM, can automatically search and find information that the customers are looking for. And so the agents do not need to necessarily do a manual search or put them on hold, making agents feel more confident and comfortable. Call analytics and conversation intelligence also is equipped to take notes, bookmark important information and make call summaries, which reduces agents' efforts and fatigue. Take, for instance, a customer on the call with an agent asking about how a particular product should be used, the tool can easily look for that information and send it to the customer This will help save time and the agent's effort.
4. Give an Overview of Your Business
A good call analytics platform provides businesses with insightful information about the campaigns that are working, how the contact process is working, products and services customers prefer, current trends, friction points for your customers and more. This information helps in keeping track of your growth as well as the opportunities that you might have missed.
5. Offer Much Better Compliance
Every time an interaction is logged in your call analytics software, the chances for better compliance are increased. You can use the calls that you recorded for legal purposes as well. Businesses also can use customer service calls to ensure that their campaigns are following the regulations like GDPR.
Needless to say, many businesses across sectors are using call analytics, and taking more and more actions that make them different from their competitors. The data collected from call analytics and conversation intelligence helps them identify the platforms, keyword channels and campaigns that are working best. By doing so, the software provides businesses with opportunities to learn about their campaigns and customer experience at a deeper level, helping them make effective decisions.