With technology being used in all walks of life, digital automaking is becoming necessary to provide customers with an advanced standard of living.
Before, automakers just saw themselves as hardware providers and installers of auxiliary software. But now, the evolution of technology and digitalization is revolutionizing the automobile industry. Advances in AI-driven and machine-learning technology, such as autonomous cars, computer vision, Internet of Things, are transforming the way drivers command or communicate with their vehicles.
To break away from mainstream services to customers, automakers can take notes from the tech industry and understand how to be dynamic in their offerings. The growing trend of digital automaking also gives rise to more opportunities for innovation in business models, products, and services.
What Digital Automaking Can Teach Automakers
To match the level of success that is being fast achieved by tech industries, automakers are moving to adopt the same flexibility, collaboration, and agility in their business operations and models. One such automaker is Tesla. So what can automakers learn from the tech industry giants?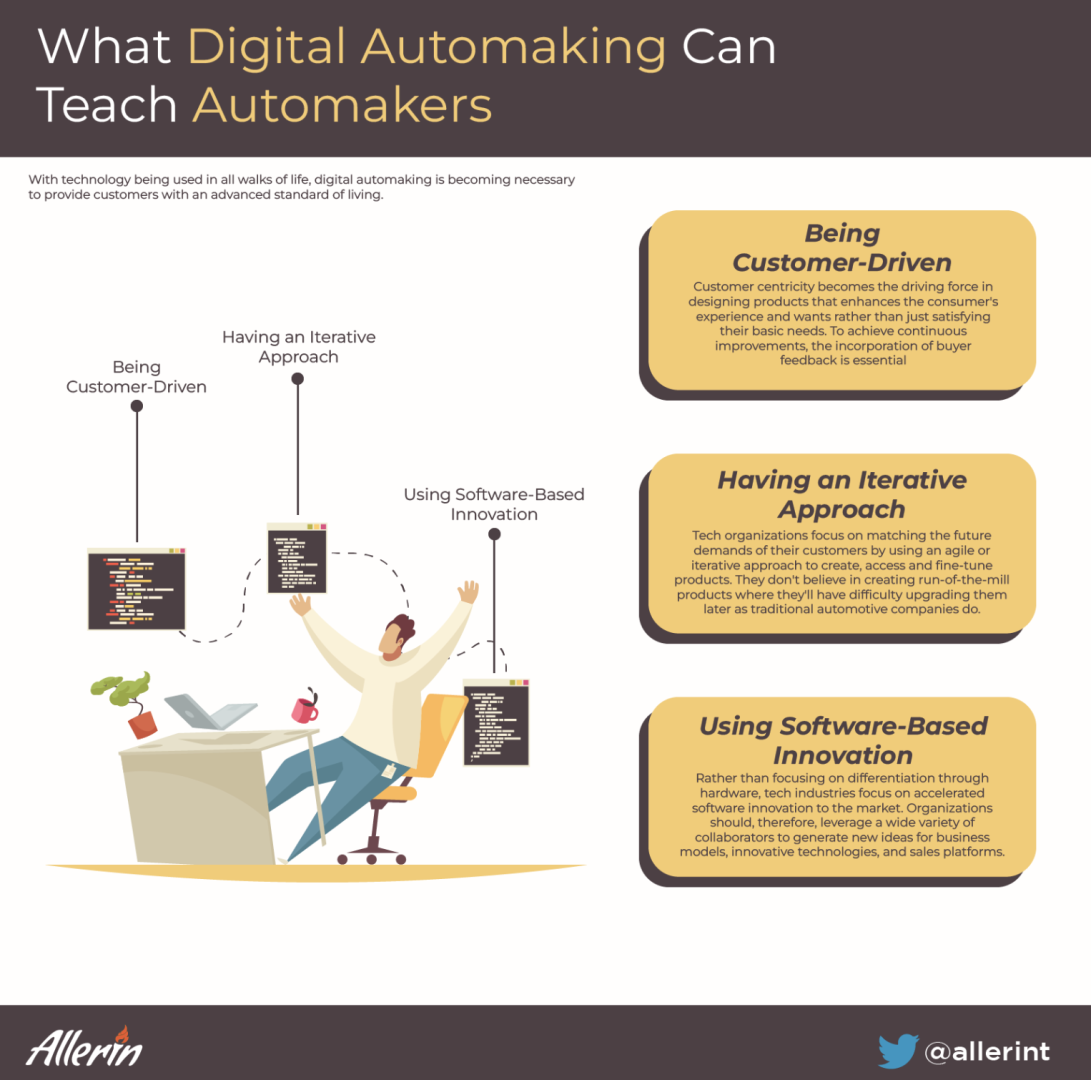 1. Being Customer-Driven
To engage customers, tech industries tap into various channels to create a smooth experience across all platforms or customer touchpoints. Customer centricity becomes the driving force in designing products that enhances the consumer's experience and wants rather than just satisfying their basic needs. To achieve continuous improvements, the incorporation of buyer feedback is essential.
2. Having an Iterative Approach
The automobile industry has traditionally operated in a stringent and methodological cycle for developing and launching a product. Upgrading the product was difficult because it originated from hardware, and then the software was embedded into the model. The new automotive and digital world also sequence their product launch; however, the products are released early on and then consistently upgraded. Any additional software to be incorporated is done after the prime launch.
Tech organizations focus on matching the future demands of their customers by using an agile or iterative approach to create, assess and fine-tune products. They don't believe in creating run-of-the-mill products where they'll have difficulty upgrading them later as traditional automotive companies do.
3. Using Software-Based Innovation
Rather than focusing on differentiation through hardware, tech industries focus on accelerated software innovation to the market. The product designing style where automakers try to streamline their operations by taking complete control at various stages of production and not relying on external partners is not feasible anymore. Organizations should, therefore, leverage a wide variety of collaborators to generate new ideas for business models, innovative technologies, and sales platforms.


The success of the automobile industry hugely depends on what customers deem valuable. In today's age, where technology and digitization have become the new norm, customers don't perceive a vehicle's hardware as a deciding factor when choosing between different brands but rather the technological innovation provided. Although traditional automotive manufacturing won't disappear, one challenge that needs to be overcome by automakers is to integrate digital automaking to complement their traditional one.