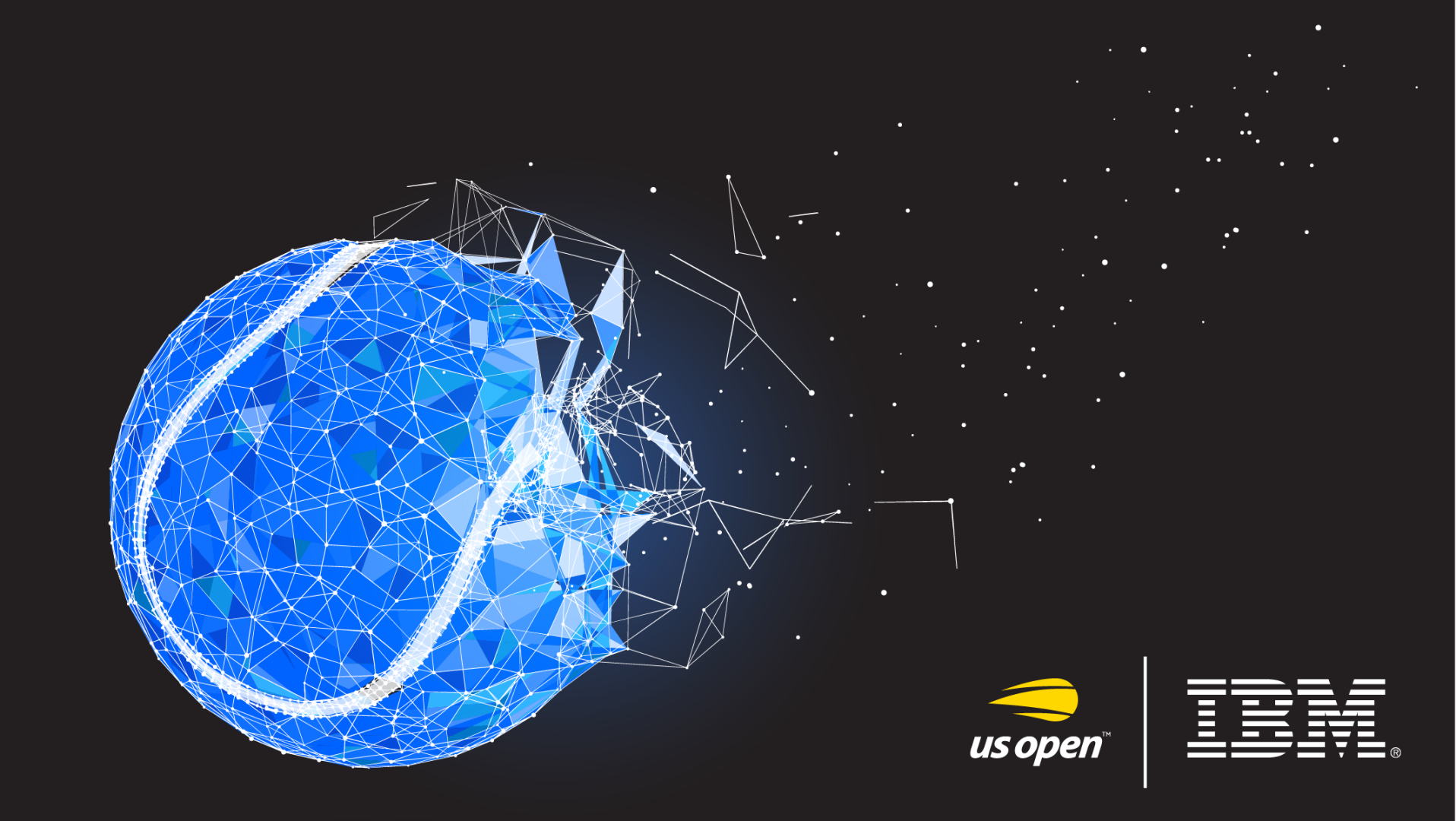 Love is a wonderful thing – except if you're the one returning little yellow balls with a racket in your hand.
Then, love means you have zero points. When it comes to the 2022 US Open, however, love of the game dominates no matter the score or competitor. That's where the fan experience comes in, and it has been transformed by technology.
The story goes back more than three decades when IBM® became the United States Tennis Association's (USTA) official technology partner.
While technology has evolved much since then, one thing has not: a fan's desire for a sense of wonder. Companion to seeing the tennis world's elite play, IBM ups the ante for fans by developing new ways to enjoy the sport.
Today, IBM's partnership with the USTA is an excellent example of how human imagination, hybrid cloud, AI, and data insights elevate a globally renowned event. Historically speaking, people have long thought of technology as an implementation of software and hardware to enable outcomes. But that's the old way of looking at technology's true potential. True innovators have, what I call, the plus-one invitation to make a difference. IBM hits a grand slam relative to this concept.
Plus-one thinking means co-creation as a way to deliver next generation innovation. IBM and the US Open (not to mention IBM and the GRAMMYs and IBM and the Masters®) are doing just that: creating together.
Creating Something Bigger
IBM's open, flexible technology platform and AI solutions are turning data into interesting, relevant insights. This more creative approach to transform existing data into something new allows tennis fans to look beyond the net and become more engaged.
I love looking under the hood and seeing how people create extraordinary things. You and I might not oversee a global event like the US Open, but learning about creativity ups our game in whatever we do.
IBM iX, one of the largest experiential design consultancies in the world, uses a three-step process to work with the US Open year-round: co-create, co-execute and cooperate (otherwise known as the IBM Garage Methodology, which is a start-to-finish framework for successful digital transformation).
IBM iX is the US Open's plus-one to help deliver:
1) Extraordinary fan experience
2) The element of wonder
3) Anticipating "what's next" for fans
4) Exploring new opportunities by asking new questions
5) Using technology to stay committed to the U.S. Open's mission of growing the great game of tennis
If you're on the edge of your seat to hear what cool things the US Open has in store for fans this year, then take a seat. Match Insights with IBM Watson are AI-powered, pre-match fact sheets for every singles match. They include the IBM Power Index, which analyzes recent performance and expert media commentary to measure player momentum before and during the tournament. And the Likelihood to Win predictions use AI and natural language processing to estimate each player's chances of winning. And finally, Win Factors detail the reasoning behind Watson's Likelihood to Win predictions, demonstrating the importance of "explainability" when using AI.
There are a couple takeaways from what the USTA is doing in terms of technology that we can all learn from. First, data is an abundant and valuable source of creativity, and the raw material of any digital experience. IBM and the USTA are transforming the massive volume and variety of data produced at the US Open into something that engages millions of tennis fans around the world. The second takeaway: platforms matter. The US Open's open, flexible hybrid cloud platform is built to foster new digital experiences quickly and efficiently, applying AI to both structured and unstructured data, and integrating technology from a variety of partners.
Many companies do not take full advantage of AI's potential. The USTA uses it to enhance the fan experience and bring a sense of wonder and fun to the game. As a plus-one to the USTA, IBM has fundamentally changed how the game is enjoyed by serving up meaningful insights about the players they love.
Here it Comes, as the French Once Said
The French gave us Beaujolais and croissants. But it also gave us tennis, born from a medieval game played by villagers and monks (with their hands, no less).
While the English polished the game in the late 19th century, the game of mental strategy and physical performance draws its very name from the French word "tenez." It means "Here it comes!" The phrase was once lobbed over the net along with each serve. Fitting. As IBM Consulting brings the great game of tennis to more people, in new ways, the original phrase stands true for fans around the world.
Here it comes, the next big thing, the next frontier to make something we know and love even more exciting, even more extraordinary, together.
Your serve. How do you see technology "changing" the game of your favorite sport?
Disclaimer: From time to time, IBM invites industry thought leaders to share their opinions and insights on current technology trends. The opinions in this post are my own and do not necessarily reflect the views of BBN Times and IBM.