Traditional decision-making techniques will lose effectiveness as firms become more complicated.
Tech leaders must use decision intelligence models to enable exact and contextualized decisions.
Because it is difficult to identify potential disconnections associated with behavioral models in a commercial environment, many current decision-making models need to be more logical. With the aid of machine learning and AI algorithms, decision intelligence may help organizations make better decisions. Decision intelligence is the use of automation and machine learning to support human judgments in order to make business judgments that are more accurate and swift.
To do this, decision intelligence gives anyone the tools to ask and respond to 'what, why, and how' kinds of questions of unaggregated data, significantly decreasing the time and effort required to develop strategic, operational decisions. Employing decision intelligence promotes automation without undervaluing the importance of human judgment, expertise and intuition. However, businesses must persistently work to increase their daily operations' productivity and eradicate bias in their decision-making processes. By utilizing data analytics, artificial intelligence and machine learning for precise decision-making, decision intelligence can assist businesses in accomplishing more with less.
Why Decision Intelligence Is Important
Decision intelligence becomes extremely important as it enables businesses to make accurate decisions. Below are a few pointers of decision intelligence that make it a critical decision-making tool for businesses to succeed.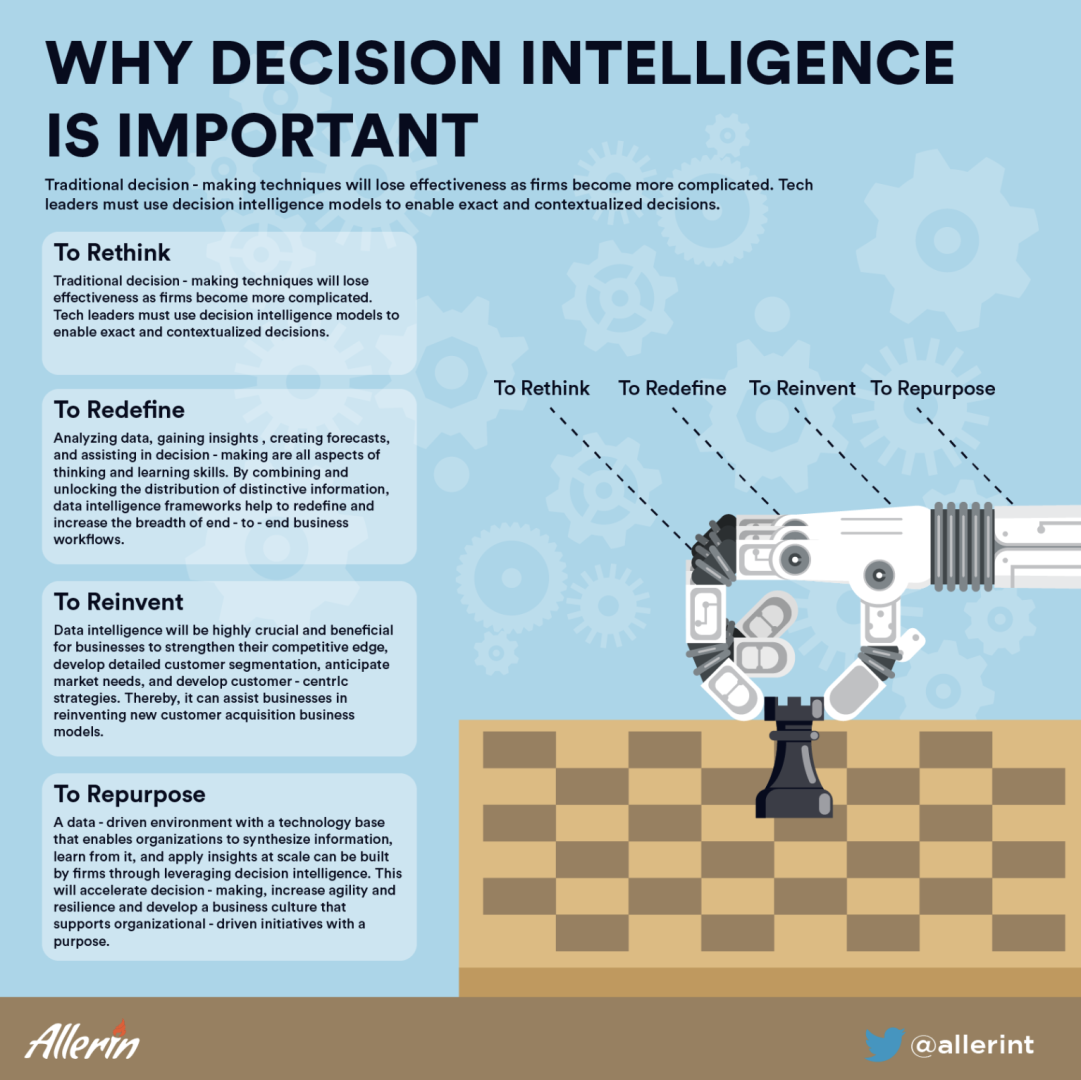 To Rethink
Today's work is frequently dull and unfulfilling, negatively affecting productivity and happiness. Due to the time saved by decision intelligence, businesses will eventually need to stop defining people by their employment and think about decreasing dull work. This will enable them to produce more purposeful, original and creative work.
To Redefine
Decision intelligence is changing the way we learn and think. Analyzing data, gaining insights, creating forecasts, and assisting in decision-making are all aspects of thinking and learning skills. By combining and unlocking the distribution of distinctive information, data intelligence frameworks help to redefine and increase the breadth of end-to-end business workflows.
To Reinvent
Data intelligence will be highly crucial and beneficial for businesses to strengthen their competitive edge, develop detailed customer segmentation, anticipate market needs, and develop customer-centric strategies. Thereby, it can assist businesses in reinventing new customer acquisition business models.
To Repurpose
A data-driven environment with a technology base that enables organizations to synthesize information, learn from it, and apply insights at scale can be built by firms through leveraging decision intelligence. This will accelerate decision-making, increase agility and resilience and develop a business culture that supports organizational-driven initiatives with a purpose.
Decision intelligence does not eliminate human judgment from the decision-making process. Instead, it is vital to equip humans with AI and a more comprehensive, approachable perspective of all the data pertaining to their businesses so that they can make effective business decisions. It allows businesses to process and forecast data in order to make more educated decisions at every level of the organization. Additionally, it assists organizations in gaining better visibility into their operations and producing game-changing business results. Furthermore, with tons of data insights to consider in the decision-making process in this digital era, the next stage of digital transformation will involve having assistance in making wise decisions. Decision intelligence will enable businesses to deliver predictive outcomes as data and insights become more crucial.