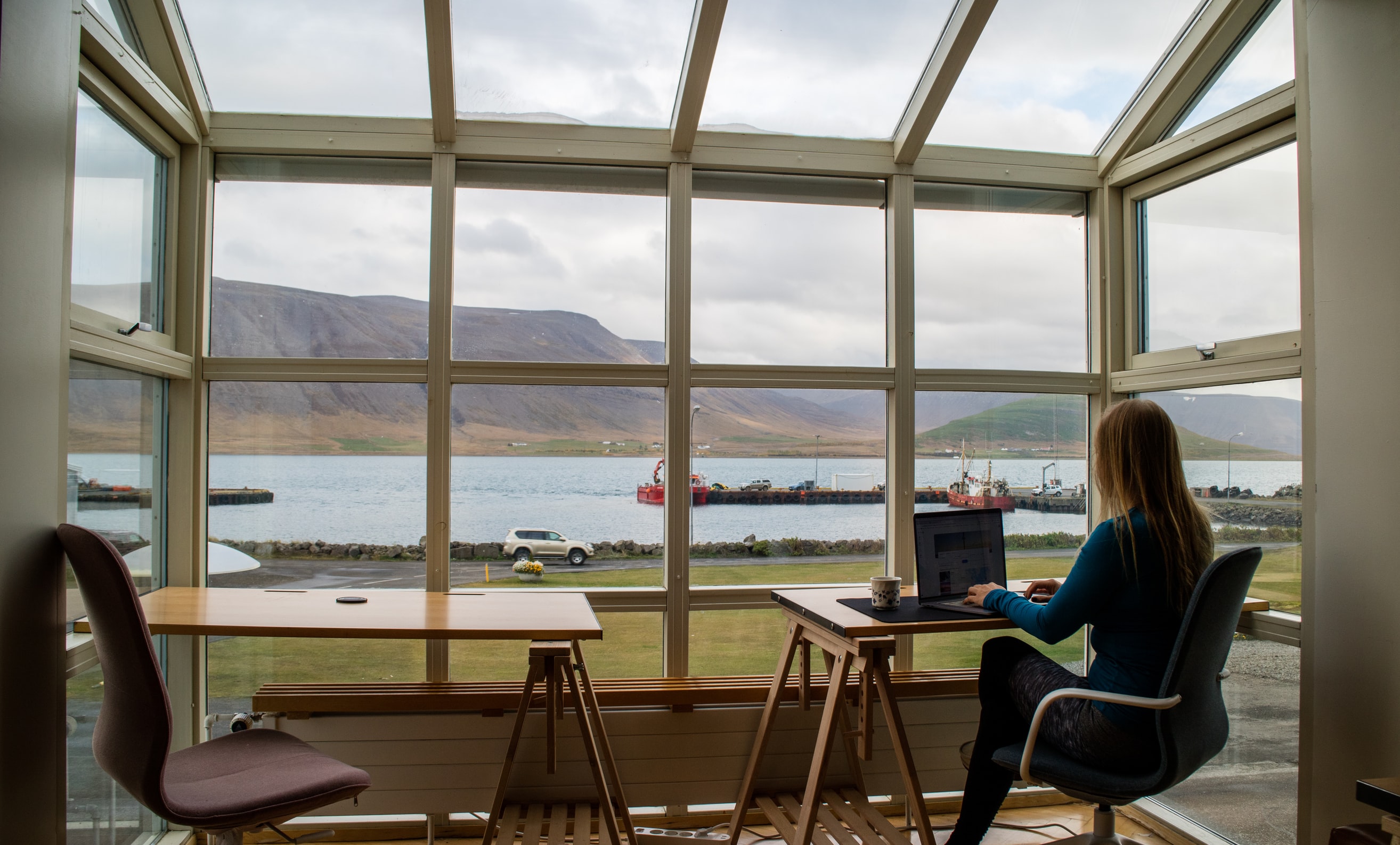 I work in a little town just east of Seattle, which appears to have developed its own strains of the coronavirus (Covid-19).
I know of at least one relative that's had it, and it is very likely that the unreported number of people infected in the area has reached a critical mass.
Its effects around here were mostly subtle. Costco and other grocery stores had a run on toilet paper and cold and flu medicines. The local Starbucks is emptier than normal, though not dramatically so. Schools are beginning to make contingency plans for closing for as much as a month, and several local events have been canceled or scaled back. Oh, and traffic across the 520 and I90 bridges between Seattle and Bellevue is down considerably.
Being at the epicenter of an epidemic is weird. There are no overt signs that anything is wrong. Unlike wind or snowstorms that hit the region periodically, there's no stray tree debris in the roads or cars off in the ditch, no cracked buildings because of an earthquake, the sky is its normal gloomy late-winter gray. Yet something has clearly happened
Amazon announced that they were halting all unnecessary travel by employees a week ago. Microsoft instituted a policy that employees should work from home if they can. Boeing is expected to make a similar announcement later this week. Facebook's Seattle office has also been shut down after a worker tested positive there, and one by one Seattle's other institutions are moving their office staff into spare bedrooms and home offices.
Seattle has frequently been a trendsetter, but this particular trend was one that no one was planning on or touting - are we ready for a remote-work future?
Remote Working Comes Of Age
For me, remote working is nothing new - I've been a software consultant and a journalist for most of my adult life, and my own company, a startup with a dozen employees, has been virtual from the beginning. IT software consulting usually means that you're up at the crack of dawn to take a phone call from London or Amsterdam, and frequently go to bed after midnight because of a phone call to Singapore or Sydney or Hyderabad. On the flip side, I usually am able to clear Fridays and Mondays off to concentrate on code or articles or devoting time to business social media, Saturdays are rest and recycle, Sundays my hard code day or work on my latest book.
It's a lifestyle that is becoming more and more common, especially among older workers like myself who have moved into the gray zone of the IT world. I live or die on Webex, GoToMeeting, Zoom, Blue Jeans, or Skype, with Hangouts becoming an increasing part of the mix as well. I invested in a Yeti USB microphone, which looks vaguely like one of those vintage era broadcast mics and weighs about five pounds, but has a superb sound profile and is great for podcasts. I've also turned a spare bedroom into an office/studio combo, complete with a lock on the door, mainly to keep the cat out during podcasts.
Remote working has been growing in popularity over the last several years, primarily due to the combination of better video and collaborative tools, better connectivity, and the migration of resources and services to the cloud, especially in conjunction with GitHub and similar systems. However, until now, it's generally accounted for only about 8% of the workforce, with much of that being focused on flex-time arrangements. Companies have been reluctant to embrace remote working, in great part because of the belief that it makes it more difficult to manage the workforce.
From personal experience, the move to remote working allows for greater freedom of action, but also requires greater self-discipline. This doesn't just involve remembering to wear pants when talking with a client. It means allocating time for work, being conscientious about meeting times, balancing multiple time zones, and being diligent in tracking and documenting your progress.
It also means more clearly delineating your private time from your work time, because work can very quickly blossom out of control, overtaking your daily life. I've found it helpful to maintain a very definite pattern or schedule: social media in the morning, phone calls, then intensive concentrated work in the afternoon, break for dinner, family time, then usually a couple of hours of work or technical experimentation in the evening.
Imposed Work From Home
Work from home is great when people are prepared and mature enough to handle the responsibilities, but this may be the first time in history where it is being imposed at such a massive scale. It is very likely that this experiment will prove to be both enlightening and traumatizing.
Some people, especially introverts who are used to working alone, thrive in remote work environments. Writers, artists, composers, programmers, designers, people who need to concentrate for extended periods of time, tend to gravitate towards consultative or remote positions anyway, so the impact that the coronavirus will likely have for them is minimal. It may prove a hardship for extroverts. people who thrive in situations where they interacting with their peers, managers who want to make sure that their reports are doing the work that they're being paid for, salespeople who largely rely upon face-to-face interaction, all of these people are going to have to deal with the reduced stimuli of a home environment.
In all likelihood, one of the biggest changes will be that many managers who otherwise have never had to manage remote groups will need to start doing so. More managers will have generally worked with offshore teams, but those teams, in general, are usually led by a team leader who is local, and the team members are still working under their direct supervision. This is a somewhat different management issue, in that rather than true remote work it is management by proxy. As coronavirus begins to impact India in particular, this will likely also change, as those workers also end up working remotely to deprive the coronavirus of a large enough pool.
In this case, one of the things that will likely happen is that, as the crisis continues, those managers that can most readily adapt to direct coordination of workers remotely will survive, the ones that can't won't. Managing employees remotely differs significantly from on-prem management. It requires more coordination and is more goal-oriented rather than schedule-oriented. It also relies, paradoxically, on a more hands-off approach. Remote home-work is going to be disruptive for those who aren't used to it, and also places the manager into the personal space of the employee in a big way. Micromanagers may very well find themselves facing lawsuits due to harassment even unintentionally. Again for those who are already used to remote work, this shouldn't be that big of an issue, but for those who aren't (regardless of relative authority levels) this ethical and legal environment can become a minefield.
It's also worth noting that cloud-based systems are still computers, and they still require periodic installation, maintenance and repair. This means that operational staff may end up still being on call, but on-call does not mean on-premises. Service will degrade. System reliability will drop from 99.999% to perhaps as low as 83%, and there will be companies that go out of business simply due to liability provisions.
Manufacturing is already slowing down significantly, to the extent that the economy will certainly be in a fairly deep recession by summer. After three months of the virus, the Chinese economy is only just beginning to restart its manufacturing capacity, but it may be several months or even years for the country to reach the levels it once had. Already in the US, teams of developers and creatives, many who had been attached to major projects, are beginning to go feral and lose cohesiveness as work dries up and wages drop dramatically.
Education is also going to face (and cause) problems. Grade schools are already under pressure as demographic pressures are making for shrinking class sizes, and should Covid get into the schools, the likelihood is high that schools will opt to go for remote schooling rather than cancelling school outright. This move is not ideal, it means that the role of schools as kid tenders (as opposed to the educational missions) effectively disappears. Again, it's now feasible to do, but it may very well have a profound impact upon the shape of education (and society) for decades as schooling becomes an in-home activity.
The final concern is the fact that Covid-19 S and L strains both have profiles that attack older people prejudicially. People in senior management positions will die, and in increasingly distributed work environment, it may actually be some time after they do before that fact is known. It's an ugly issue to address, but succession planning should be something addressed now, not just for the C-Suite but for any mission critical positions or personnel. Provisions should be made for people who are sick or even quarantined, and each team, virtual or otherwise, should ensure that projects won't collapse if a critical project manager or senior developer or data scientist is out of the picture for a month or more (or worse, permanently).
Impacts Of Remote Work
At a more pragmatic level, many of the problems that cities like New York and San Francisco are now facing are due to the fact that the cost of living in these cities has become untenable for many people, forcing up wages, and consequently real estate and similar prices. As teams become more distributed, and as the best practices for managing a virtual or remote company become hardened and tested, the benefit of having a distributed work-force seriously outweigh the limitations.
Another impact that will emerge is one that is already underway regardless. Supply chains have become over-extended, and the vulnerability that this proposition reveals will become obvious in the face of a rolling disaster such as a global pandemic. Companies are going to start investing heavily in 3D printing as a way of shrinking those supply chains, and that, in turn, is going to end up with a novel condition where labor has become distributed even as manufacturing has been localized. Ironically, this will serve to reduce trade imbalances in a way that tariff wars never could.
Education will likely also be transformed beyond recognition. Currently, most remote education programs are focused on special education, which is ironic because special education is the one area where individualized instruction is perhaps most necessary. After a year or more where classes are more remotely based, however, it is very likely that both priorities and methodologies for doing remote education will have undergone a significant reassessment.
What is changing in each of these cases is not technology. The technology for doing remote work and education has been there for several years now, to the extent that such factors as transcription, speaker recognition, white-boarding and so forth actually make these experiences superior to in-person meetings. What's holding companies back from adopting remote work has generally been the fear that unsupervised workers will fail to do the work they are being paid to do.
In some cases, that fear can become a self-fulfilling prophecy, as companies that traditionally have been heavily supervision oriented will likely find that the resentment that such an attitude brings will make people more reluctant to put up with such games when such micromanagement intrudes into personal spaces. That remote work also makes it easier for workers to shop their resumes elsewhere can't be discounted.
One other factor may also be exposed during enforced remote work: when I have worked onsite over the years, I've often found that it became remarkably easy to get caught up in the sense of "busyness" that often reflected less actual work being done and more acting and reacting to shifting company political rumors, gossip and fears. Remote workers aren't immune to this effect, but it is very much subdued. This does, however, make building up esprit d' Coeur harder, and can lead workers to feel more detached than in the onsite world.
After the Virus
Eventually, the Coronavirus(es) will be normalized - people will have come to terms with a world where the pandemic is both fully accounted and the most virulent strains will have burned themselves out, though it may very well be months or even years before things begin truly recovering. However, that's long enough for a new normal to establish itself in work habits.
There will be a period where people will be reluctant to gather together in large numbers, even after the immediate threat has lifted. Companies will start bringing core people back into the office, but there may at that point be resistance to moving everyone back. For starters, there's a certain degree of evidence to suggest that air pollution and pandemic level pathogens are related, and that commuting is a major factor to that air pollution.
What that suggests is that even once companies begin the process of re-centralization, a significant portion of the workforce will be asked to continue in a remote working pattern for months or longer. Part of this may be in response to the Coronavirus itself, which has shown a rather pernicious tendency to flare back up after the first outbreak occurs, and which has, unlike the flu, a tendency to keep antibodies from forming. Another reason may be that if the original wave of the pandemic goes on for long enough, companies will start to trim staff, and may be reluctant to start hiring people back until demand picks back up.
Moreover, once the investments into telework and telepresence are made, distributing the workforce means that several persistent problems facing many companies go away, most notably the issues those companies in costly tech center have in enticing workers to move to those areas, usually at a steep COLA adjustment. Not everyone will prefer to stay in work from home mode, but given that currently only about 4% of the population actively does so now, even a shift to 25% of the workforce could have a huge impact.
Longer-term this will hasten other trends as well. Schools, from grade schools to universities, are already facing an existential crisis as the Baby Bust, starting in 2008, makes its way through the educational system. Faced with declining enrollment and dangerously aging schools, many school districts will start asking whether it is really necessary to bring the students to the education, when it may make more sense to send the education to the students. If one or both of the parents are able to work from home, this also (helps to) resolve the question of supervision (though from personal experience, keeping kids focused at home can be a full-time job in its own right).
It will also force a long-overdue evaluation of what exactly is meant by work in the 21st century at the legal level. This affects not only taxes and compensation but also the expectations with respect to the equipment necessary to complete jobs, the boundaries of what constitutes full time (a distinction that is becoming increasingly irrelevant) and the degree to which employers have a right to an employee's personal space.
Covid-19 may burn itself out very quickly, though early indications are not favorable to that conclusion. There is no question, however, that it will have a radical impact upon work, society and education, and the role of virtual presence in all of these.