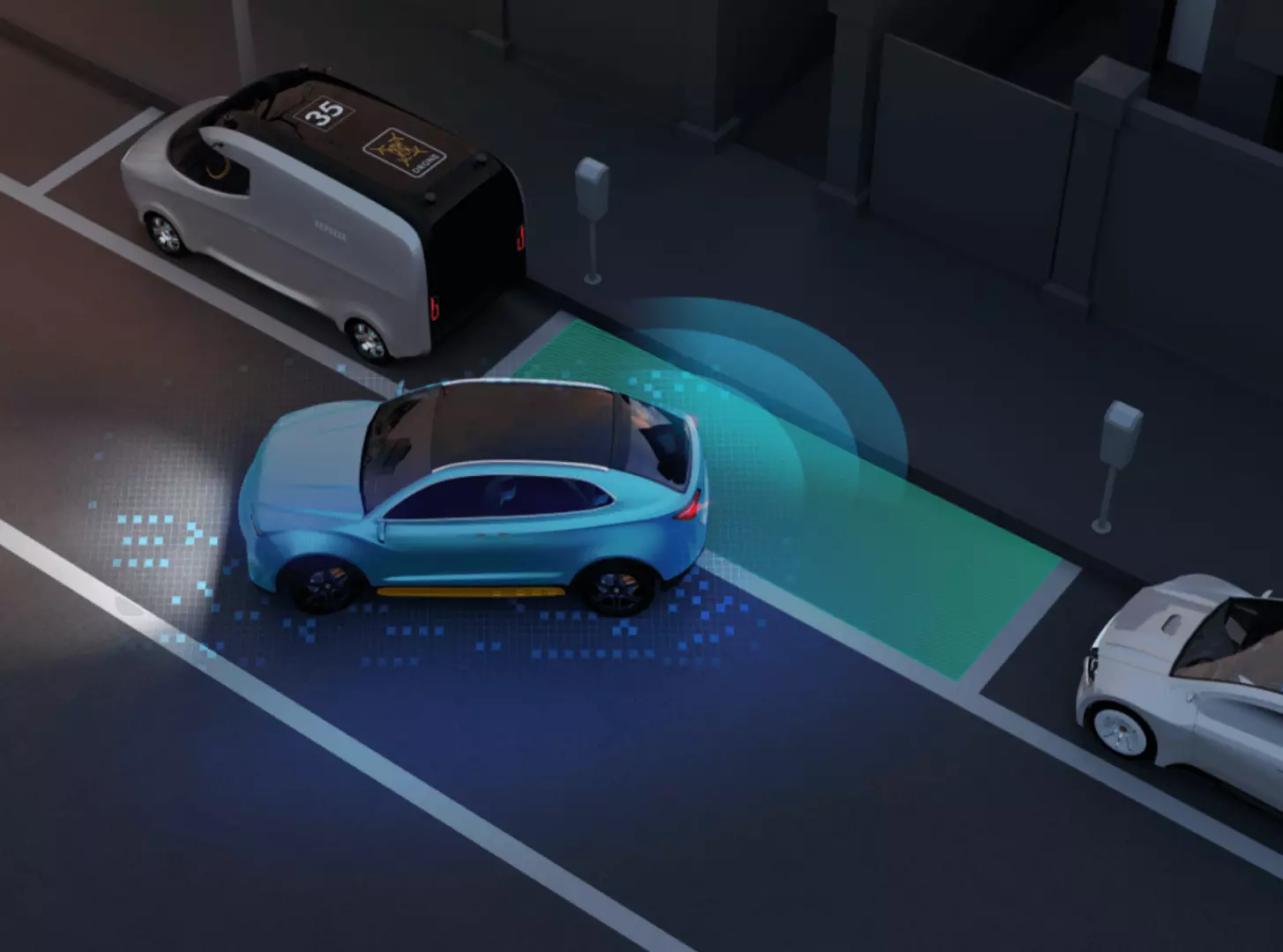 On the surface, permit handling in a parking facility may seem like a fairly simple function to execute.
However, there are several problem areas in manually-managed parking facilities that are direct consequences of poor permit management. Using smart parking solutions promises to optimize permit management for town administrators and parking facility managers.
Of all the administrative headaches they have, space and vehicular management arguably demand the most attention to detail from town and city administrators. Both space and vehicular management depend on parking management, as a large proportion of vehicles are parked 95% of the time in big cities and towns. This simply means that the smooth daily running of busy commercial districts depends upon one critical factor—the quality and efficiency of permit management in large parking facilities.
Permit management, the deceptively simple-looking parking facility function, is all about how parking lot handlers manage the parking memberships of vehicle owners who use their facility. As you will see, poor permit management can create several avoidable issues either immediately or in the long term. Fortunately, such problems can also be dealt with at an initial stage if smart parking technology is used for permit management. Using tools based on AI, computer vision, and blockchain, smart parking facilities ensure that the challenges listed here are avoided almost completely.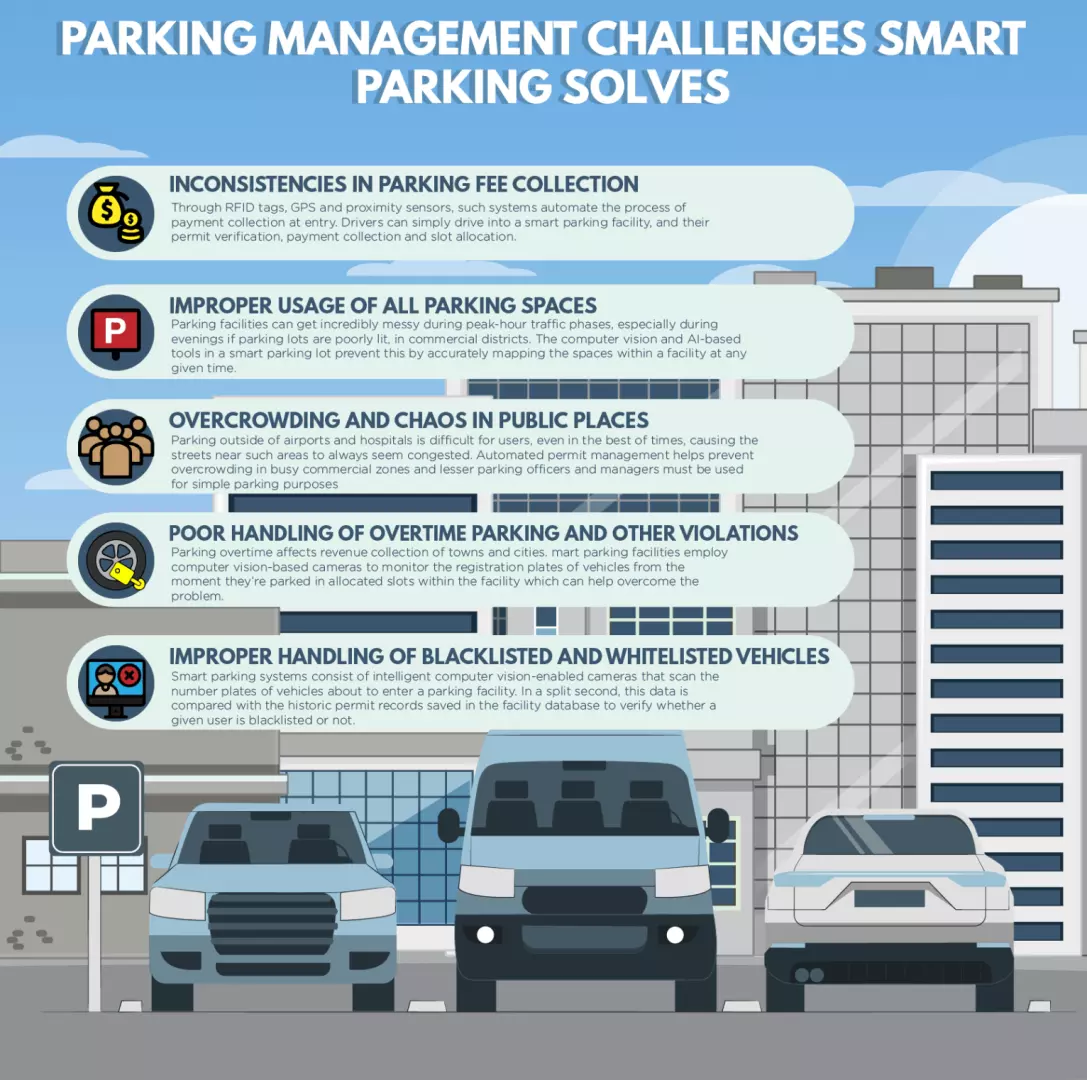 1. Inconsistencies in Parking Fee Collection
As you will see later, things such as inconsistencies in detecting and penalizing violators, a lack of structure in fee collection, improper use of parking spaces and poor maintenance of user registration records ultimately cause earning losses for parking authorities and town managers. Most of these problems are caused by manual parking systems and operations being inadequate for a large number of vehicles and large facilities.
Smart parking-driven permit management streamlines the process of payment collection in multiple ways. Firstly, such systems generally require users to download a dedicated mobile application that allows them to get information about vacant parking spaces in a given zone, receive notifications about exceeding their allotted parking and make payments for their use of the parking facility. In fact, through RFID tags, GPS and proximity sensors, such systems automate the process of payment collection at entry. Drivers can simply drive into a smart parking facility, and their permit verification, payment collection and slot allocation will happen in a matter of seconds, without them having to stop for each purpose at the gate.
More importantly, all users are charged accurately as per the unerring video data gathered by cameras across a smart parking facility. As a result, this, arguably the biggest challenge of the lot, can be easily addressed with the inclusion of smart parking tech in large facilities.
2. Improper Usage of All Parking Spaces
Parking facilities can get incredibly messy during peak-hour traffic phases, especially during evenings if parking lots are poorly lit, in commercial districts. Poor visibility may result in vehicles being parked in various ungainly ways in a parking lot. Moreover, the town managers will not be able to use the space within a facility optimally, leading to lower collections for the region and other long-term problems of innovation and maintenance.
The computer vision and AI-based tools in a smart parking lot prevent this by accurately mapping the spaces within a facility at any given time. Based on that, the zonal administrators and parking authorities will know all the areas where vehicles of specific sizes can be slotted. The entire make-up of a parking facility can be changed based on this information, with slots created in a way that no space is wasted, even during the most chaotic of times. Smart permit management simply reinforces this plus point by automatically allocating slots to drivers as soon as they enter the facility.
3. Overcrowding and Chaos in Public Places
Speaking of chaos, parking outside of airports and hospitals is difficult for users, even in the best of times, causing the streets near such areas to always seem congested. Handling permit management outside of such zones involves creating specialized zones for different vehicles in a way that the vehicles themselves are well separated and in neat order. Additionally, additional personnel can be used in such places to reduce the number of those who do not have vehicles to park.
Automated permit management helps prevent overcrowding in busy commercial zones and lesser parking officers and managers have to be used for simple parking purposes. This enables the places in which parking patrol is understaffed to maintain the same standard of parking and spatial management as other places where there isn't understaffing of officials.
Overcrowding is one of the primary reasons for problems such as traffic jams and congestion. Employing smart parking helps a region overcome or, at the very least, reduce the magnitude of such problems.
4. Poor Handling of Overtime Parking and Other Violations
During calmer phases (early morning, afternoon), maintaining a physical record of each facility user is easier for the employees working there. They can use timers to measure how long a vehicle has been parked in an allocated slot. Naturally, this goes for a toss during busier periods when seemingly everybody is looking for vacant, legal parking slots. At the end of the day, the parking facility handlers are human and can be expected to get overwhelmed during busy phases and lose count of how long each user has parked their vehicle in a slot provided to them.
With smart parking tech in place, this problem can be addressed immediately. Smart parking facilities employ computer vision-based cameras to monitor the registration plates of vehicles from the moment they're parked in allocated slots within the facility. Using that as a reference point, such systems accurately maintain records of how long each vehicle has been parked. If a user's vehicle is parked longer than it should be, the system automatically sends them and nearby parking enforcement officers a notification. Additionally, they can be penalized in the form of fines and, in some cases, initiate booting and towing away of such vehicles to nearby municipality centers. Later, the owners of the vehicles can pay the necessary fines to retrieve their vehicles.
Parking overtime affects revenue collection of towns and cities. Through autonomous monitoring, smart parking systems help you overcome that problem.
5. Improper Handling of Blacklisted and Whitelisted Vehicles
Vehicles that are on the blacklist of a parking facility need to be identified and prohibited from entering as soon as they attempt to sneak their way into the facility. Such individuals or vehicles are on a list like that due to past misconduct. However, identification becomes nearly impossible during peak hours in busy commercial districts, resulting in blacklisted vehicles getting parking slots during such a phase. On the other hand, whitelisted vehicles, such as the ones belonging to VIPs, police cars or ambulances, need to be allowed entry without checking their registration or permit credentials. This is where the intelligent permit management of a smart parking facility comes in handy for facility managers.
As stated earlier, smart parking systems consist of intelligent computer vision-enabled cameras that scan the number plates of vehicles about to enter a parking facility. In a split second, this data is compared with the historic permit records saved in the facility database to verify whether a given user is blacklisted or not. If a user is found to be blacklisted, the automated boom barrier gate or barricade at the entrance of the facility will not let them in. An identical approach is taken for whitelisted vehicles, ensuring that they do not have to wait for identification at the mouth of the parking facility when they arrive there.
In this way, a possibly tricky and bottleneck-y action is simplified and executed without fuss in smart parking lots.
Conclusion
Every commercial district—a broad term used to describe a business-driven town or city bustling with vehicles and people constantly on the move—encounters issues such as excessive traffic jams, on-street parking, sound and air pollution, low revenue collection and unused spaces. If you think about it, each of these problems circles back to poor parking management and, by extension, a lack of intelligent permit management automation. As you have seen above, this makes the choice of implementing smart parking tools truly decisive for parking facility managers as well as town and city administrators.