We are currently witnessing a smart city revolution worldwide.
It's the moral duty of world leaders to pave the way for a sustainable smart ecosystems revolution by making the right decisions. The current global social, economic and geopolitical crisis has only accentuated preexistent ESG inequities and challenges. These unprecedented times call for new leaders, innovative solutions, and a revised approach to manage this volatile, high-risk global business environment while adapting to major emerging technology megatrends.
Recent reports and articles published by various international organizations such as WEF, OECD, World Bank, Barclays, and Deloitte highlight an increased interest in developing smart sustainable cities and it is incumbent upon key global stakeholders to leverage all collective global talent, expertise, and experience to create a sustainable and inclusive urban living.
As reported by the World Economic Forum, cities find themselves at the center of the global crisis and must rethink, recalibrate and rebuild the economy by designing cities that are more "livable, sustainable, resilient and affordable". The G20 Global Smart Cities Alliance united stakeholders around a shared goal of responsible and ethical technology deployment for smart cities.
As highlighted by the World Bank session on "Pathways to Sustainable Urban Development", by 2050 it is expected that 80% of the global population is expected to live in urban environments and cities have to strengthen their commitment to designing and deploying sustainable urban infrastructures. In a Deloitte Smart Cities of the Future report, smart cities are defined as urban centers that not only leverage technology to improve their operations but also connect with citizens, businesses and nonprofits in novel ways.
However, To accomplish our global sustainability goals we need reliable frameworks. The ESG framework has evolved from other historical movements that focused on health and safety issues, pollution reduction, and corporate philanthropy. It is foundational for sustainability-focused leaders that wish to manage risks related to the implementation of a long-term sustainability strategy. While we have witnessed an increase in advocacy and sustainability awareness, it appears that the motivations behind sustainability-related actions remain mostly driven by a compliance mindset. While customer expectations remain prominent sustainability drivers across all regions, many C-suite leaders do not yet recognize the competitive advantage and value-adding potential of ESG efforts. One of the main barriers to the adoption of sustainability strategies remains the widely-held and erroneous perception of ESG measures being cost-increasing, as opposed to value-generating. While there is strong evidence globally that this attitude is changing for the better, we witness an ongoing lag that must be urgently addressed.
Most recently a McKinsey report has shared valuable insights regarding the practical steps leaders can take at a national or enterprise level to achieve a net zero economy and build a smart sustainable global ecosystem. An EY report also calls for an accelerated response, while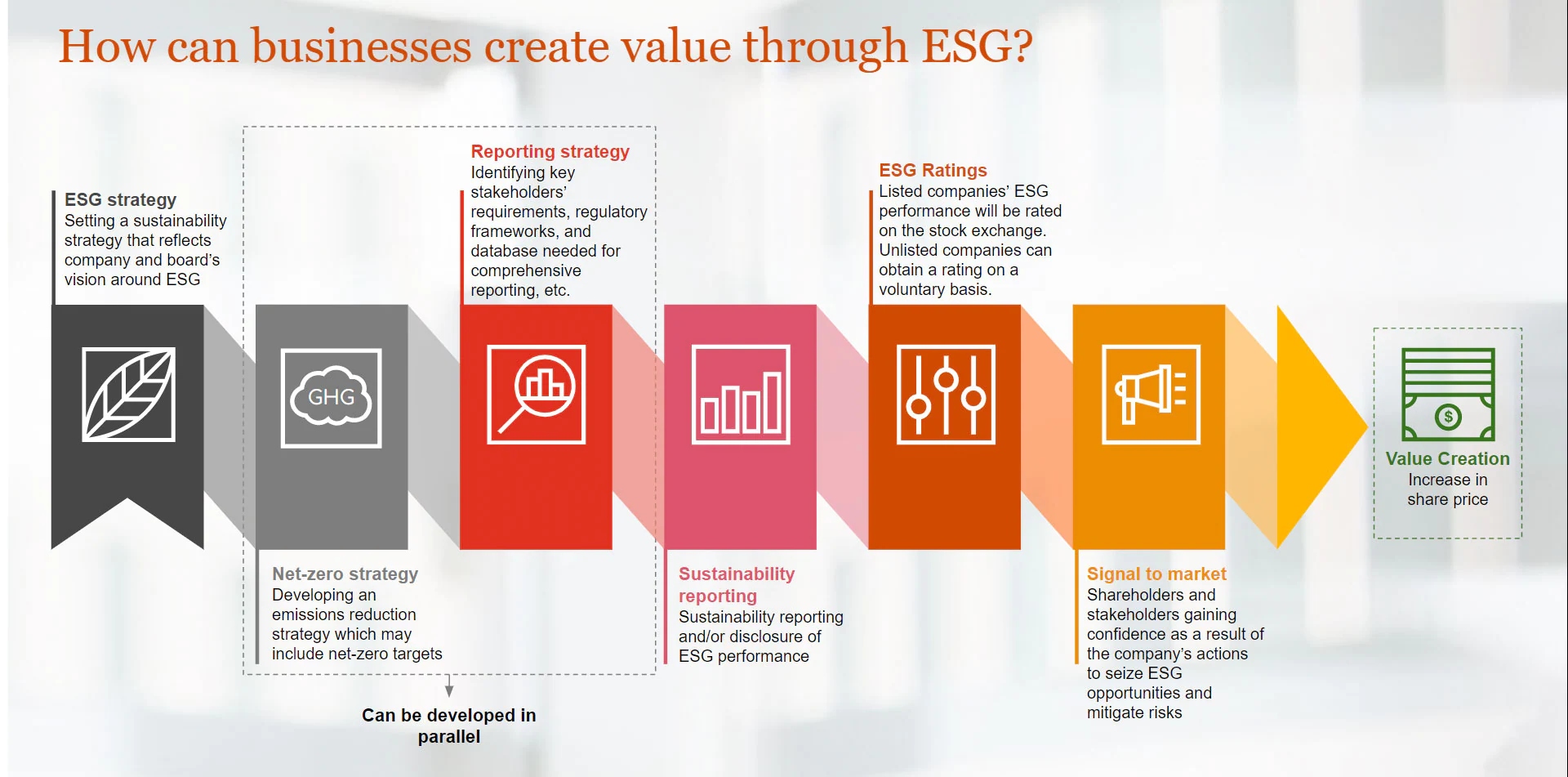 PWC shares the role of ESG reporting in attaining specific UN SDG indicators.
Korn Ferry has eloquently detailed the rise and need for a sustainability officer. Dedicated and committed sustainability leaders, have emphasized several strategies to achieve the UN SDG 2030 goals, which include a triad of linking investments to ESGs, linking executive pay to ESGs, and and developing custom ESG metrics to measure impact. There are ongoing debates which specific ESG goals to directly link to incentives. There are still those who only wish to add those related to the business strategy and the process of creating value, while prpose-driven sustainability leaders advocate for adding diversity goals (41%), decarbonization (35%) or other environmental goals (36%).
As a society, we are facing embarking on a new generation of the internet and are likely at the cusp of the next industrial revolution. These unprecedented times call for innovative solutions and a revised approach to managing this volatile global business environment. Additionally, we must adapt to major emerging technology mega-trends.
There are numerous pathways to attain a global sustainable smart city ecosystem, however combining strong leadership, digital transformation, and impact investing can prove to be a powerful trifecta.
Sustainability-Focused Leadership
As stated by numerous thought leaders " the best way to predict the future is to build it ourselves". Sustainability leaders have been paving the way to a new sustainable future, have already made significant contributions to embed sustainability in their specialties or industries , and are poised to make a global impact on our society. Their ESG focus, authenticity, and purpose can be powerful tools in this post-pandemic global landscape fraught with social, political, and economic adversities.
Emerging global leaders today have the opportunities to act as change-makers and redesign, reshape and recalibrate the global business ecosystem for future generations. Social entrepreneurship, ESG-consciousness, and a human-centric approach are all traits that are found in future-ready leaders and ensure sustainable success. We must also recognize and congratulate global forward-thinking sustainability leaders that have already embarked on the sustainability journey and can serve as great role models for future emerging leaders. Leaders in this new global hybrid workforce ecosystem need to rethink how to identify, select, retain young talent and invent novel methods to keep older generations productive, engaged, and content. Emerging digital era leaders will first have to redesign and rediscover their digital era leadership brand and leadership style signature, their new workplace leadership identity, understand what values are important to current generations in this new business ecosystem, and be comfortable evaluating and deploying new frontier technologies, new business models, new disruptive ideas. They must also function in multi-sensorial, immersive, and embedded collaboration or training models, as traditional instruction methods are not meeting the needs of the current generation entering the workforce.
Impact Investing
Einvestors have now recognized the long-term opportunity and impact investments have increased steadily over the last decade. Investors are emphasizing the need to focus on prominent, market-wide "systemic" factors, such as climate change (72%) and other evironmental priorities (62%). For example, a recent McKinsey report highlights the magnitude of the required efforts and emphasizes that achieving net zero by 2050 could entail a 60 percent increase in capital spending on physical assets, compared with current levels. The required investments amount to $9.2 trillion per year until 2050, of which $6.5 trillion annually would go into low-emissions assets and enabling infrastructure.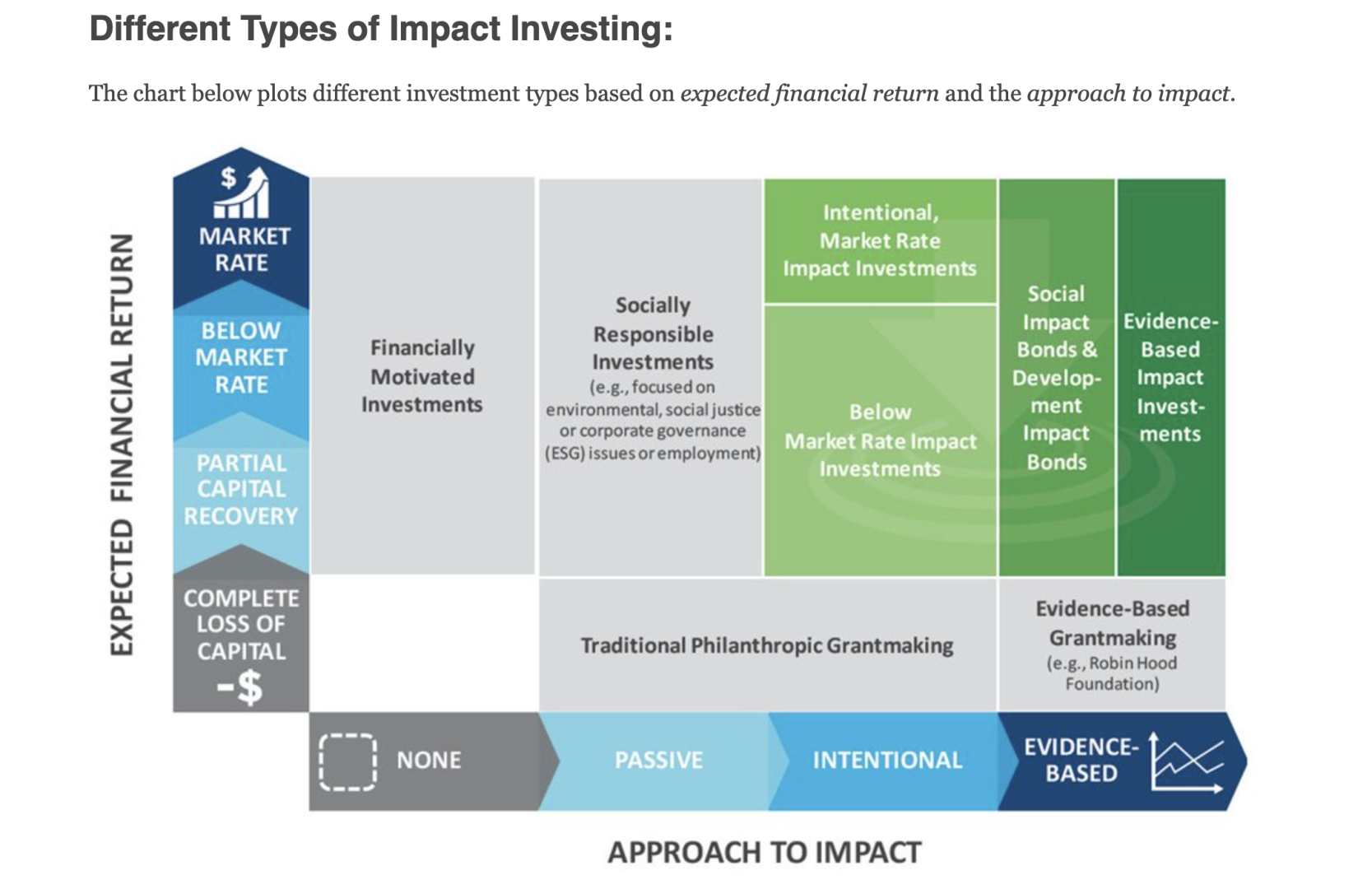 The global impact investing market is estimated at $715B and is expected to grow at CAGR of 10.12% by 2023. The US still lags behind Europe, however has now reached 20% of the total market. Globally, index funds investing in companies that enjoyed high ESG rankings have seen a boost, sustainability funds doubled and socially conscious investing continues to gain momen-tum. The last survey published by GIIN highlights the highest response rate ever recorded and 99% of respondents reported meeting or exceeding their impact expectations, while 88% reported meeting or exceeding their finance expectations. It was interesting to note that 57% did not expect their capital investment to change due to the pandemic. BlackRock's first sustainable investing survey published recently captured data from 27 countries and highlighted that half of the institutional investors were expecting to double their sustainable assets within the next 5 years. According to UBS, sustainable investing typically performing as well as traditional investments or sometimes even better, with 70% of sustainable funds outperforming comparable funds.
A J.P Morgan research note published in collaboration with the Rockefeller Foundation pointed out that there seems to be a shift towards impact investing towards larges scale institutions, pension funds, family offices, foundations, and commercial banks joining the impact investing trend.
It also estimates that the investment opportunity over the next 10 years can reach $1T. The main high-potential sectors were urban affordable housing, rural access to clean water, maternal health, primary education and micro-finance.
The Importance of Digital Transformation To Promote Sustainability
Translating sustainability plans and ambitions into actions and business transformation is going to be a significant challenge for the next decade as highlighted in a recent report published by Carlyle. Leveraging emerging technologies can accelerate the net zero ecosystems we are trying to build over the next 30 years. In order to be successful we will require powerful, purpose-driven global sustainability leaders that are digitally ambidextrous, and have an exponential thinking mindset to navigate the complex business and digital transformation journey required to build smart sustainable global urban ecosystems. While experts still disagree on which one of the emerging technologies will have the most transformative impact, the majority agree that the convergence of high-speed 5 G and 6 G networks, IoT and IIoT, AI, blockchain, robotics, genomics, brain-computer interfaces, advanced computing techniques like quantum computing and edge computing will play major roles. Furthermore, the current transition from web 2.0 to web 3.0 has the potential to trigger an accelerated adoption and global collaboration to achieve the UN SDG 2030 agenda.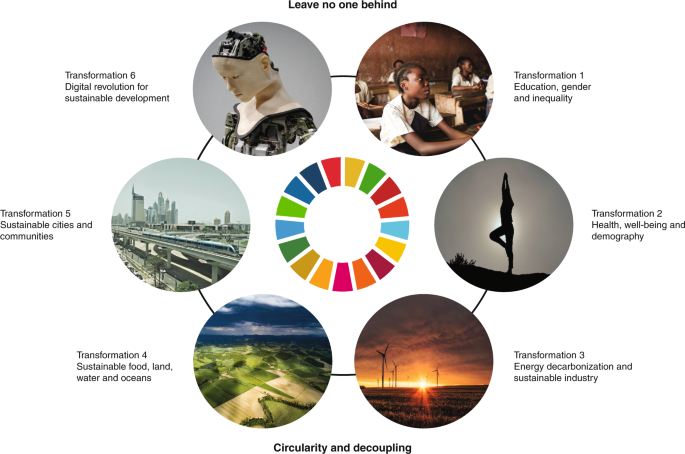 We certainly face numerous challenges as a society when deploying new technologies and recalibrating the global business ecosystem. Not only must we overcome significant legal, regulatory, and compliance barriers, but we must also engage key stakeholders to manage the costs, as well as reduce the financial and digital divides in numerous markets worldwide. Additionally, cyber threats have caused major security breaches over the last few years and are expected to increase alongside the large-scale adoption of emerging technologies. Trust and privacy remain key concerns and will require a global approach to find not only a sustainable but also an ethical solution.
Global key stakeholders also have an opportunity to build a smart, sustainable, inclusive, diverse, and equitable ecosystem as a recent Forbes article has highlighted.