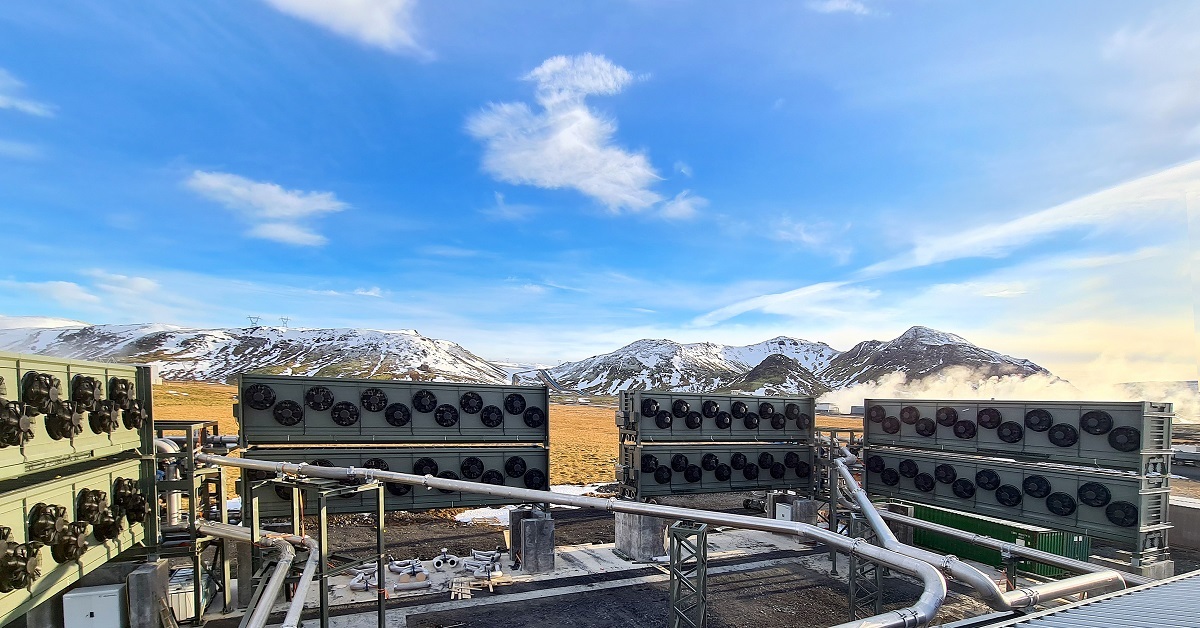 Scientists have developed a new method to capture carbon pollution from the air, convert it into sodium bicarbonate, and store it in oceans.
According to a study published in Science Advances, this technique could be up to three times more efficient than current carbon capture technologies.
While forests and oceans naturally capture carbon, they do not do so quickly enough to keep pace with human-produced pollution.
Researchers have developped a new technique, which involves sucking carbon pollution directly from the atmosphere, addresses this issue by using copper to modify the absorbent material in direct air capture technology.
The captured carbon is then converted into baking soda using seawater and stored in the ocean. However, regulatory and ecological challenges remain to be addressed.
The Orca project by Climeworks in Iceland is capable of removing carbon pollution from the air. Researchers claim to have discovered a method to significantly increase the efficiency of this process.
Despite the potential regulatory hurdles and concerns about negative impacts on the oceans, many scientists see direct air capture as a crucial technology in the fight against climate change.
As governments and international bodies push to scale up this technology, it's likely that more research will be conducted on this method and others like it.
The study's authors are optimistic about the future of direct air capture and hope that their findings will inspire others to improve on their technique and further explore the potential of this technology.
With the continued development of more efficient and cost-effective methods for capturing and storing carbon pollution, it's possible that we may be able to mitigate some of the worst effects of climate change and create a more sustainable future for ourselves and the planet.
Fighting climate change is of utmost importance as it has significant and far-reaching consequences for the planet and all living beings. Climate change is caused by the increasing concentration of greenhouse gases in the atmosphere, primarily carbon dioxide emissions from burning fossil fuels. This leads to rising temperatures, more frequent and severe natural disasters, sea level rise, ocean acidification, and other detrimental impacts on ecosystems, human health, and economies. If left unchecked, climate change could cause irreversible damage to the planet, affecting future generations' ability to thrive. By reducing greenhouse gas emissions and adopting sustainable practices, we can mitigate the worst impacts of climate change and create a more resilient and equitable future.
Technology has an important role to play in fighting climate change. Here are some ways in which technology can help:
Renewable energy: One of the main drivers of climate change is the burning of fossil fuels for energy. Renewable energy sources such as solar, wind, and hydropower can help reduce our reliance on fossil fuels and decrease greenhouse gas emissions.

Energy efficiency: Another way technology can help fight climate change is by improving energy efficiency. Energy-efficient technologies such as LED lighting, smart thermostats, and efficient appliances can reduce energy consumption and greenhouse gas emissions.

Carbon capture and storage: Carbon capture and storage (CCS) is a process that involves capturing carbon dioxide emissions from power plants and other industrial sources and storing them underground. This technology can help reduce greenhouse gas emissions from these sources.

Direct air capture: Direct air capture (DAC) is a process that involves capturing carbon dioxide directly from the air. This technology has the potential to remove carbon dioxide from the atmosphere and help mitigate climate change.

Electric vehicles: The transportation sector is a major contributor to greenhouse gas emissions. The development and adoption of electric vehicles can help reduce emissions from transportation.

Sustainable agriculture: Technology can also play a role in sustainable agriculture, which can help reduce greenhouse gas emissions from agriculture and land use. For example, precision agriculture technologies can help farmers reduce fertilizer and pesticide use, while regenerative agriculture practices can help sequester carbon in soils.
Leveraging technology has the potential to play a significant role in fighting climate change. However, it is important to remember that technology alone is not enough. We also need strong policies, incentives, and public support to drive the adoption of these technologies and achieve meaningful reductions in greenhouse gas emissions.