Artificial intelligence (AI) is helping with churn prediction and prevention in the airline industry, enabling airlines to reduce customer churn, increase revenue and stay miles high from the competition.
The aviation sector is one of the most competitive sectors in the world. Airlines are always looking for new ways to stay ahead of the competition and maximize profits. In this competitive environment, customer loyalty and retention are essential for an airline's success. Churn prediction and prevention in the airline industry are important strategies that help reduce customer churn and ensure customer loyalty.
The Importance of Churn Prediction and Prevention in the Airline Industry
Churn prediction and prevention are important in the airline industry for a number of reasons. Some of the reasons include: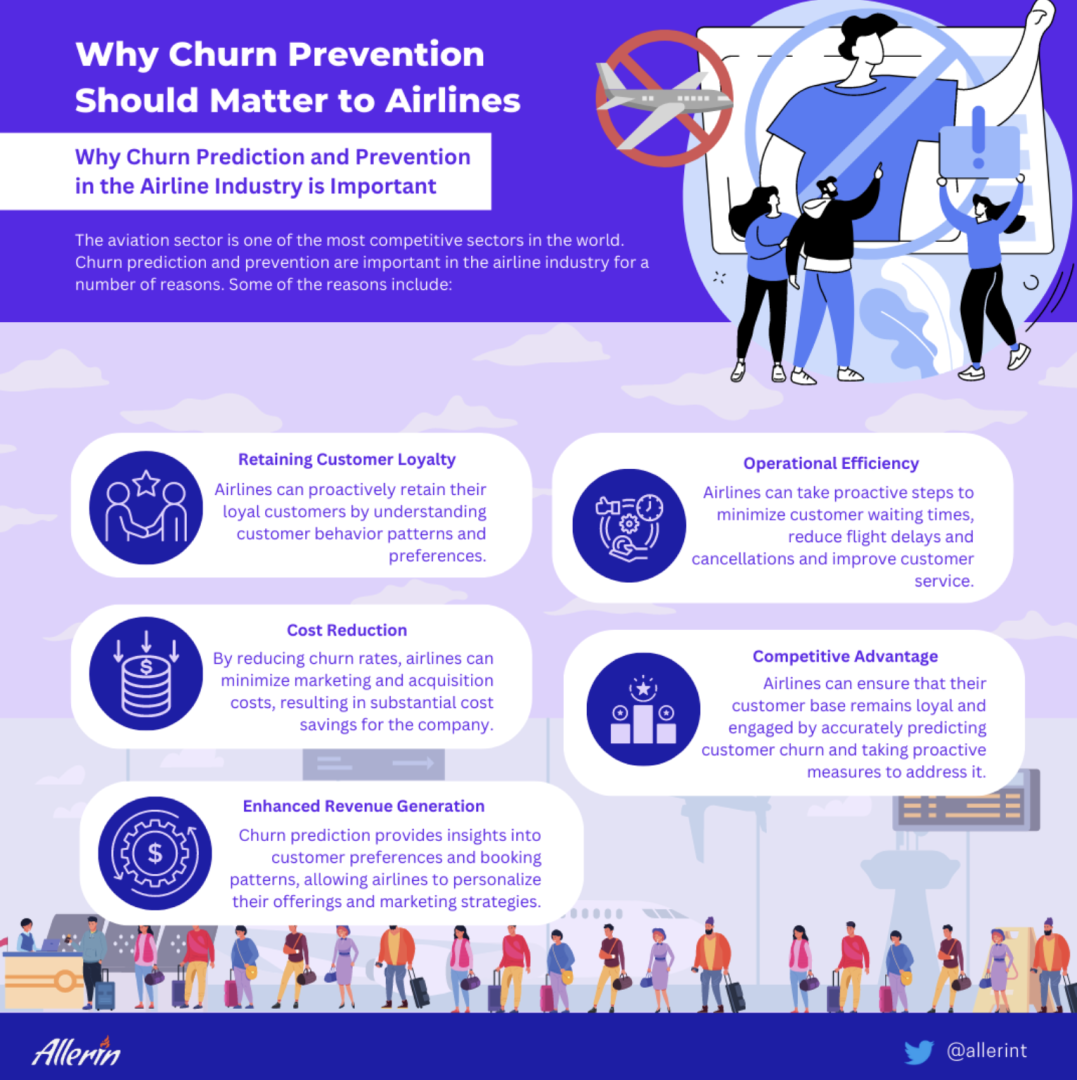 Retaining Customer Loyalty
Churn prediction and prevention enable airlines to identify passengers who are likely to switch to competitors or stop traveling altogether. Airlines can proactively retain their loyal customers by understanding customer behavior patterns and preferences.
Cost Reduction
Acquiring new customers is significantly more expensive than retaining existing ones. By reducing churn rates, airlines can minimize marketing and acquisition costs, resulting in substantial cost savings for the company.
Enhanced Revenue Generation
Churn prediction provides insights into customer preferences and booking patterns, allowing airlines to personalize their offerings and marketing strategies. This can help increase customer engagement levels and boost revenue from existing customers.
Operational Efficiency
Identifying and addressing potential causes of churn allows airlines to optimize their operational processes. For instance, airlines can take proactive steps to minimize customer waiting times, reduce flight delays and cancellations and improve customer service.
Competitive Advantage
Churn prediction and prevention give airlines a competitive edge in a highly competitive industry like aviation. Airlines can ensure that their customer base remains loyal and engaged by accurately predicting customer churn and taking proactive measures to address it.
How Artificial Intelligence Can Reduce Churn
Airlines are increasingly relying on artificial intelligence technology to help them with churn prediction and prevention in the airline industry. AI technologies such as machine learning, natural language processing and predictive analytics can help airlines identify potential churn risks in real-time.
By leveraging AI, airlines can accurately detect customer sentiment and behaviors that may indicate a higher churn risk. This allows them to focus their resources on engaging with the customers most likely to churn and take proactive steps to prevent them from doing so.
AI-based models can also be used to understand the impact of customer churn on an airline's business. This allows airlines to develop targeted strategies for reducing customer attrition and increasing loyalty, such as providing special offers or discounts and improving customer service.
Finally, AI-based models can be used to analyze the impact of changes in fares, routes and other factors on customer churn. By understanding the relationship between these changes and customer attrition, airlines can make better decisions about adjusting their pricing and services to retain customers.
Conclusion
Churn prediction and prevention in the airline industry are key factors for success. AI is helping airlines to understand customer behavior better and build targeted strategies for reducing churn rates. With the right customer insights, airlines can leverage the power of AI to develop targeted strategies for improving customer loyalty and increasing revenue. By implementing these strategies, airlines can ensure that their customer base remains loyal and profitable for years to come.