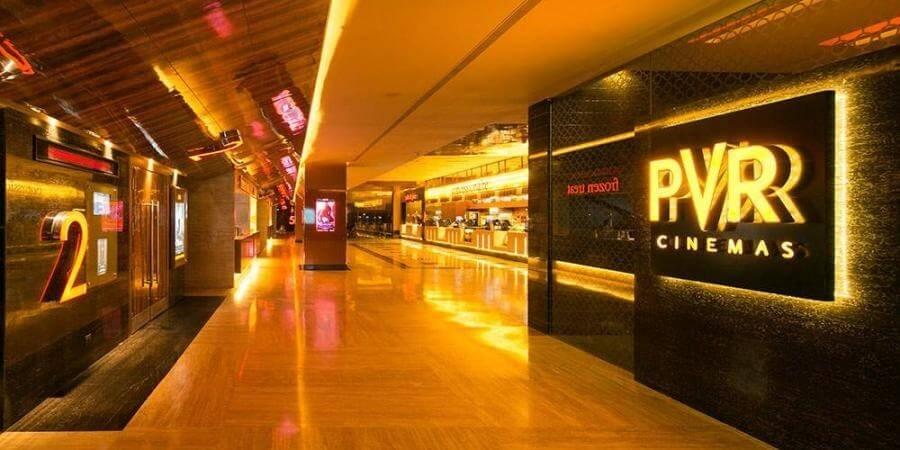 If you want to safeguard your business against your own self, you have to learn what can lead to business failure and why.
Never underestimate your substitute products. They can replace you if you take them lightly.
PVR Ltd. is the market leader in terms of screen count in India. Since 1997, the brand has redefined the cinema industry and the way people watch movies in the country. The Company has, over the years, consistently added screens, both organically and inorganically, through strategic investments and acquisitions which includes 'Cinemax Cinemas' in November 2012, 'DT Cinemas' in May 2016 and 'SPI Cinemas' in August 2018 which added 138 screens, 32 screens and 76 screens respectively to their screen network. Currently, they operate 845 screens in 176 cinemas in 71 cities in India and Sri Lanka with an aggregate seating capacity of approximately 1.82 lakhs seats.
They offer a diversified cinema viewing experience through, including 'PVR Director's Cut', 'PVR LUXE', 'PVR IMAX', 'PVR Superplex', 'PVR P[XL]', 'PVR Playhouse', 'PVR ECX', 'PVR Premiere', 'PVR ICON', 'PVR LUXE', 'PVR Cinemas' and 'PVR Utsav', and pursuant to their acquisition and amalgamation of SPI Cinemas, 'Escape', 'Sathyam' and 'Palazzo'. The Company exhibits diversified content to serve different regional customer segments across India.
They have a diversified revenue stream and generate revenues primarily from box office and non-box office which primarily includes revenue from Sale of Food and Beverages, advertisement income, convenience fees, and income from movie production/ distribution among others.
But, this strength is being challenged by business reality due to COVID-19. Pandemic has changed everything for the company. Contingency plan is as important as your business plan. You have to always be vigilant and make sure you're ready to get on the bandwagon as a need for any new change arises.
Depleting funds without being replenished is the number one cause for business failure.
"Truth searches for no one. It waits to be found." -Suzy Kaseem
And the truth that we found today is of PVR Ltd. which we are going to discuss how we feel this company is overvalued and the market cannot ignore this for very long time.
This can be the another perfect example of what not to do in the market.
Before starting with this article, let me ask you some questions?
Is it safe to go to a movie theatre during 'Coronavirus'?
What will movie theatres look like after coronavirus shutdowns?
Do you think the companies like PVR and INOX are suffering in terms of revenues?
Don't worry we are here to answer all your question. And let's dive deep into the fundamentals of this company. Don't worry! This won't be boring.
And before starting with the case study, let's look at the share price of PVR Ltd. today and will compare this in some time.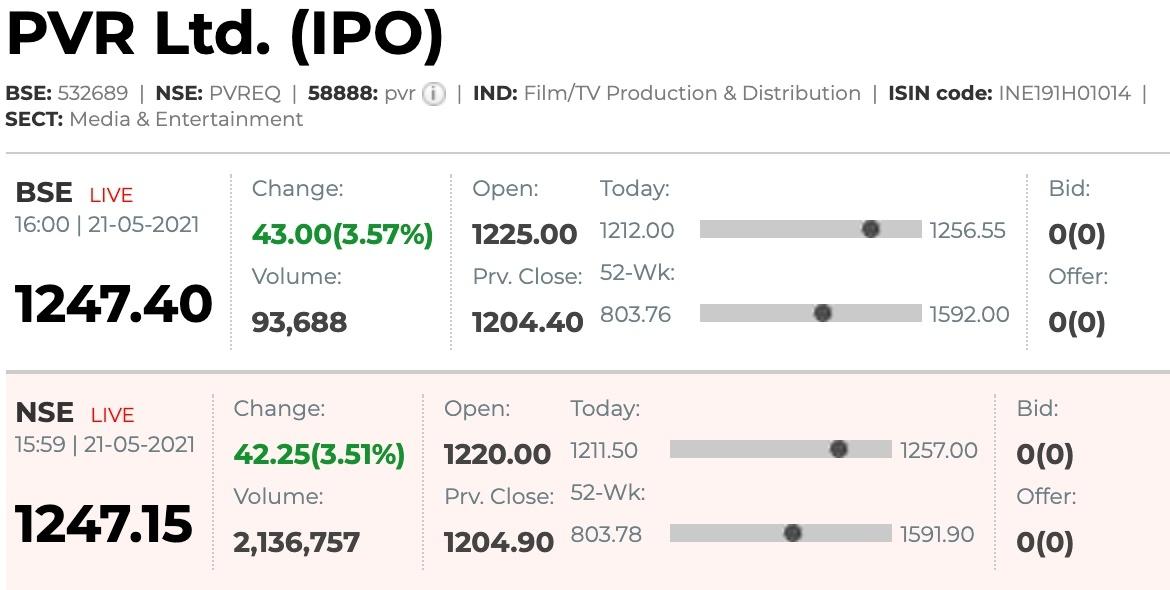 1. Perception & Mindset Change
There is a change in perception and mindset of the people for theatres, they are more happy to watch the same movie at their home with comfort.
To explain this point, let me ask you another question.
What would you like to prefer?
Going to theatre for watching a movie or using the streaming service such as Netflix or Amazon to watch the same movie in your comfort zone?
The answer must be the streaming services such as Netflix, Amazon Prime, there is a famous metaphor among youth nowadays, #Netflix_and_chill.
This is the first thing we need to understand that there is a business shift from theatres to online streaming services and people are now more inclined to watch movies at home comfort, by using the streaming services such as Netflix, Amazon prime videos, Disney Hotstar, Zee, Voot, Airtel Xstream, etc.
Even apart from cinema halls, due to COVID people are avoiding outside eatables and even their business will see no growth. Hence, till the situation recovers, it will be big loss for them to make a comeback again.
2) Earning Concern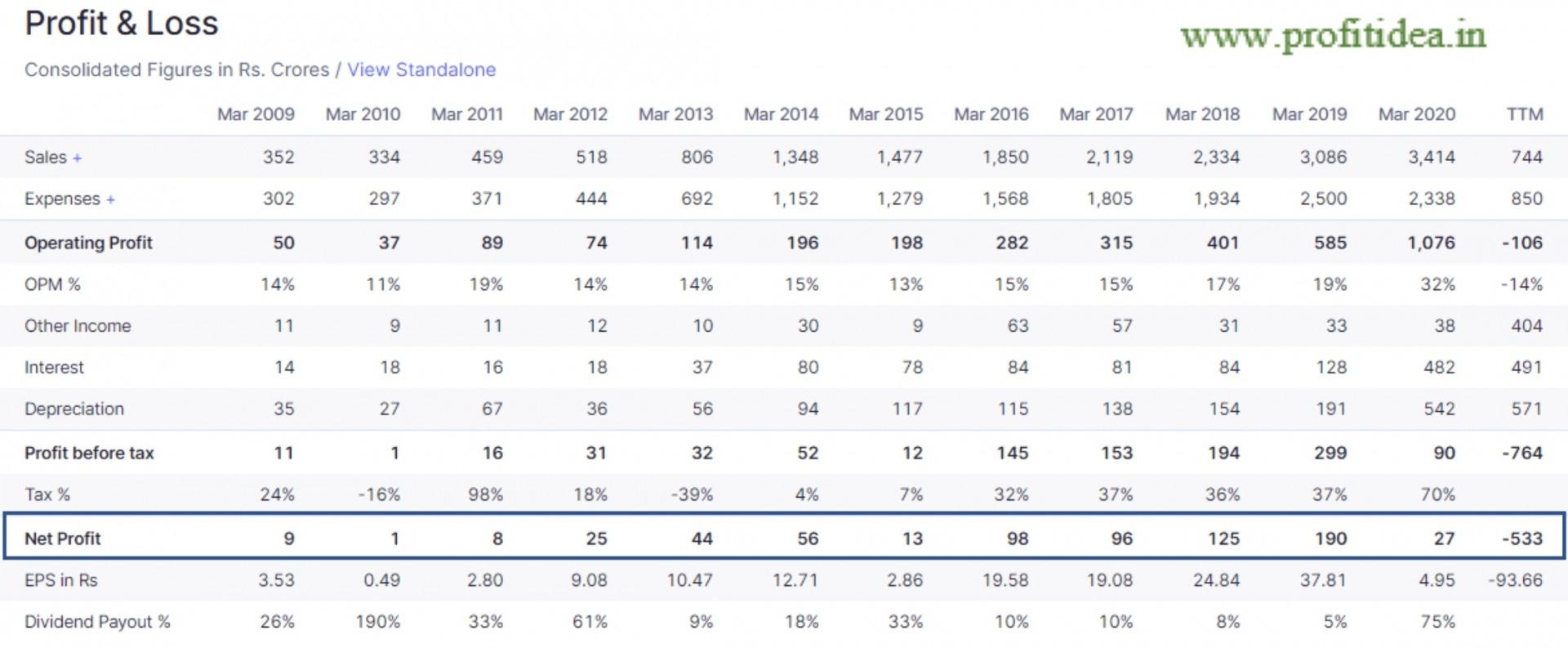 To understand this point, we need to do a simple calculation (addition) of the net profits of PVR Ltd. From 2009 to 2020, as shown in P&L.
If we calculate, the total net profit the company has earned is ₹692 crores. in all those years, now look at the TTM net profit of the company, you'll see a loss of ₹533 cr. which is 77.03% of all the income they've earned till now.
That means whatever they've earned till now, they lost 77.03% in just one year, which is huge, and as we are aware of the covid situation their sales are not going to increase if the situation remains same, I wonder how they are going to survive in the near term with so much burden.
Concern for Future Growth:
As the covid cases are rising again, I wonder their sales will increase? but one thing is sure that people will be reluctant to go the cinema halls. People have social stigma and many will not prefer to go out even if things comes to normality. This will create further pressure on revenues and ultimately on net income. The loss will increase in times to come. This can lead to wealth destruction for shareholders.
Earnings Trend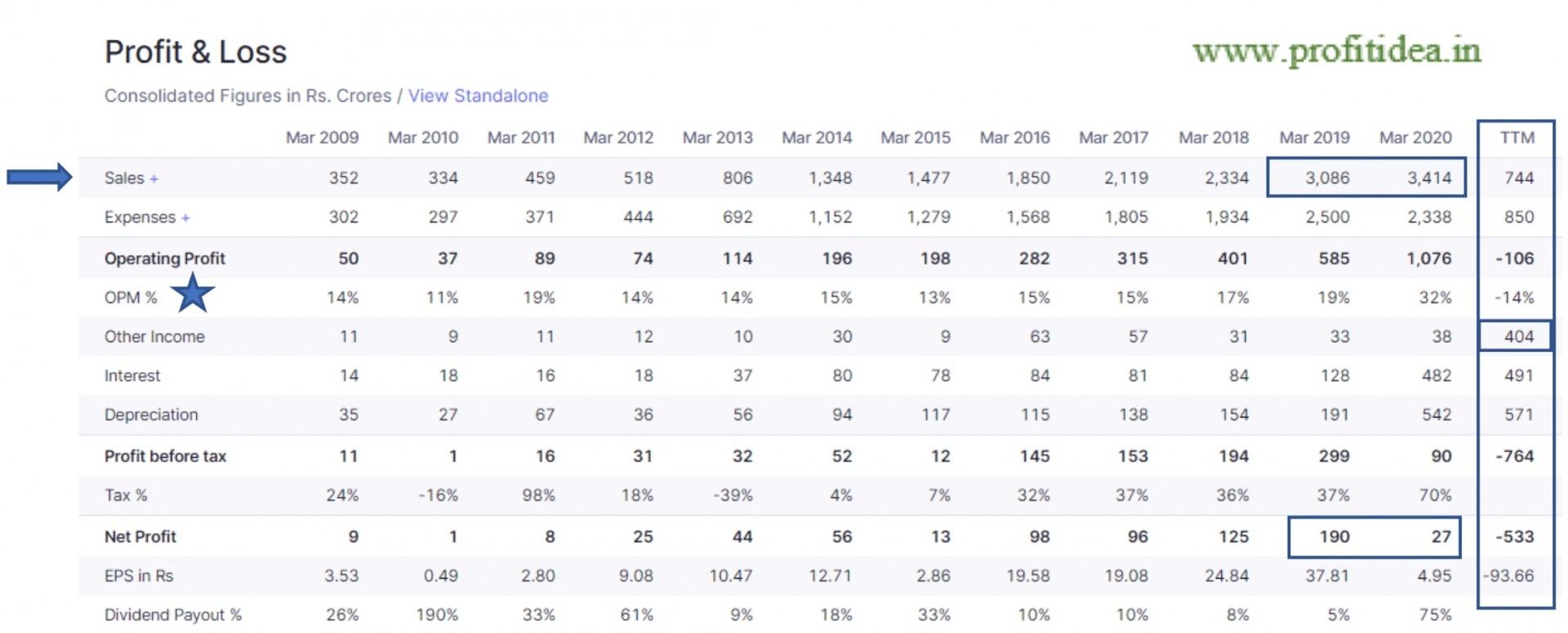 · If we see the year 2019 and 2020, the top line is increasing but the bottom line's CAGR is - 85.79% (If the top line is increasing and the bottom line's CAGR is in negative, simply avoid that company)
· And the covid impact on the company has an operating loss of 106 crores, in fact they had other income of 404 crores, which means they are selling assets to sustain in the market and if the conditions don't improve it will be worse for the company.
· And even after other income of 404 crores company is not able to turn the loss into profit, there is still a loss of 533 crores.
Net profit and sales
Net profit as percentage of sales back in 2009 was 2.55% which is quite low.
And now in 2021, its -71.63% which is even more sad; company which was performing well now have to go through this due to these circumstances.
Shift within the industry
Situation is bad for every company working in the same business as PVR. It's something we need to understand that right now the businesses of these companies is nearly zero. And no one would like to go in theatres unless this COVID situation gets any better. The businesses will get affected with time, it's better for investors to stay cautious. What we need to focus on is the fact that offline cinema halls have seen serious decline and online players has seen huge rise. This rise is here to stay. Another important point to note is the fact, that it will not be easy for players like PVR, INOX, Carnival Cinemas, etc to make their presence online. It is not as easy for them to compete with online players like Netflix, Amazon Prime Videos, etc.
Listen to : PVR Promoter Ajay Bijli View Focus on few words like "Business Shut" "OTT Shift" "God Willing" "Staff Reduction".
Finding from Annual Report :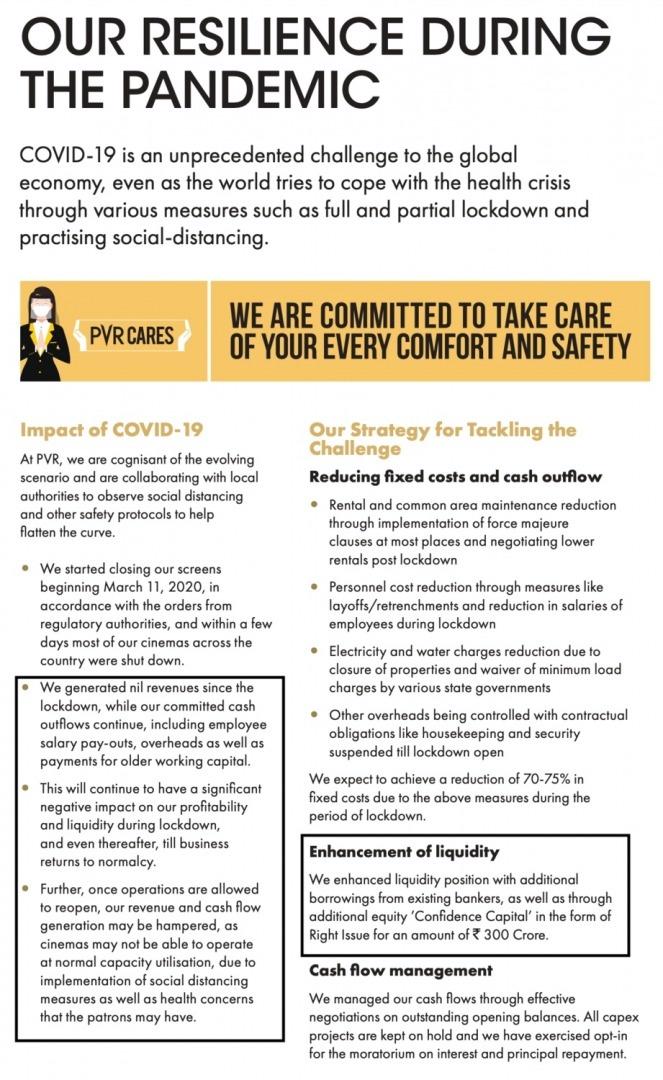 "Try to establish the value of the company. Remember that a share of stock represents a part of a business and is not just a piece of paper." - Walter Schloss
3) Investors' Approach (Logical Thinking)
Net profit margin should not be less than fixed deposit rates.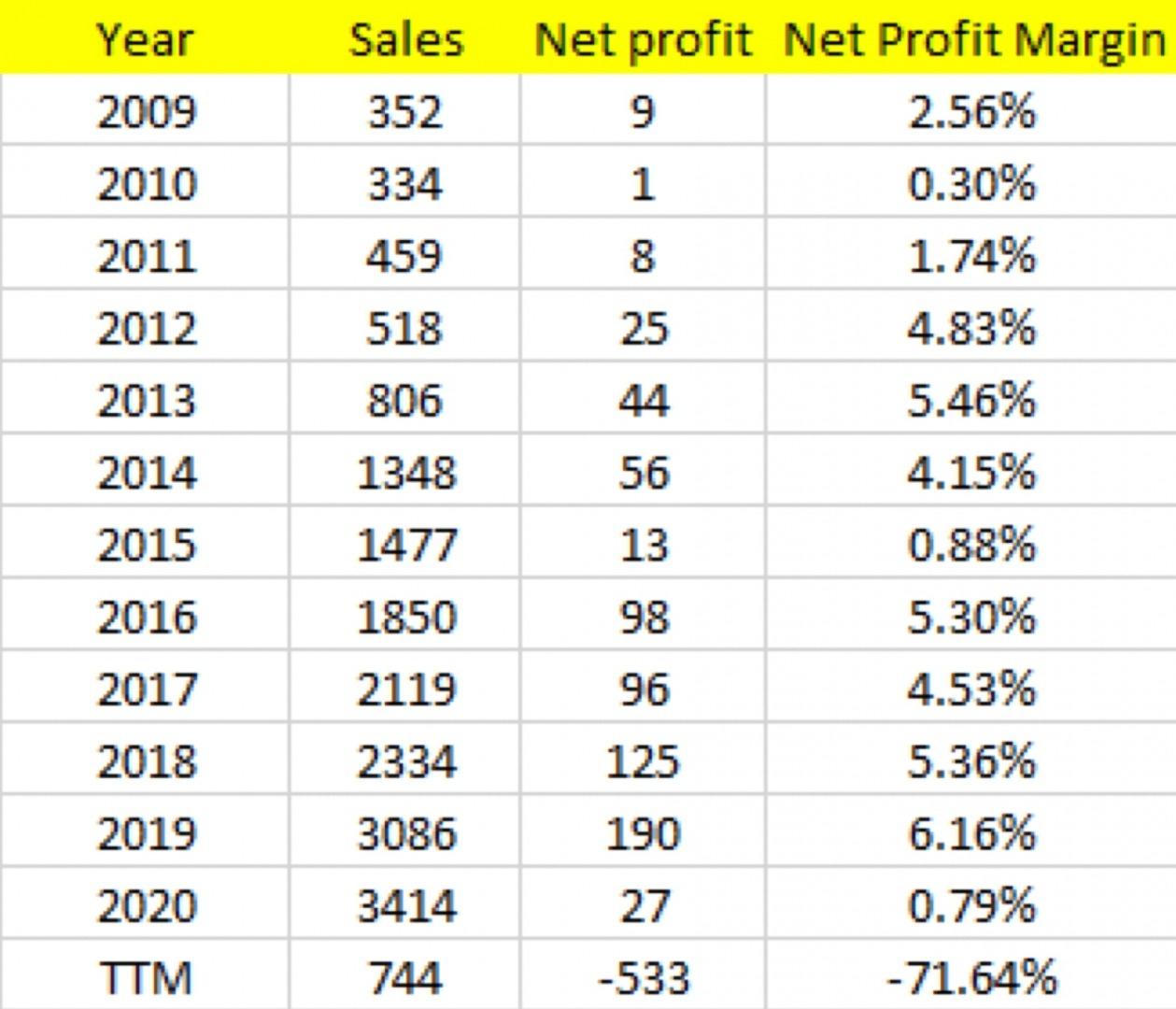 If we calculate the net profit margin of PVR, the margins are way too less as compared to businesses and bank rates provided in INDIA. With these figures, it is not easy for this company to survive for longer duration in the market and investors will be reluctant to invest.
4) Low and Decreasing Promoter Holding
The promoter holding has been low, in fact the promoter holding has been decreased in the last few years. It is a sign of worry that even the promoters don't have faith in the business & they are slowly cashing out.


As of today, latest promoter holding is 17.06% in the company which is quite low. It is decreasing and probably goes on to show that they can also foresee the future.
5) D/FCF
FCF here means Free Cash flow, i.e., Cash Flow from Operations – Investment on Fixed Assets + Sale Proceed.
FCF = 787.04 - 385.05 + 1.29 Cr
= 403.28
Debt to Free Cash flow or D/FCF shall not be greater than 3x in any case, if the results are greater than 3 that is a big sign of worry.
Debt includes both Long term as well as Short Term Borrowings.
PVR Debt is 4900 cr.
D/FCF = 4900/403.28 = 12.15x
As in case of PVR; Debt to burden is greater than 3 which is a sign of BIG CONCERN.
6) Increased Secured Loans


A major point we need to look here is, their borrowings has increased by 378.38% from last year. Borrowings got increased YOY and investments got decreased, specially with challenging business conditions, company can easily fall in debt trap. It will get extremely difficult for them to come out of this massive erosion.
Implication, the company will need a large amount of money to pay the interest of this debt, with operating loss it will be near to impossible, it is a bad sign.

No business ----> with rising interest cost ----> Debt Trap
Debt Trap
Company should not be highly leveraged,
High Debt means the company is operating on a high leverage. Plus, the finance cost eats away the earning.
Current level of debt is 4900 crores. Which is approx. 4900/7578 = 64.66% of Market capitalisation. Debt numbers are not comfortable with the kind of business outlook. Hence, debt trap.
Interest Coverage Ratio
The interest coverage ratio is a debt and profitability ratio used to determine how easily a company can pay interest on its outstanding debt. The interest coverage ratio may be calculated by dividing a company's earnings before interest and taxes (EBIT) by its interest expense during a given period.
Interest cost:
Last year interest cost is 479.84 cr. And the major borrowings have been reported in September 2020.
With negative operating profit, the company will have to sell its assets to even survive in the market or to pay the interest cost. And the day will come when the company might not have any assets to sell. Then the only option will be to liquidate the company.
In case of PVR Ltd.
Interest coverage ratio is
= (-764+479.84)/479.84 = -0.5922
The minimum interest coverage should be 3x or more. Situation looks alarming in PVR case.
Operating Profit Margin
Operating profit margin measures how much profit a company makes on a rupee of sales after paying for variable costs of production.
And in case of PVR, the operating profit margin from the last 3 quarters is negative,
30 June 2020= -914%
30 Sep 2020= -209%
31 Dec 2020= -172%

7) P/FCF
Investors often hunt for companies that have high or improving free cash flow but low share prices. Low P/FCF ratios typically mean the shares are undervalued and prices will soon increase. Thus, the lower the ratio, the "cheaper" the stock is.
The price-to-free cash flow ratio is not the same as the price-to-cash flow ratio. The difference between the two is that the former subtracts capital expenditures from cash flow, thereby leaving cash flow that is available to drive non-asset-related growth.
Price to Free Cash Flow = Market Capitalization / Free Cash Flow
In case of PVR ltd. ratio is 7578/403.28 = 18.79x which indicates an overvalued company.
8) Negative Working Capital
Now most of you might argue that the negative working capital is a good thing, if the company doesn't need any money to manage its business it is considered as a good sign.
Yes, indeed it will be considered as a good sign, but not with DEBT.
If any company has a debt and its working capital is in negative it will be considered as a bad sign for the company.
In case of PVR Ltd. the working capital is -819 cr. with negative earnings yield of -13.30%, Negative EPS of 93.7 along with low ROE of 1.83%.
Please note:
a) The earnings yield refers to the earnings per share for the most recent 12-month period divided by the current market price per share. The earnings yield (which is the inverse of the P/E ratio) shows the percentage of a company's earnings per share.
And the earnings yield of the PVR Ltd. is 1247/(93.7) = -13.30%
b) ROE is a ratio that provides investors with insight into how efficiently a company (or more specifically, its management team) is handling the money that shareholders have contributed to it. In other words, it measures the profitability of a corporation in relation to stockholders' equity. The higher the ROE, the more efficient a company's management is at generating income and growth from its equity financing.
ROE is meagre 1.83%.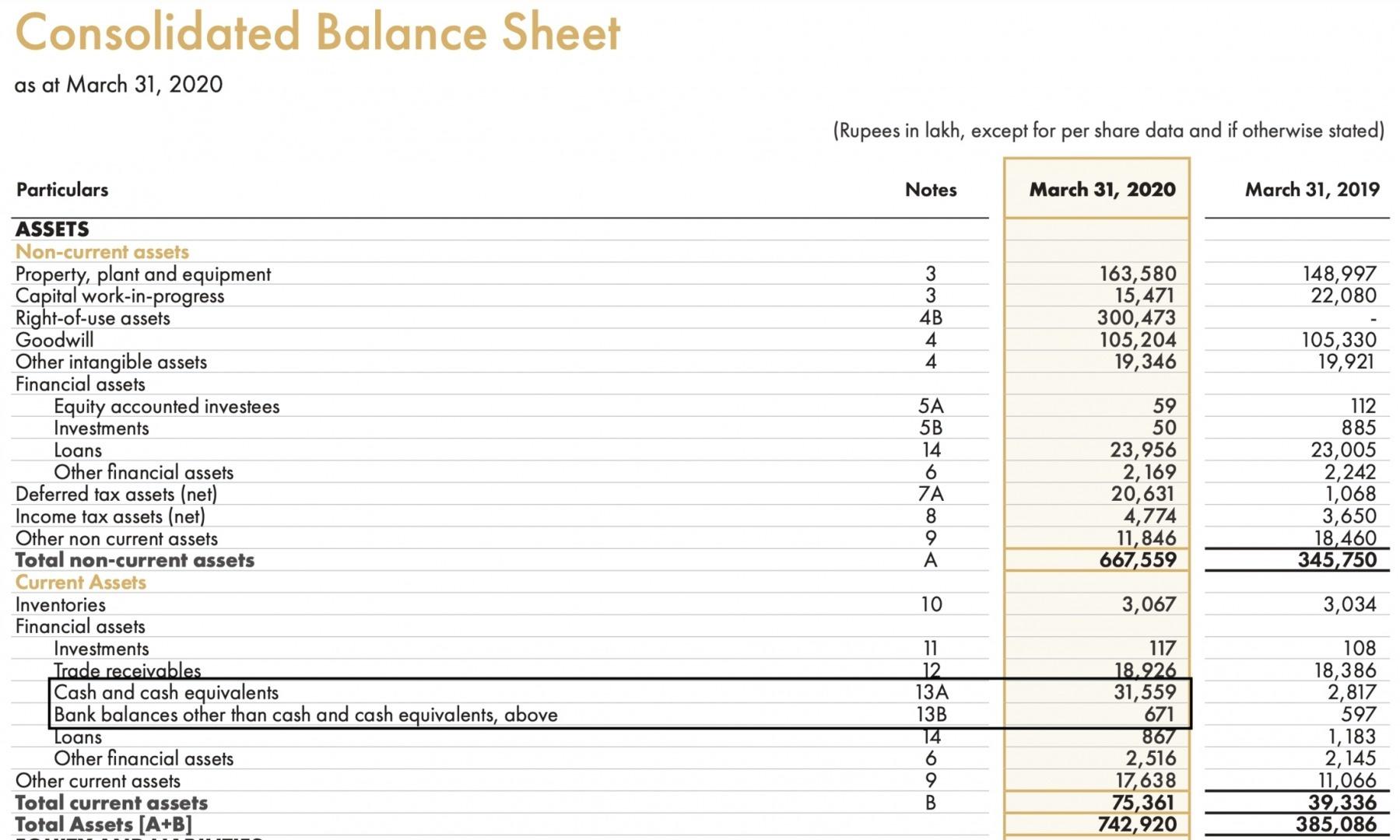 Cash Balance is 315.59 Cr & Bank Balance is 6.71 Cr.



Now, concern is on repayable piling up. Cash will deplete with rising interest burden & it will become difficult for the company to pay.
Here, I remember one very common saying in stock market, "Return of Capital is more important than Return on Capital"
9) Debt to Profit
Debt to profit simply means the debt of the company is what times its profits, and if we look in case of PVR Ltd. Debt to profit is 179x. Which is a huge number in itself.
Recommendation: 'Always choose companies with zero debt'
And ideal debt to profit should be less than 5x.
10) Altman Z Score
Altman's Z-score Model is a numerical measurement that is used to predict the chances of bankruptcy. American Edward Altman published the Z-score Model in 1968 as a measure of the probability of a company going bankrupt.
Altman's Z-score model combines five financial ratios to predict the probability of a company becoming insolvent in the next two years.
The Altman's Z-score formula is written as follows:
ζ = 1.2A + 1.4B + 3.3C + 0.6D + 1.0E
Where:
Zeta (ζ) is the Altman's Z-score
A-is the Working Capital/Total Assets ratio
B-is the Retained Earnings/Total Assets ratio
C-is the Earnings Before Interest and Tax/Total Assets ratio
D-is the Market Value of Equity/Total Liabilities ratio
E-is the Total Sales/Total Assets ratio
Score below 1.1 - Company has high chances of Bankruptcy
Score between 1.1 – 2.6 - Grey area chances are there of improving or even downgrading
Score above 2.6 - Condition is good (Green Signal)
The Altman Z score of PVR Ltd. is 0.82, suggesting that it might face bankruptcy in future.
11. Quality of Earnings:
We shall just not look at the amount of earnings but also focus on quality of earnings or from where is that income coming from in the company. (In Cr.)
Operating profit = (106)
Less: Interest Cost = (491)
Less: Depreciation = (571)
(-1168)
Add: Other Income = 404
Loss - ₹764

This shows us that the current year net loss of ₹764 Cr. even after other income. It is other income which helped this loss figure to remain within 3-digit loss, otherwise if we exclude other income, company has incurred net loss of ₹1168 Cr.
11) Technical Outlook on Chart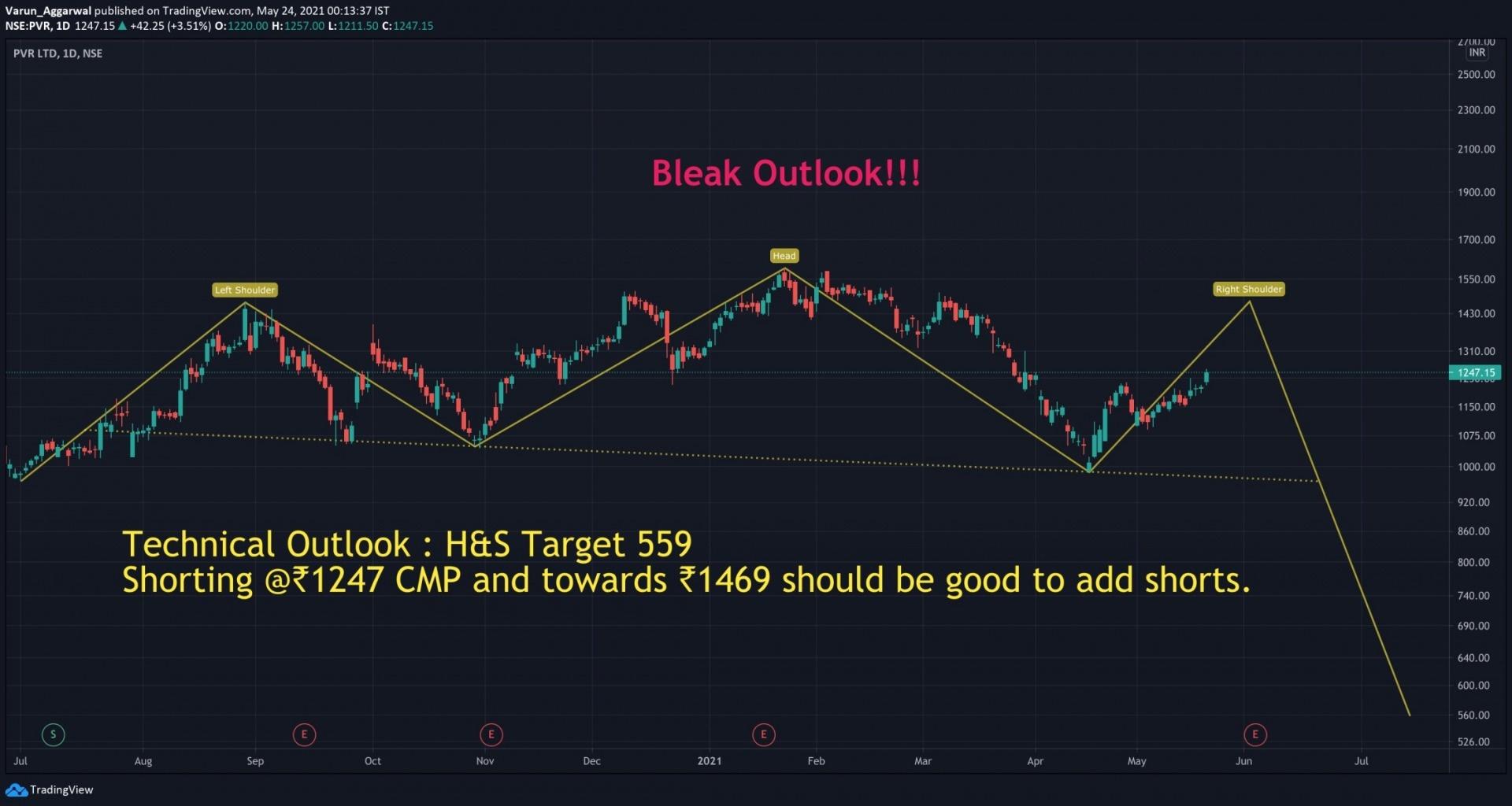 Stock is forming top head and shoulder pattern. It seems rallies are capped and as a trader one should find short opportunities. So even, technical chart outlook is not looking convincing. Time to be cautious on longs.
To end, after analysing all the above parameters we can say that PVR is a good short candidate or definitely one should be cautious on longs; subject to company failing to improve its operational efficiency which looks a sign of concern as of today.
When analysing any company, we should also keep in mind these factors and judge companies over them as they show us the true picture and will save us from investing our money into wrong place.
Remember,
"Time is the friend of the wonderful business, the enemy of the mediocre."- Warren Buffett
Special Thanks to Naman Mehta for helping me in compiling lecture notes. Do post your honest feedback on the case. Your feedback is important. Thanks for reading it.
Your feedback is important, don't forget!


Disclaimer: This is not an investment advice. This article is for informational purposes only, you should not constitute any such information or other material as legal, tax, investment, financial, or other advice. Seek a duly licensed professional for investment advice.