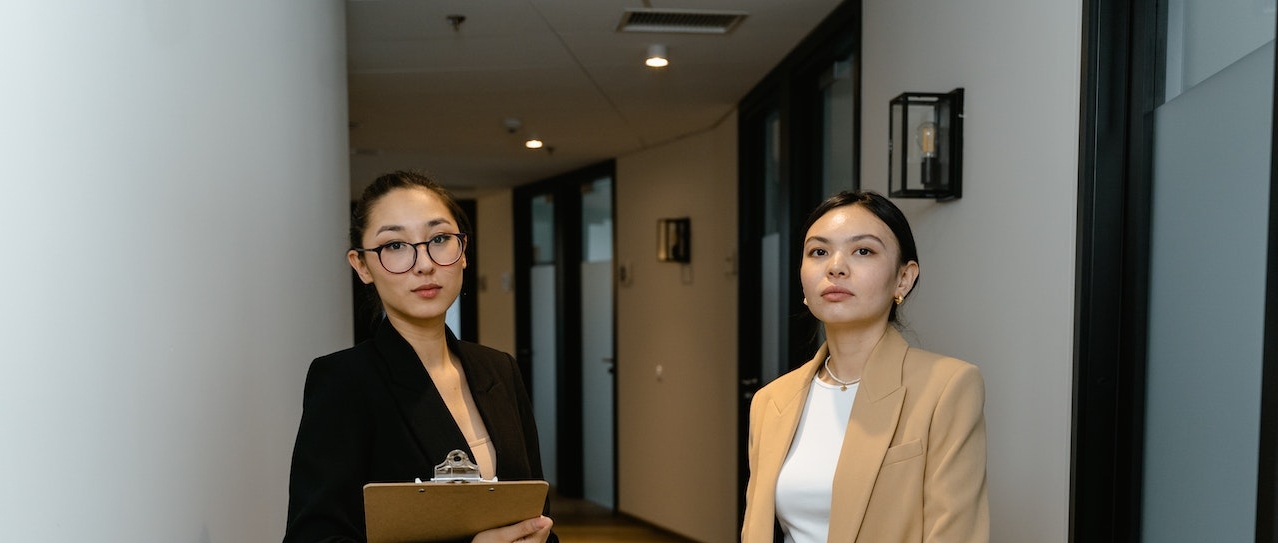 When an organization struggles, it's easy to point a finger at outside factors like market conditions, strategy, or product performance.
It's true that all or some of these could be legitimate reasons outside of one's control that can cause failures or negative outcomes.
However, more often than not, a failing organization boils down to ineffective leadership.
There was a time in the not-so-distant past when every critical decision was left to the CEO or management team. In today's current rapidly changing environment, this practice can and will be detrimental to an organization's existence. Geoff Colvin, in his book Talent is Overrated, wrote, "The cost of being less than world-class is growing, as are the rewards of being genuinely great." Organizations that are world-class have leaders at every level, not just at the top.
Unfortunately, most organizations believe they have leaders at every level because they are designed hierarchically. But, just because you have managers, doesn't mean you have leaders.


All organizations have managers, but that doesn't mean they have leaders.

Instead of going into all the differences between managers and leaders, let's get on the same page about what it means to be a leader. As I defined in Building the Best, "someone whose actions inspire, empower, and serve in order to elevate others." Every manager can learn to lead like this, but it doesn't mean they are.
Leadership is a set of skills that have to be deliberately practiced and honed over time. There is no such thing as a natural-born leader. Sure, there could be people with genetics that have them more inclined to lead, but everyone must work at it to get better.


There is no such thing as a natural-born leader. Everyone can leverage deliberate practice to get better.
Why Some Companies Don't Invest in Their People
It's no secret that some organizations don't invest in their people. The list of reasons is long, but investing in people can be expensive, time-consuming, and ineffective. If that weren't enough, organizations can spend a lot of time, money, and energy to help develop someone, and they could leave. I love the CFO to conversation around this:
CFO Asks CEO: "What happens if we invest in developing our people and then they leave us?"
CEO: "What happens if we don't, and they stay?"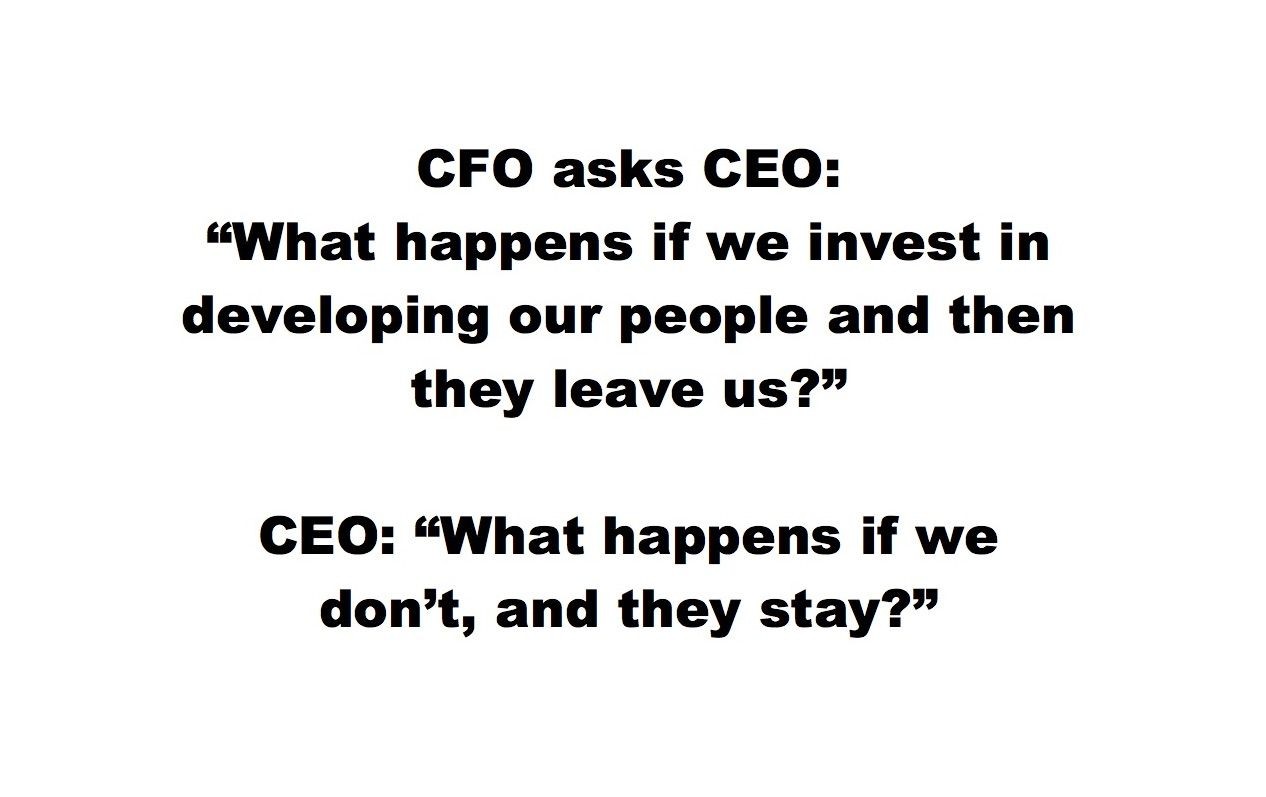 Richard Branson backed this up when he said, "Train people well enough so they can leave, treat them well enough, so they don't want to." While Branson is right, this is an extremely difficult formula to get correct. It takes years of iteration and continuous improvement to both train and treat employees at the optimal level.
Patience is a Virtue in Development
The less talked about reason organizations don't invest in their people is they aren't patient. The world has become so short-term focused, that even the idea of investing in someone to help develop their skills that might not pay off for years or at all isn't in the cards. In the urgency of delivering results this month or quarter, leaders forget that personal growth takes time. The reason is growth isn't a goal, it's a byproduct of what happens when we take action over time.


Growth takes time.


To further this point, consider the quality of your technical skills when you started your first job. Then consider the quality of your skills today. How much better are you? How much faster and effective do you work today than when you started?
I constantly have to remind myself and others that great leadership doesn't always show up in short-term results, but its impact is always realized in people that experience a great leader over the long-term.
Don't Leave Leadership Development to Chance
There is no perfect method or approach that works for every organization when it comes to leadership development or for that matter, employee development. An approach that works for one company might not work for another and vice versa. Irrespective of the approach your organization chooses, here are two simple strategies to ensure you don't leave leadership development to chance on your team or in your organization.
1. Create a Culture of Growth and Learning
Leadership, like many things, is a journey and not a destination. Many organizations know this, and they have built internal leadership development academies/universities. These include things like year-long courses, learning tracks, workshops, one-on-one coaching, mentoring programs, and now AI and virtual reality trainings just to name a few.
These formal learning efforts are fantastic, but if an organization doesn't have a culture of growth and learning it will be a great exercise but that might be where it ends.
Culture by definition, is "the shared values and beliefs that guide thinking and behavior." NFL legend Tom Brady further defined culture well recently in an interview with Patrick Bet-David, "Do we care about each other, and do we care about what we are trying to accomplish?" He continued, "The more you give people the opportunity to take ownership of the culture, the better off a company will be."
Brady is right because no organization can truly care about what they are trying to accomplish together without having a standard that each team members is responsible for becoming the best version of themselves daily. Said differently, companies, where leaders aren't growing, it is a recipe for mediocrity and a slow decline.



When leaders aren't growing, it is a recipe for mediocrity and a company's slow decline.

2. Promote the Coachable
Since the best leaders are learners, being coachable is essential for any leader. More often than not, a person's ability to say or do something significant is built on the backbone of hard work, dedication, and being coachable.
What's interesting about coachability is that it's not a technical skill or inherent to us. It's a mental mindset that anyone can embrace. Being coachable is how you show the world that you have a hunger to get better and are willing to put in the work and effort.


Being coachable is how you show the world that you have a hunger to get better and are willing to put in the work and effort.


Nick Saban, the legendary head football coach at Alabama, constantly preaches to his players and coaches to "respect the critical eye." This means that instead of getting defensive, embrace when someone is coaching you with a critical eye because they are trying to make you better.
Organizations that promote coachable people at every level will have more leaders than those who do not because coachable people eventually pour that knowledge into others. It reminds me of the great Sophia Bush quote: "We are allowed to be a masterpiece and a work and progress all at the same time."
Closing
There are all kinds of tactics and strategies that dramatically improve the effectiveness of leadership development programs, like providing proven content, world-class instruction, or adding one-on-one coaching.
However, if companies have both the desire and commitment to developing leaders, great things happen. Frontline employees provide a better experience to customers, managers will have healthier teams, and parents will have a stronger family structure outside of work.