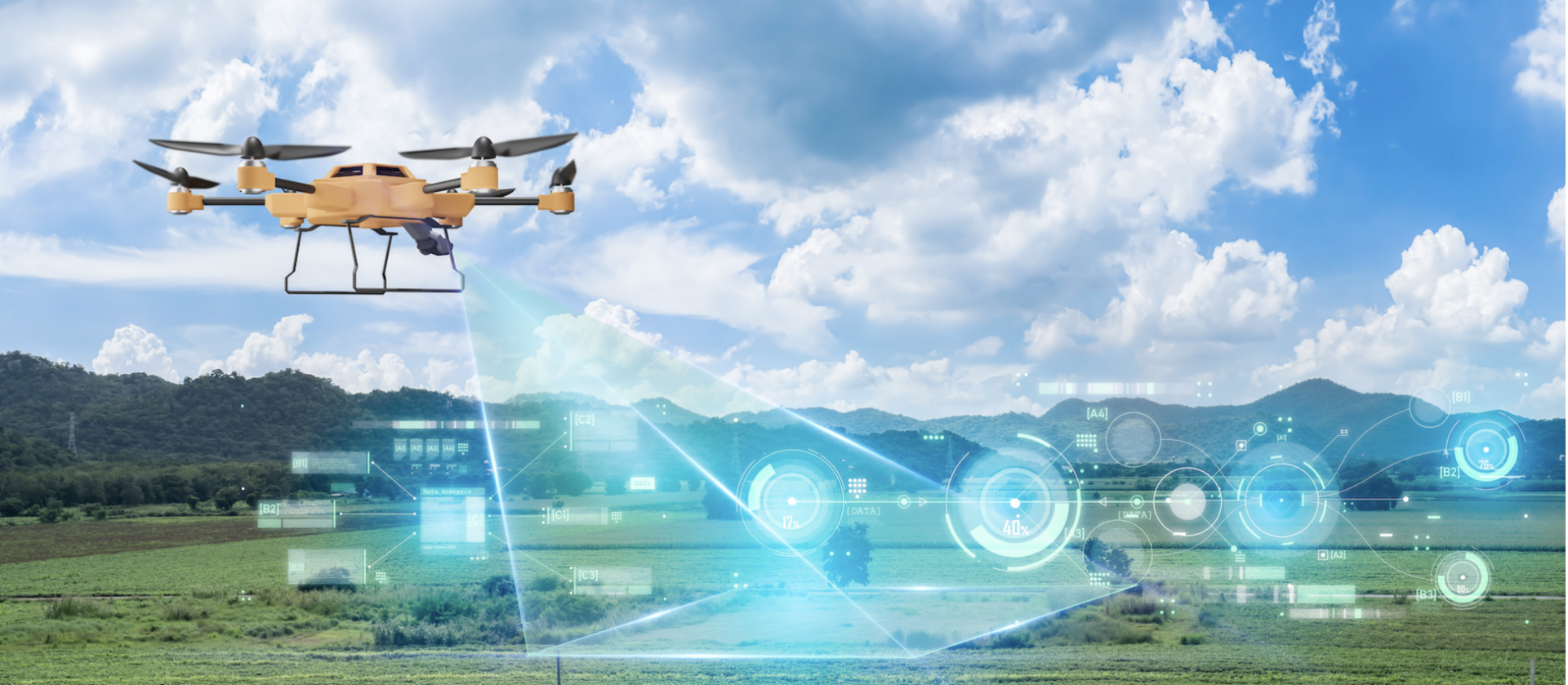 Businesses across various sectors are leveraging drone automation systems to improve the efficiency and effectiveness of their operations.
From logistics to agriculture, drones have proven to save time and be cost-effective.
Businesses worldwide are on a constant lookout for advanced technologies that will help them gain a competitive edge over their competition. One of the technologies that they have found to be useful is the drone automation system. A study shows that the drone technology market is set to expand at a compound annual growth rate (CAGR) of 38.6% from 2023 to 2030.
From logistics to entertainment to insurance, drone automation systems are helping various businesses cut costs, save time and improve their efficiency. The usage of a drone automation system has broadened business operations, such as marketing and collection of data.
However, to unlock the full potential of a drone automation system, one needs to understand what it means and which sectors can use it.
WHAT IS A DRONE AUTOMATION SYSTEM?
A drone automation system is a combination of hardware and software that allows drones to be programmed in a way that they can perform certain tasks autonomously without human intervention. Typically, the system includes a drone, a ground control station (GCS) and software to plan, control and monitor drone operations.
The drone automation system is often designed in a way that enables the drone(s) to operate in a safe and efficient manner. More often than not, it also has features, such as obstacle avoidance, automatic return-to-home and geofencing, which ensures that the drone(s) operates within the designated boundary.
The software component of the system allows the users to plan, control and execute missions by defining various parameters of the drone, such as waypoints and flight patterns. The GCS component is used to not just communicate with the drone but also monitor its flight and collect data during the flight.
The drone automation system is becoming more and more popular among businesses across sectors as it helps improve efficiency, safety and accuracy.
7 SECTORS BENEFITING FROM A DRONE AUTOMATION SYSTEM
Businesses from various sectors are leveraging the drone automation system to increase the effectiveness and safety of their operations. They use drones to reduce the need for human intervention and have precise control over their tasks.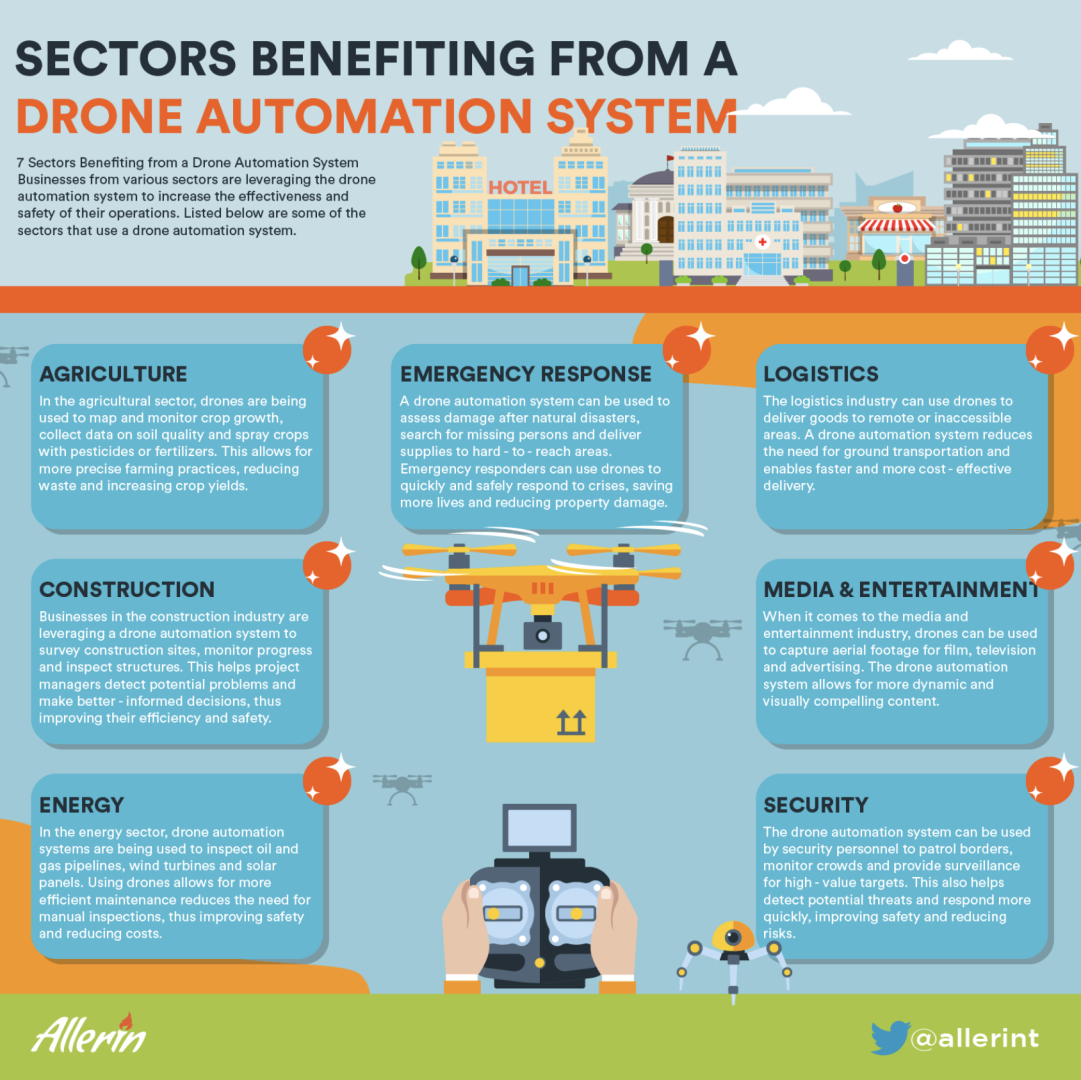 Listed below are some of the sectors that use a drone automation system.
1. AGRICULTURE
In the agricultural sector, drones are being used to map and monitor crop growth, collect data on soil quality and spray crops with pesticides or fertilizers. This allows for more precise farming practices, reducing waste and increasing crop yields.
2. CONSTRUCTION
Businesses in the construction industry are leveraging a drone automation system to survey construction sites, monitor progress and inspect structures. This helps project managers detect potential problems and make better-informed decisions, thus improving their efficiency and safety.
3. ENERGY
In the energy sector, drone automation systems are being used to inspect oil and gas pipelines, wind turbines and solar panels. Using drones allows for more efficient maintenance reduces the need for manual inspections, thus improving safety and reducing costs.
4. EMERGENCY RESPONSE
A drone automation system can be used to assess damage after natural disasters, search for missing persons and deliver supplies to hard-to-reach areas. Emergency responders can use drones to quickly and safely respond to crises, saving more lives and reducing property damage.
5. LOGISTICS
The logistics industry can use drones to deliver goods to remote or inaccessible areas. A drone automation system reduces the need for ground transportation and enables faster and more cost-effective delivery.
6. MEDIA AND ENTERTAINMENT
When it comes to the media and entertainment industry, drones can be used to capture aerial footage for film, television and advertising. The drone automation system allows for more dynamic and visually compelling content.
7. SECURITY
The drone automation system can be used by security personnel to patrol borders, monitor crowds and provide surveillance for high-value targets. This also helps detect potential threats and respond more quickly, improving safety and reducing risks. To conclude, a drone automation system can be used by almost any industry aiming to increase its efficiency and safety. Businesses are slowly but surely understanding the potential of drones and their impact on their operations.