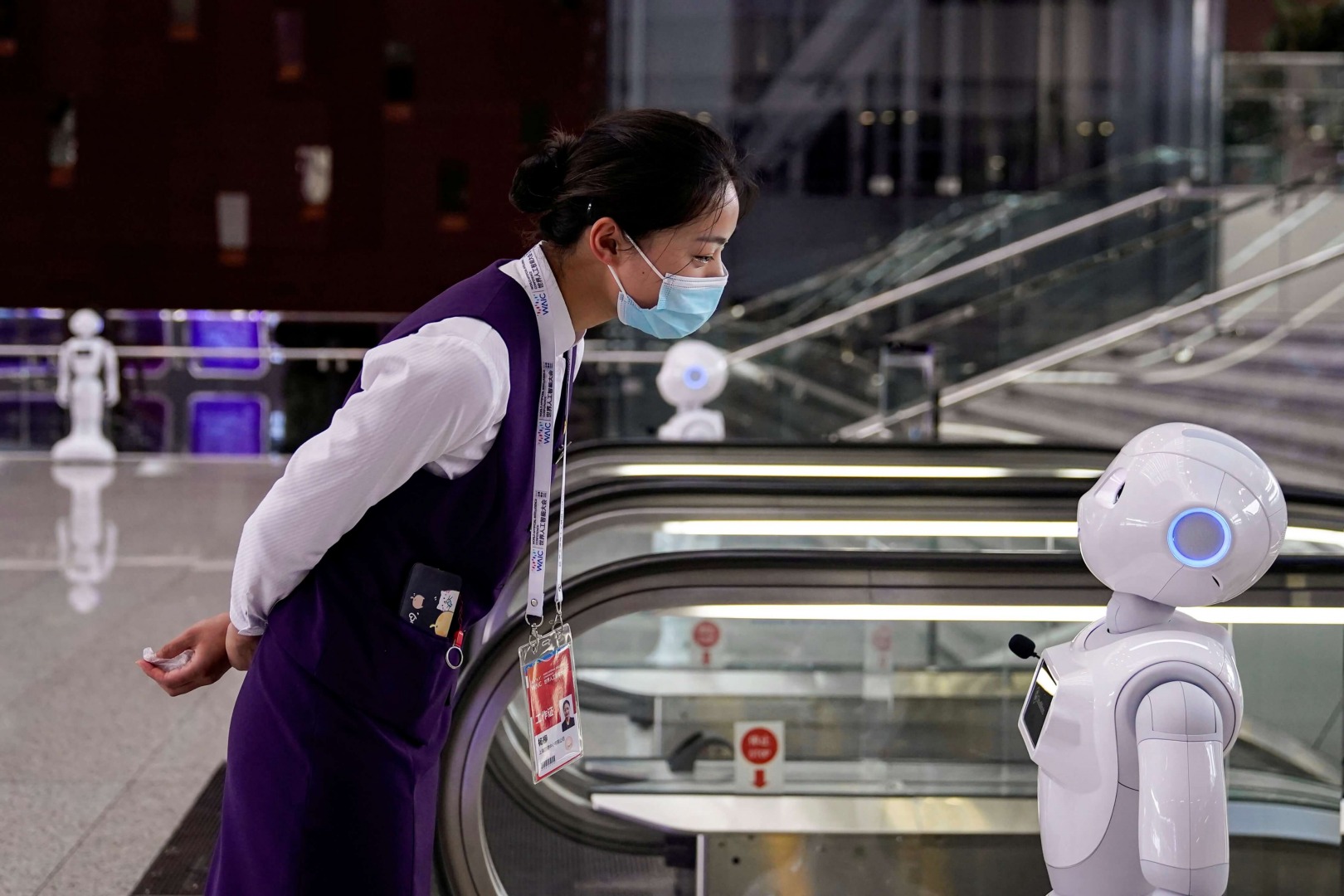 Artificial intelligence (AI) is playing a major role in the current global health crisis.
Technology keeps on evolving in a positive way. Artificial intelligence is revolutionizing the healthcare industry by assisting doctors during surgeries, diagnosis and clinical trials.
The healthcare sector is leveraging a myriad applications of artificial intelligence (AI) in healthcare to save more lives during the Covid-19 pandemic.
AI is reaching a level where doctors can rely on it for treating their patients without a trace of worry.
The European Green Deal 2050 is set to make the EU's economy sustainable. As things stand, most of its goals are unlikely to achieve for the lack of a global AI Strategy and an unreasonably extended planning for such a fuzzy and uncertain ever changing world, e.g., global energy demand is expected to increase by 50% over the next 30 years as a result of population growth and economic development.
The UK is amongst the major economies to embrace a legal obligation to achieve net zero carbon emissions by 2050, focusing on 10 priority areas that correspond with the Ten Point Plan, including: floating offshore wind; nuclear advanced modular reactors; energy storage and flexibility; bioenergy; hydrogen; homes; direct air capture and advanced CCUS; industrial fuel switching; disruptive technologies such as artificial intelligence for energy.
The cost of such a global ignorance is an unhealthy planet plagued with the COVID-19 global pandemic with all sorts of demographic, environmental, economic, political, and socio-cultural problems. [Reported Cases and Deaths by Country, Territory, or Conveyance: The coronavirus (COVID-19) is affecting 218 countries and territories around the world and 2 international conveyances].
The last 50 years has been marked with significant gains in economic growth and prosperity throughout the post-war history, with rising inequality, heightened competition from economies with different models, and existential threats from climate change.
Leveraging Artificial Intelligence to Tackle Covid-19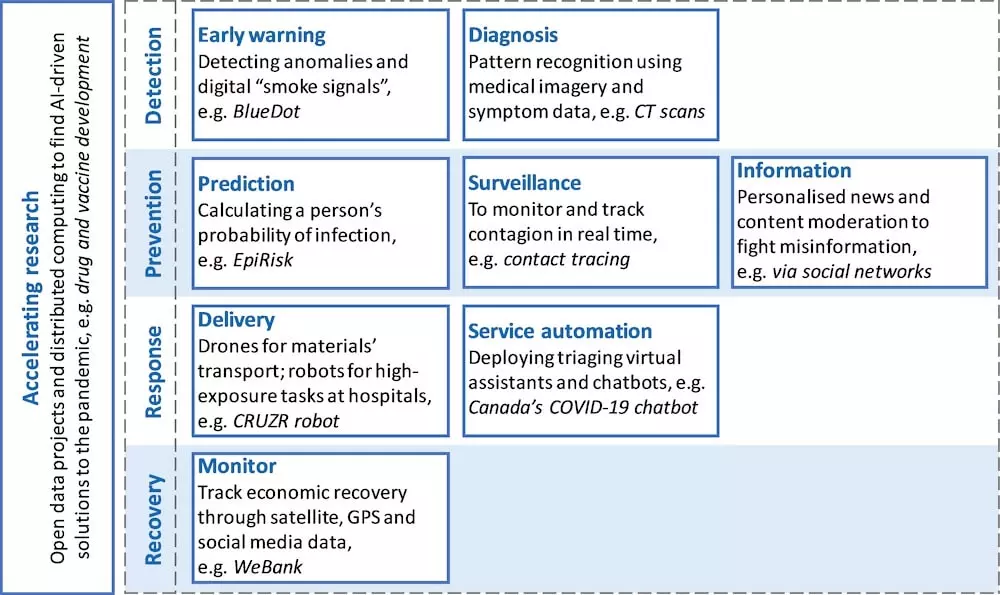 Source: OECD

The health and economic effects of the COVID-19 pandemic are exacerbating socio-economic inequalities between nations, regions and cities, companies, people and places, with many low-income individuals either in high-contact essential jobs with greater health risks, or facing temporary or permanent unemployment.
Globally, the top 10 percent of companies capture 80 percent of all economic profit due to monopolizing talent, high-skill workforces, intellectual property, and other intangible assets and large investments in business models enabled by digital capabilities and AI and big data technologies.
Economists and social scientists also argue that inequalities of wealth, income, and consumption can harm economic growth in the long run, by hindering educational opportunities, human capital formation, and intergenerational mobility.
Climate change also poses a challenge to capitalism through potentially the largest disruption to the market economy. Addressing it will likewise require coordinated, collective actions by firms, governments, and individuals, not just within but also between economies.
Modern forms of intervention may be needed, given the growing and pervasive role of technology, the emergence of new business models, the growing importance of intangible assets, and the changing ways in which individuals participate in the economy as workers, consumers, and savers.
The magnitude of the economic shock brought about by the COVID-19 pandemic creates an opportunity to reconsider how well the current model works and the extent to which it is fit for the challenges and opportunities of the present and future.
These include how to ensure capitalism is inclusive, how to evolve market mechanisms, where to apply them, the role of government and industrial policy, and the role of corporations in the 21st century in addressing societal challenges.
Social and economic inequalities, infinite economic and population growth, climate change and environmental degradation, cyber wars, and narrow AI technologies are all among existential threats to the world.
To overcome these global challenges, the world needs a new innovative growth strategy that will transform it into a social, sustainable, smart, secure and strong world, all in terms of Global AI and Data Solutions.
Towards A Sustainable Smart World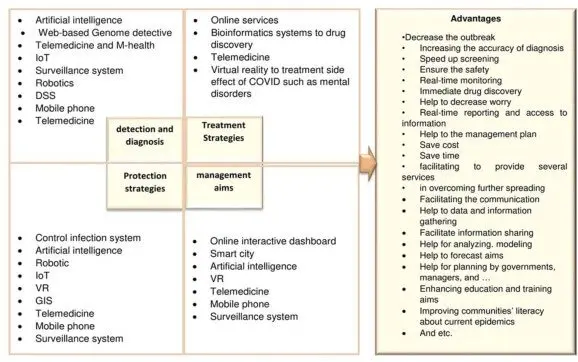 Source: Science Direct


Demographic, environmental, economic, political, and socio-cultural factors are forcing the world to become more efficient, rational, dynamic, intelligent, technological, and self-sustaining, or smart and sustainable.
The 21st century necessitates the wholly new development principles, policies, processes, and objectives: sustainable world strategies, comprehensive planning, integrated models, and globally effective solutions. The world is requested to be synergistically driven by natural capital, social capital, technological and digital capital, like as the Global Internet/Web of Things, Knowledge and Social Intelligence and Renewable Energy Sources. Such a New World is emerging as a Smart World, converging the Cyber, Social, and Physical Domains (see the World Trinity Diagram).
The Smart World concept makes a foundational framework for the whole European Community, its EU 2020 Strategy for smart, sustainable and inclusive growth.
The Smart World concept makes a basis for global industrial initiatives of the IBM's Smarter Planet and Cisco's Intelligent Urbanization as well as the Eco City development models. The power and beauty of the idea of Smart World consists in its capacity to merge three different worlds as one integrated whole: an Eco World, Digital World and Social World.
It thus unifies the ecological principles of the eco world development, the technological principles of the information world development, and the social principles of the human world development. Accordingly, a truly sustainable community (city, region, or country) is a geographical entity which is digitally smart, socially intelligent, and ecologically sustainable. Geographically, a Smart Community can be a real estate/property development, an urban economic development zone, a city, a district, a region, a mega-region, a country, an international community, or a global community.
At the community level, the Smart World is a Smart Eco Planet of intelligent sustainable communities: countries, regions, cities, towns, villages, districts, and neighborhoods. The Smart Eco Planet is mostly about intelligent communities, natural ecosystems, digital economy, intelligent people, smart governance, smart transport and intelligent ICT networks, smart environments, eco-smart living and creative working in intelligent eco-buildings, cities, regions, countries, forming a global innovation ecosystem. Demographic, environmental, economic, political and socio-cultural factors are forcing the urban world to design and implement smart/intelligent cities.
As a special type of sustainable community, a smart city is a unified urban entity with three critical layers/levels/spaces, all planned, developed and managed as its integral parts:
•Digital/ICT/Hi-Tech/Ubiquitous/Cyber/Mobile/Digitally Smart and Intelligent City (Digital/Information Capital; Digital Urban Spaces, Multi-Play Telecom Network, ICT spaces/systems/applications, Sensor Networks, Ubiquitous Computation, Cloud Computing, Network-integrated Real Estate, City OS, Intelligent City Management Platform, Augmented Virtual Reality, Virtual Lifestyle);
•Sustainable/Ecological/Green/Zero-Carbon/Zero-Waste/Eco Friendly/Clean City (Natural Capital; Natural Urban Spaces and Ecosystems, Green Energy Network, Real Eco Estate, Ecological buildings, Green Lifestyle);
•Knowledge/Learning/Innovation/Intelligent/Science/Intellectual/LivingLab/Creative/Human/Social City/Noopolis (Knowledge Capital; Innovation Systems, Meaningful Urban Spaces, Collective Intelligence, Knowledge Triangle/Ecology, Health Triangle, Human Social City, Intelligent/Smart Lifestyle). A truly smart city is three innovative cities in one, the Urban Trinity of Information Cyber City, Intelligent/Knowledge City and Ecological/Clean city.
It is essential to draw distinctions between a smart city, as a unified urban entity, and "smart city" technologies, applications, and systems, as well as fragmented "smart city" projects, lacking the overall conception of the smart city project and resulting in unsustainably over-costly ventures.
The 21st-century smart cities are best to be modeled and developed as the Trinity City of Intelligent ICT networks, Social Intelligence Networks, and Clean Energy Networks. Such Smart Cities, as globally networked innovative ecological urban areas, are key preconditions for the Smart World of Intelligent Communities.