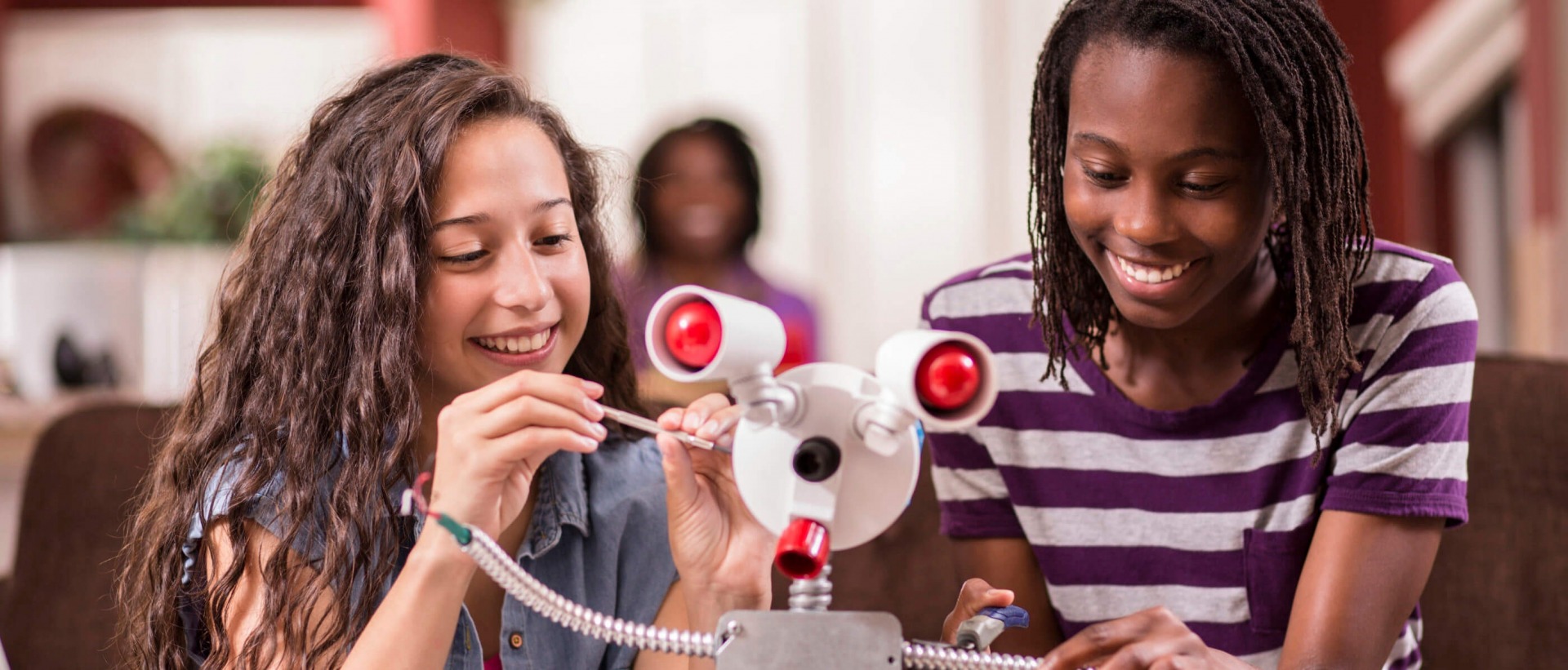 Education is vital – enabling upward socioeconomic mobility and the conduit to freedom from poverty.
The time is now to reimagine a world where every child is included in the decisions that affect their future and can benefit from democratization of access to education and the closing of digital equity gaps. And this must be underpinned by democratizing access to connectivity, ensuring the quality and consistency of that connection, and then moving beyond digital accessibility to enabling true digital literacy too. In UNICEF's 6 Point Plan to Protect Children, at number 1 it states 'ensuring all children learn, including by closing the digital divide'. How can we come together and make this vision a reality?
Connectivity - The Pillar for Sustainable Change
Using the Sustainable Development Goals as a guiding framework for positive change, to achieve the democratization imperative described necessitates a combination of Technology Leadership with Purpose (SDG9), Quality Education (SDG4) and Partnerships for Progress (SDG17). Connectivity is the enabler of opportunity, from individual development to Global Economic Development – with recent research by Ericsson and Imperial College London indicating on average, that a 10% increase in the mobile broadband adoption ratio results in a 0.8 percent increase in Gross Domestic Product.

Examples of actions here include a focus on providing 'Internet for All' in areas characterized by difficult terrain and environmental conditions such as Greenland, to enabling mobile financial inclusion in Africa and Pakistan and to fostering digital inclusion for refugees.
Connect To Learn – The Commitment to Change
Alongside expanding accessibility to connectivity, a wonderful example of embedding a sustained commitment to education can be found in Ericsson's Connect To Learn program, established with the purpose to 'empower teachers, students and schools to deliver a quality 21st-century education and provide young people worldwide with digital skills'. Now active in 25 Countries, it covers four focus areas: access to digital connectivity for schools, empowering women and girls in ICT, providing education in humanitarian contexts and spearheading youth empowerment through digital skills. Vidya Krishnan, Chief Learning Officer and Global Head of Learning & Development for Ericsson and Senior Advisor at Connect To Learn summarises its ethos and trajectory perfectly:
'Making an intelligent, inclusive, empowering future happen-- in the right way AND right away-- is what Ericsson's Connect to Learn program means to me and the future. The future belongs to the learners, and we must literally learn our way into a better future now. Connection fuels this learning, and inclusion and empathy are the preconditions that ensure learning takes us in the right direction'
Access to Digital Connectivity
There are 3.5 billion people in the world who do not have Internet access with 750M people having no mobile network (MBB) coverage, a problem that especially impacts rural areas. One study found that bringing the internet to people currently offline would lift 500 million people out of poverty. As Vidya Krishnan describes:
'Now more than ever, being digitally connected is vital to life itself, and those without a secure and reliable digital connection are at an unacceptably widening disadvantage. For education to happen, you need connection, because when the digital difference between 'have' vs. 'have not' becomes 'know' vs. 'know not', everyone's shared future is at risk'
Demonstrating the positive impact of accelerating broadband connectivity to schools is a key enabler to achieving SDG4 and Connect To Learn is actively supporting this aim. As an example, within its activities in the Myanmar program, the team has deployed a virtual reality training tool. This has four modules, all downloadable from a cloud-based server and with each module designed to allow teachers to practice facilitative methods of teaching that are more student-centric. As Helen Sigalas, a volunteer in Myanmar and Head of Learning & Development (L&D) for Ericsson in South East Asia Oceania & India commented:
'The best part for me was walking into a classroom full of older teachers who had never seen technology before and then wrapping up at the end having opened up a whole new world to them. These teachers are now set to bring this new world into their classrooms and empower the next generation of students to even greater heights'
Education in Humanitarian Contexts

Empowering children and young people through ICT-led education in crisis and conflict situations is another imperative aligning with the final assertion in UNICEF's 6 Point Plan to Protect Children, namely 'to redouble efforts to protect and support children and their families living through conflict, disaster and displacement'. Through the Ericsson Response program, hundreds of employee volunteers have been trained and deployed all over the world, supporting over 40 humanitarian relief efforts in 30 countries. With Zohra Yermeche, moving from volunteer to Global lead for Connect To Learn for the past 7 years this is clearly an inspirational journey for all concerned! As Areli Gutierrez, a volunteer and L&D expert in Ericsson Mexico describes:
'Connect to Learn is a bridge that connects and brings you closer to people who need help. To be able to cross this bridge you must: put your heart, your time and your knowledge in order to do good to someone who is surely in a place far away from you'
Empowering Girls and Women in STEM
There is a significant drop-off in uptake in girls taking STEM subjects and also of applying these skills in actual career choices and it is estimated that the resultant skills shortage is costing the STEM sector alone circa £1.5bn. This makes contributing to improving gender equality by empowering women and girls through ICT such a key focus. An example of this in action is the partnership between Ericsson and the Girl Scouts to support the mission to put 2.5 million girls into a progressive STEM leadership pipeline by 2025. This is critical to meet the urgent need for female engagement, leadership and active visible role models, helping to change the narrative on what a tech career really is. And in my view, then helping to build a contagion of change for greater diversity of experience and move from STEM to STEAM (Eaves 2021).
The Digital Skills Imperative
Education must be aligned to the pace of change and expanding skill needs of Industry 4.0 and this pillar of Connect To Learn focuses on exactly that - contributing to preparing a digitally skilled workforce. And these skills can be applied not only in digital transformation for business but for broader societal impact too, to tackle some of the key social, economic and environmental challenges of our time. A fantastic example of this is the Ericsson-UNESCO partnership centered on scaling up Artificial Intelligence development for young people through a combination of hubs, hackathons and a repository of AI and other key digital skill training courses to be available globally.
As Salvatore Curatella, a program volunteer in Italy, educating children in robotics and programming during 2019 notes, this 'innovative competences' bedrock can make all the difference:
'The new generation needs innovative competences more than ever, and Ericsson with the Connect To Learn programs can make the difference, because learning is at the base of the growth'
Conclusion
To actualise the vision to democratize access to connectivity and digital literacy, and in so doing, enable every young person with Information, Skills, Opportunity and Choice, we need to come together – this needs government, civil society, big business, bleeding edge start-ups, education and research all co-creating and sharing ideas, knowledge, infrastructure and experience. I believe that technology and education becomes the single greatest catalyst for sustainable and scalable economic and social impact progress, at personal, community, national and international levels. And to do this we need to break down barriers and make sure everyone has an opportunity to take part.
If we consider last year's World Children's Day 2020 as an inspirational moment to advocate, promote and celebrate children's rights – I think the Ericsson Connect To Learn program is a wonderful example of how to translate this into open dialogues and meaningful, measurable and scalable actions too. As Zohra Yermeche, Global Lead of Connect To Learn describes, the time is now to build a better world for children across the world:
'Engaging closely with teachers and students, mentors and young innovators, this journey has been one of collaboration, inspiration and determination, leveraging the power of technology to democratize access to quality education for all.'
About the Author
Prof. Sally Eaves is a highly experienced Chief Technology Officer, Professor in Advanced Technologies and a Global Strategic Advisor on Digital Transformation specialising in the application of emergent technologies, notably AI, FinTech, Blockchain & 5G disciplines, for business transformation and social impact at scale. An international Keynote Speaker and Author, Sally was an inaugural recipient of the Frontier Technology and Social Impact award, presented at the United Nations and has been described as the 'torchbearer for ethical tech' - founding Aspirational Futures to enhance inclusion, diversity and belonging in the technology space and beyond.