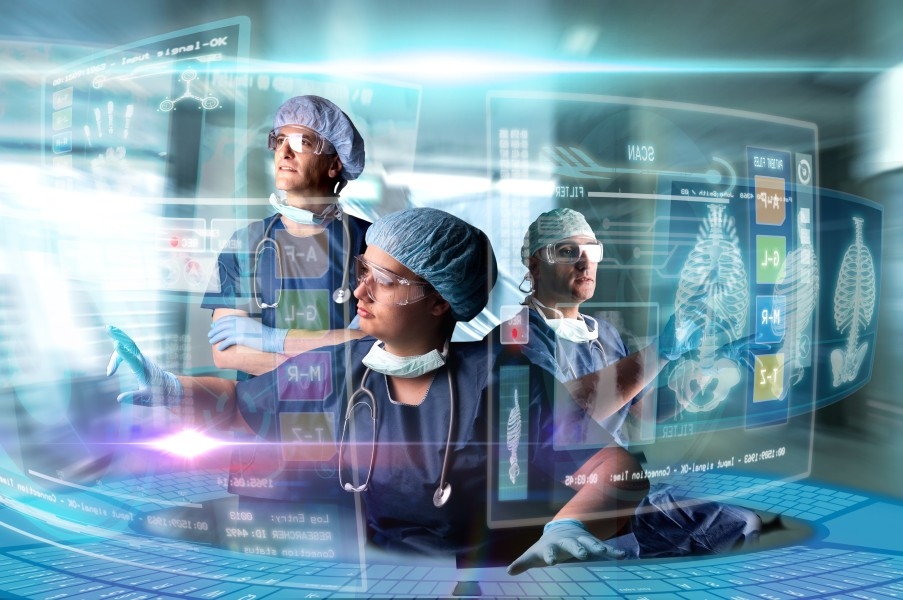 The Metaverse, a nascent immersive reality once considered only "an innovation trend", has evolved and transitioned to the global business ecosystem.
As we enter 2024, the Metaverse landscape will further mature and is projected to develop into a multi-billion-dollar industry, with numerous key players vying for supremacy. The global Metaverse market is estimated to increase from $52.9 billion in 2022 to $231.0 billion by 2027 at a compound annual growth rate (CAGR) of 34.3% from 2022 through 2027. as published by BCC Research. This expansion is fueled by converging technological trends, significant investments, cross-industry adoption, and increasing demand for immersive digital experiences (virtual and augmented reality technologies) powering rising digital economies.
Converging Tech Trends
The Metaverse thrives on the convergence of multiple technological trends. These include advancements in #VR, #AR, #XR, #5G and #6G connectivity, blockchain, artificial intelligence (#AI), and the Internet of Things (#IoT). The integration of these technologies is driving the Metaverse's evolution, making it a more immersive and interconnected digital ecosystem where the physical and digital worlds have merged (Phygital Era).
Investments in the Metaverse
Investors are pouring capital into Metaverse-related ventures, reflecting the growing confidence in its potential and covering a broad industry spectrum.. Venture capital firms, private equity investors, and even traditional corporations are participating in funding rounds for Metaverse startups.
Skepticism in Healthcare, Pharma and Life Sciences
However, the adoption of the Metaverse across industries has been uneven. While entertainment and gaming have eagerly embraced this new frontier, healthcare and life sciences have remained more cautious.The Metaverse has quickly become a playground for innovation in the entertainment, gaming, and e-commerce sectors. These industries have leveraged the immersive nature of the Metaverse to engage customers, create unique experiences, and explore new revenue streams. In contrast, healthcare and life sciences have approached the Metaverse cautiously due to privacy and security concerns. These sectors deal with sensitive patient data, complex regulatory environments, and life-critical decisions. Skepticism is ingrained, stemming from previous experiences with disruptive technologies. However, the Metaverse's potential in healthcare, pharma and life sciences is undeniable. Here are some areas where it could make a significant impact:
Immersive Patient Experience: The Metaverse can potentially create unparalleled immersive experiences for patients. Imagine a virtual environment where patients can explore their anatomy, visualize medical procedures, and interact with healthcare professionals in 3D. This immersive approach can enhance patient understanding, engagement, and overall satisfaction.
Transform Medical Education for Generation Alpha and Beyond. Medical students and professionals can immerse themselves in realistic simulations, practice surgical procedures, and collaborate with peers globally. This transformative approach to education can accelerate learning, improve skill development, and ultimately raise the standard of healthcare.
Disrupt Healthcare Architecture and Design: The Metaverse has the power to disrupt traditional healthcare infrastructure. Virtual clinics, remote monitoring, and patient consultations within the Metaverse can reshape healthcare facilities' physical layout and design. This disruption may lead to more efficient, patient-centric healthcare environments.
Renaissance of Pharma R&D: The Metaverse promises to rejuvenate pharmaceutical research and development. Scientists can collaborate in virtual labs, conduct drug simulations, and visualize complex molecular structures. This research renaissance can lead to drug discovery breakthroughs and accelerate the development of life-saving medications.
Multi-Sensoria's Multi-Purpose Smart Virtual Care: The Metaverse introduces Multi-Sensorial Experiences, a concept where various sensors and smart devices converge to provide comprehensive, multi-purpose virtual care. Patients can access healthcare services, monitor vital signs, and receive real-time medical guidance within the Metaverse. This holistic approach to virtual care can enhance the overall healthcare experience and promote proactive health management.
The Industrial Omniverse's Influence
The Metaverse is just one of the nascent immersive realities. The "industrial Omniverse™ is a fusion of digital twins, augmented reality, and AI converging to redefine industry operations.
Supply Chain Optimization: Digital twins and AI will optimize pharmaceutical and medical supply chains. Predictive analytics will ensure the timely availability of critical medications and medical equipment.
Biotech Advancements: The industrial Omniverse™ will accelerate biotech research by enabling scientists to model and simulate complex biological systems in the digital realm. This will expedite drug discovery and development.
Medtech Innovation: Medical device design and testing will benefit from digital twin technology. Prototyping and testing can occur virtually, reducing costs and time-to-market for innovative medical technologies.
To Sum Up
The convergence of the Metaverse and the industrial Omniverse™ will trigger a new Precision Health Era driven by cutting-edge Multi-Purpose Multi-Omics Platforms. This new era will enable healthcare providers and researchers to harness the full potential of advanced technologies, profoundly reshaping and reconfiguring the healthcare, pharma and life sciences landscape.
The Metaverse(s) evolution and the growth of the industrial Omniverse™ will have a profound and lasting impact on healthcare, pharma and life sciences education. For generations Z and Alpha, this digital transformation will shape how they receive care, learn, and participate in the advancement of medical science. It's an exciting frontier that promises to bring healthcare into a new era of innovation and accessibility.
While healthcare, pharma and life sciences may be skeptical and slower in adopting and scaling these novel immersive ecosystems, the potential benefits are too substantial to ignore. As they mature and address regulatory or cyber-ethics concerns, we expect these sectors to gradually embrace this phygital era, ultimately improving patient care, while advancing medical research and innovation .