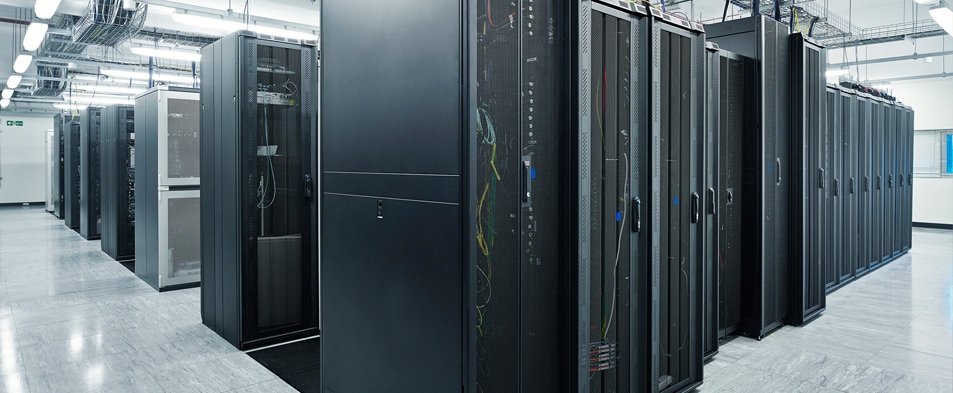 Colocation centers are becoming increasingly popular within IT as large and small companies utilize a shared-space data-storage solution.
Colocation is renting a physical storage space for your company's servers, computers, and other hardware that can be accessed remotely.
It's the ideal solution for large and small businesses that don't have the room to host their own servers or don't have the necessary location security to ensure their data security.
Many of the world's businesses are turning to colocation, known colloquially as "colo," as a solution for their IT infrastructure. Let's explore the benefits of colocation and see if it would be a good solution for your IT infrastructure.
How Does Colocation Work?
Colocation is a large facility where servers store company information, entire systems, and files. Colocation offerings typically include a state-of-the-art, Fort Knox-style building with 24/7x365 running time, security guards, and security systems.
Colocation is offered on an annual pay basis, although longer-term contracts are available. For example, the average cost of a data center in Australia in 2020 was between $250 and $280 per month.
Who is Colocation Ideal for?
Colocation services are the ideal data storage solution for all types of information technology businesses, particularly those that deal with large amounts of customer and company information and need consistent access to that information stored locally and in the cloud via cloud servers. Colocation services offer customers the space to use but still require that customers buy their servers and other hardware upfront.
Colocation's off-site nature means companies can rent space monthly, annually, or for longer periods. These spaces offer server racks, cabinets, cages, and cable drawers. They have built-in back-ups and redundancies, such as uninterruptible power supplies, backup generators, and data backups that can be set to daily, weekly, or monthly timings or on a specific day of each week.
Colocation centers also offer cooling to eliminate the risk of overheating, leading to data loss and other catastrophic events such as fires, which lose data and cost companies millions. Colocation is ideal for accounting firms, banks, software companies, and other IT-intensive companies needing storage solutions for their data and servers.
1. Colocation Offers Enhanced Security
We've all been worried about having our business or home broken into and having our laptops or computers stolen. Now, scale that up to floor-to-ceiling server rooms being wheeled out of your business with data worth billions.
While many businesses that have servers in-house maintain some level of security, sometimes these security features fail, or the business doesn't have the funds to hire a security guard.
With colocation, there is an inherent enhanced security apparatus within what you pay for. These centers often employ round-the-clock, sometimes armed, security guards. They also have state-of-the-art security systems with cameras, motion detectors, and biometric access points. Furthermore, the servers are often protected with redundancies to protect internal data, even if they're somehow accessed on-site by unauthorized personnel.
Colocation security also includes enhanced environmental security, including on-site cooling to maintain a safe temperature for the servers and their information, fireproofing and battery backups alongside uninterruptible power supplies in case of a power cut.
2. Scalability and Flexibility
Whereas a fixed physical server location on-site is limiting to a business (you'll need to purchase more storage space for your servers, and that could mean incurring vast additional debt).
With colocation services, you can scale as your business grows without worrying about where you will store your new servers and if the building you're storing them in is safe and secure. Most colocation companies offer you the flexibility to grow and shrink as your company's needs change, which is perfect for a larger or small business that wants to upscale.
3. Reduced Infrastructure Costs
The flexibility provided by the colocation company also extends to your wallet. While you will still need to invest in the servers and hardware, sharing the space with your provider will reduce your overall expenditure over time.
The cost-benefit of not using a colocation service pales compared to spending the money to share that space and gain the benefits of server and data security, a controlled environment, and additional securities provided by the colocation service provider.
4. Disaster Recovery
Another fantastic benefit colocation centers offer is disaster information recovery and minimal downtime guarantees. These centers often have state-of-the-art fireproofing infrastructure, surge protection, and backup power. In the event of a disaster, on-site or off-site (within your network or mainframe), they can recover lost information and data with minimal downtime, usually within 48 hours of the event.
This disaster recovery assures companies and businesses that their valuable information is safe, despite the infrastructure damage.
5. Better Network Infrastructure
A colocation center offers superior networking infrastructure than your typical office space. From the type of network security available to the bandwidth speeds (between 40 and 100Mbps), your typical office bandwidth is around 20 - 30 Mbps. This allows data to be transferred between two data collection points infinitely faster.
Furthermore, colocation infrastructure typically has access to multiple network carriers simultaneously rather than just one singular carrier for a singular building. This means greater connectivity options and almost zero network connectivity downtime.
6. Outsourcing and Refocusing Opportunities
Outsourcing your network and business information infrastructure will allow you to refocus your efforts on other, more critical aspects of your business. Having your network security and information storage taken care of by a third party is a massive weight off your shoulders as a business owner.
The best part is that you get to maintain control of your servers and networks without any of the hassles that come with physical servers. There are many different benefits to colocating your business's servers and network operations.
Whether you're a small business that's growing or a large business that's expanding, using off-site colocation spaces to store your information makes your life easier and your business operations smoother.