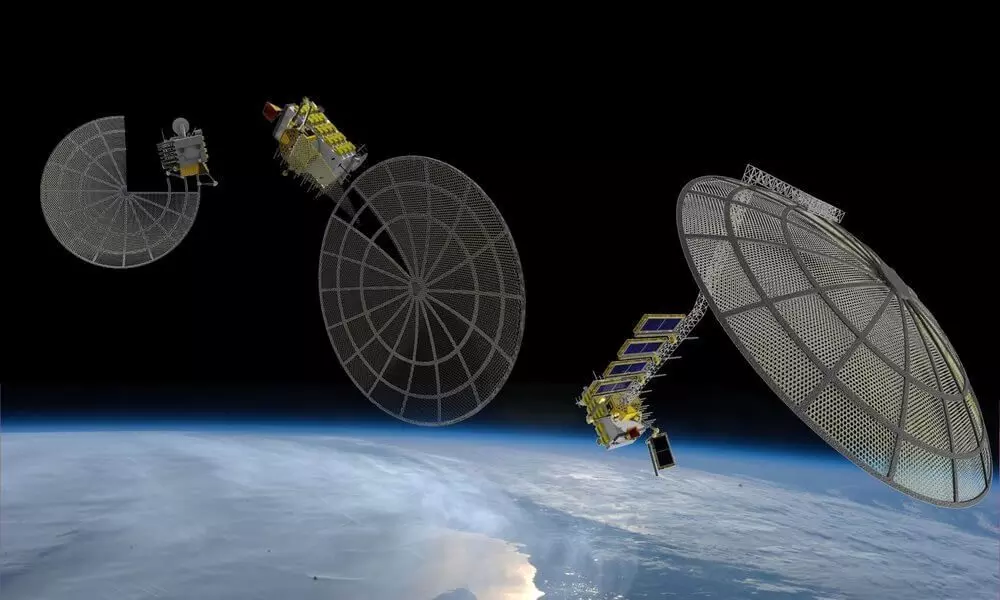 Since the beginning of human space flight, everything that's been sent into orbit or beyond started its life here on Earth.
Some things, like the International Space Station, were constructed in pieces and then assembled in orbit. Still, all of the major work had to be done on Earth. When setting up satellites or space stations intended for close-Earth orbits, that's a feasible option. But when the human race starts spreading farther out into the solar system, hauling everything from a manufacturing facility on the ground won't work as well.
3D printing has opened up a great number of opportunities for manufacturing across nearly every industry. Why do space agencies want to bring 3D printing, and more specifically 3D metal printing, into outer space?
3D Printing in Space
This isn't the first time space agencies have explored the idea of 3D printing in outer space. The International Space Station (ISS), which has been constantly inhabited by a rotating series of astronauts since November 2000, sits in a low-Earth orbit. Getting tools and supplies up to those astronauts can be a challenge. Even today, with the autonomous Dragon capsules launched atop Falcon 9 rockets, it is costly to put together a supply mission. The average supply run costs upwards of $152.1 million for each launch. That means sending up an entire rocket when someone needs a specific tool — or loses a wrench during a spacewalk — isn't feasible.
NASA sent the first 3D printer to the ISS in 2014, which has allowed astronauts to print anything they need on demand. Engineers on the ground can design tools for specific tasks or missions and send the digital file to the space station in the blink of an eye. From there, the astronauts can print whatever they need. There is even a recycling machine that allows the station's residents to recycle plastic waste into filament that can be fed back into the 3D printer to create new items.
Expanding Into the Solar System
The current system of sending large supply runs to the International Space Station periodically works, for now, because the destination is so close that even off-peak launches can reach their destination in less than a day. But the human race is never content to stay close to home. This inherent wanderlust has sent people across continents and oceans and will continue as they start to explore the stars.
The next major goal for NASA and other space agencies is to put people back on the moon. The Artemis missions aimed for a 2024 moon landing, but the global pandemic and other factors have pushed that deadline back to 2025 or later, with Artemis 1 — the first uncrewed exploratory mission — pushed back to no earlier than March 2022. In addition to establishing a moon base in the southern polar region, there are plans to construct a space station that orbits the Moon, known as Gateway.
The Gateway station will provide support for the Artemis missions but will also serve as a launch platform to send astronauts farther out into the solar system. Mars is an obvious destination, but there are also plans to explore the asteroid belt and perhaps even farther, as technology allows. Currently, aerospace engineers are planning to build the station on Earth and launch it in sections, similar to how the ISS went up, but wouldn't it be a lot faster and more efficient if they could just build it in space?
Bringing 3D Metal Printing Into Space
Both NASA and the European Space Agency (ESA) are working with different companies to explore the idea of bringing metal 3D printing into outer space. The ESA is working with three companies — Incus, OHB System AG, and Lithoz GmbH — to create metal printers that will work in microgravity environments such as on the moon. One of the partner companies, Incus, already works with lithographic-based 3D printing, which is more material-efficient while still providing a superior finished product. This could be vital for projects printed on the moon or in space where the engineers can't just pop over to the store to get more filament.
NASA, on the other hand, is exploring the concept of Electron Beam Freeform Fabrication, or EBF3, which it has been developing for more than two decades. Initially developed to improve Earth-based construction, this sort of metal 3D printing could easily see adaptations for applications in the aerospace industry, including manufacturing things in orbit or on the Moon.
The biggest benefit of bringing metal 3D printing into outer space is that it removes an extra step in the development and deployment process. Engineers on Earth will still design, prototype, and test things. But instead of building them here and then launching them into orbit — at great cost and with a negative impact on the environment — they could simply transmit the specifications to a 3D printer waiting in orbit.
As human space travel moves farther into the solar system, it may not even be necessary to send supplies from Earth. Many of the asteroids that orbit inside the asteroid belt are made of iron and nickel, as well as a variety of precious metals that could be harvested for manufacturing and fabrication. One such asteroid, dubbed 16 Psyche, is reported to contain so much metal that it could be worth up to $10,000 quadrillion — more than the economy of the entire planet.
This is still theory at this point because the technology is in its relative infancy, but the potential is there for aerospace engineers and space-savvy businesspeople who are willing to reach out and grab it.
The Problem of Cold Welding
There is one major challenge that 3D printing in space presents, especially if the technology evolves to the point where it can fabricate things in the vacuum of space. Cold welding is a process that occurs when two clean and bare pieces of metal come into contact with one another in space. Here on Earth, the oxidation layer that develops as soon as something is exposed to the atmosphere prevents cold welding. In space, without oxygen, cold welding can occur instantly if two pieces of metal touch, sealing them together permanently.
This could prove to be a challenge for manufacturing items in orbit, but it could also prove beneficial if used correctly. Imagine being able to assemble a spacecraft or other useful tool in the blink of an eye without the need for additional equipment or tools? Testing would be necessary to determine how effective cold welds are when meeting quality control standards, but when paired with 3D metal printing, this quirk of molecular physics could prove to be quite a valuable tool.
What Will the Future Hold?
It is impossible to say what the future of human spaceflight might hold. But for the moment, things are looking bright. 3D metal printing in space could eventually give the human race the ability to create spacedocks, like those seen in science-fiction properties like "Star Trek" or "Starship Troopers," and build new spacecraft from the ground up to explore the solar system and eventually reach beyond it.