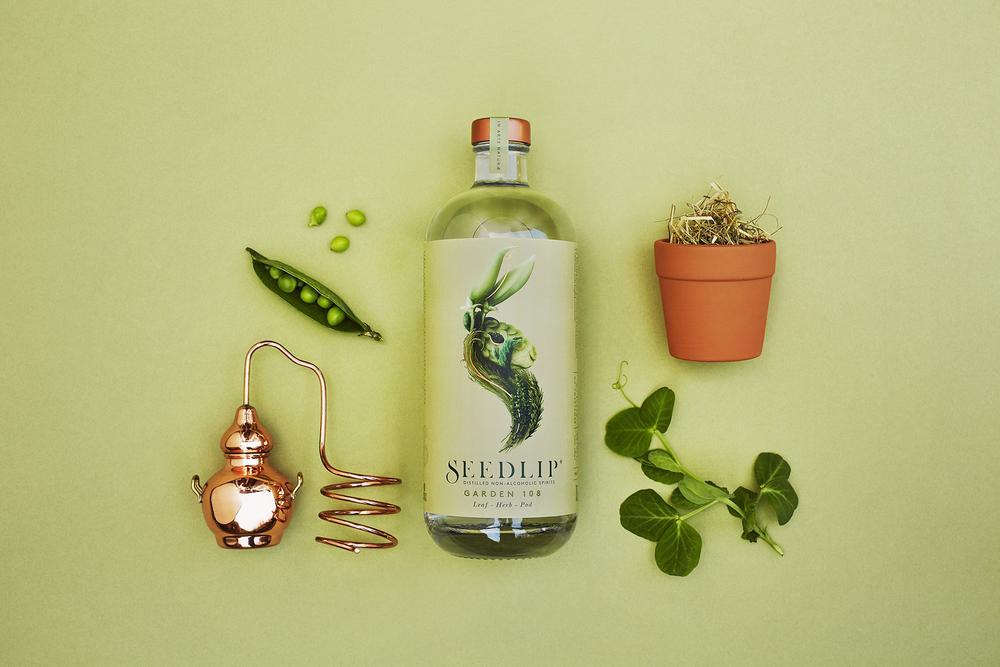 If you are looking to reduce the amount you are drinking in January – or are just looking for something non-alcoholic to drink on a night out - you should try Seedlip. They describe themselves as creating 'The world's first distilled non-alcoholic spirit'. I tested Seedlip and tonic on some hardened G&T drinkers over Christmas and they were pleasantly surprised.
Teetotal: the New Vegetarian
Seedlip is built on a growing trend and a cultural insight. Many people have embarked on dry January as a way to recover from the excesses of Christmas. But a deeper trend is that people – particularly young people – are turning away from alcohol and either not drinking or reducing the amount they drink. In fact, one-fifth of people in the UK claim to be teetotal and 16-24yr olds are less likely to drink than any other age group (source: ONS 2016)
But this presents a challenge if you are going out; what do you drink? There are only so many tonic waters and fruit juice 'mocktails' one can stomach. And these drinks are seen as an afterthought – a bartender will put care and attention into making the perfect Negroni but non-alcoholic drinks are not seen as 'proper' drinks. In many ways, non-alcoholic drinks are as inspiring as the vegetarian option in restaurants 20 years ago.
Stealing Style From Spirits
Seedlip has clearly positioned themselves as the solution to this problem; their tag-line is "What to drink when you're not drinking'. They have taken the design cues from spirits marketing and applied them to an alcohol-free version. And they have also enlisted high-end bartenders to not only endorse and recommend the brand but also to create exciting new cocktails, including a Seedlip version of the classic Negroni – the NOgroni.
Keeping with this premium image they have secured distribution in high-end retailers, restaurants and bars, seeking endorsement and credibility from temples of gastronomy like The Fat Duck and also traditional wine merchants like Berry Bros & Rudd.
Tapping into an emerging cultural trend has been very successful for them. The first 1,000 bottles they produced sold out in three weeks, the next 1,000 sold out within three days and the next 1,000 in thirty minutes. And in 2016 Diageo took a 20% stake in the business.
The Proof is in the Drinking
As well as tapping into an emerging cultural trend they have taken a focused approach to communications concentrating on sampling, partnerships and digital channels. Sampling has been key to getting the brand off the ground and convincing a sceptical audience of that Seedlip is a great tasting and credible alternative to spirits.
Last year Seedlip's founder Ben Branson was on the road more than 240 days running in-store sampling events. And in January over 20 London bars are giving away 500 Seedlip cocktails as part of a Dry January promotion. This complements their premium distribution strategy.
Just Like Ordering a Cocktail
Seedlip has focused on a signature pour – Seedlip and tonic – and has strived to make it feel just like ordering an alcoholic drink as they know that their biggest available audience to steal share from is the gin and tonic crowd.
"Because it sits on the backbar alongside your vodkas, gins and tequila, it's the same experience ordering a Seedlip drink as every other cocktail. Your bartender doesn't have to reach down for the juices, instead the exact same ritual is happening before you, from the jigger to the glass. Seedlip and tonic, it sounds the same, and that is psychologically important to have the same level of effort put into your drinks to have a good time," Ben Branson
And they have gone a stage further and specified Fevertree tonic cleverly piggy backing on Fevertree's disruptive and cooler credentials. And no doubt reasoning that as the people who drink Fevertree have been convinced to try a different brand of tonic water they will be more open to considering a change in their spirit too.
Seedlip is Social
Seedlip has a very strong design focus and, given the opportunity amongst a younger audience who is looking reduce the amount they drink, Instagram is a natural channel to focus on. Not only does it fit their strong design aesthetic but it is a platform with a strong focus on food & drink and going out.
They currently have 29k followers which is a relatively small compared to global spirits brands like Absolut 143k and Grey Goose 248k. But is of comparable size to Sipsmith Gin 42k and Fevertree 69k. But beyond just growing followers they are using paid for advertising on the platform to increase their reach and drive to e-commerce.
A Slip up at Seedlip
For all the care and attention they pay to their ingredients, design, distribution and communication all is not perfect in the world of Seedlip. I recently saw an Instagram ad promoting a Dry January offer of £5 off a 70cl bottle.
A seamless experience took me to their website and then to choose either the Garden or Spice variant. It was only when I arrived at the checkout that I felt the experience fell down. My £5 discount covered the £4.99 delivery charge so I would have ended up paying as much buying direct as I would have done in a shop. That didn't feel like much of an offer.
Furthermore, a quick search online showed Tesco's was offering the same product discounted to £20… and I could get it conveniently delivered along with all my other groceries. Surely a better call to action would have been driving to an existing online retailer – or offering an add to basket option? This would have had the additional benefit of making reordering easier – after all, you don't go to a separate site to buy your Gin.
Credit to the team that I was retargeted 5 days later with a reminder that I'd left an order in my checkout basket. But with the same product being £7.99 cheaper elsewhere that was never going to happen. It feels like they have a disconnect between their onsite sales strategy and their broader retail strategy.
You might feel that is particularly picky criticism for a brand that gets so much right. But then this was an ad about Dry January - and if you're not entitled to get cranky over a bad experience after a month off booze then when are you?