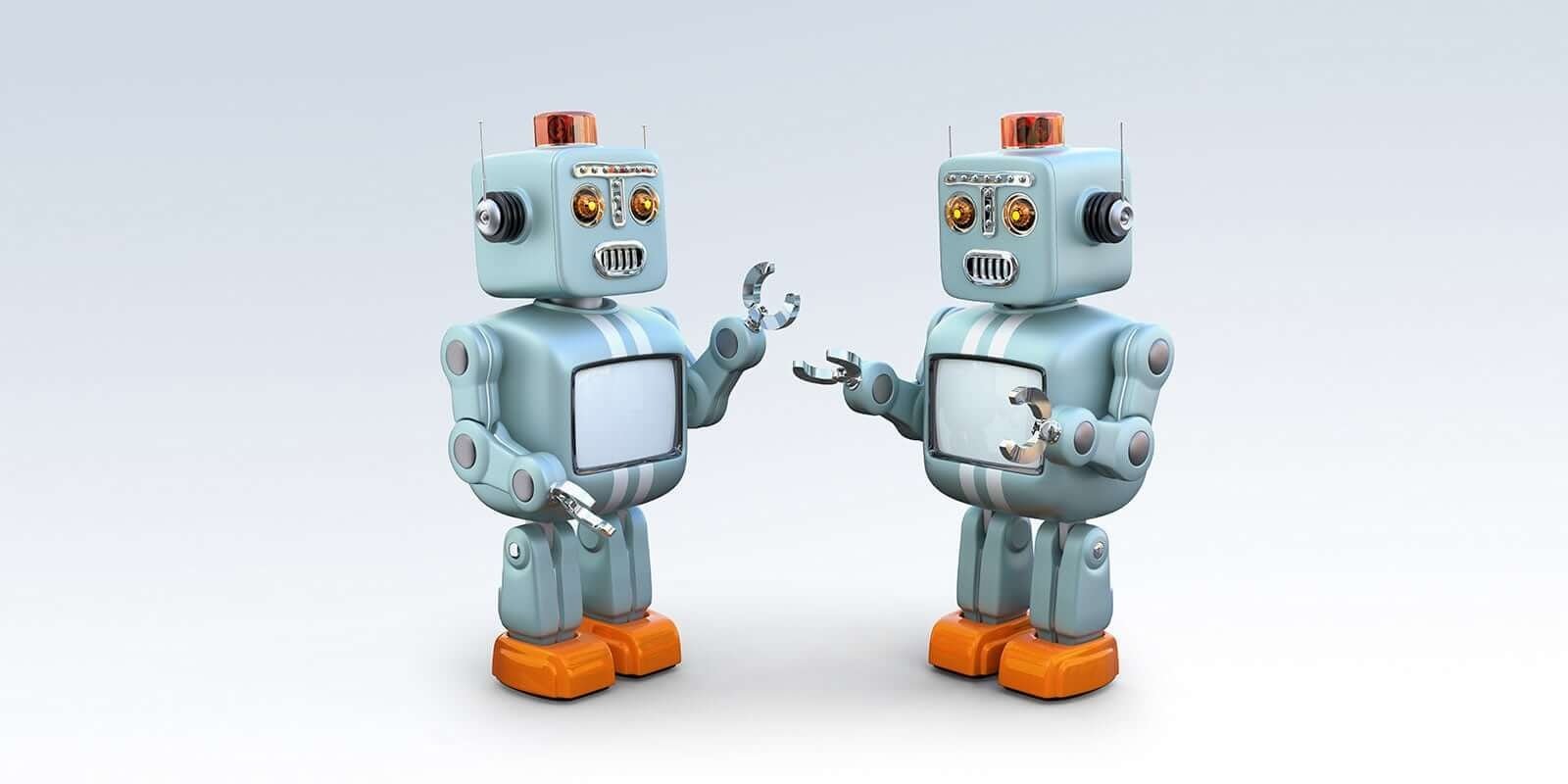 While there are bots helping organizations streamline their workflow, there are also bots ruining the Internet.
Termed as bad bots, these villainous bots can scrape any website, create false web traffic and ad impressions, commit fraudulent activities, and also steal sensitive data.
With a full swing, bots have taken over numerous major business areas like customer service, financial advisory, sales, and so much more in the recent times. Designed to interact with humans via an auditory or messaging interface, bots drastically increase productivity, enhance revenue flows, and streamline business operations. The excitement for bots across various organizations has never shown any signs of abating; instead, it has always intensified. Since its inception, we see continuous evolution and innovation happening in this space. The bots shining in the market in today's day and time are far more smart, intelligent, and empathetic compared to their ancestors. But along with that, they are also posing threats to organizations and people, unfortunately. How you wonder?
Remember Microsoft's Tay? It didn't even take an entire day for Twitter to turn an innocent bot into a racist. Not only Tay, we also have other news on bots running amok. While this might surprise most of us but in reality, bots have a dark side too. Hackers, fraudsters, and criminals have their prying eyes set on us. They just wait for opportunities to carry out illegal activities. And now, with the help of sophisticated technologies, they have come up with new ideas for turning bots into criminals. These nefarious bots can potentially ruin the Internet, kill organizations, hamper business growth, and also wreck customers trust. Let's check out what a bad bot can really do:
Understanding the Threat of Bad Bots
Did you know how much web traffic good and bad bots attract? Shockingly, out of the overall Internet traffic, "good bots account for 20.4 percent, and bad bots account for 21.8 percent."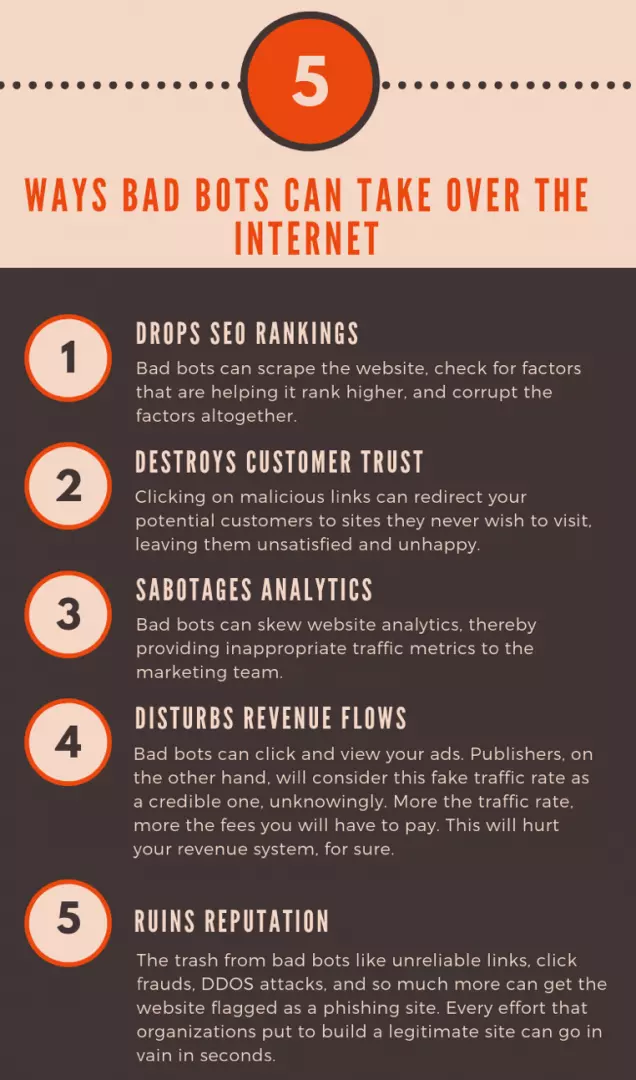 1. Bad Bots Are Droping SEO Rankings
Any website's SEO ranking relies on multiple factors, ranging from good content to accessible URLs to credible hyperlinks to fast loading time, and so on. But, bad bots can destroy and plummet any website's ranking. These bots can scrape the website, check for factors that are helping the website rank higher, and corrupt the factors altogether. These scraper bots are specially designed and programmed to crawl through websites, steal unique content, and publish it somewhere else without citing the source. The author will be unaware of such an activity. The search engine might take the duplicated content as unique, thereby hurting the original author's website rank. Have you heard of DDOS attacks? A DDOS attack is executed by botnets, where a single victim is being targeted and attacked. The attack causes the website to crash down and become inaccessible to people. If the website is down for a long time, then it can have a tremendous impact on the SEO ranking too.
2. Bad Bots Are Destroying Customer Trust
Imagine a hacker litters your site with lots of malicious backlinks and you are unaware of this activity. To be frank, it is really very difficult to spot such activity because it barely looks different from the original site. In fact, possibilities also lie that you wouldn't identify the difference. But, the search engine detects it, regardless. It will recommend people not to open your site and flag your site as spam. Goes without saying that people will not visit any spam sites. Such a situation will create a negative impact on customers regarding your brand. Besides, clicking on malicious links can redirect your potential customers to sites they never wish to visit. Such an experience will surely leave customers unsatisfied and unhappy.
3. Bad Bots Are Sabotaging Analytics
Website analytics paints a better picture for organizations to gauge the overall effectiveness of their site. Marketing teams can keep track of the traffic rate, customer base, and success of ads posted online. But, bad bots can turn the situation the other way round at any time. For example, organizations include forms on their website to collect information about their to-be clients. With these forms, organizations can draw insights on the traffic rate. But, hackers trying to dirty the website can train the bad bots to fill forms and create fake profiles — this way website analytics can get skewed, providing inappropriate metrics to the marketing team. Besides, we all know that businesses promote their products on the Internet. To do so, companies have to pay a handsome amount of money. But bad bots can be programmed to click on these ads just like humans. Organizations might think that people are visiting their websites, but in reality, it is the bot.
4. Bad Bots Are Disturbing Revenue Flows
What if bots crawl through your website, gather sensitive data about products, and then send it to your competitors? If this happens, competitors will get a clear comprehension of your business strategy, product pricing approach, and customer response rate. Competitors can then refine their business plans to gain an edge over you. Such an act will surely ruin your economic stability. Besides, we know that bad bots can click and view your ads. Publishers, on the other hand, will consider this fake traffic rate as a credible one, unknowingly. More the traffic rate, more the fees you will have to pay. And this will hurt your revenue, for sure.
5. Bad Bots Are Ruining Reputation
Imagine that the website content you had specifically crafted to attract more visitors is being stolen and duplicated for some other website, without your permission. And people stumble upon the copied content before the original content on your website. Obviously, they will think that you have plagiarised the content. If such a situation occurs, it will ruin your company's reputation.
Besides, the trash from bad bots, like unreliable links, click frauds, DDOS attacks, and so much more can get your site flagged as a 'phishing site.' Every effort that you had put to build a legitimate site can go in vain in seconds.
While there is no infallible security system to prevent the negative activities these bad bots commit, organizations can at least carry out a preemptive approach to secure their sites. Wonder how? For example, organizations can include advanced traffic filter that will help them remove the irrelevant attention from bots. Whereas, to mitigate DDOS attacks, organizations can deploy a Web Application Firewall, leverage cloud platforms for data storage and change your network infrastructure. Better than any other option, organizations can leverage blockchain for preventing DDOS attacks. For fighting against plagiarism, they can install a robust, easy-to-use, and effective tool like Copyscape that not only checks whether your content is being duplicated but also defends your site as legitimate. Also, companies should regularly keep a check on their SEO ranking. If their SEO ranks fall suddenly, then it is an indication that the website is infested. Or, easier than all, simply opt for vendors who hold good experience in mitigating the abusive and ill effects of bad bots.