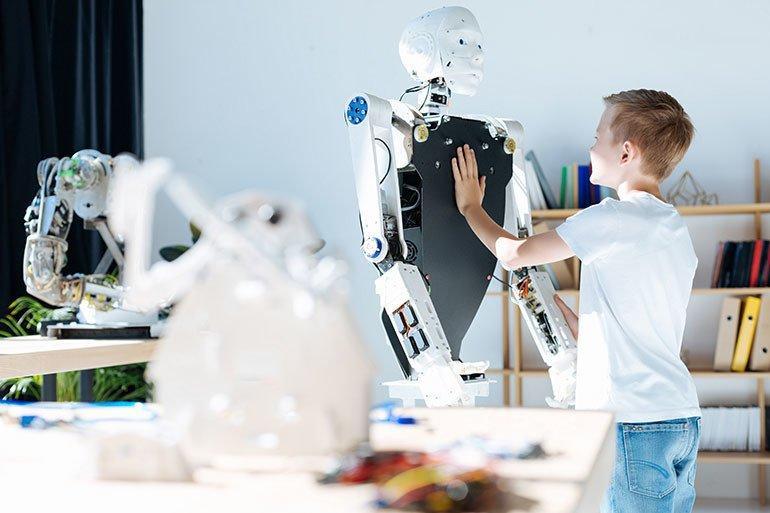 Social robots are coming to transform our lives. Are we ready to enjoy their company?
Social robots are artificial intelligence systems that are designed to interact with humans and robots. Social robots may be autonomously controlled, which helps them to interact independently with people and things in their environment, or through remotely controlled systems that allow these robots to act through telepresence at a business meeting or as a companion in the medical industry. Social robots are programmable devices that operate in a structured environment and have limited interaction with humans. They exhibit social behavior in recognizing, assisting, and following their owners. Artificial Intelligence and social robots are working together to minimize human work and enhance cost-benefit analysis when employed.
Social Robots for Customer Experience
According to the U.S. Department of Commerce, 93% of all retail sales come from physical stores. This highlights the importance of retail stores in the American economy. However, in a physical store, customers usually get ignored for numerous reasons, such as lack of workers, a lot of customers visiting a store at the same time, and so on. A Fortune 500 American company has recently developed a customer service robot that speaks multiple languages and helps customers find their items. In today's competitive business environment, marketers must be able to attract, satisfy, and serve their customers to gain more revenue. A social robot can play a significant role in revamping the way a store operates. A social robot can analyze customers, as well as their needs, check on customers for their experience with the store service, enter into a dialogue with the customer based past shopping habits. Social robots engage with customers after analyzing their consumer decision journey and help them obtain the desired items from a store. Additionally, social robots can be used to gather opinions, reviews, and feedback from customers. This will help retailers to better understand their customers and alter their business strategy in case of any negative feedback. They can help retailers to gain more knowledge about their customers and their perception of a product.
Social Robots for Therapy and Education
Social robots could also be considered an emerging field of therapy and education. There has been an enormous increase of projects where social robots help groups of people with special needs, such as people with dementia or autism. Social robots can be used to provide educational goals to children suffering from autism spectrum disorder (ASD). Autistic children face a difficulty with understanding just about anything in general,and researchers target these areas to help these kids learn better and learn comfortably. Robots can be a useful tool for teaching social skills to children.
Artificial Intelligence has utilized haptic technologies, including social robots, that are proving helpful for the betterment of human life. Entrepreneurs and academicians have united to create social robots that care. Social robots are undoubtedly becoming our new charismatic friends in an automated future.