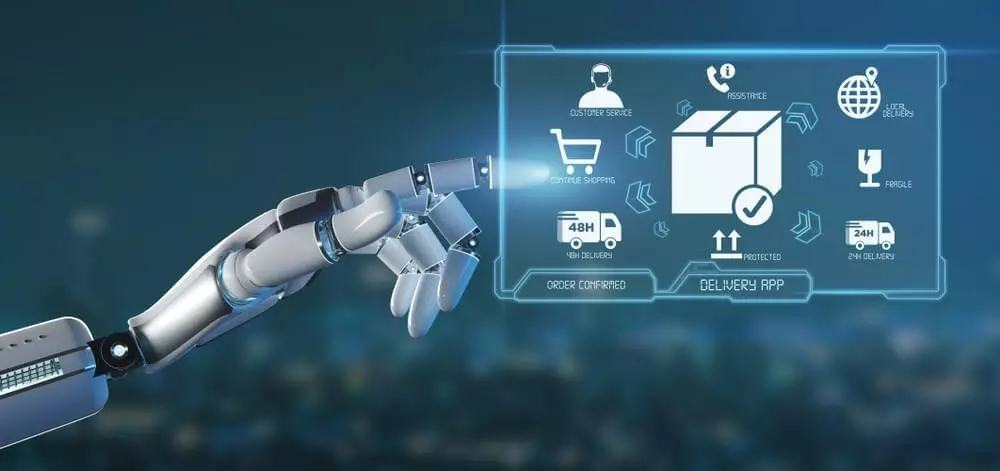 Innovation is a key factor in determining the success of any organization, but many companies struggle with it because they haven't measured it properly.
It's hard to measure something as intangible as an idea, which is why tying innovation to a business outcome is crucial. By understanding how innovation can mitigate supply chain disruptions, add value to customers, reduce dependency on high-cost suppliers, optimize working capital and engineering capacity, companies can be driven to innovate and innovate in the right areas.
I'm honored to participate in the Dell Technologies Innovation study and share my point of view. The study, which is a global benchmark assessing organizations' innovation maturity, provides a powerful snapshot of how businesses are innovating despite unprecedented uncertainty caused by global pandemic and rampant inflation.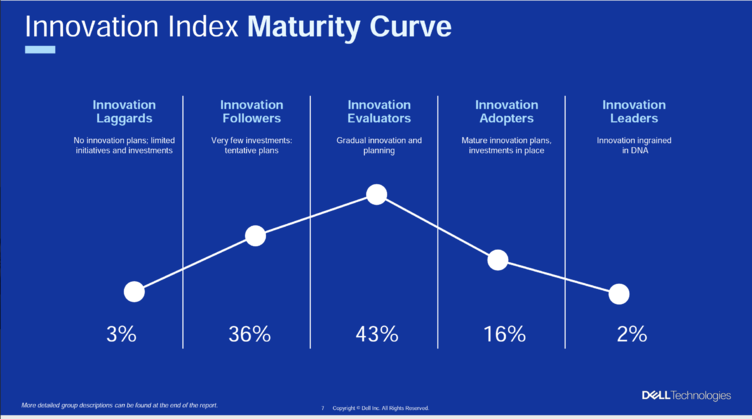 The innovation index categorizes organizations based on how accomplished they are as innovators. It gauges whether their people, processes, and technologies aid or hinder their ability to innovate in stable and uncertain times. 6600 Respondents in 45 countries are placed on an innovation spectrum ranging from Innovation Leaders to Innovation Laggards.
The study goes even deeper by assessing organizations' multicloud, edge, data, anywhere-work, and security efforts to advance and protect innovation. With such a rich bank of data, we can trace correlations and prove that Innovation Leaders and Adopters are more likely to have well-defined technology strategies that clear their path to productivity and profitability.
The study reveals some interesting perception/reality gaps. While 71% of respondents regard their organization as innovative, almost 6 in 10 believe that based on their innovation culture and/or pipeline, their organization won't be relevant in the next 3-5 years. Innovation Leaders and Adopters are 2.2x more likely to accelerate during recession/inflation/economic uncertainty, compared to the bottom two groups, allowing them to emerge stronger and more competitive.
Only 52% are aligning all innovation projects to company goals, and 57% believe their technology is not cutting-edge, fearing they will fall behind their competitors. Furthermore, 45% of BDMs do not regard their IT team as an important partner.
Just 42% of respondents take advantage of cloud economics to accelerate innovation by eliminating large upfront CapEx expenditures. 27% are leveraging colocation and just 34% are embracing containerization and microservices. Only 26% of ITDMs say all innovation efforts are based on data insights. Innovators are securing data in transit, in use, and at rest extremely well to support privacy and security objectives. However, only 47% of ITDMs say they're reducing energy use in the data center, and 50% are becoming more energy-efficient by leveraging Edge/AI/ML to action data insights.
To learn more about the study, please visit: https://www.delltechnologies.com/asset/en-us/solutions/business-solutions/industry-market/dell-technologies-innovation-index-research-report.pdf
Finally, I'm excited to announce an upcoming LinkedIn live discussion on "Embracing Pragmatic Innovation to Build Resilience" with John Roese, Global CTO and Adam Robyak, Field CTO at Dell Technologies. The discussion will take place on March 28 at 11:30am CT. Please register today at: https://bit.ly/3LsBA0C.
Disclaimer: This article is sponsored by Dell. From time to time, Dell invites industry thought leaders to share their opinions and insights on current technology trends. The opinions in this post are the author's own and do not necessarily reflect the views of Dell & BBN Times.