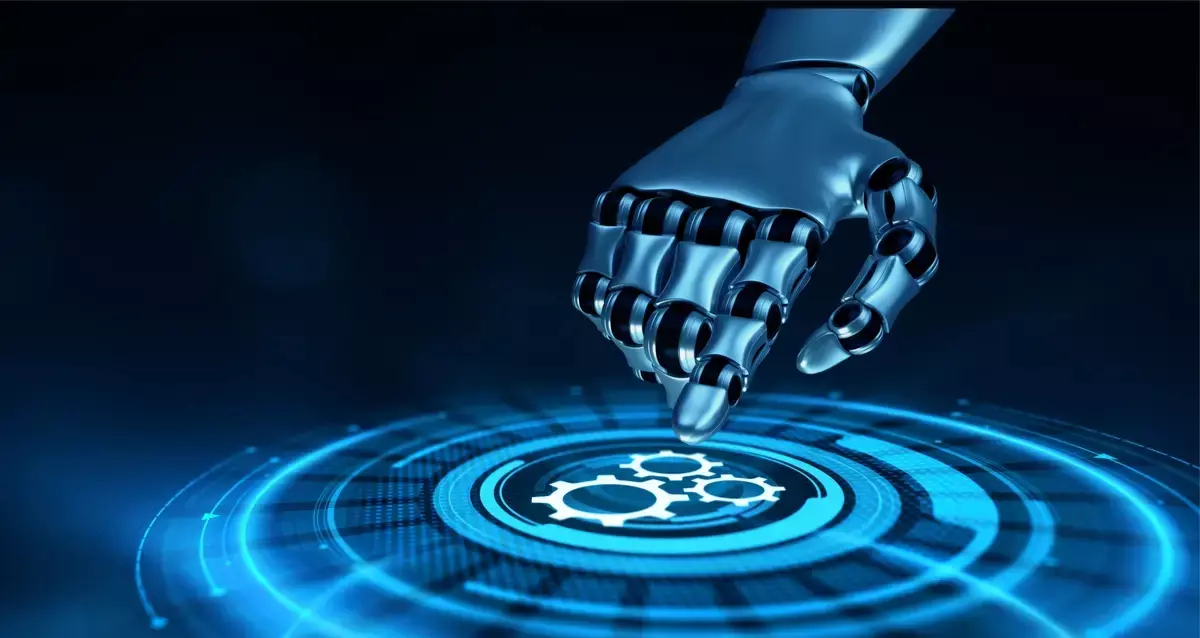 Hyperautomation improves productivity, reduces expenses and generates operational efficiency to help organizations achieve excellence.
Hyperautomation means utilizing automated technology to streamline and smoothen every possible process in a company. It allows for repetitive tasks to run without any human guidance or intervention. Hyperautomation is a combination of robotic process automation (RPA), artificial intelligence (AI), and machine learning (ML). Companies tend to get frustrated due to wavering automation processes implemented in their operation. Hyperautomation, through technical analysis and thoughtful implementation, allows businesses to automate almost any operational process and helps to reduce their frustrations significantly. CVS, a healthcare company, based out of the United States, has leveraged hyperautomation benefits, which helped to improve its accuracy, efficiency, and customer service.
The need for hyperautomation has arisen due to a high influx of remote workforce, which isn't allowing companies to work as efficiently and speedily as they want to. With hyperautomation, they strive to achieve and keep up with demands, meet their regulatory requirements and eliminate obsolete procedures, which results in delayed work and progress. These objectives and needs have driven the adoption of hyperautomation across various industries. A report states that the global hyperautomation and RPA market will grow from $9.2 billion in 2022 to $26 billion by the year 2027.
Difference Between Automation and Hyperautomation
Hyperautomation differs from automation in that hyperautomation extends what automation can achieve.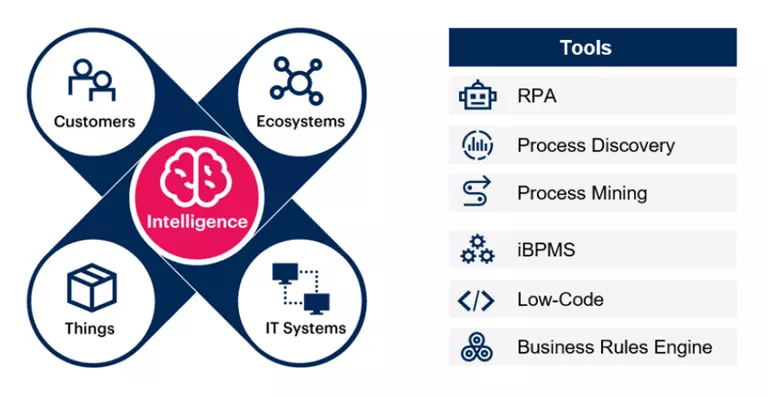 Technology sophistication - In automation, RPA and task-oriented automation are integrated. For hyperautomation, AI-based automation processes are incorporated.

Scope - Automation can only be done from a single platform, whereas in hyperautomation, an environment of technologies, systems, and platforms can be created.

Outcome - Through automation, one can achieve efficient operations. On the other hand, hyperautomation provides intelligent and efficient operational excellence.
Hyperautomation Benefits to Businesses
Using the correct technology and tools, hyperautomation can provide sustainability, better results, and more return on investment. Let's discuss some hyperautomation benefits in detail.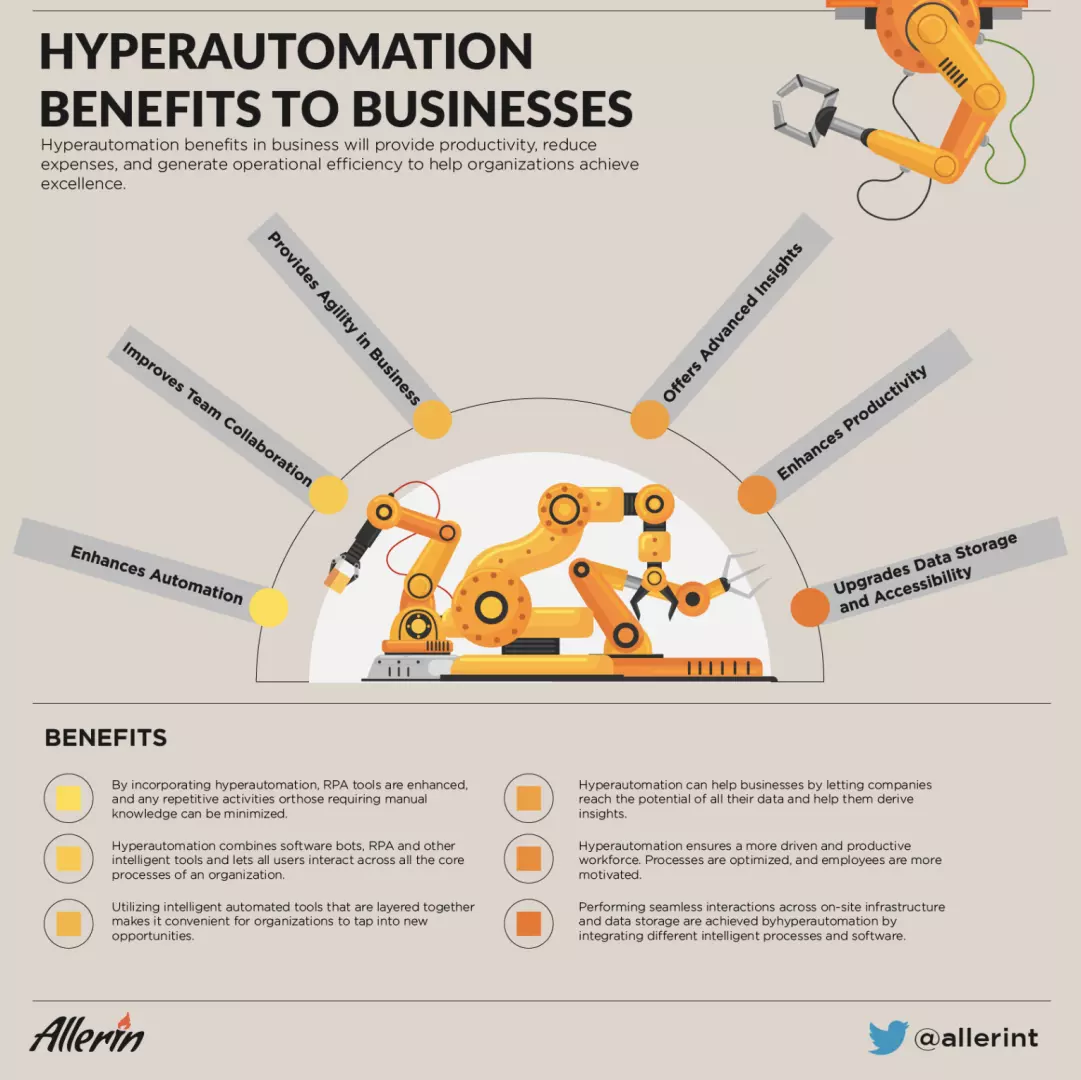 1. Enhancing Automation
By incorporating hyperautomation, RPA tools are enhanced, and any repetitive activities or those requiring manual knowledge can be minimized. Hyperautomation allows the company to automate a high number of processes and procedures. This allows the workforce to be free from mundane and tedious tasks and lets the hyperautomation tools take over those tasks.
2. Improving Team Collaboration
To make it easier for all the teams in an organization to collaborate, hyperautomation combines software bots, RPA, and other intelligent tools and lets all users interact across all the core processes of an organization. Hyperautomation involves everyone by connecting operations, processes, and data.
3. Providing Agility in Business
Agility in business refers to how fast your business can adapt to changes as required and grow. Companies can be assured of scalability, which consists of hyperautomation technologies. Utilizing intelligent automated tools that are layered together makes it convenient for organizations to tap into new opportunities, change according to the dynamic nature of the market, and evolve as necessary.
4. Offering Advanced Insights
Often, companies can't figure out their inefficiencies and how they affect the organization. To improve their processes and optimize them for enhanced returns, the organization's leaders need in-depth insights from the data, which they can achieve only after incorporating the capabilities of advanced analytics tools. Hyperautomation can help businesses by letting companies reach the potential of all their data and help them derive insights that will aid them in understanding current trends and making future predictions and refinements.
5. Enhancing Productivity
Equipping your task force with comprehensive tools incorporated with an increased degree of automation and cutting-edge technology will allow them to do more tasks in a limited period of time and energy. By eliminating bottlenecks across all operations and any time-consuming manual activities, hyperautomation ensures a more driven and productive workforce. Processes are optimized, and employees are more motivated and positive to achieve the organizational goals.
6. Upgrading Data Storage and Accessibility
Performing seamless interactions across on-site infrastructure and data storage are achieved by hyperautomation by integrating different intelligent processes and software. As more companies adopt hybrid/multi-cloud infrastructures, the integration of hyperautomation processes has become significant for the transformation. It provides smooth communication across all systems and ensures that data can be accessed from centralized storage for all the core systems. Digital twins can be generated using machine learning and AI in hyperautomation, which are the virtual models of physical infrastructures or procedures.
Challenges of Adopting Hyperautomation
Even though hyperautomation provides a business with quantifiable benefits, there are certain challenges that a company should be aware of.
1. Difficulties of Understanding the Technology
Some business owners find it complex to understand and get used to hyperautomation if they don't come from a technical background. One of the primary reasons is that hyperautomation is a relatively new concept and will require continuous improvements to find wide popularity among all companies. Business leaders without a technical background need to understand how implementing hyperautomation technology in their processes can help them achieve operational excellence.
2. Strategic Planning
Even if business owners come with a technical background and understanding of how hyperautomation works and how it can affect their business performance, it becomes difficult to implement it strategically. For example, automating the entire process of a department will require businesses to incorporate an IT structure, reduce the number of staff and install all the required software applications. It needs to be integrated not to disturb the business performance but to enhance it.
3. Trial and Error
Just because an organization has implemented hyperautomation to its processes, it can't just expect its business operations to achieve a great return on investment and efficiency. The company will need to try a trial-and-error method to figure out the best way it can achieve success. It will require meticulous planning, consistency, and strategy-making decisions. The benefits before and post-implementation of hyperautomation applications will need to be analyzed and measured by professionals to make the necessary changes.
Conclusion
Automation wasn't widely received when it was primarily introduced in different industries. Most companies were hesitant to adopt this new technology as they didn't know much about it. As more people become familiar with hyperautomation benefits, the trend of incorporating it within their operations is increasing. Hyperautomation consists of several advanced and sophisticated technologies that help automate processes and provide efficiency. It is not just an advancement in technology but also a disciplined approach for businesses to streamline their operations by consuming minimal time, even with a high influx of demand.