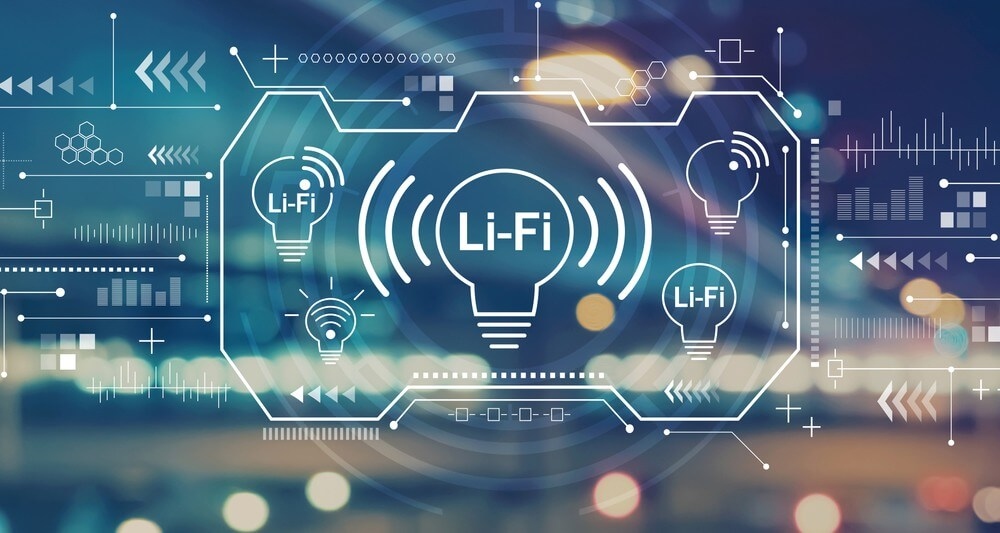 The future of wireless communications will be characterized by the combined use of LiFi and AI applications to enable increased data transmission speeds and secure networks.
While we are advancing to faster internet connectivity from 4G to 5G, the radiofrequency spectrum is getting congested due to the limited bandwidth available. Moreover, telecom companies have to pay a high premium to provide these services, which significantly increases the total cost of ownership for the service providers. This puts a constraint on the ever-increasing demand for faster speeds at affordable prices for the common consumer, as we are rapidly moving towards an increasingly interconnected, AI-driven future.
Concepts such as Industry 4.0, smart homes, and smart cities will be powered by faster and smarter AI applications that will constantly communicate with each other. They will require the data to be transmitted quickly for efficient functioning. Similarly, network connectivity should be available at affordable prices so that it reaches as many people as possible. But given the constraints of cellular and radiofrequency technology, is there any other form of data transmission that can meet the needs of the future? Yes. LiFi is poised to be the technology that will make it possible to dramatically increase communication speeds between smart AI-capable devices and at affordable prices. LiFi is a visible light-based communication technology that can transmit data at very high speeds. It makes use of a light source, such as an LED bulb, that emits modulating pulses of light to send data. A photosensitive detector demodulates the light signal and converts it into electronic data.
The Advantages Of Using LiFi Over WiFi And Other Cellular Connectivity Technologies
While most cellular modes of communication we use today have used radiofrequency waves to transfer data, LiFi represents a new revolutionary chapter in the story of communications technology. That's because it allows us to leverage the vast bandwidth of the visible light spectrum and transfer data at unimaginable speeds. The major advantages of using LiFi over WiFi are:
Higher Speeds
LiFi transmission provides super-fast bi-directional speeds of over 100 Gbps. That makes it fourteen times faster than the fastest WiFi today. In 2015, Oxford researchers Professor Dominic O'Brien and his team had achieved a bi-directional speed of 224 Gbps. With further advancements in LiFi, the speed will surely increase even further.
Low Power Consumption
Using LiFi helps reduce energy consumption as the LED light source consumes significantly less power to transmit considerably more data.
Low Ownership Cost
With the technology becoming more mainstream and the rise of the LiFi ecosystem, the total ownership cost of LiFi-based communications will reduce, enabling it to reach more avenues.
Easy Deployment
Installing and removing LiFi devices is relatively easy. They can serve as plug and play devices. The process is similar to fixing or replacing a light bulb.
Enhanced Security
LiFi provides a high degree of security as the transmission signals can't penetrate through walls, making remote network hacking virtually impossible.
The Implementation Of LiFi For Faster And Smarter AI Applications
The aforementioned benefits make LiFi an excellent medium for data transmission. It can find applications in every area where WiFi technology is currently being used for communications. Moreover, it can open up avenues where the use of WiFi or other radio-frequency-based communication is currently not possible. The application areas include:
Transportation
LiFi will help create an interconnected transportation infrastructure where vehicles can not only communicate with each other but also with parts of the roadside infrastructure such as signages and signals to create a safer driving environment. LiFi can be used in two ways in transportation, vehicle-to-vehicle (V2V) communication, and vehicle-to-infrastructure (V2I) communication.
In vehicle-to-vehicle communication, autonomous vehicles can seamlessly communicate with each other, helping reduce vehicle collisions. The front and rear lights act as the source of data transmission to constantly communicate vital information such as the car speed, braking distance, or obstacles in the course of the lead vehicle. This helps improve situational awareness among the vehicles, thereby resulting in a safer driving experience.
In vehicle-to-infrastructure communication, the vehicles constantly communicate with roadside elements such as the street lights, signals, signage, and other modified components such as road pavements. Similar to vehicle-to-vehicle communication, vehicle-to-infrastructure communication will also help reduce accidents, as various components can constantly interact with each other and take quick decisions, faster than human reaction speeds, leading to a safer autonomous vehicle network. For example, if the signal is about to turn red, the data can be communicated with an incoming vehicle, and the speed of the vehicle will be reduced automatically by the AI systems in the vehicle. The information is then passed on to the trailing vehicle, whose speed, too, is automatically reduced. This will help avoid instances of signal jumping or accidents occurring due to overspeeding.
Augmented/Virtual/Mixed reality
Enterprises, especially in the B2C domain, can create immersive, engaging experiences for product marketing using LiFi technology. They can develop an immersive experience zone with data communication done using LiFi. This will enable us to deliver real-time feedback that can significantly enhance the experience for the user. For example, we can see the rise of AR and VR technology at events and exhibitions, where exhibitors can create engaging, interactive, and immersive experiences, like gamification modules, that leverage LiFi technology to provide real-time feedback, such as haptics, in response to user actions.
Industry 4.0
The rise of Industry 4.0 will pave the way for connected, artificial-intelligence capable robots that will autonomously work in cohesion. LiFi can help eliminate the data transmission lag that is currently experienced with WiFi systems. Fast data transmission speeds will enable robots to work in synchronization as the information can be transmitted between them in real-time. This will help increase productivity in future smart factories.
Smart homes
LiFi will usher in a new era of smart homes. It will enable a faster and more secure home network, ensuring that an outsider won't be able to connect to your network and carry out malicious activities. LiFi can be used in AI smart lighting systems where various LED sources in your home can communicate with each other more quickly and efficiently. Similarly, other smart devices can be equipped with a LiFi receiver that can help create a faster communication channel between various devices, taking home automation to the next level. Compared to WiFi, LiFi provides better infrastructure for communications, device control and also doubles up as a source of illumination. This helps reduce power consumption significantly.
It is evident that we are rapidly moving towards an AI-driven, hyperconnected future where the current radio-frequency technology won't be able to handle such vast volumes of data transmissions or fulfill the speed requirements. Thus, it is very likely that LiFi would replace the current last-mile communication solutions. It will play a pivotal and irreplaceable role in the data transmission section. The confluence and growth of LiFi and AI will help create cities of the future, mitigate some of the challenges currently faced by smart cities and even help discover new areas of application. The only thing that is required now is the accelerated development of LiFi technology to make this technology mainstream and affordable quickly.