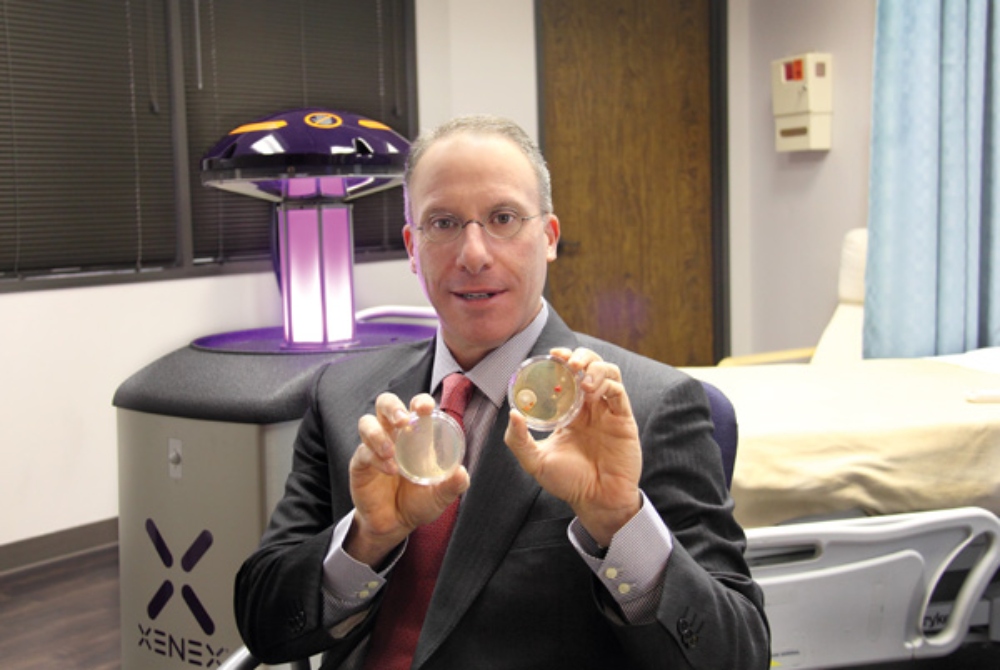 Are you worried your business hasn't hit the big time yet?
Don't be, says Morris Miller, former managing director at Rackspace, now the managing partner of Tectonic Ventures. Most of the businesses he's involved in have become overnight successes, only after being in business for 10 years.
Morris is also the CEO of Xenex Disinfection Services, a business he was drawn to because the original founders were mission driven to not just change lives, but save thousands of lives by stopping the spread of pathogens within healthcare facilities.
How? Because Xenex makes UV germ-zapping robots that are 22X better at destroying superbugs than the standard hospital cleaning routine of cleaning, mopping, and bleaching alone.
So, if you're concerned that your business isn't a success yet, don't miss Morris share the two pillars that contribute to overnight success: listening to customers and the talent density you amass.
How a Germ Zapping Robot Company Became a 10 Year Overnight Success with Morris Miller
Morris Miller is CEO of Xenex Disinfection Services, the world leader in the manufacture of Germ-Zapping Robots. Robots which are used in almost 1000 hospitals around the world to wipe out pathogens on surfaces.
Morris is also a co-founder of Tectonic Ventures, a VC firm formed in 2016 to invest in and advise founders, established technology companies and B2B startups.
"Not only do we invest in them, but as you and I've done for many years, we coach them, work with them, and really try to lead them to be the greatest success that they can be."
But back to the Germ-Zapping Robots.
Germ-Zapping Robots – Lightstrike 6
Under Morris's leadership, Xenex has become a world leader in automated room disinfection. Through the use of patented pulsed xenon technology and innovative hospital disinfection protocols, the company has helped hospitals, which previously struggled to effectively disinfect against pathogens, achieve significant success within their facilities.
"We've been willing to go to hospitals and talk to them about what their goals are. And we have guaranteed them that they will meet their goals. And if we don't, we won't even send them a bill. So we're willing to put these $100,000 robots into the hospitals without any remuneration, until the hospital achieves its goals. Literally every time we've worked out a deal with the hospitals, we have helped the hospital achieve their goal, and therefore we get paid."
What people don't know, says Morris, is that most hospitals are still reliant primarily on bleach, ammonia, and other chemicals to clean and disinfect, and that these methods are not very effective at removing pathogens aka superbugs like C.diff and MRSA.
"There are no antibiotics to fight [superbugs]. And that's the real issue; we're running out of antibiotics to fight these infections that people are getting. These dangerous pathogens need to be removed from the environment. '
What Xenex realised was that most UV device manufacturers were using mercury light bulbs to kill the pathogens. But by using a Xenon lamp, instead of putting out a single wavelength of low intensity light, they pulsed a high power beam that covered the entire germicidal spectrum of UVC light. And the Xenex robot was 4300X more intense.
"The analogy that I make is that everybody's seen children, two or three years old, driving around in little toy cars. And imagine that car crashing into the side of your garage, and just bouncing off. It would be very funny and wouldn't do any damage to your garage. If you take something that's 4300 times more intense. That would be like loading an 18 Wheeler and crashing it into your garage at 120 miles an hour, which would completely wipe out your house. And that's the difference in what we do to pathogens versus the old way of making UV light."
Xenon vs Manual Housekeeping
That's not to say that there is no place for traditional manual housekeeping in hospitals, says Morris, far from it. You still need housekeeping to get rid of visible dirt and grime, but you need robots to reduce pathogens.
"There are 10 or 11 things that go into disinfecting an environment. So it's hand hygiene, it's antibiotic stewardship, making sure you're not overusing antibiotics. So I'm not here to say that this is the only thing you need to do, you need to continue to do all of your other processes properly. And then it just turns out, this is the icing on the cake. It brings it all together and gets the result the hospitals have so desperately wanted."
Mission Driven Businesses
So why did Morris choose to co-found this particular company? Because he's drawn to mission driven businesses.
"2 million people a year go into the hospital to get well. And instead, they come out with an infection, and 100,000 of them die. "
In their 10 years, they've carried out almost 32 million room disinfection cycles.
"More people die from [Superbugs} than breast cancer, AIDS and auto accidents combined. It's a huge problem. But the hospital systems, God bless them, they never really wanted to talk about it because they couldn't do anything about it, because they were using everything they had, which was chemistry."
10 Years to Become an Overnight Success
The problem with most entrepreneurs is that they don't see the stress and hard work behind building a business. They think that things are supposed to happen fast: you get started, you build a business and it just happens. They don't realise the hard graft that goes into creating a great business.
"It takes 10 years to become an overnight success. And clearly, we had become the worldwide market leader. And then when COVID hit, that just blew every projection we had through the roof because people wanted to buy the robot with the best efficacy."
But what are the fundamental pillars of building an overnight successful business? What are the essentials that businesses need to put in place, the foundations they need to get right?
"First of all, you have to be in touch with your customers. And you have to be willing to get on the phone with customers and listen to customers… We've now released our sixth version of a robot in just over 10 years. There isn't usually that kind of innovation in healthcare, and the product development team, they just keep listening to the customer and incorporating more and more things."
Hiring the Right People
But it's not just listening to customers that helps a business grow. Morris says it's essential to hire the right people too. When he hires people he gets them to share what they were like in high school, because he says, that's when your work ethic is formed and solidified. He also says most people feel threatened by a reference check, but it shouldn't be a threat, he simply wants to know who his employees worked for and what their previous employers would say about them and why.
He also believes that employers have a tendency to overlook hiring passionate people:
"You can feel when somebody has passion, both for life and for their job and for solving problems, and serving customers. You're really digging to find people who want to do a good job for other people, and who take pride in a job well done. And not everybody is driven that way."