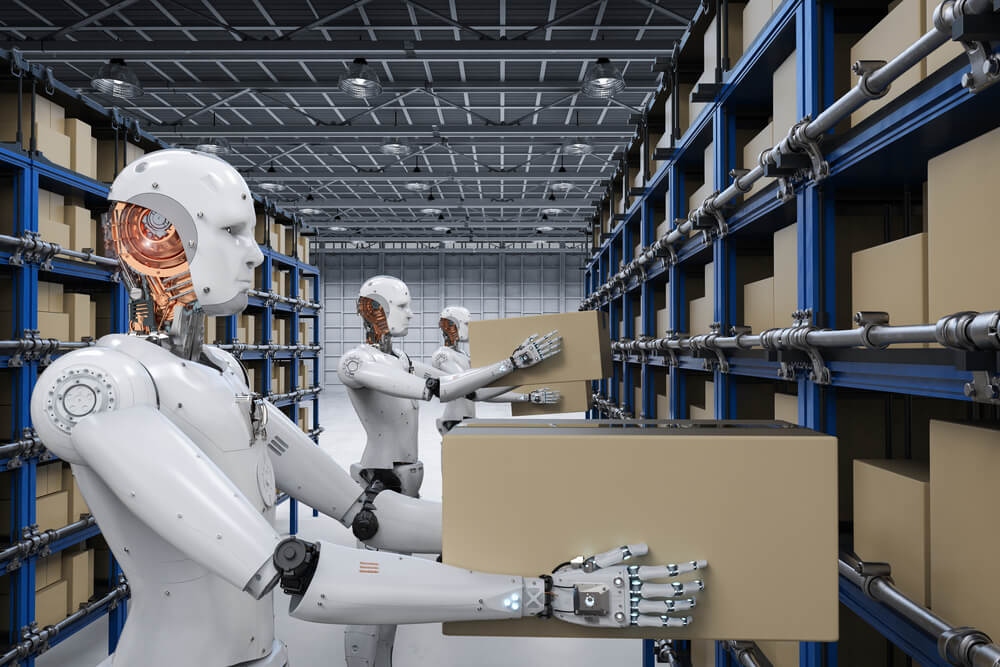 Modern technologies such as big data, internet of things (IoT) and robotics have gifted the retail sector with several advancements.
Hence, the retail sector is going through a revolution that has led to the creation of retail 4.0.
Since 2014, the retail industry sales have been rising at a steady rate. In 2020 alone, the retail industry sales were recorded to be around $18.5 trillions. One of the factors responsible for the steady growth of the retail sector is the rise of digitization and modern technology, which lead to the birth of retail 4.0. After the introduction of advanced technologies, several processes in retail workflow such as purchase, inventory management, customer service, accounts, and supply chain management became automated. Enhanced communication platforms have created a more connected landscape across the board. Thus, the retail industry is witnessing a shift in the work culture with the help of retail 4.0, giving rise to innovative business models. Another benefit of digitization in retail is the adoption of a data-driven approach that has given rise to consumer-centric product strategies.
Technology Trends Driving Retail 4.0
Big Data
In today's digital world, data is currency. Data is collected everywhere whether you are signing up for a new social network or looking to adopt a pet. Similarly, data is collected at every stage of a supply chain and in every department of the retail industry. With big data in retail, the accumulated data can be used for analysis and for building effective strategies.
Data helps retailers understand their consumers and the demographics they belong to. Such data-based insights offer an informative approach for recognizing consumer demands by identifying which products and services have a high demand and which products are not doing well in the market. By analyzing market sales and performance for their products, retailers can make informed investment decisions. As an additional benefit, consumer data helps in determining the price that consumers find suitable for a product. Big data analytics enables businesses to explore the changing industry trends and niche consumer demands. Retail store giant, Target, created a pregnancy prediction model with the help of their baby-shower registry, purchase patterns, customer support queries, credit card use, survey responses, website use, and personal data. The model distributed baby product promotions to specific customers in a timely manner based on their stages of pregnancy. Hence, gathering consumer data creates a consumer-centric business atmosphere that caters to individual consumer needs.
Industrial IoT
Industrial IoT is one of the major contributors to the development of retail 4.0. IoT is consistently innovating the retail industry. IoT sensors help in creating an interactive environment across the board. The retail industry has realized the potential of IoT, which explains why 70% of retail decision makers globally want to adopt IoT for delivering better consumer experiences.
With IoT sensors, field devices can interact with each other and provide real-time updates to the concerned parties. IoT sensors can be installed to monitor expensive machines and equipment used for inventory management, production, and transportation purposes. IoT applications enable predictive maintenance of equipment, saving expenses incurred on equipment failure. IoT is giving rise to 'smart' retail stores that are connected with RFID tags. RFID tags help in the real-time management of stores. Similarly, IoT sensors can be used to track inventory levels of stores and warehouses. With such sensors, retailers will be notified if their inventory is running out of products and restock when required. At checkouts, consumers can scan IoT-powered tags and pay via mobile apps. Furthermore, retail stores can deploy beacons to alert customers about promotions and discounts when they are near certain products. Retail stores can also install smart shelves that scan RFID tags of products and measure their weight to monitor the availability of products on the shelves. When the shelves are empty, smart shelves alert the store owners. Such efforts can also enable theft prevention in the store.
Cloud Computing
A transparent business approach is one of the top priorities of retail 4.0. Cloud computing allows sharing crucial data and documents across various channels whenever required. Due to its online nature, cloud computing proves to be more secure compared to the traditional methods. Moreover, cloud computing helps in horizontal and vertical system integration by providing a transparent medium for tracking the exact status of consignments, stock-outs, high inventories and the digital documents received from suppliers, logistics providers, brokers, and carriers. Developers are constantly improving cloud computing to make the technology faster and more secure than ever. Therefore, cloud computing and retail 4.0 are together promoting data-driven business practices.
Additive Manufacturing
Modern technologies have developed new and innovative production techniques to ensure efficient and cost-effective manufacturing processes. Additive manufacturing techniques such as 3D printing are widely used to produce prototypes. But, in the era of retail 4.0, additive manufacturing is revolutionizing the supply chains by reducing material input and costs. With additive manufacturing, production processes will be simplified to enable large-scale production of products. Also, simpler machine-powered production processes will reduce the labor requirement.
With further developments in the technology, the production of new products that meet the changing customer demands will be quicker. Furthermore, additive manufacturing can also be used as a backup to traditional manufacturing techniques in the event of equipment failures.
Robotics
Robots are already extensively used for manufacturing operations in factories. But with the introduction of retail 4.0, autonomous robots have found mainstream applications such as in-store customer service, warehouse management, and delivery services. After much research and development, all logistics and delivery tasks will be handled by autonomous vehicles.
In-store customer service robots guide customers across various sections of the store and help them find the required products. For example, Fellow Robots has developed LoweBot for the retail home improvement chain Lowe's. Customers can ask questions or type them using the touchscreen on Lowebot and the bot resolves the queries or guides customers to their products. As an additional feature, Lowebot also performs inventory tracking across the aisles. Likewise, Chloe, Best Buy's in-house robotics solution picks out products and merchandise from the shelves using a robotic arm as per consumer requests. Chloe also tracks shopping trends to refresh the inventory. Then there is Domino's that's deployed Domicopter, a drone, to deliver food to customers.
Augmented Reality
Although augmented reality is still a relatively fresh technology, industrialists are investing in the research and development of its innovative use cases. Currently, augmented reality is used for numerous functions like selecting warehouse parts and sending repair instructions with mobile apps.
Online retailers are already providing mobile apps that help consumers "try out" clothes or virtually place furniture to check if it fits with their interior design. Several consumers are also using IBM app and Google Lens to scan products for information.
Roadmap for Adapting to Retail 4.0
Retail 4.0 has led to the creation of more efficient and productive business practices with the help of advanced technologies. Big players are already using cost-effective alternatives for traditional methods. Businesses are now focusing on creating seamlessly integrated and data-driven business models. Such business models prioritize end-to-end transparency and communication to fulfill consumer demands and manage inventories. But, planning and implementation of such business practices along with the deployment of the necessary technologies is a complicated task. Hence, organizations need a roadmap to approach retail 4.0 in the most effective way possible. The roadmap involves the following steps:
Since several technologies and business models are required for adapting to retail 4.0, hiring experienced professionals with niche skills is essential.

Creating effective strategies and allocating sufficient budget for infrastructure.

Updating existing systems to integrate new technologies.

Generating analytics to understand the changing industry trends as well as the organization's performance in the market.

Educating employees about every technology being deployed and the effects of such technologies on the work culture.

Promoting the development of applications that ensure better consumer experience.
In the near future, blockchain will be a part of the global retail market where payrolls, supply chain management, investments, and purchases will be handled with the help of a transparent ledger. Therefore, the possibilities for retail 4.0 are endless. Hence, retail organizations need to stay updated about new technologies and business practices and adopt a holistic approach for retail 4.0.