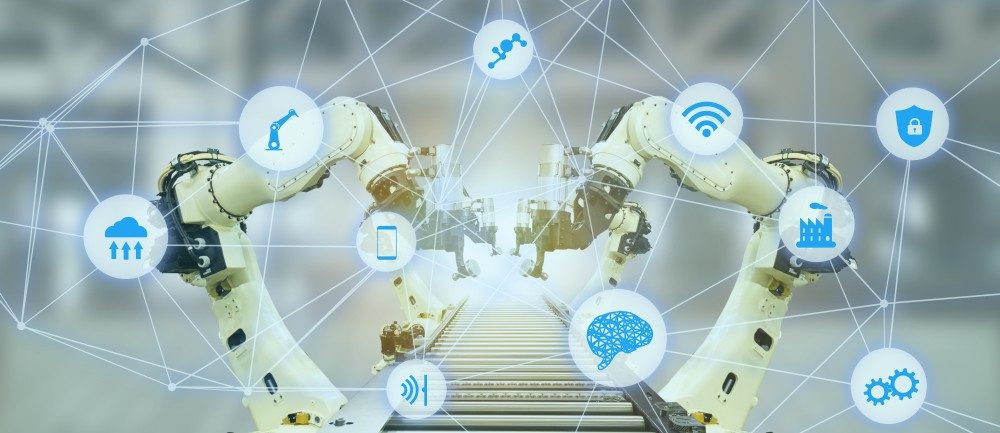 Real-time material monitoring and quality control are becoming increasingly achievable through computer vision and blockchain in manufacturing, delivery and other supply chain processes.
Counterfeits in the supply chain are notoriously difficult to track and eliminate nowadays. In 2020, losses incurred due to counterfeits accounted for more than 26 billion euros for certain industries. The cumulative figure for all industries combined was much higher than that. Generally, such trends escalate year on year. Counterfeits have increased in recent times and promise to keep skyrocketing in the future too. With advances in manufacturing and printing technologies, counterfeit goods have become more and more difficult to differentiate from authentic goods. Fraudsters execute counterfeits via duplicate finishes, print boxes, stenciling, authentic-looking labels, and other ways. In international trade, counterfeit goods mainly come from China, with Eastern Europe, South America, and the Middle East countries being the other major sources of fake goods. Counterfeits affect you and all your supply chain partners equally. On top of that, it affects your customers in adverse ways, with the death toll from fake drugs being depressingly high. The determination of fakes is especially needed in the pharmaceutical industry to prevent the direct loss of vulnerable lives. Gaining a measure of control over counterfeits requires you to work in sync with all your supply chain partners and implement discipline in material verification. Naturally, continuous monitoring will need cooperation and investment from all your partners. Together, all the supply chain players will have to oversee stringent product and material testing and quality review for the common cause. Controlling counterfeits can be brought about by relentlessly monitoring materials and goods as they pass through the supply chain. The application of computer vision and blockchain in manufacturing and other supply chain phases allows your business to efficiently carry out the tracking in different ways.
Identifying Counterfeit Products With Blockchain and Computer Vision
Several IT companies in recent years have developed and used machine learning and blockchain in manufacturing and other supply chain processes to make authentication simple and eliminate counterfeits. These monitoring systems use other tools, too, such as video analytics and artificial neural networks, for the purpose. Such intelligent tools use optical data signatures stored in authentic samples, allowing the system to tell the difference between real goods and fake ones. The working idea behind such a system is that the original product can be identified with its own distinctive patterns that will differ from fake ones.

Theoretically, blockchain technology is used in tools and applications that allow several parties to carry out transactions through a peer-to-peer network. A blockchain network eliminates the need for a central authority to be present to authenticate transactions. The decentralization aspect means that no single owner acts as an admin of such a network. The network participants access a shared ledger that uses cryptography tech to record transactions. Essentially, blockchain brings this working mechanism to augment supply chain monitoring. It allows you and your business partners to document procurement and production updates on a shared, decentralized ledger. Blockchain in manufacturing and other processes makes data visibility easy for all members of the network, creating a transparent supply chain.
You can determine the current location, expiry date, and quantity of your material from time to time using blockchain along your supply chain. This, coupled with AI, allows you to hunt down possible counterfeits, delays, material waste, and compliance issues. On top of that, the combination of blockchain and AI enables you to respond right away in emergency situations like in-transit damage and product recall. Blockchain makes regulatory compliance simple by allowing users to maintain a ledger audit trail. The audit trail comes in handy to track down possible compliance issues in raw material, finished product, or packaging that may cause supply chain roadblocks in the future. Generally, businesses may use a combination of IoT and blockchain in manufacturing and other processes for automating and also keeping a close eye on production conditions, quality assessment, and transportation (both material transportation, goods being transported from your warehouse to the retail store or for export) in real-time.
The system allows businesses to detect counterfeits in multiple ways, such as detecting counterfeit money, determining whether the constituent elements used to manufacture products are genetically modified or not (in the case of FMCG or other perishables), analyzing water quality, and detecting the bacterial presence in products. Computer vision is an ideal ally to blockchain for supply chain provenance monitoring. With the help of real-world ideas and concepts that have been developed for future supply chain tracing and quality management, you can see how either blockchain, computer vision, or a combination of the two, as well as other technologies, make material tracking, supply chain quality monitoring and, ultimately, counterfeit detection and elimination easy for organizations moving forward.
Real-World Use of Computer Vision and Blockchain for Supply Chain Monitoring
Blockchain and computer vision, on their own, are good enough for the task of monitoring your supply chain. However, you can optimize the process by including other tools in the mix, such as machine learning and fuzzy logic. Here are two industries where tracking and face detection can be made easy with technology.
A) In the Perishable Food Industry
Of late, the use of tracing systems has been growing in the perishable foods industry. The low shelf life of these goods means that businesses have to be careful about the authenticity and expiry status of such products. Many supply chain tracing systems in the food industry have limited scalability, data accuracy and readability. Such issues can be overcome with the help of a Blockchain Machine Learning-Based Food Traceability System (BMLFTS). This tool addresses multiple issues related to warehouse transactions, shipping time, food wastage, material inspection, and others. The BMLFTS is an adaptive data management system that prioritizes data sharing between the different food supply chain partners. The working of this system involves machine learning algorithms estimating the expiry date of a perishable food product based on factors such as temperature, oxygen, humidity, and others during various circumstances in the supply chain. This information is stored safely in a secure database and is used by businesses to improve the shelf life of food products. Machine learning algorithms used in combination with blockchain allow businesses to find the fastest data sharing route so that the time is taken for sharing information to various supply chain partners, and by extension, the lead time is reduced. BMLFTS uses smart IoT sensors for tracking the moisture content, temperature, surrounding humidity to track the quality of materials and finished products as they change hands during warehousing, transportation, shipping, loading and unloading, and last-mile delivery. Machine learning uses fuzzy logic, real-time data analysis, and predictive analysis to detect any possible roadblocks during procurement or delivery cycles. The main purpose of using all these tools together is to decrease the errors in the supply chain, such as missing values, noise, duplication, and preventing any tampering of products.
B) In the Textile Industry
Businesses involved in textiles manufacturing can use computer vision to implement error-free quality control from the first step to the last in production so that the final products are of acceptable quality. Computer vision tools include smart cameras to closely monitor the material quality and provide feedback to procurement managers about it. Image processing software is used for inspecting the quality of materials in fast-moving textile assembly lines. The cameras scan the textile material during manufacturing to find defects. The algorithms in computer vision tools check each pixel several times to detect any structural defects in production materials.
Computer vision creates a 2D map that shows the coordinates of defects on the surface of a textile piece. Some of the defects include water damage, foreign fiber, fingerprints, oil patches, misprints, and others. Quality verification algorithms can approve or reject the materials that feature such defects. Decisions related to the cutting of textiles can be taken based on the output—such as virtual cutting plans—generated by computer vision tools.
Apart from the visual quality inspection, computer vision also helps textile manufacturers to reduce their supply chain wastage. Textile wastage is caused mainly during cutting, at roll ends, due to incorrectly dismissed fiber material and in other similar ways. Using computer vision and machine learning, your business can maintain accurate records of wastage and cut down your losses stemming from it.
Businesses today are scaling rapidly. Factors such as market competition, changing customer tastes, and variable demand necessitate the use of adaptable technology that can inspect material and product quality across the supply chain. Including computer vision and blockchain in manufacturing, product research, procurement, packaging, delivery and other supply chain processes not only makes quality checking more streamlined but also eliminates counterfeits.