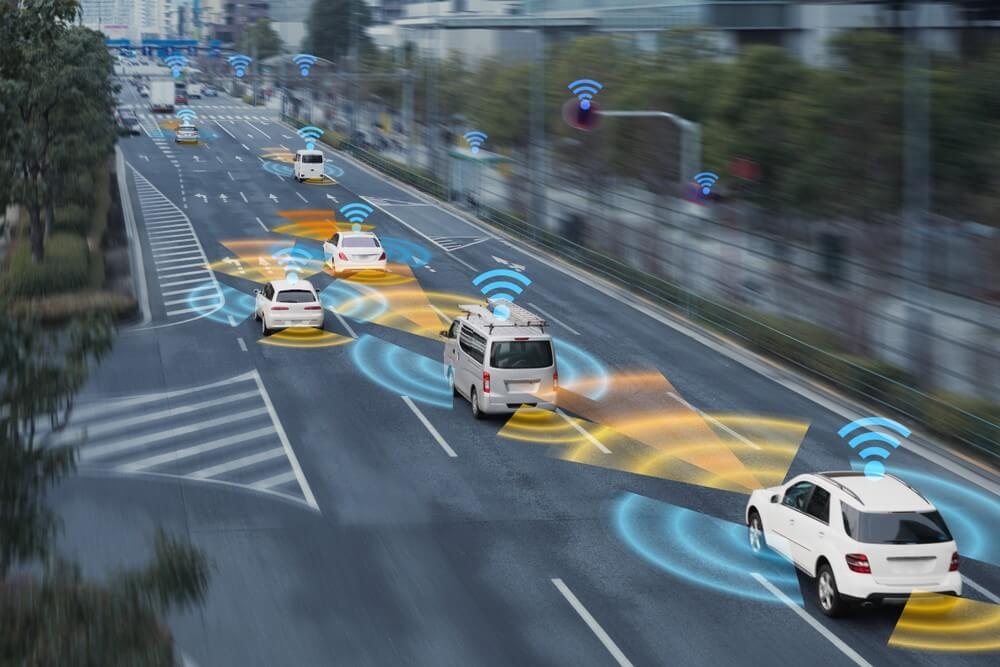 Using LiFi for smart traffic control can help answer safety questions regarding autonomous vehicles by enhancing vehicle-to-vehicle and vehicle-to-infrastructure communication.
A recent event involving a vehicle from a reputed autonomous vehicle manufacturer has been creating a lot of buzz online. A Canadian police officer on duty received a call regarding reckless driving.-- It's a classic case of a driver gone berserk on the highway. Nothing unusual, right? But, what was unusual was that the car was driving by itself, with both its occupants asleep! And it gets even more bizarre. When the police officer approached the vehicle in question and activated their emergency lights, the self-driving car miraculously started speeding up, reaching speeds of up to 93mph! Although it was safely pulled over by the officer, this incident could have turned out to be disastrous, risking the lives of the vehicle occupants, the police officer, and other motorists. It has once again raised the question of how reliable and safe autonomous vehicles really are and if we are truly ready for a driverless future.
But imagine a scenario where the reckless car could have been controlled in such situations by other vehicles or parts of traffic infrastructure such as traffic lights, decreasing the vehicle speed, eventually bringing it to a safe halt, or at least alerting the occupants to take control over the vehicle by continuously sounding an alert. LiFi can prove to be just the right solution to realize such a scenario. Using LiFi for smart traffic control can ensure quick, seamless communication between multiple vehicles as well as between the road infrastructure elements, such as traffic lights, signals, signboards, and vehicles, leading to a higher degree of safety. But, before moving to LiFi, let us have a look at why the current solutions for connectivity, such as cellular network technology (4G and WiFi systems), and the upcoming 5G technology, will not be sufficient enough to ensure autonomous vehicle safety.
The Problem with Using Radiofrequency Networks for Autonomous Vehicles Traffic Control and Safety
As we move towards a connected, IoT-based vehicular navigation system, ensuring low latency communication is essential as it can sometimes mean the deciding factor between life and death.
The communication technology used in our current 4G cellular networks, WiFi's, and upcoming 5G depends on radiofrequency waves for transmitting and receiving data. It is highly susceptible to interference in situations where wireless communication capacities reach their limits, such as crowded intersections. Connected vehicles may face issues regarding network saturation when too many vehicles connect to the same network. Similarly, wireless connections may also not work as intended where the network strength is weak or blocked, such as in tunnels or hilly areas. These factors can lead to accidents due to increased lag in data transfer between vehicles because even a split-second delay can make a huge difference. Thus, wireless connectivity based on radiofrequency technology doesn't seem to be entirely reliable for traffic control and safety.
Taking Autonomous Vehicles Safety to the Next level with LiFi for Smart Traffic Control
As we continue to see a paradigm shift in road transportation with the introduction of AI-enabled, network-connected electric vehicles, road safety standards, too, need to increase substantially to reduce road accidents. LiFi can help in reducing accidents by transmitting data between multiple vehicles and between the vehicle and road infrastructure, without any lag, thereby improving the situational awareness of the vehicles. This is because, unlike cellular network technology, LiFi uses light to transmit data between two devices. LiFi provides fast data transmission speeds(10gbps), faster data transmission capacity(100x), and is a more secure technology.
So, how does LiFi work? To use LiFi technology, the transmission source (light source), for example, the head and tail lights of vehicles, are fitted with a chip that modulates light imperceptibly for data transmission. The data is then received by photoreceptors installed on other cars or traffic infrastructure systems. This helps create a connected network of vehicles and road components that continuously communicate with each other without any data loss or delay by transmitting data through visible light. The use of LiFi for smart traffic control can be done in two ways: Vehicle to Vehicle (V2V) communication and Vehicle to Infrastructure (V2I) communication.
Vehicle to Vehicle Communication
In-vehicle to vehicle communication, the data transmission occurs between vehicles through the front and rear lights. Information such as the vehicle's speed, braking distance, obstacles in front of the lead vehicle, or other information such as loss of vehicle stability can be passed on to the tailing vehicles or other vehicles in the vicinity. This helps improve the situational awareness of autonomous vehicles and can be used to maintain sufficient distance between them. As the communication between vehicles is enhanced, with no delay in data transmission, it can reduce road accidents. For example, if the lead car brakes suddenly, the information can be transmitted quickly to the trailing vehicle in real-time. The second car's artificial intelligence system can automatically reduce the car's speed to match the speed of the first car without the driver's intervention. Thus, potential accidents that usually occur due to delayed human reaction time can be avoided using LiFi and other technologies. Similarly, LiFi can help detect vehicles around blind spots such as sharp turns and overtaking vehicles on a speeding highway. The embedded sensors can detect other vehicles in the vicinity that might be difficult for the driver to notice. The LiFi system can warn the driver of the same, in real-time, helping avoid accidents. Similarly, an even advanced concept would be considered for the scenario mentioned above. With a V2V system using LiFi, cars can be programmed to notify the driver, in the form of loud noise alerts, in case a police car follows them and the officer sends a message to the other car regarding the same.
Vehicle to Infrastructure Communication
To enhance the safety of an autonomous vehicle network, even the existing road infrastructure will need to be upgraded to smart infrastructure. It will involve modifying components such as the road pavement, signages, and traffic and street lights to become smart. The use of LiFi for smart traffic control for the vehicle to infrastructure communication will include bidirectional communication between vehicles and the road elements. Like V2V communication, V2I communication with LiFi will also help improve road safety by enabling quick transmission of data. Let us look at two scenarios to understand V2I communication using LiFi for smart traffic control.
Case One:
In low visibility during heavy rains or foggy weather, pavement markings and signage board information can be easily communicated to drivers with LiFi technology. The signage boards and pavements will be embedded with LiFi transmission sources that will display detailed information such as speed limits, steep curves, and work zones that the driver might encounter, on the car's dashboard and through automated audio tracks. This will help reduce accidents that usually occur due to low vehicle control and information available to the driver in such scenarios.
Case Two:
The second use case of V2I communication with LiFi involves improving pedestrian safety with the help of the technology. In the future, we can see everyday devices such as mobile phones embedded with LiFi, in addition to road infrastructure being equipped with LiFi. This will help reduce accidents as drivers can be warned of a jaywalking or reckless pedestrian by detecting them through traffic lights or even the mobile phone the individual might be carrying with them. The information can quickly be relayed to the driver, and they might avert an unwanted situation. Additionally, as vehicles get smarter, the car can bring itself to a screeching halt in such situations, without the driver's intervention.
The state-of-the-art autonomous vehicle network in the future will require state-of-the-art safety systems. We have seen how LiFi can prove to be an effective system in an interconnected world of the future and lead to a safer autonomous vehicle network. That being said, a Li-Fi based system will complement other existing autonomous systems, such as radar, LIDAR, computer vision, and AI, to name a few, to ensure vehicle safety. Thus, we need to start taking steps for improving not only LiFi but also all other associated autonomous vehicle technologies. This will ensure that when autonomous vehicles dominate or completely replace traditional vehicles, we will have a system based on LiFi for smart traffic control to eradicate any human or machine error that occurs today.