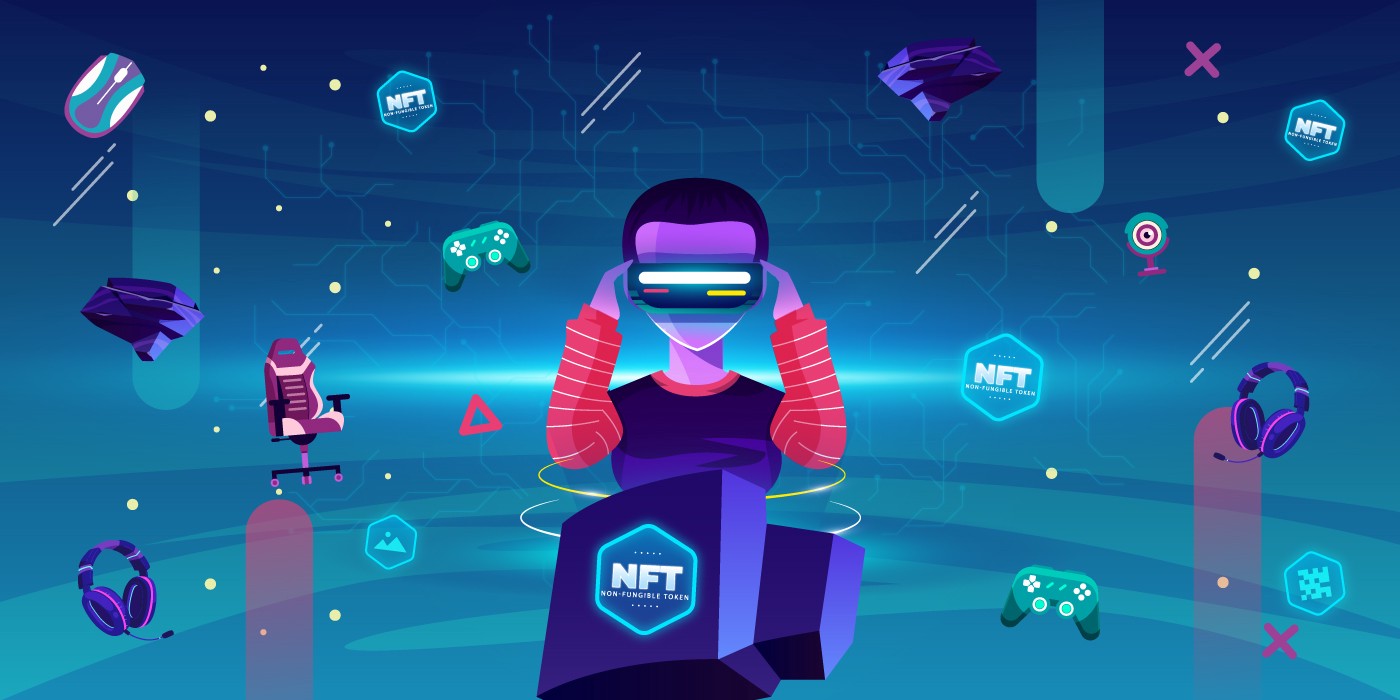 NFTs and cryptocurrencies are built on blockchain technology and adhere to similar innovations and standards.
NFT in e-commerce can enable businesses to create highly profitable opportunities by eliminating third parties.
Among all modern technologies, blockchain technology is the most disruptive, and businesses are making the most of it. Non-fungible tokens (NFTs) are the most recent blockchain advancements based on smart contracts. At this point, the acceptance of NFT in e-commerce has reached new heights. Owning a digital asset is a common practice in business circles.
WHAT IS AN NFT?
NFT is an abbreviation for a Non-Fungible Token, which is a digital asset recorded on the blockchain. NFTs are interchangeable, because each token has a unique value, making them non-fungible. Fungibility in economics is the property of the goods or commodities in which the individual parts and units are interchangeable and indistinguishable.
NFTs are one-of-a-kind digital objects that cannot be replicated or copied. They frequently represent valuable items like collectibles, video game items, rare commodities and even cryptocurrencies. They exist on the blockchain, a public distributed ledger that records transactions. The blockchain is the underlying process that allows cryptocurrencies to exist. Ethereum blockchain typically holds NFTs, though they can also be held on other blockchains.
WHAT DOES AN NFT IN E-COMMERCE WORK?
NFTs have succeeded in giving measurable substance to an intangible digital value. When a digital product or service is combined with an NFT, its value becomes almost as evident as that of a physical product. The flexibility of NFTs has been an excellent asset to business entities, and the combination of an NFT in e-commerce platforms has provided businesses with highly profitable opportunities. It is expected to take over the e-commerce business in the near future. Because NFT is a developing platform, many beneficial changes are frequently wiped out of the e-commerce business.
HOW CAN E-COMMERCE BRANDS LEVERAGE BLOCKCHAIN AND NFT?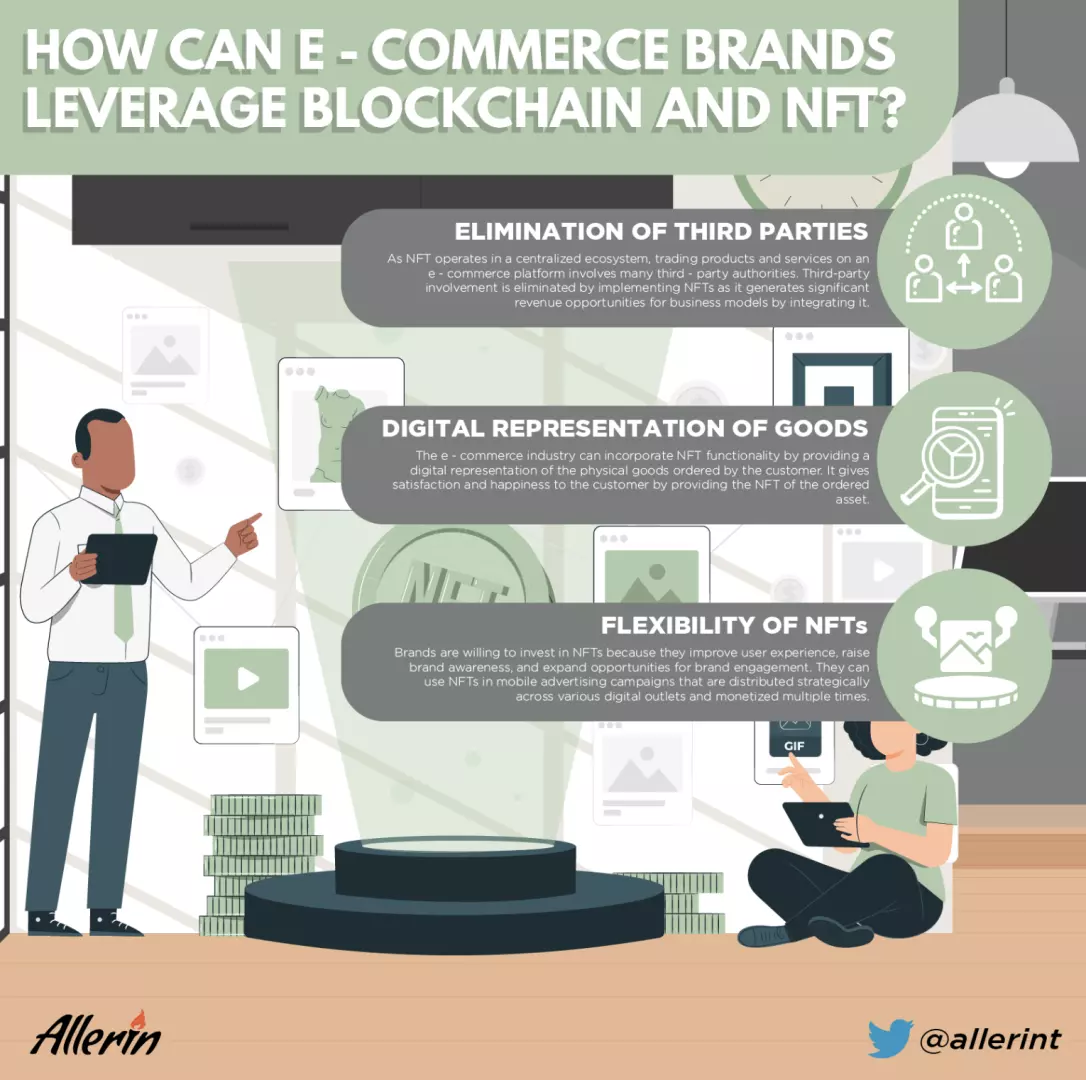 Elimination of Third Parties
As NFT operates in a centralized ecosystem, trading products and services on an e-commerce platform involves many third-party authorities. The distribution of commissions is facilitated by these intermediaries. Third-party involvement is eliminated by implementing NFTs. It generates significant revenue opportunities for business models by integrating it.
Digital Representation of Goods
The e-commerce industry can incorporate NFT functionality by providing a digital representation of the physical goods ordered by the customer. It gives satisfaction and happiness to the customer by providing the NFT of the ordered asset.
This process requires you to make unique digital identifiers for your products to be sold, giving a unique identity to each product. Make sure to learn more and see a comprehensive guide to NFT minting so you can get the best out of it. It will help you to provide an unmatched customer experience. By doing this, you can unlock new frontiers for the e-commerce industry.
Flexibility of NFTs
Brands are willing to invest in NFTs because they improve user experience, raise brand awareness, and expand opportunities for brand engagement. They can use NFTs in mobile advertising campaigns that are distributed strategically across various digital outlets and monetized multiple times.
CONCLUSION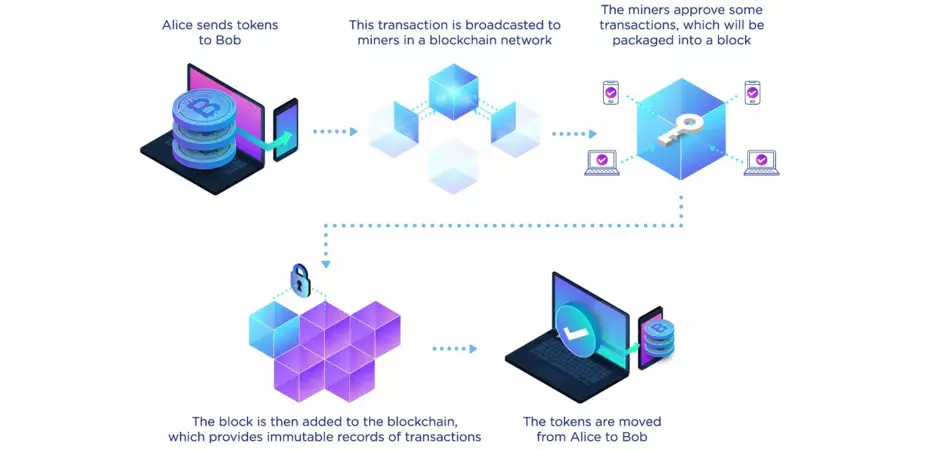 Source: The Hong Kong University of Science and Technology

In other words, NFT in e-commerce could be a digital asset with the ability to verify ownership. Their exceptional adaptability has been of great assistance to a variety of digital domains. Because of its popularity, many entrepreneurs are interested in developing NFT for e-commerce platforms in order to profit from them.